Who can say no to bubbles? With this easy Cranberry Orange Prosecco Cocktail, you'll have that little special something your holiday bar menu needs to toast your friends and family.
Bubbles are great any time of year, and there is something about bubbles that put a smile on people's faces. They make an ordinary occasion special and are a simple way to make an otherwise boring drink sparkle. So this holiday season, let's kick the fun up a notch and make Cranberry Orange Prosecco Cocktails for everyone.
Cranberry juice is one of my favorite mixers to use in a cocktail. I love the simplicity of a Vodka Cranberry with a lime, and when I'm feeling fancy I have Kevin make me a Cranberry Gimlet. But it's the holiday season, and that calls for bubbles. And cranberries. Because cranberries just don't get the love that they deserve, especially when it comes to cocktails.
Cranberry and orange were kind of made for each other. The sweetness of the orange liqueur is the yin to the yang of the tart cranberry juice Top it off with your favorite prosecco, and you have a mastered the Cranberry Orange Prosecco Cocktail.
Cocktails don't need to be complicated to make them special. Attention to little details shows you care. Add a couple of fresh cranberries and a twist of orange peel for garnish, and you have the fanciest simple cocktail in town. And that is something to celebrate.
Cheers to the season and the little things in life. We all have a lot to be thankful for.
Tip:
Use a
sweetened cranberry juice
for this cocktail. Pure cranberry juice will be too tart and not pair well with the prosecco.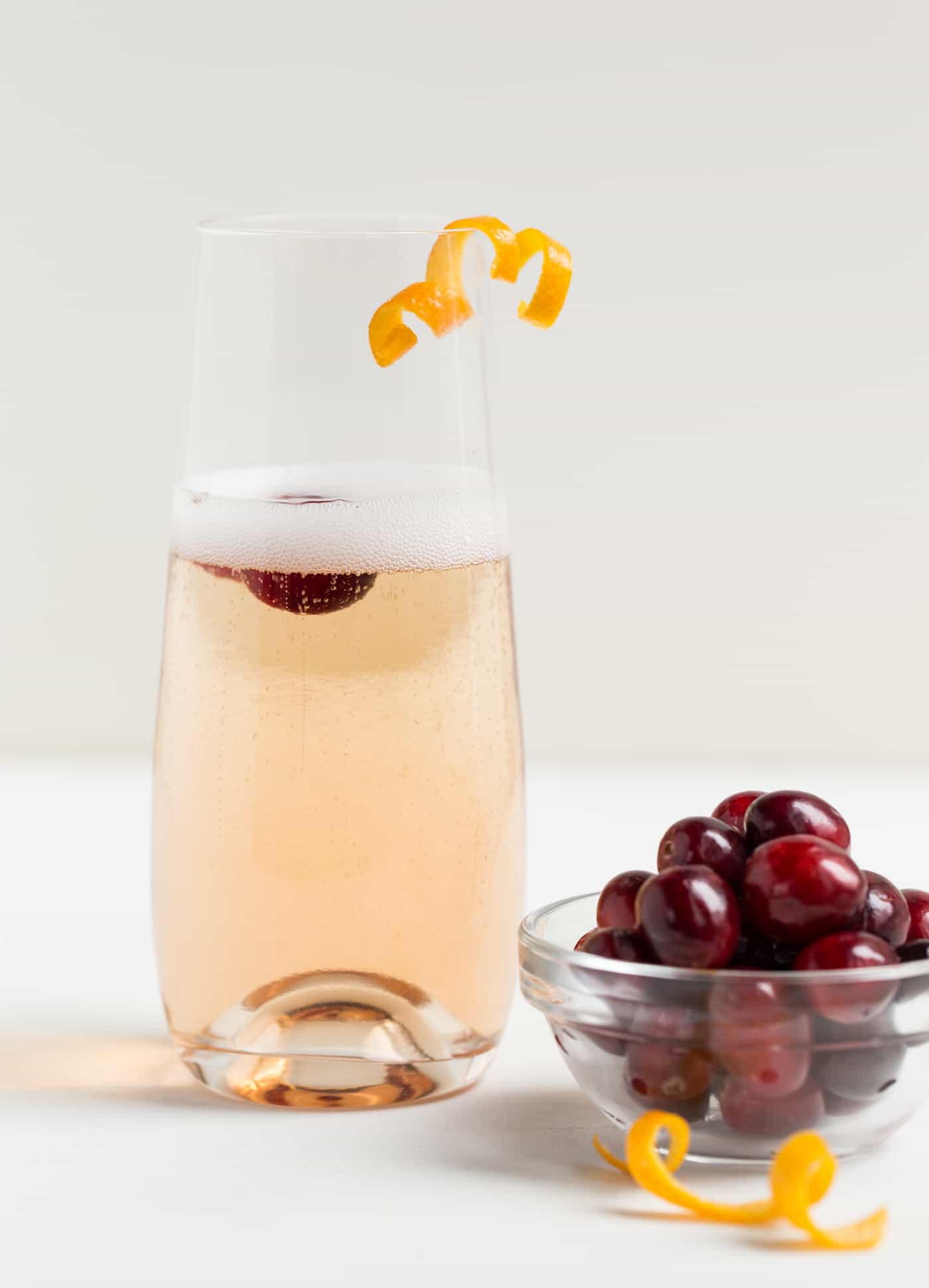 Yield: 1
Cranberry Orange Prosecco Cocktail
Cranberry and orange pair perfectly in this great brunch cocktail.
Ingredients
1 1/2 ounces cranberry juice
1 ounce orange liqueur
Prosecco
Fresh cranberries for garnish (optional)
Orange peel for garnish (optional)
Instructions
Add cranberry juice and orange liqueur to a champagne flute.
Top with prosecco and garnish with orange rind or fresh cranberries.
Serve immediately.