Need a crowd-pleasing spring dessert recipe? Look no further than these luscious Lemon Cheesecake Bars!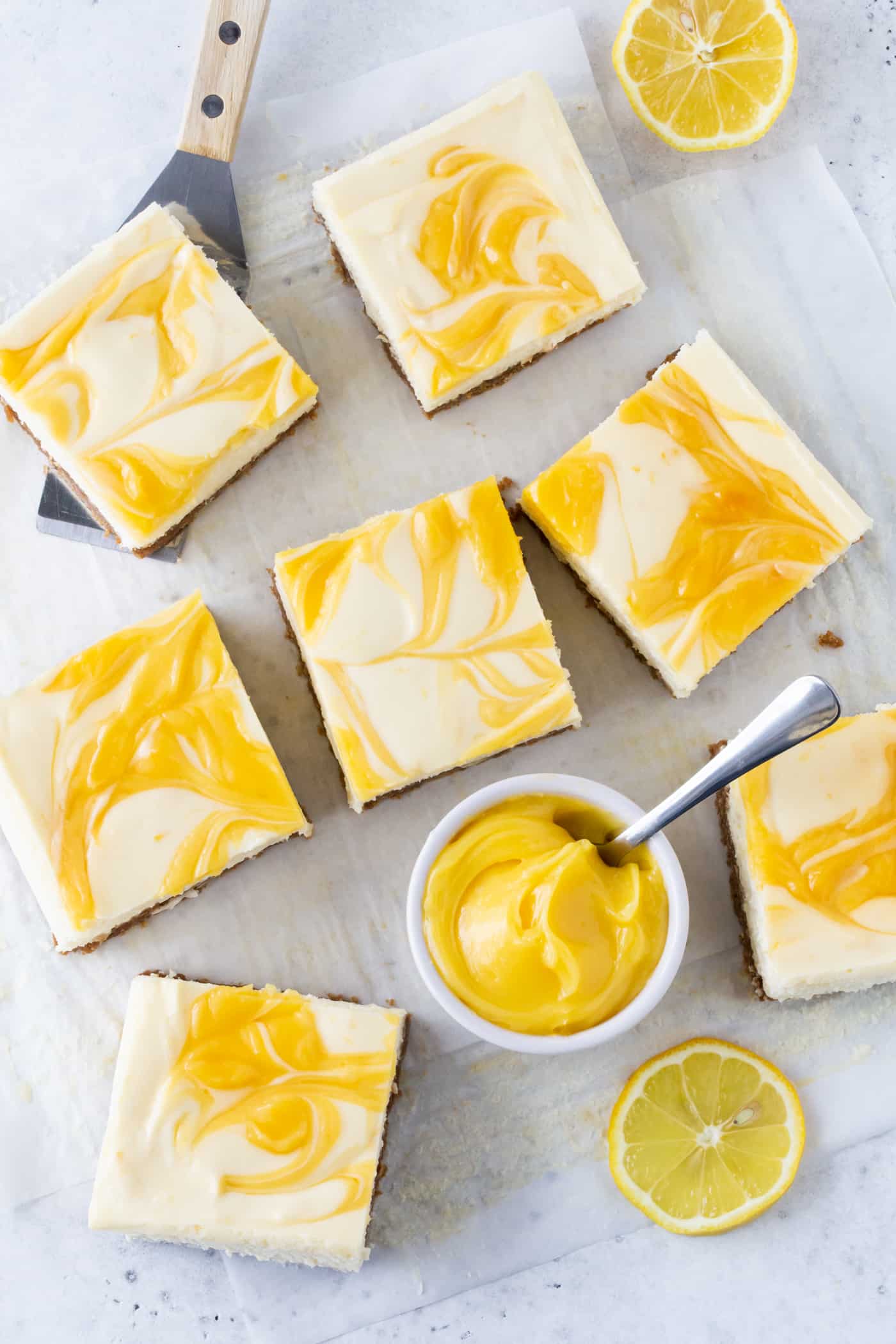 Spring seems perpetually around the corner these days. Close enough to know it's coming but just out of reach to feel intangible. (The lingering mounds of snow in my yard don't help.)
So while the weather may not scream spring, I can still get my seasonal fix with this tangy Lemon Cheesecake Bars recipe.
Cheesecake bars are the ultimate dessert for any mealtime buffet. You get all the fanciness and decadence of a regular cheesecake in portable, bite-sized form. No utensils required!
How to make Lemon Cheesecake Bars
These bars, or "cheesecake squares" as some people call them, get a double dose of lemon with the addition of lemon juice and zest in the cheesecake batter and a swirl of rich, tangy lemon curd on top. These bars may look fancy, but they are really easy to make. I'll break them down into a few easy steps here:
Lining the pan is the first step. You're going to need an overlap of parchment paper or nonstick foil to use as handles to lift the cheesecake bars out of the pan when you're ready to cut and serve them.
Next up is the graham cracker crust. Stir together some graham cracker crumbs with sugar and melted butter. Evenly press into the bottom of the prepared pan. Tip: I like to use the bottom of a drinking glass to press the graham cracker mixture into the pan to keep the crust even.
All that's left is to make the cheesecake batter. It comes together quickly with the help of a hand or stand mixer. Evenly spread the cheesecake batter on top of the crust. Dollop lemon curd on top of the batter and gently swirl it through using either the tip of sharp knife or an offset spreader. Then bake using a water bath.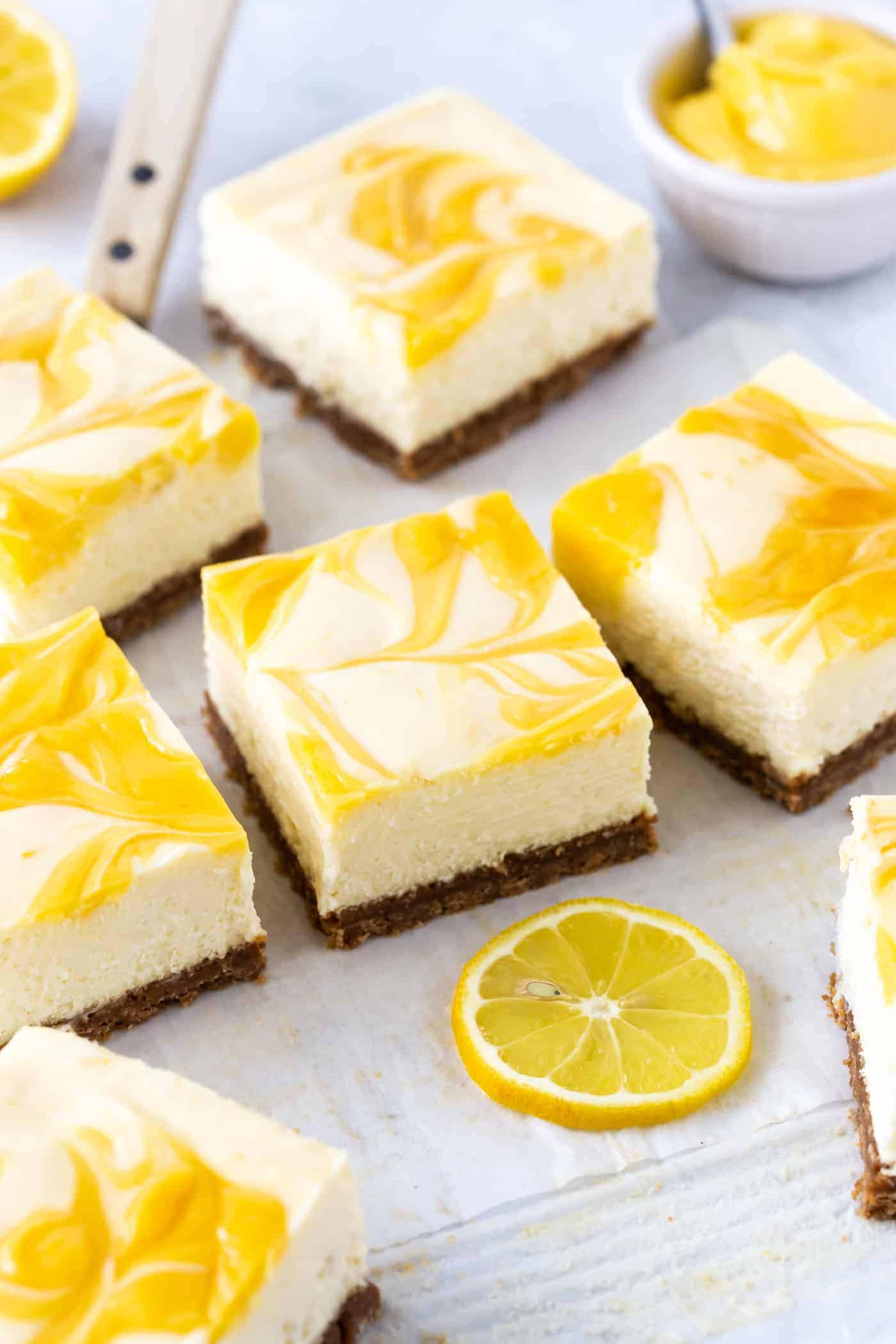 Here's why I use a water bath when I bake cheesecake bars
Although others may disagree, I think a water bath is an essential element of achieving creamy, evenly baked cheesecake. It sounds fancy, but a water bath is little more than putting your baking pan into another larger pan and filling the larger vessel with water halfway up the sides of your baking pan. (Think 8 x 8 pan inside 9 x 13 pan for visual reference.)
A water bath helps to keep the baking temperature as consistent as possible during the baking process. Even, moist heat ensures the cheesecake is bakes at the same pace (no hard edges and underdone middle pieces).
Using a water bath when baking cheesecake also minimizes the chance that your cheesecake will crack along the top and/or sink in the middle, both common issues with cheesecake recipes.
I like to place my larger pan in the oven first before nestling the baking pan inside it and adding the water. This is MUCH easier than trying to slide a pan nestled in another pan of water into the oven without getting water everywhere (including in your cheesecake batter). Trust me on this one.
How to make gluten-free Lemon Cheesecake Bars
These luscious cheesecake squares can easily be made gluten-free for guests with special dietary requests. All you need to do is swap the regular graham cracker crumbs with gluten-free graham cracker crumbs and continue with the recipe as directed.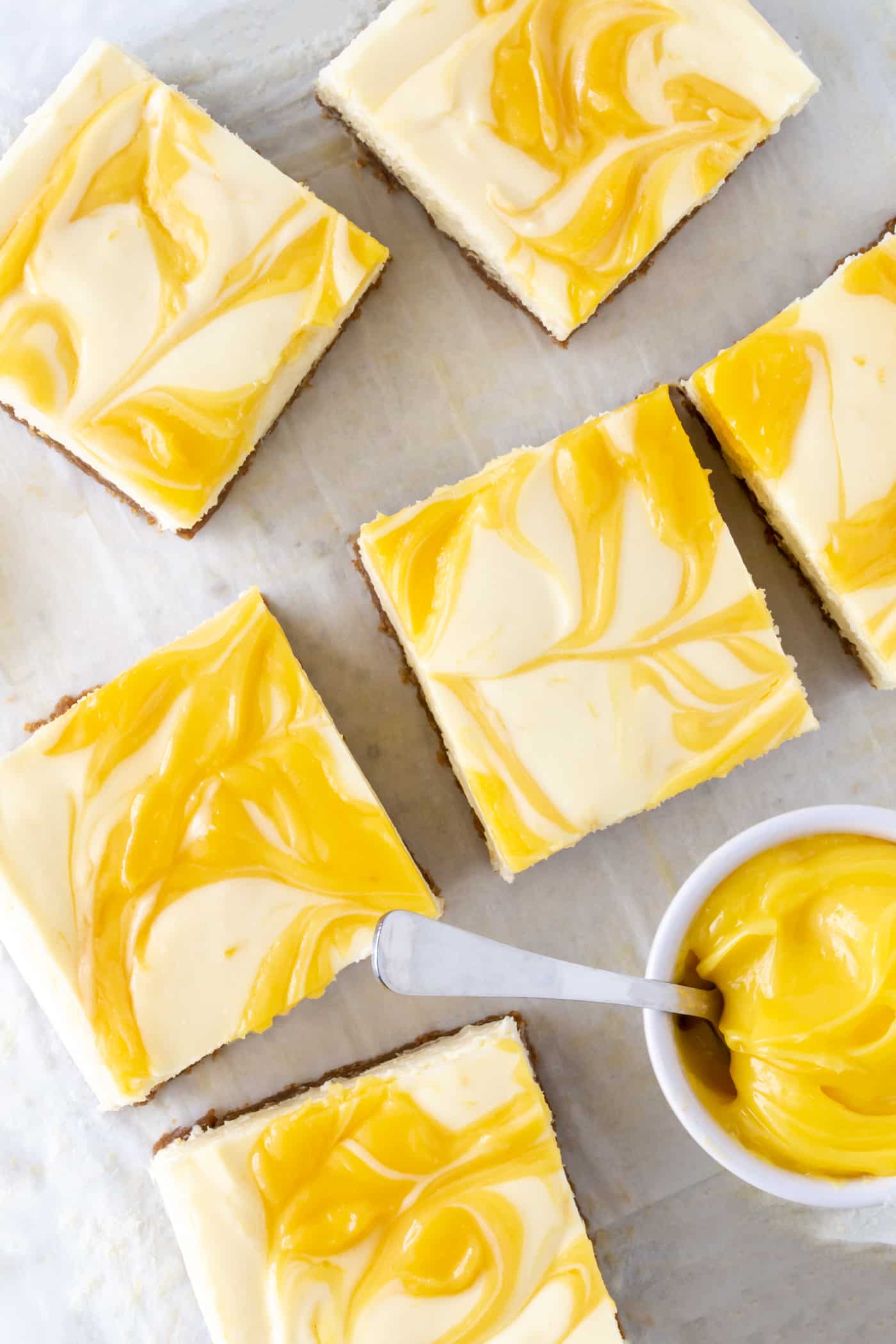 Make these Cheesecake Bars in advance
Pressed for time? You can make this recipe up to two days in advance. Keep them covered in the refrigerator until ready to cut and serve.
Here's what I used to make these Lemon Cheesecake Bars with Lemon Curd:
You wouldn't think there would be that much difference in store-bought lemon curds, but this Stonewall Kitchens Lemon Curd is the best I've found. A gorgeous yellow flavor and not gelatinous than other brands I've tried. Of course, you can always make your own lemon curd if you've got the time. Homemade Lemon Curd is much easier to make than you'd think!
A straight edge cake pan is necessary to get sharp, square corners on your cheesecake bars. USA Pans are my favorite. Durable, non-stick and easy to clean.
It may sound like a bit of an overstatement, but my offset spreader is one of my favorite kitchen tools. It makes quick work of smoothing the top of the batter and swirling the lemon curd. Great for frosting, too!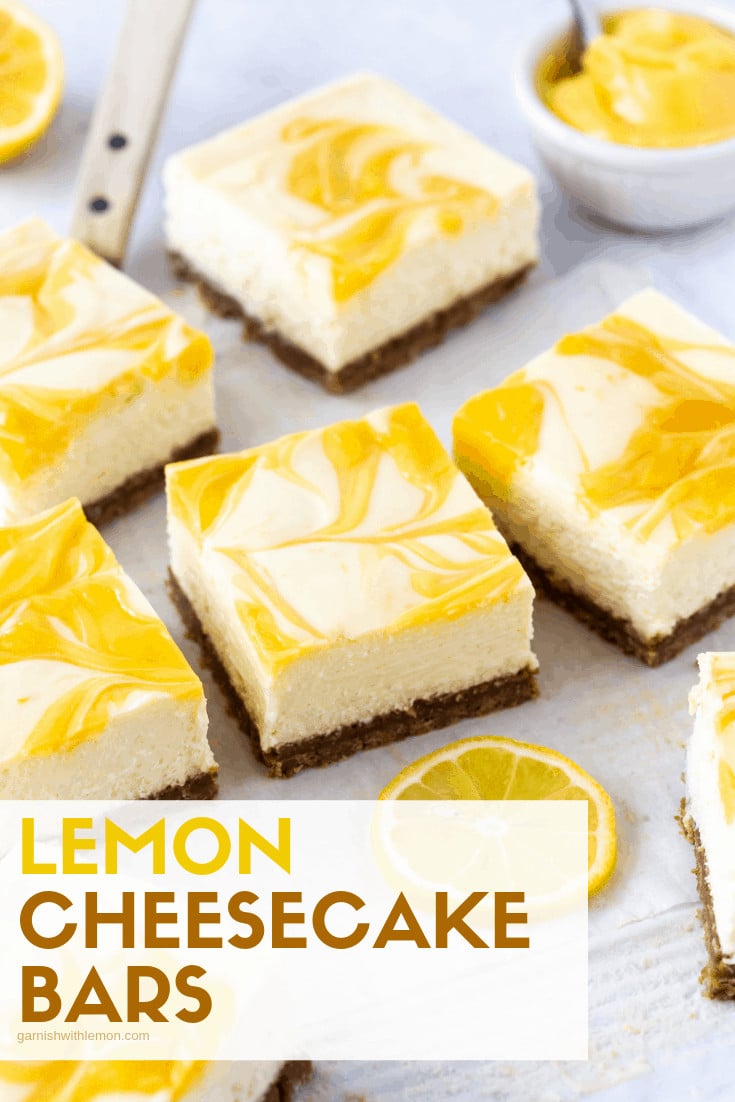 Cheesecake bars come in all sorts of flavors. These are some of our favorite recipes:
Yield: makes 9 bars
Lemon Cheesecake Bars
Nothing screams spring like lemon desserts, and this recipe for Lemon Cheesecake Bars uses lemon curd to give each decadent bite just the right amount of tang. Perfect make-ahead dessert for brunches, showers or graduations!
Total Time
10 hours
20 minutes
Ingredients
Crust:
2 cups graham cracker crumbs
2 tablespoons granulated sugar
6 tablespoons melted butter
Cheesecake filling:
24 ounces cream cheese, softened
¾ cup sugar
2 large eggs, room temperature
¼ cup sour cream
3 tablespoons freshly squeezed lemon juice
1 tablespoon freshly grated lemon zest
heaping ⅓ cup lemon curd
Instructions
For the crust:
Preheat oven to 350 degrees. Line 8 x 8 baking pan with parchment paper or non-stick foil foil leaving an overhang on all sides. Set aside.
Stir together graham cracker crumbs and sugar. Pour melted butter into mixture and stir to combine. Dump into prepared baking pan and evenly press crumb mixture into pan to form crust. Place in refrigerator to set while preparing cheesecake.
For the filling:
Beat together cream cheese and ¾ cup sugar in a large bowl until light and fluffy. Beat in eggs until incorporated. Add sour cream and lemon juice and gently mix until batter is smooth. Stir in lemon zest. Pour batter over crust. Gently add dollops of lemon curd over the top of the cheesecake batter. Use the tip of an offset spreader or knife to gently swirl the curd into the batter taking care not to hit the crust.
Place a larger pan (9 x 13 or larger) in the oven and set cheesecake pan inside it. Fill large pan with enough water so it reaches halfway up the sides of the cheesecake pan.
Bake for 50-55 minutes or until cheesecake is just set. Turn off the oven, prop the oven door open with the handle of a wooden spoon and allow to cool for another hour.
Remove bars from water bath and refrigerate overnight.
When ready to serve, lift cheesecake from pan using overlapping paper or foil. Cut cleanly into bars by using a sharp knife run under hot water and dried after each cut.
Notes
Additional time includes cooling the cheesecake overnight.
Recommended Products
As an Amazon Associate and member of other affiliate programs, I earn from qualifying purchases.
Nutrition Information:
Yield:
9
Serving Size:
1 bar
Amount Per Serving:
Calories:

546
Total Fat:

39g
Saturated Fat:

22g
Trans Fat:

0g
Unsaturated Fat:

13g
Cholesterol:

154mg
Sodium:

419mg
Carbohydrates:

43g
Fiber:

1g
Sugar:

31g
Protein:

8g