Impress your friends with this easy Cranberry Apple Chutney recipe. It's the perfect topping for everything from roasted meats to cheese plates!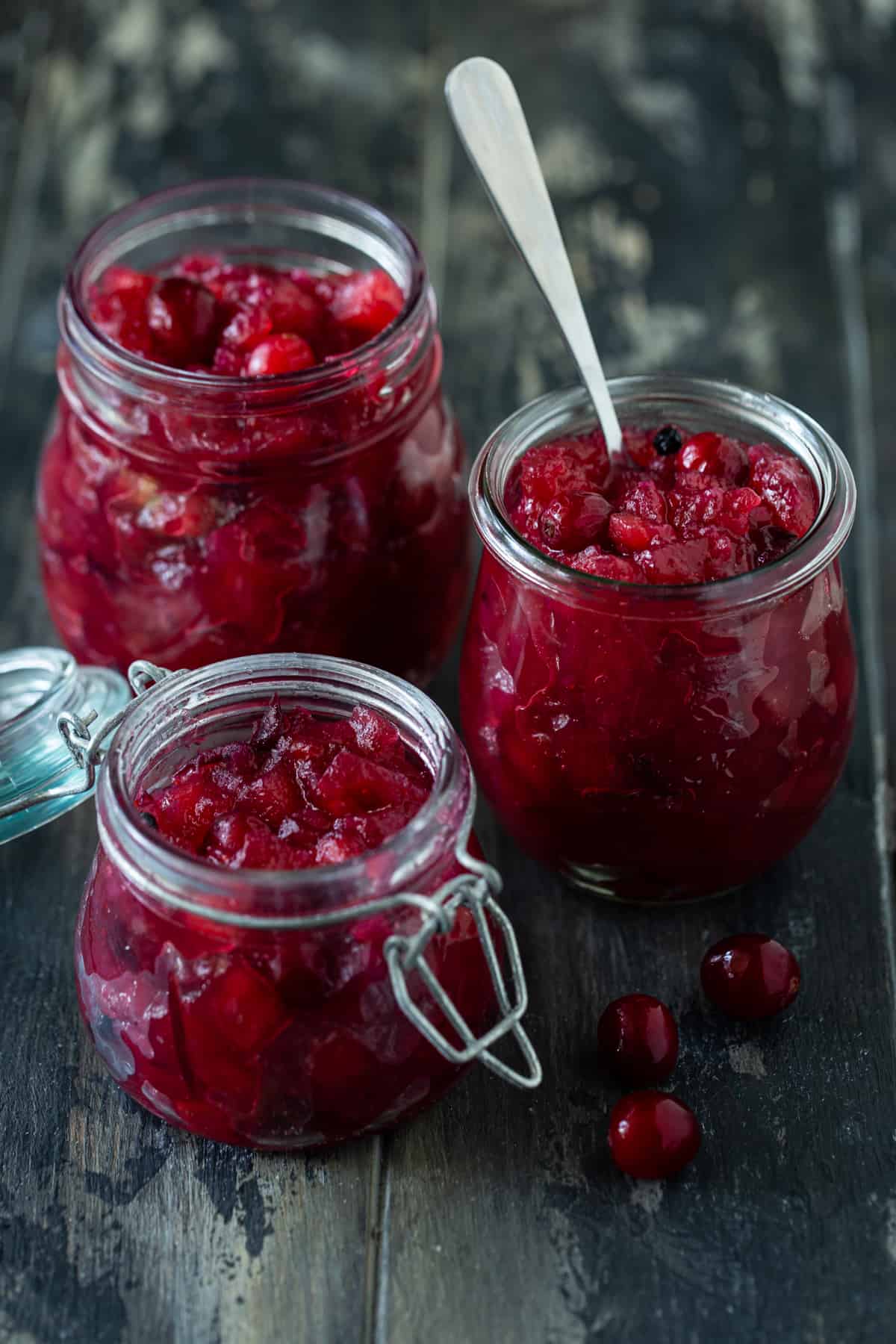 Do you believe in magic? You might after you make this super simple Cranberry Apple Chutney recipe. This spread/condiment/relish is at home on nearly everything from pork tenderloin to grilled cheese to a simple cheese plate.
It's filled with some of fall's best flavors, including apple, cranberry and ginger. No matter how you use it, the result is an aromatic mashup of sweet, savory and tangy goodness in every bite. (I wasn't kidding about that magic thing.)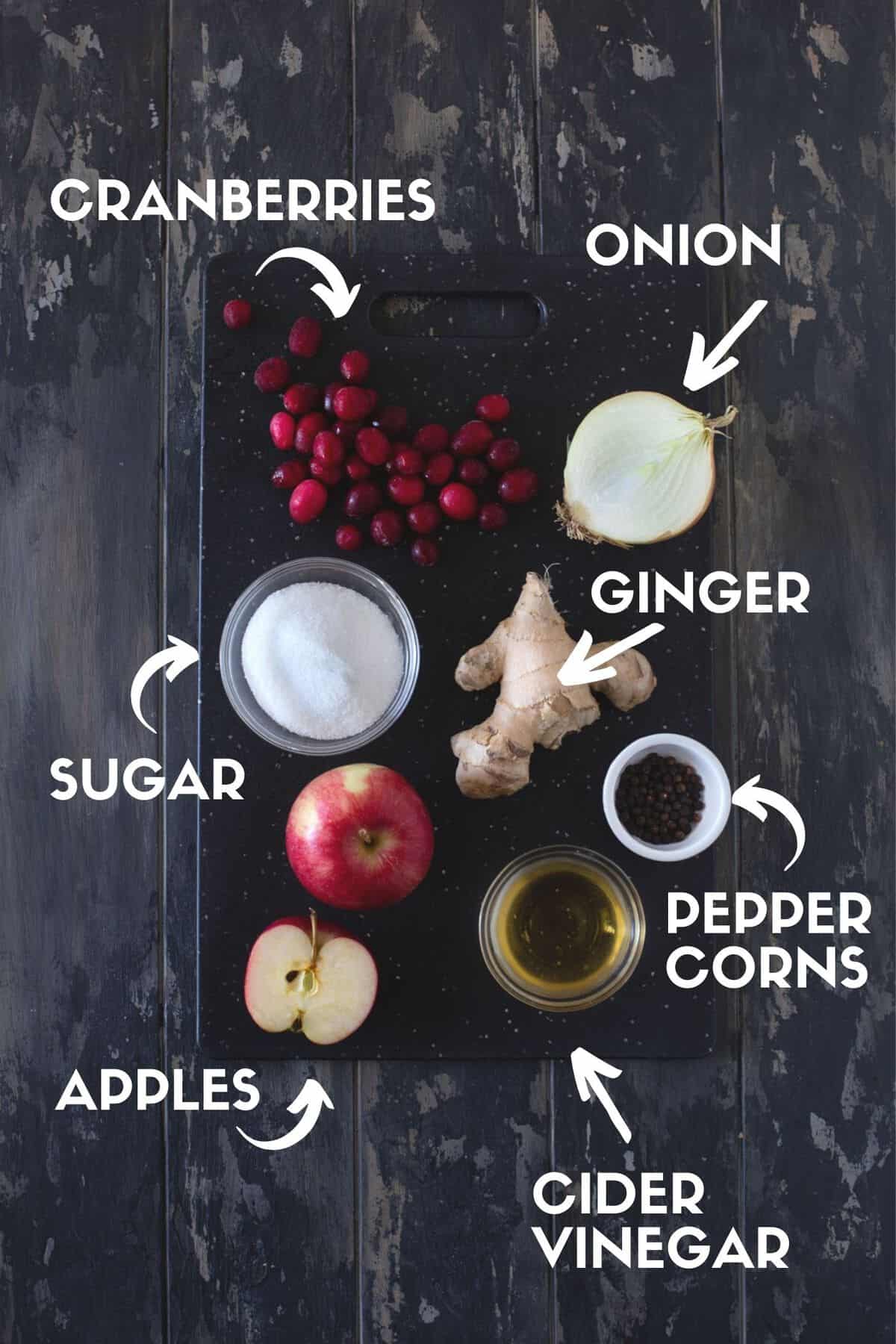 Jump to:
Ingredients
Apples (a combination of sweet and tart is best)
Onion
Fresh ginger
Whole peppercorns
Sugar
Cider vinegar
Fresh Cranberries
Instructions
This recipe is mostly hands free with the exception of a bit of chopping.
Peel, core and chop the apples. Chop the onion and peel and mince the ginger.
Place all ingredients except the cranberries in a medium saucepan. Bring to a rapid boil and then reduce to a low boil for 30-35 minutes, stirring occasionally.
Stir in the fresh cranberries and continue to cook for another 10 minutes or until most of liquid is absorbed. You're looking for a thicker consistency than a jam.
Allow to cool completely before placing in a sealed container. Refrigerate until ready to use.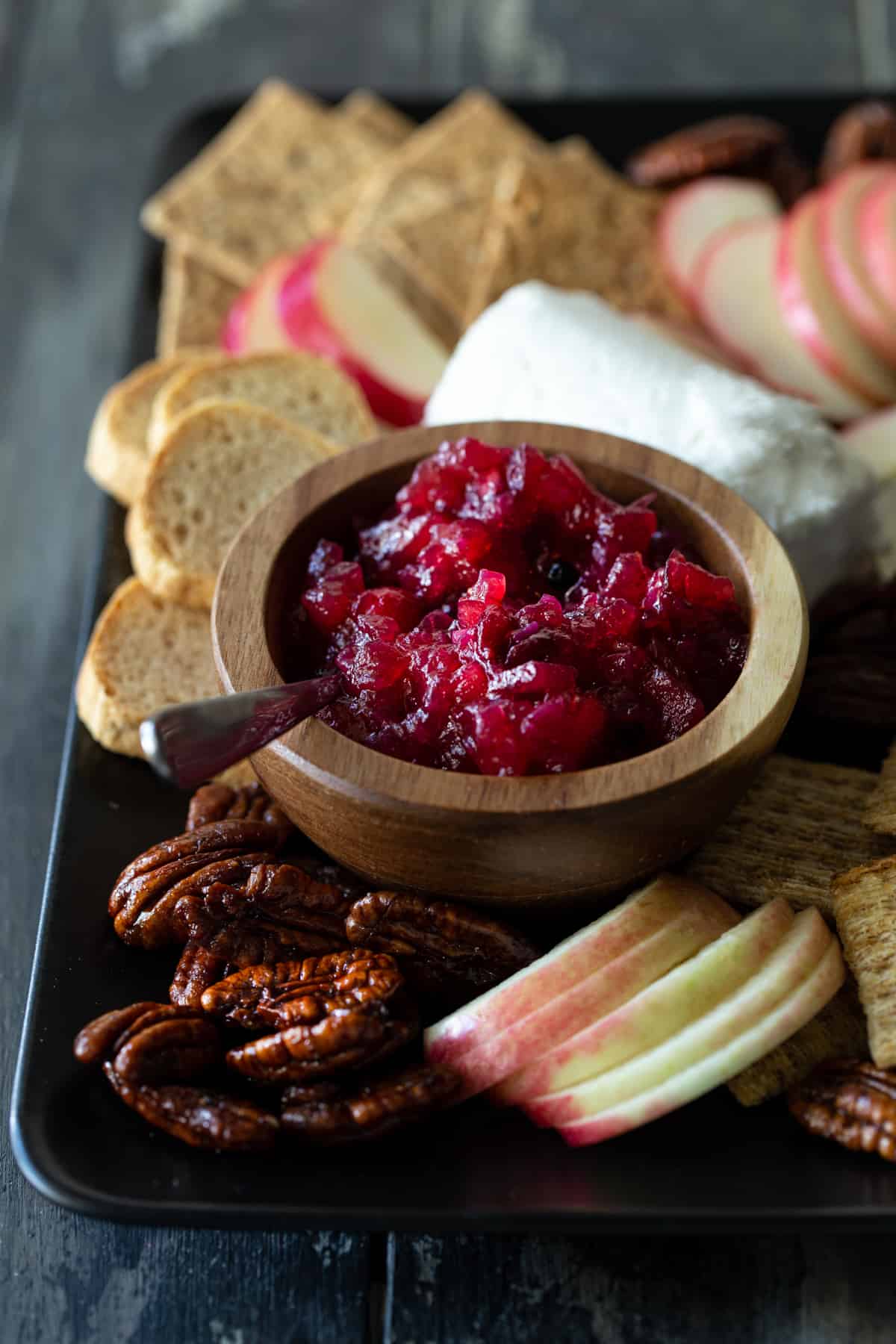 FAQs
How long will chutney keep?


You can keep chutney refrigerated for up to 10 days.
Can I freeze chutney?


Chutney freezes beautifully. Make a batch or two of this recipe and freeze the excess for up to 6 months. 
What's the difference between jam and chutney? 


These two condiments look similar - chunky, fruity - but they actually taste quite different. 

Jam is made from fruit, sugar and usually pectin for thickening. It is almost always sweet and is often slathered on toast, sandwiches and even used as an ingredient in layer cakes. 

Chutney is also made from fresh or dried fruit but it also contains vinegar and other spices which make it much more savory in flavor. Chutneys are popular in Indian cuisine but you'll also see them used as a relish alongside many roasted and grilled meats or as a spread on a cheese board.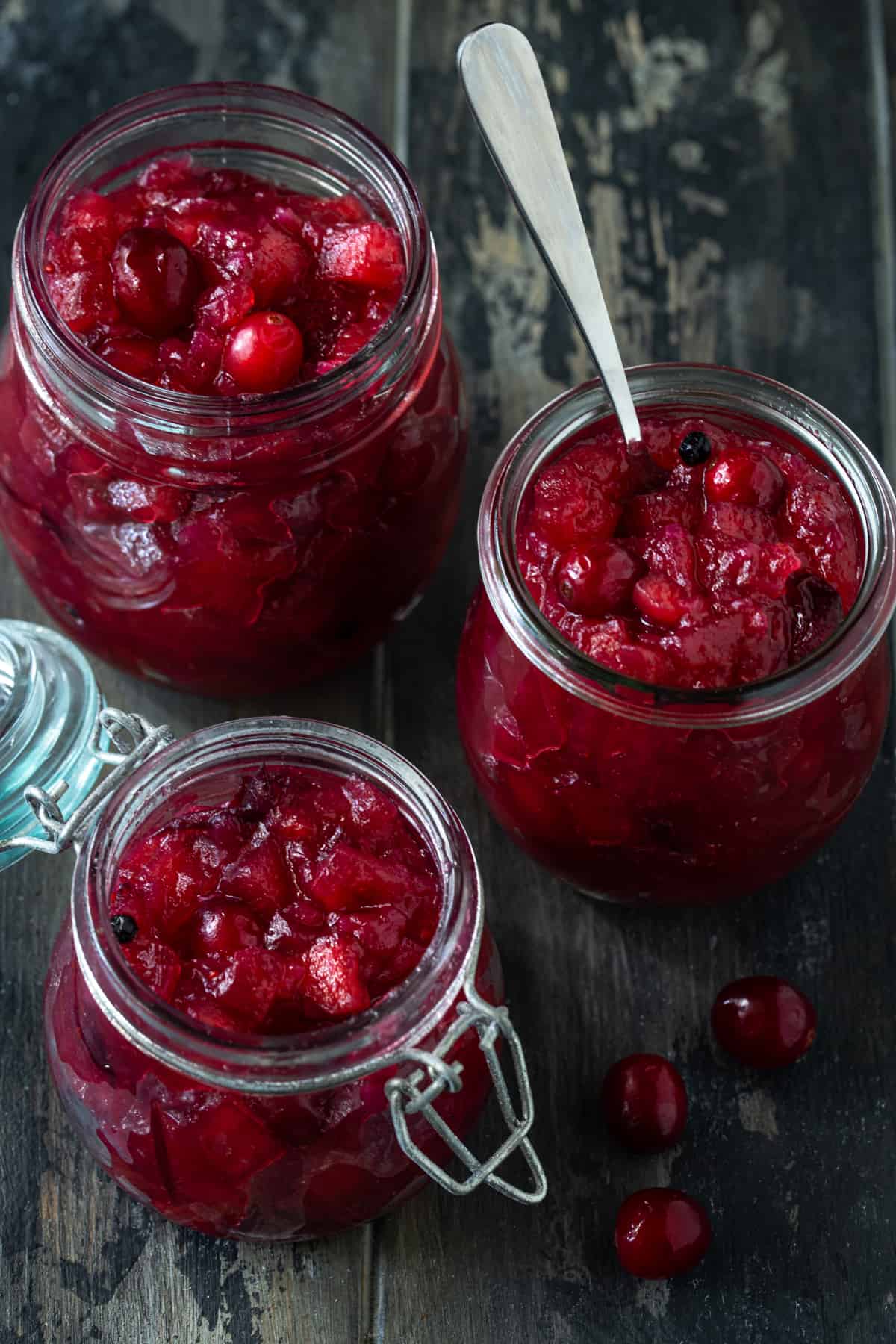 Serving suggestions
One of my favorite ways to use this chutney is on a cheese board. Not only does it add great color, that savory and slightly sweet flavor pairs well with a lot of cheeses.
This Cranberry Apple Chutney is also delicious on top of baked brie. Simply bake the brie, top with the chutney and serve with crackers and baguette slices. It's a tasty appetizer for parties and looks super fancy. (Want more specifics on how to bake the brie? Follow the brie baking instructions in this Baked Brie with Cranberries recipe
You can also top any number of roasted meats with this chutney. Some of our favorites are grilled pork tenderloin and roasted turkey breast. Or spread a thin layer on your sandwich or grilled cheese for an unexpected pop of flavor.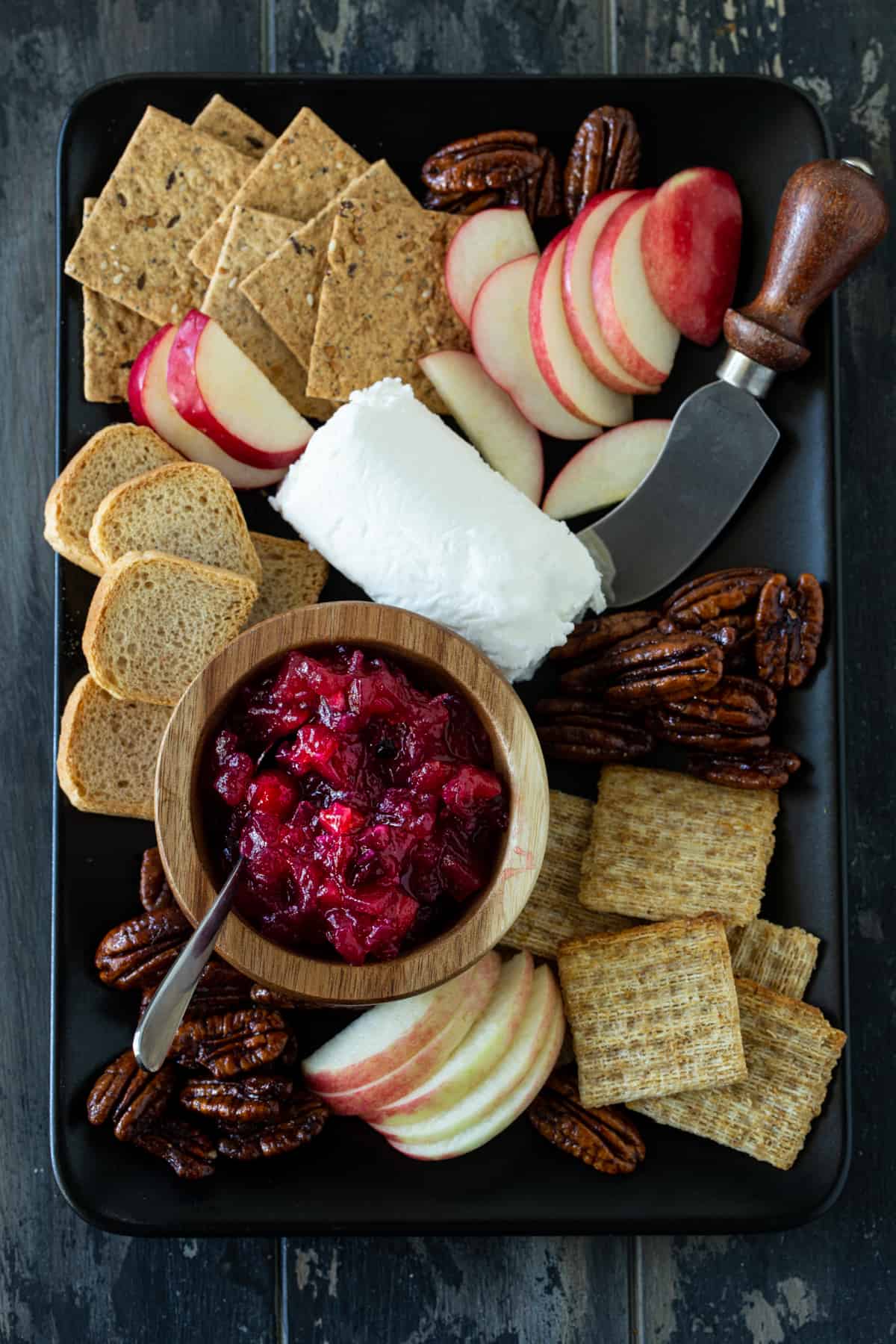 Related recipes
Looking for more relish and condiment recipes to jazz up your menus?
This easy tomato jam is similar to a chutney but it leans toward the sweeter side. Looking for something more savory? Dial back the sugar and add some balsamic vinegar. Also tasty with grilled meats.
Turn up the heat with this homemade jalapeño and blueberry freezer jam. Easy to make and keeps in the freezer for months - no canning required!
This Peach Chutney can be made in the slow cooker. Just set it and forget it!
Grab that baguette because tomato, apple and bacon jam is a one of my favorite ways to top crostini, especially if your garden is bursting with late summer tomatoes.
Recipe
Cranberry Apple Chutney
Take your meals up a notch with this versatile Cranberry Apple Chutney. This savory, make-ahead recipe is perfect on cheese plates or with roasted meats. 
Ingredients
4

cups

chopped

peeled apples (I used a combination of sweet & tart apples)

1

cup

chopped onion

4

teaspoons

minced fresh ginger

½

teaspoon

whole peppercorns

1

cup

sugar

½

cup

cider vinegar

1

cup

fresh cranberries
Instructions
Combine all ingredients except cranberries in medium saucepan. Bring to boil then reduce heat to a low boil and cook for 30-35 minutes, stirring occasionally. Add cranberries and cook for another 10 minutes or until most of the liquid is absorbed.
Notes
Can be made ahead of time. Cool completely before placing in a sealed container. Will keep in the fridge for 10 days and in the freezer for up to 6 months.
Nutrition
Serving:
1
serving
Calories:
120
kcal
Carbohydrates:
30
g
Protein:
1
g
Sodium:
3
mg
Fiber:
2
g
Sugar:
26
g
Nutrition info not guaranteed to be accurate.
You'll be amazed at how many ways you can use this easy Cranberry Apple Chutney. Filled with fall flavors, this savory spread adds a pop of flavor to pork, turkey or chicken and makes a killer secret ingredient on grilled cheese. Or top some baked brie with this chutney for a simple but elegant appetizer.