Is there anything better than a perfectly roasted turkey with crispy skin? Learn How to Cook a Turkey Breast and you will be eating juicy roasted turkey year-round, not just at Thanksgiving.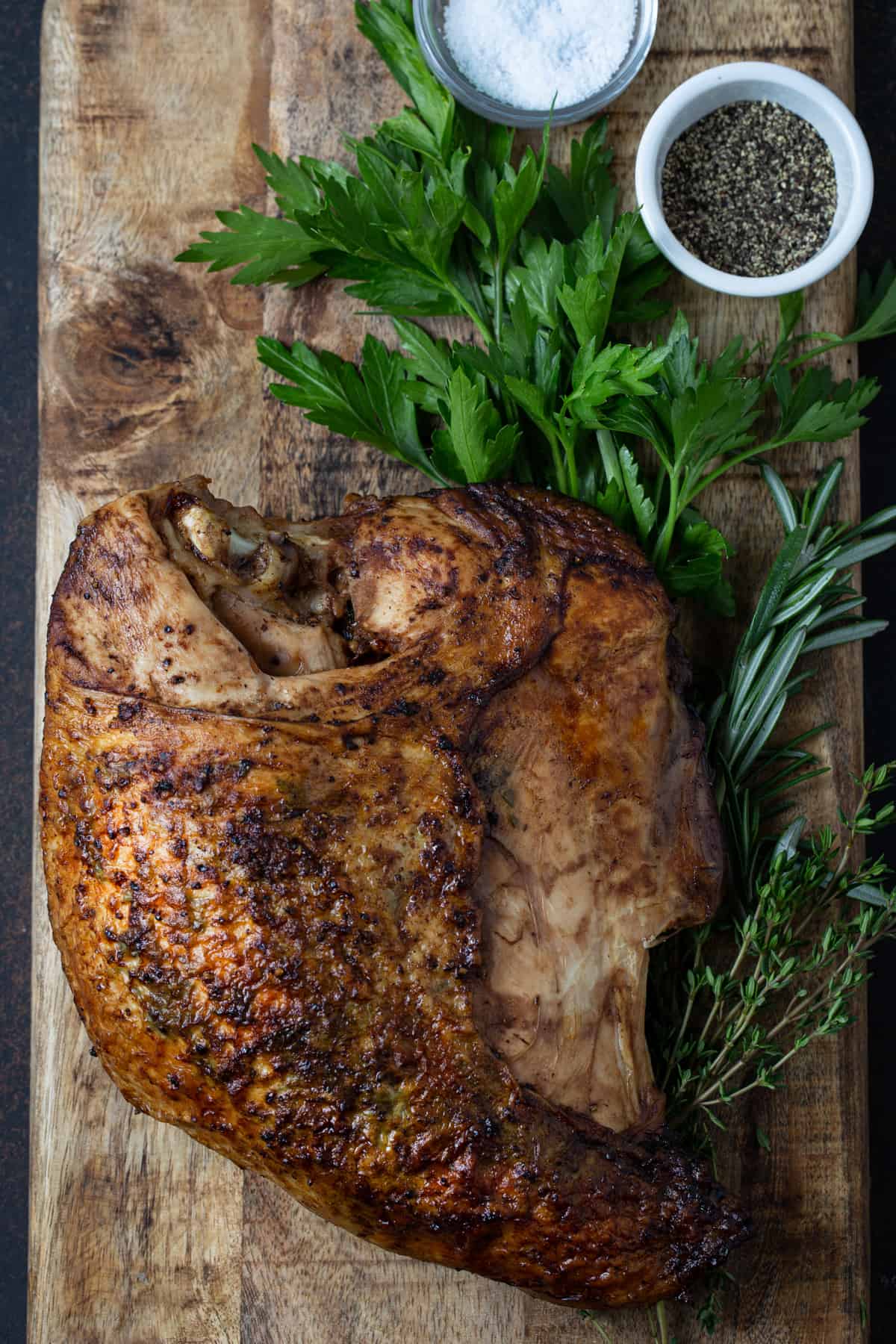 Are you in charge of cooking for Thanksgiving this year but don't have a huge group? Pick up a fresh (or frozen) turkey breast and you will have the perfect amount of turkey for 4-6 without a ton of leftovers.
Bonus: it cooks much faster than a whole turkey!
Every year, people scour the internet for the best way to cook a turkey. Everyone wants a beautifully roasted bird with crispy, golden brown skin and juicy, flavorful meat.
Your search for the perfect Thanksgiving Turkey is over. Follow this simple recipe and get great results every single time.
Jump to:
Ingredients
The list is short and sweet and the end result is a juicy, flavor-packed turkey breast:
3 pound bone-in turkey
4 tablespoons softened butter
Fresh herbs - we used thyme, parsley and rosemary but feel free to use your favorites!
Instructions
It doesn't take a lot of prep to get this turkey breast ready for the oven.
After you combine your butter and herbs, gently separate the skin from the meat with your hand. Once it is separated, spread the herb butter underneath being sure to get the corners. The herb butter under the skin is the key to getting a nice brown crispy finish.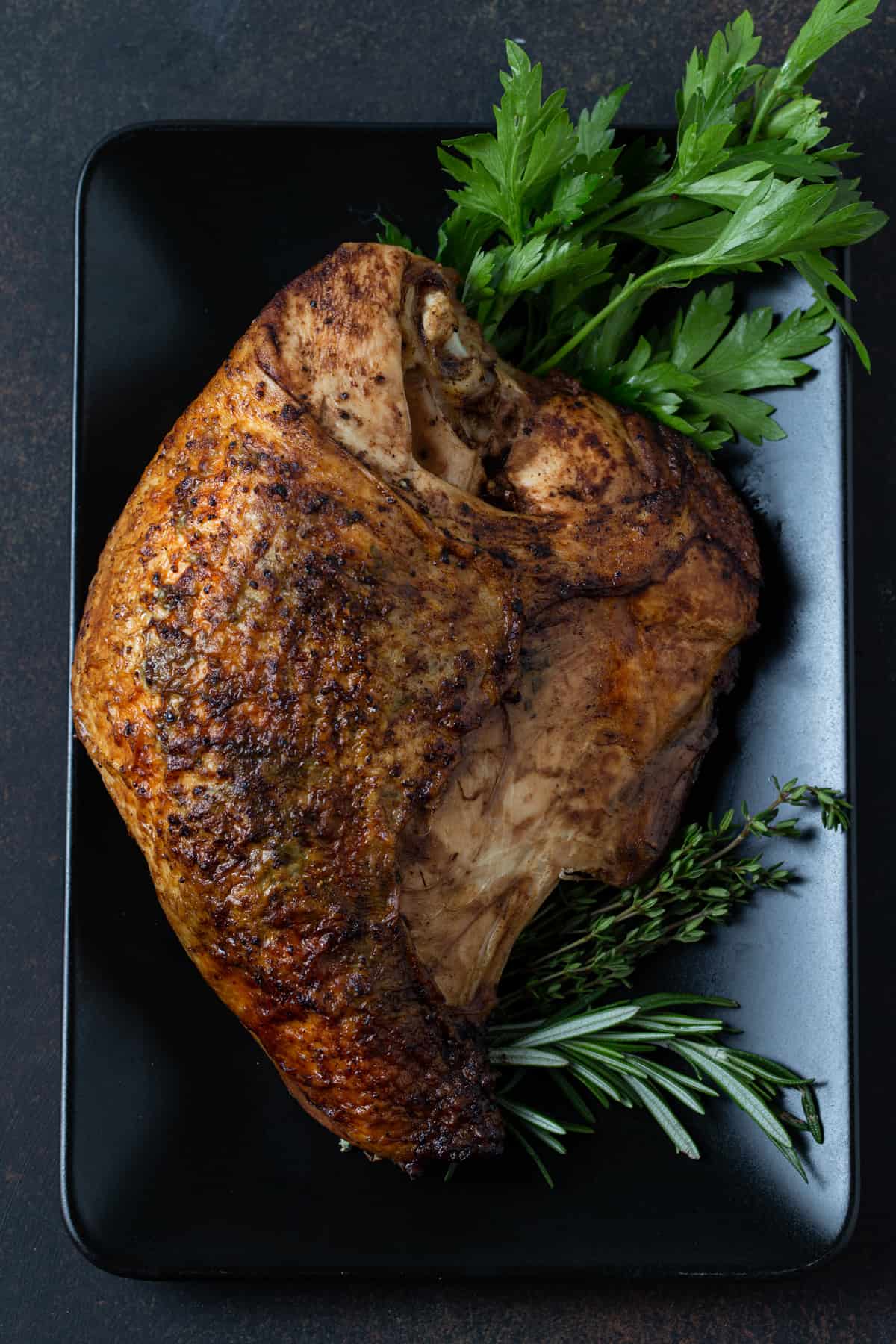 FAQs
How long do you cook a turkey breast?

For a bone-in turkey breast allow 12 minutes per pound at 400°F for cooking or 17-20 minutes a pound at 350°F. If you are cooking a boneless breast, your cooking time will be slightly less.
How do I know it's done?

You can't go just by color when you are checking for doneness. Remove it when the thermometer reads 160°F. (This instant read thermometer is our favorite. Accurate every time!)

Be sure to tent it loosely with foil and let it rest for 20-30 minutes. The breast will continue to cook as it sits and the foil keeps it warm while you make the gravy.

Tip: Cooking time is merely a guideline, which means internal temperature is the only sure-fire way to know if meat is cooked properly.
Can I grill a turkey breast?

Yes, we love grilled turkey breast!

The best way is to grill it is over indirect heat for about 20 minutes per pound. Remove turkey breast from grill when temperature reads 160°F and cover with foil for 20-30 minutes to let juices redistribute.
How do you carve a turkey breast?

Carving a turkey breast is SO much easier than a whole turkey. Start with a sharp carving knife and run it along the breast bone in even strokes to cut the turkey off in one large piece. Then simply slice and serve!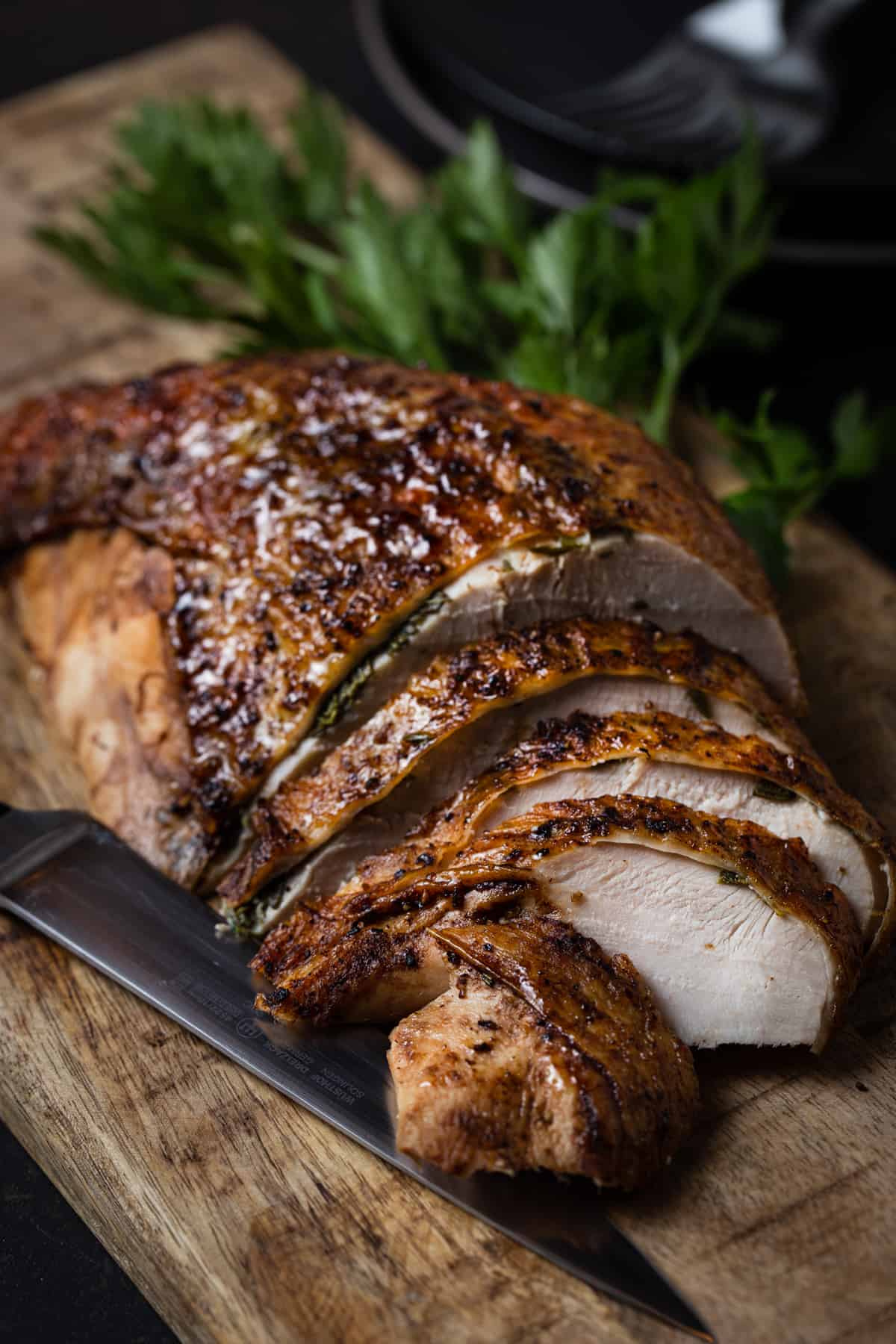 Roasting tips
A sheet pan is perfect for cooking a turkey breast and getting crispy brown skin. If you have a pan with higher sides than the breast, the air can't circulate resulting in steamed meat.
Remove the turkey from the refrigerator 30 minutes before you put it in the oven. Turkey straight from the fridge cooks unevenly (it's cold!).
Invest in a good meat thermometer. An instant read meat thermometer gives you an accurate reading every single time. No one wants to ruin the day with an undercooked or overdone bird.
Be sure you allow time for the turkey to rest before you carve. A brief rest allows the juices to redistribute so you don't end up with a dry turkey.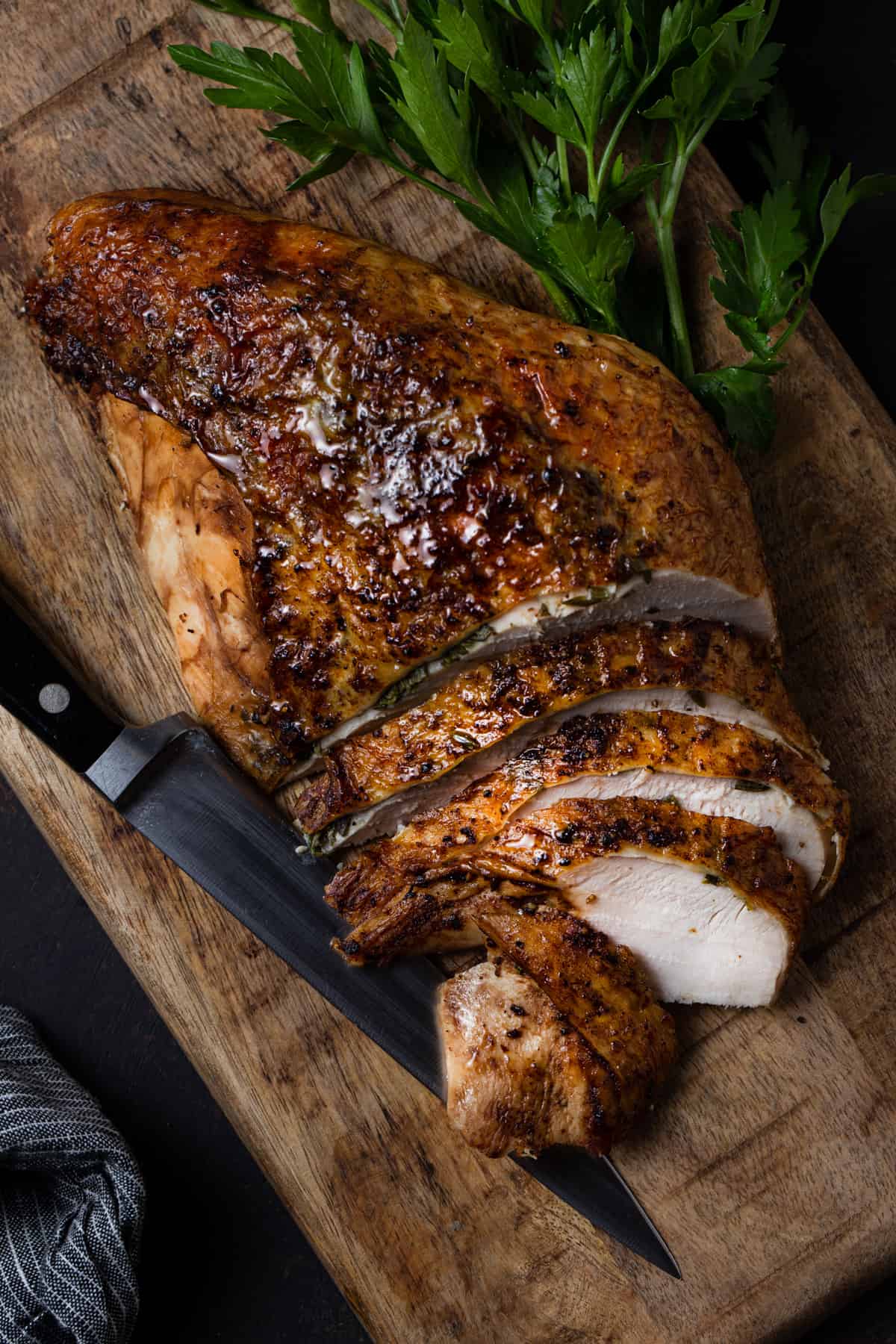 More Thanksgiving Recipes
It's not Thanksgiving without the sides (AKA the best parts of Thanksgiving). Check out our favorites to round out your holiday meal!
Recipe
How to Cook a Turkey Breast
This herb crusted roasted turkey breast is juicy and full of flavor.
Ingredients
4

tablespoons

butter

softened

2

teaspoons

dried herbs

we used thyme, rosemary and parsley

1

bone-in split turkey breast

3 pounds

salt and pepper to taste
Instructions
Preheat oven to 400 degrees.

In a small bowl combine the softened butter and thyme until mixed well.

Place turkey on a rack a shallow roasting pan. Rub the butter mixture underneath the turkey skin. Season to taste with salt and pepper.

Roast turkey in oven for 12-14 minutes per pound.

Halfway through cooking, baste the turkey breast with butter mixture on bottom of pan if desired.

Remove from oven when turkey breast reaches 160.

Cover turkey with foil and let rest for 20 minutes before carving to let juices redistribute.
Notes
You can also roast the turkey at 325 but will need to increase your cooking time to 18-22 minutes per pound.
If you want to do a whole turkey breast, just double the butter mixture and adjust time accordingly.
Nutrition
Serving:
1
g
Calories:
174
kcal
Carbohydrates:
10
g
Protein:
7
g
Fat:
12
g
Saturated Fat:
7
g
Polyunsaturated Fat:
4
g
Cholesterol:
48
mg
Sodium:
189
mg
Sugar:
9
g
Nutrition info not guaranteed to be accurate.
Are you home for Thanksgiving and cooking for your family this year? Take the stress out of Thanksgiving dinner when you use this easy recipe for How to Cook a Turkey Breast. It's so delicious, you won't save it just for the holidays!