Veggie trays don't have to be boring! Follow our easy suggestions for How to Make a Better Veggie Tray that everyone will love - kids and adults alike!
Veggie trays are one of the most popular items to bring to a potluck or make as an appetizer because they are easy to put together and have something for nearly everyone.
But even a die-hard veggie lover can grow weary of the same old carrots and celery after a while. Shake up your platter and wow your guests with our simple suggestions for How To Build A Better Veggie Tray.
Jump to:
What makes this recipe unique
➤ Easy-to-follow suggestions for color, shape and texture to take your veggie plate from average to impressive in a hurry.
➤ Multiple dips give guests options for flavor and keep them coming back for more.
➤ Make ahead tips for time-crunched hosts.
Ingredients
Veggies are the stars of the show in any vegetable tray so seek out a variety of the freshest produce you can for best flavor.
Crowd-pleasing veggies include carrots and bell peppers, but try to sneak in some other options that you might not normally think of when it comes to a vegetable platter, like green beans, endive leaves and jicama.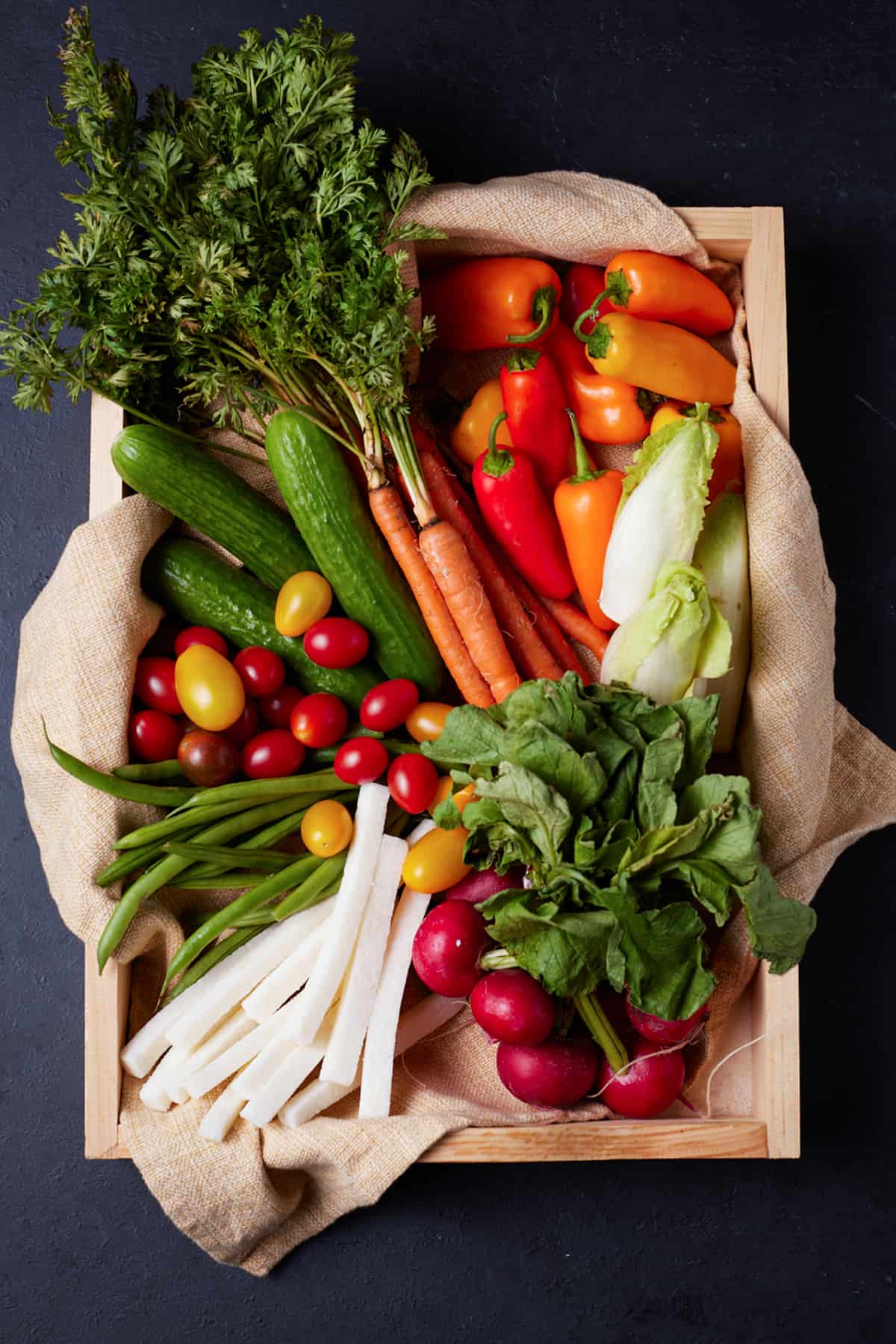 Instructions
Yes, you can buy a pre-made vegetable platter at the store, but with just a little more effort, you can make one that everyone will ooh and aah about!
Step 1: Choose a unique serving dish.
Sure, you can bring out a big plate for your vegetable tray, but think outside the box (or inside a wooden handled one, like we did). Other creative serving pieces include wooden cutting boards, shallow wicker baskets, metal trays or even a variety of glass vessels grouped together. Getting creative with your serving pieces will give your guests a whole new appreciation of their veggies.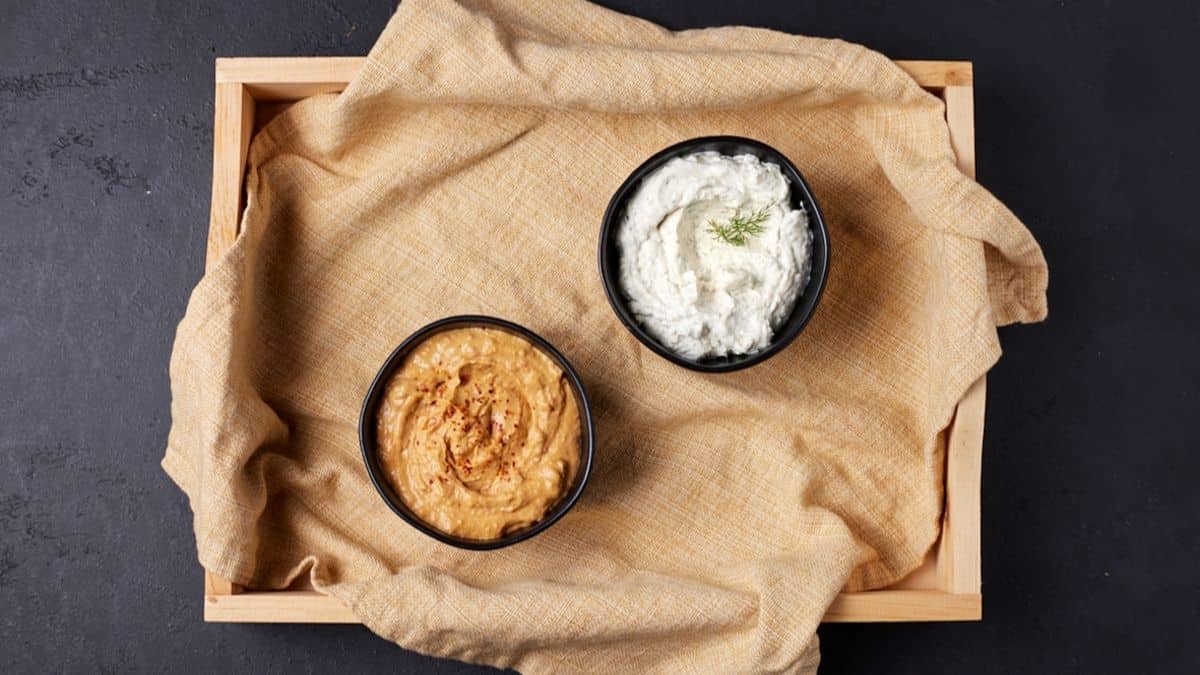 Step 2: Offer at least two dips with different flavors and textures.
Hummus is always a staple on our veggie trays. We usually jazz it up with a sprinkle of crushed red pepper or a swirl of olive oil on top.
Want even more color and flavor in your dips? Our Healthy Avocado Dip and our Creamy Goat Cheese Pesto Dip always disappear fast whenever we serve them. And no veggie plate is complete without a classic Dill Dip. Trust us; this easy recipe is way better than anything you can buy at the store.
Step 3: Anchor your veggie tray with blanched and marinated veggies.
Not everyone enjoys eating raw vegetables, so offer up a few options that are very briefly blanched and shocked in cold water to retain their color. This is an especially great choice for veggies like green beans, broccoli and asparagus that most people prefer to eat in cooked form.
Marinated vegetables like mushrooms, artichokes or even olives that are often found on a charcuterie platter can do double duty on a veggie tray, too.
Tip: Unsure how to blanch vegetables? It's super easy! Simply bring a pot of water to a boil and add vegetables. Cook for just a few minutes (usually 1-5 minutes, depending on the vegetable), until vegetables are a vibrant color but still firm to the bite. Immediately remove the vegetables from the boiling water with a slotted spoon and place in a bowl filled with ice water. Drain and refrigerate until ready to use.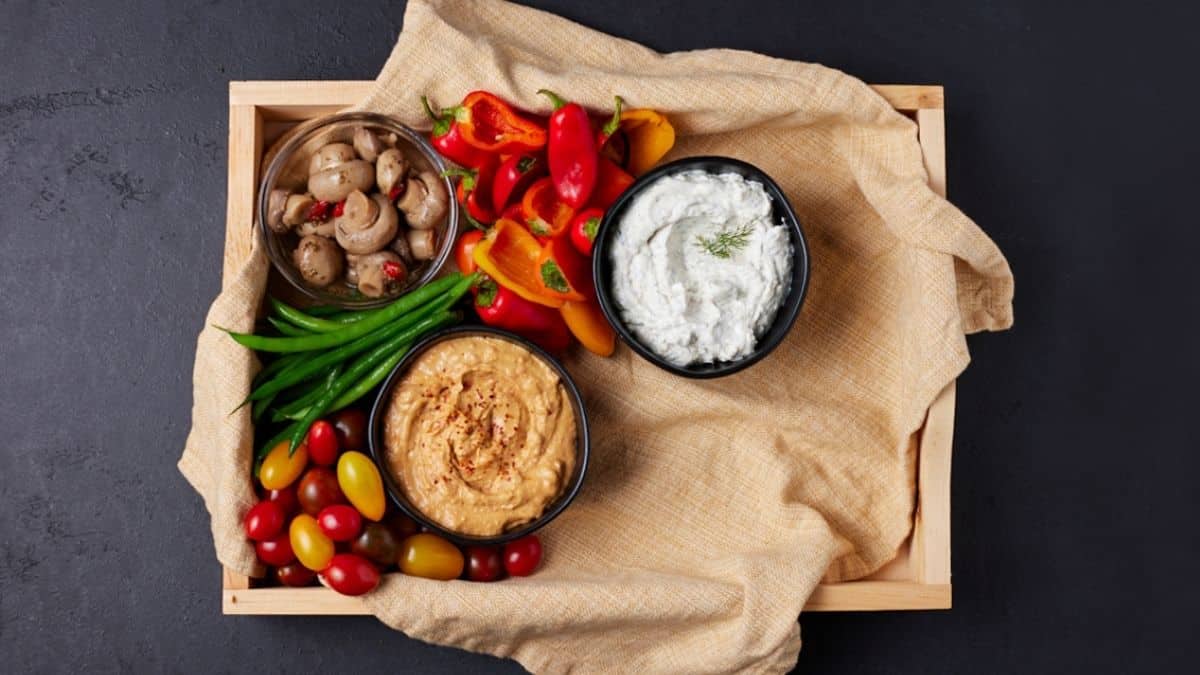 Step 4: Add some color!
It's easy to find multi-colored mini peppers and grape tomatoes at the grocery store but you can also use just a single color of bell pepper or cherry tomato if that's what you have on hand.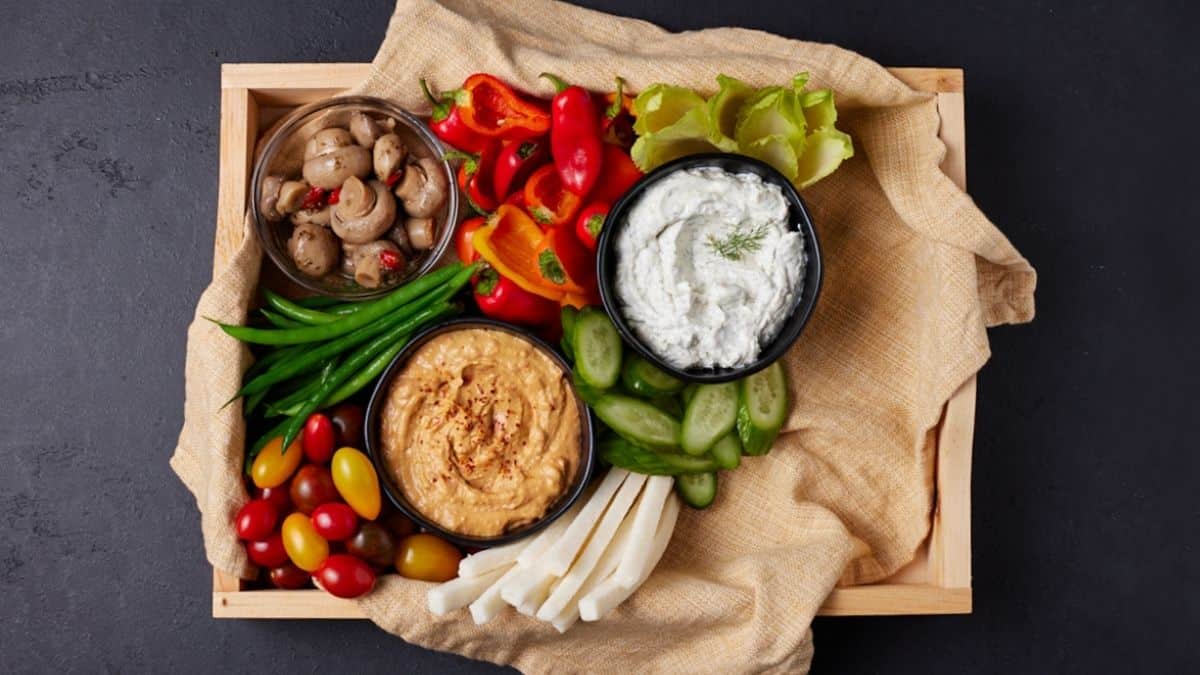 Step 5: Cut veggies in interesting ways.
Size does matter. Make sure your cuts are not only attractive, but they are also purposeful. Veggies should be sized so they can be quickly eaten out of hand or cut into shapes that can easily scoop up dip.
For example:
✔︎ Slice cucumbers on the diagonal for more surface area.
✔︎ Trim endive leaves or halve mini peppers for an instant scoop shape.
✔︎ Cut jicama into skinny planks for the perfect bite-sized dipper.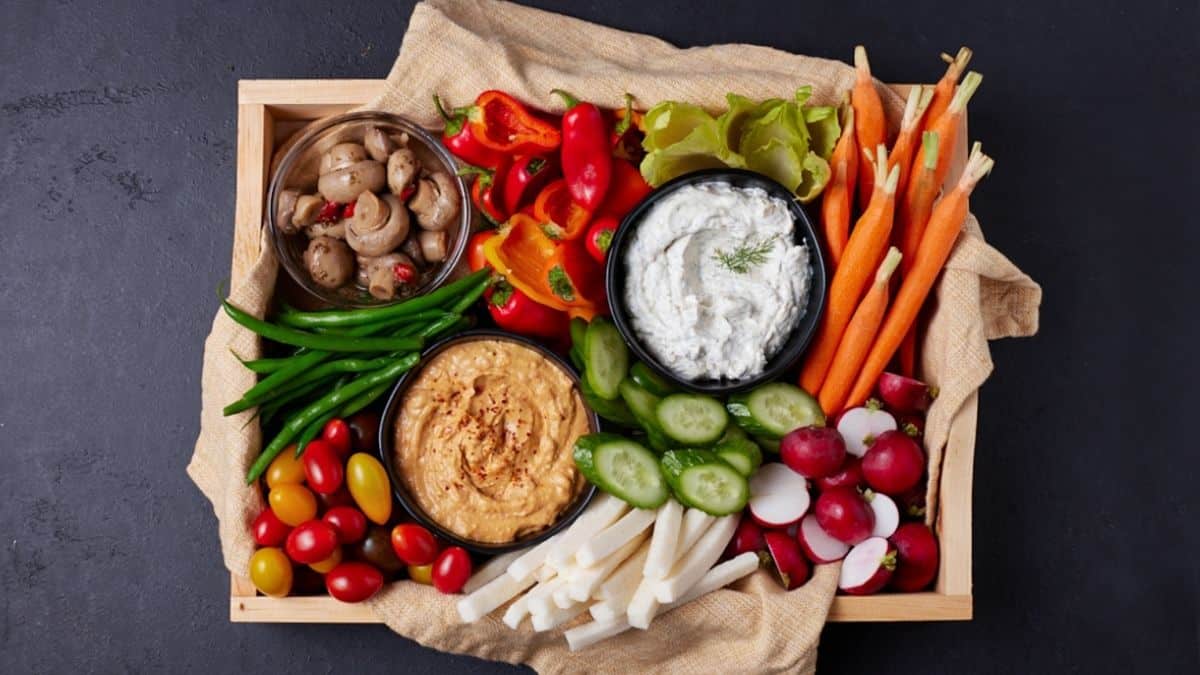 Step 6: Keep greens or stems on veggies
When prepping your vegetables, leave a small portion of the greens or stems intact to give folks a bit of a "handle" when they are scooping and dipping. Baby carrots and radishes are typically sold with greens attached and are easy to trim to your desired handle length. Plus it's a great way to create visual interest on a tray.
FAQs
What do you put on a veggie tray?
The short answer is whatever you love! I like to put out some vegetables that I know kids will eat as well as some unexpected options for adults. Some of our favorites are:
• Carrots
• Celery
• Cucumbers
• Broccoli (blanched)
• Cauliflower
• Bell peppers
• Green beans (blanched)
• Snap peas
• Jicama
• Grape tomatoes
• Endive leaves, and
• Asparagus (blanched).
Is it cheaper to make your own veggie platter?
It can be. Pre-made trays may come with vegetables you don't love or won't eat. When you buy your own vegetables, you get exactly the variety you want with no waste. Plus the vegetables are usually fresher than those you buy already made.
Can you prep a veggie plate the night before?
Yes! You can either prep and store your vegetables in individual containers or you can also plate your entire tray and place some wet (but not sopping wet) paper towels over the top of the vegetables. Cover the tray with plastic wrap so the paper towels don't dry out and refrigerate until ready to use, up to one day.
Expert tips for building the best veggie tray
✘ Start with prepping your tray. You can line your platter with edible options like large lettuce leaves or use a colorful napkin or tea towel that is machine washable.
✘ You have a couple options for arranging your vegetables. Place similarly colored veggies next to each other for a monochromatic or ombre effect or separate them on opposite sides of the plate for more visual interest. You can also dimension by placing some vegetables in bowls and or short glasses.
✘ The skins of baby vegetables like carrots with greens attached or mini cucumbers are usually so tender that they do not have to be peeled but can be if you prefer.
✘ If you're feeling extra fancy, you can add sprigs of fresh herbs (like rosemary or thyme) or edible flowers to garnish the tray.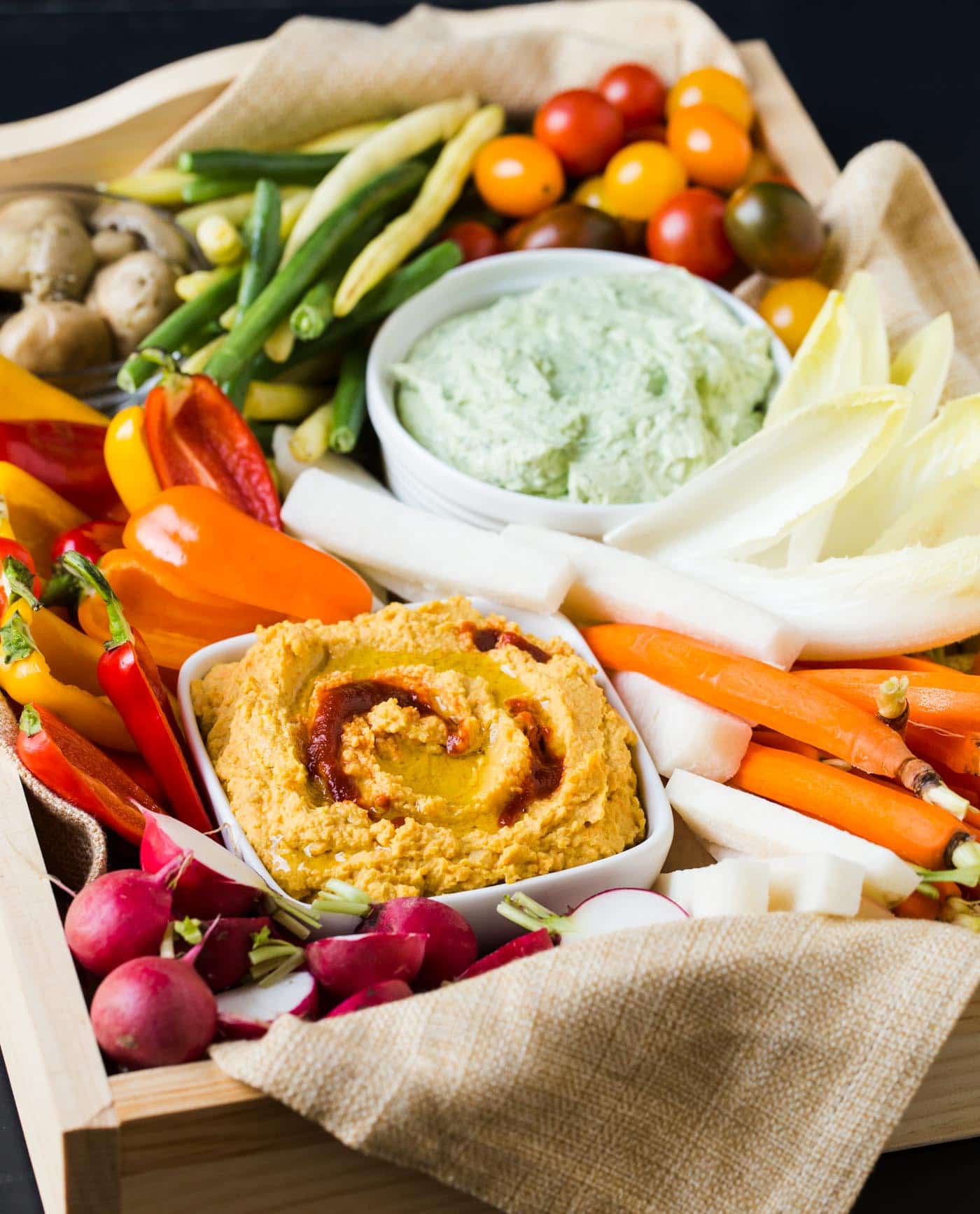 More veggie appetizer recipes
We've got even more options for appetizers in our archives. Check 'em out!



Did you make this recipe? We'd love to hear your thoughts! 

Please rate the recipe and leave a comment below. Your feedback helps us and your fellow readers! 



Recipe
Easy Veggie Tray
Vegetable trays don't have to be boring! A combination of colorful veggies and tasty dips ensures everyone will devour this appetizer - kids and adults alike.
Ingredients
1

pint

grape tomatoes

½

pound

baby carrots

peeled and trimmed

1 ½

cups

jicama

cut into planks

1 ½

cups

cucumbers

sliced on the diagonal

1 ½

cups

radishes

trimmed and halved

2

small heads

endive

trimmed and leaves separated

1 ½

cups

mini bell peppers

halved and seeded

½

pound

petite green beans

blanched (see notes below)

1 ½

cups

marinated mushrooms

3

cups

assorted dips
Instructions
Add bowls of dips to tray.

Arrange vegetables in piles on tray. Serve immediately or cover and refrigerate until ready to serve.

1 pint grape tomatoes,

½ pound baby carrots,

1 ½ cups jicama,

1 ½ cups cucumbers,

1 ½ cups radishes,

2 small heads endive,

1 ½ cups mini bell peppers,

½ pound petite green beans,

1 ½ cups marinated mushrooms
Notes
Skins of baby vegetables like petite carrots and cucumbers are tender enough that they do not need to be removed but can be if you prefer. 
Optional garnishes include lining your plate with lettuce leaves, parchment paper or a pretty napkin. You can also add fresh herb sprigs or edible flowers. 
You can use whatever dips you like. Our favorite dips for a veggie tray are hummus and our healthy avocado yogurt dip. 
How to blanch vegetables:
Bring a pot of water to a rolling boil.
Place vegetables in the boiling water for 1-5 minutes, depending on the thickness of the vegetable. You want veggies that are vibrant in color but still a bit firm to the bite.
Immediately removed blanched veggies from pot and plunge into a bowl of ice water to stop cooking.
Drain, pat dry and serve or store covered in the refrigerator. 
Make ahead instructions:
Prep and store your vegetables in individual containers, or 
Plate your entire tray and place some wet (but not sopping wet) paper towels over the top of the vegetables. Cover the tray with plastic wrap so the paper towels don't dry out and refrigerate until ready to use, up to one day.
Nutrition
Serving:
1
cup
Calories:
54
kcal
Carbohydrates:
12
g
Protein:
2
g
Fat:
1
g
Saturated Fat:
1
g
Polyunsaturated Fat:
1
g
Monounsaturated Fat:
1
g
Sodium:
68
mg
Potassium:
386
mg
Fiber:
4
g
Sugar:
6
g
Vitamin A:
4813
IU
Vitamin C:
62
mg
Calcium:
32
mg
Iron:
1
mg
Nutrition info not guaranteed to be accurate.