The grill isn't just for dinner! Use it for appetizers, too, with this easy Grilled Peppers with Goat Cheese recipe!
Summer is here and that means it's time to grill. We (read: Kevin) grill every night we can during the summer. This Grilled Chicken Caesar Salad and these Grilled Italian Sausage Wraps are just a few of our family favorites. Have you ever grilled avocado? If you haven't, you should.
But the grill isn't just for dinner; we use it for appetizers too! And today we are talking peppers. And goat cheese. Grilled Peppers with Goat Cheese to be exact. If you are a regular reader, you have probably figured out my love affair obsession with goat cheese, so the star ingredient in the pepper filling shouldn't be a surprise.I mean, what's not to love about the great tang of goat cheese? And it pairs perfectly with the grilled peppers. I love a grilled pepper that is still a little crisp when you take a bite. It's a perfect balance to the gooey, melty goat cheese. Add some herbs, a squeeze of lemon juice, and you have a super easy, colorful appetizer on your hands.
And you didn't have to spend a lot of time in the kitchen.
What's the best way to grill peppers?
Seeing as though we use the grill every night for all the things, we have a ton of accessories for the grill but these grilling pans have to be some of my favorite. They come in several different sizes and you can still get the great grill marks without losing your veggies in the fire. How's that for a win-win?
Can I make these Grilled Peppers with Goat Cheese ahead of time?
Absolutely! Clean the peppers, make the filling and your appetizer is prepped before 9 am. Or you can even grill the peppers an hour before people arrive and serve them at room temperature. I love, love, love anything that can be done ahead of time.
Double bonus when I don't have to do the grilling.
So slow down and enjoy the sunshine. Have the neighbors over, uncork a bottle of wine and serve some grilled peppers with goat cheese. Summer always goes way too fast.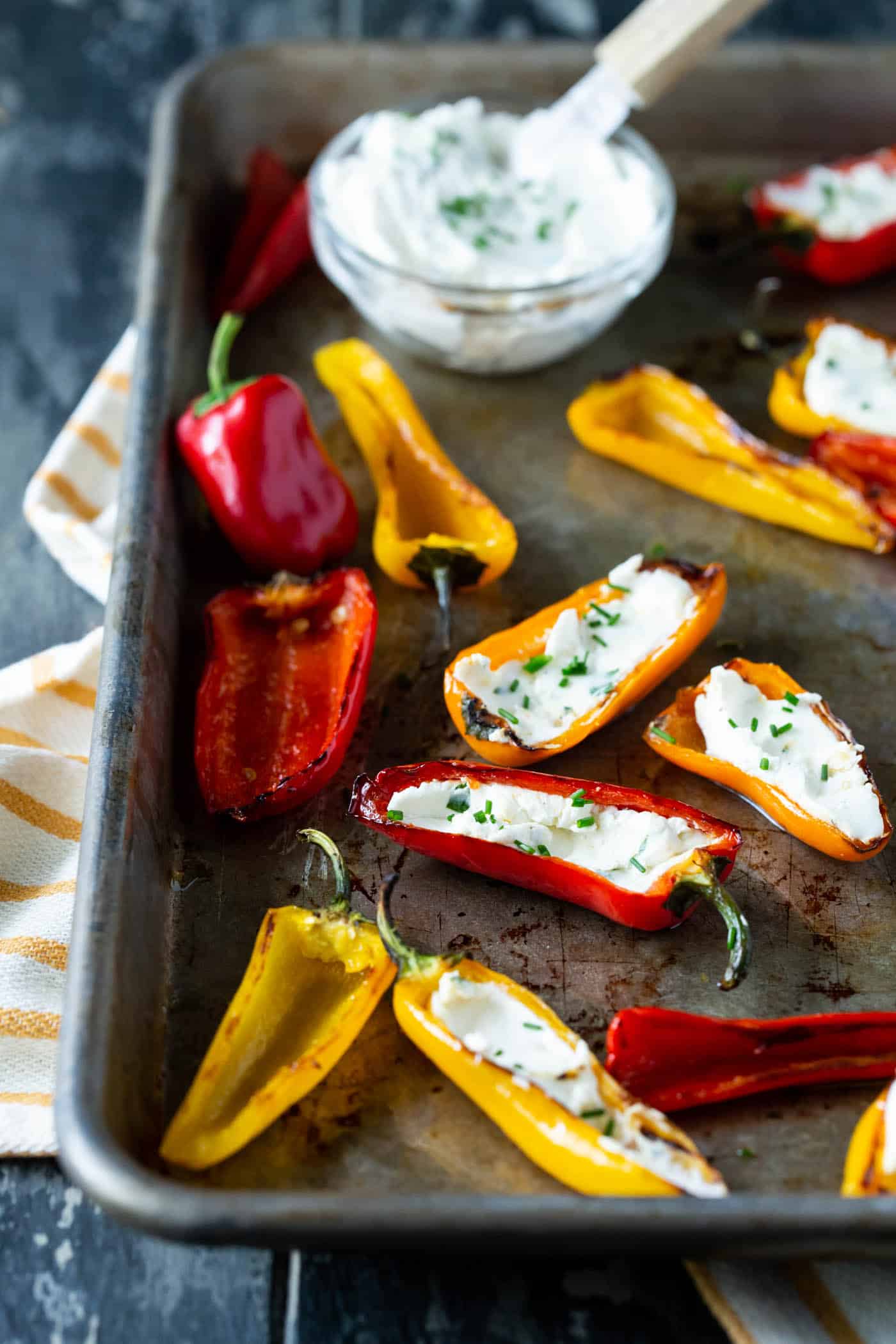 Don't stop with the main meals! We use our grills for all the things!
Grilled Cherry Crisp - Garnish with Lemon®
Grilled Vegetable Gazpacho - Belly Full
Grilled Peaches with Mascarpone, Pistachios and Balsamic Glaze - Garnish with Lemon®
Grilled Caprese Skewers - Foodie Crush
Grilled German Potato Salad -Garnish with Lemon®
See just how easy it is to grill peppers in our video!
Yield: 12
Grilled Peppers with Goat Cheese
The grill is for more than the main dish. Start your meal with a batch of these easy Grilled Peppers with Goat Cheese.
Ingredients
8 Mini Peppers, seeded and sliced in half
Olive oil or grapeseed oil for brushing peppers
Goat Cheese Filling:
6 ounces goat cheese
6 ounces light cream cheese
2 teaspoons minced garlic
2 tablespoons fresh chives, finely chopped
2 tablespoons fresh parsley, finely chopped
1/2 tablespoon fresh lemon juice
salt and pepper to taste
Instructions
To make the peppers::
Preheat grill to medium high heat. Brush skins of peppers with olive oil or grapeseed oil and set on platter.
Grill peppers over medium high heat for 5-7 minutes or until skin is slightly blistered. Remove from grill.
To make the filling:
Mix cheeses and herbs together until light and fluffy. Mix in lemon juice, season to taste with salt and pepper.
Spoon filling into grilled peppers and garnish with fresh chives.
Serve immediately or at room temperature.
Nutrition Information:
Yield:
12 servings
Serving Size:
2 peppers
Amount Per Serving:
Calories:

96
Total Fat:

8g
Saturated Fat:

4g
Trans Fat:

0g
Unsaturated Fat:

3g
Cholesterol:

14mg
Sodium:

142mg
Carbohydrates:

3g
Fiber:

1g
Sugar:

2g
Protein:

4g