Enjoying s'mores year-round just got a little bit easier with these Gooey Baked S'mores Bars.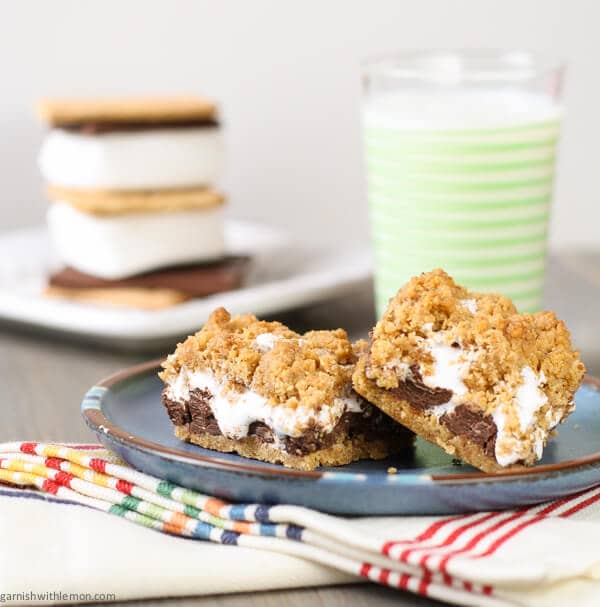 Around here, s'mores are properly roasted over the fire during the summer months. But since Mother Nature occasionally throws a wrench in our outdoor plans, my backup option is always these Gooey Baked S'mores Bars. Equally messy, equally, chocolatey and equally delicious!
Fortunately for those of us who need immediate gratification (hand raised!), these bars come together quickly. They are fun for the kids to help make, too, and I've never seen anyone pass up a bar at a party. The only tricky part to making these tasty treats is spreading the marshmallow creme on top of the chocolate chips, so make sure you have some hot water handy for rinsing the back of the spoon periodically.
S'mores are just as tasty when they are frozen. Check out our
S'mores Ice Cream Cake
and you'll see exactly what we mean.
Do you like to get all fancy with your s'mores? Shake up the ingredients here. I'm thinking chocolate and peanut butter chips would be a good combo. Or maybe butterscotch chips and caramel bits. Or even chopped up pieces of your favorite candy bar. Get creative and share your favorite combinations with us!
16-24
adjust servings
Ingredients
2/3

cup sugar

1/2

cup butter softened

1/2

teaspoon vanilla

1

egg

2 1/3

cups graham cracker crumbs

1/3

cup flour

1/4

teaspoon salt

2

cups milk chocolate chips (about one 11.5-ounce bag)

1

(7-ounce) jar marshmallow creme
Instructions
Preheat oven to 350 degrees. Line an 7 x 11 pan with foil (overhanging the sides) and spray with cooking spray. Set aside.
In a small bowl, whisk together graham cracker crumbs, flour and salt.
In a medium bowl, beat together sugar, butter, vanilla and egg for about 2 minutes. Stir in flour mixture until thoroughly combined. Reserve 2 cups of this mixture. Press the remaining mixture into the bottom of the pan for the crust.
Evenly layer chocolate chips on top of crust. Drop spoonfuls of marshmallow creme over the chocolate chips. Using the back of a spoon warmed with hot water gently spread creme evenly over the chips, stopping to rinse spoon and warm with water as needed. Sprinkle the reserved graham mixture over the top.
Bake for 27-30 minutes or until marshmallow creme starts to lightly brown. Cool thoroughly before lifting foil from pan and cutting into squares.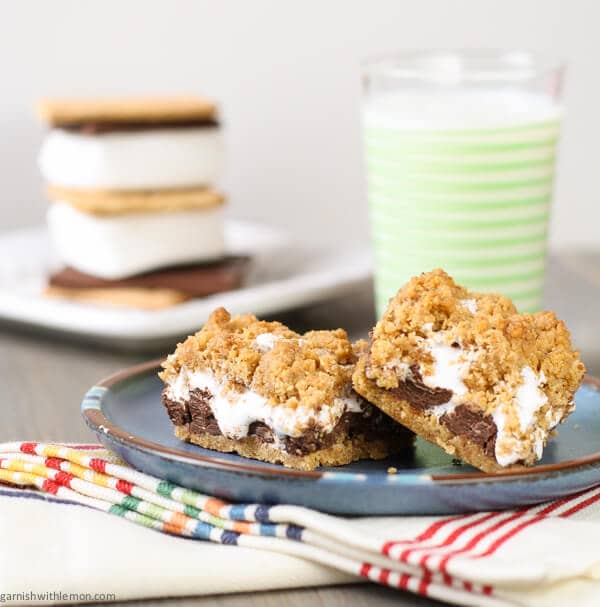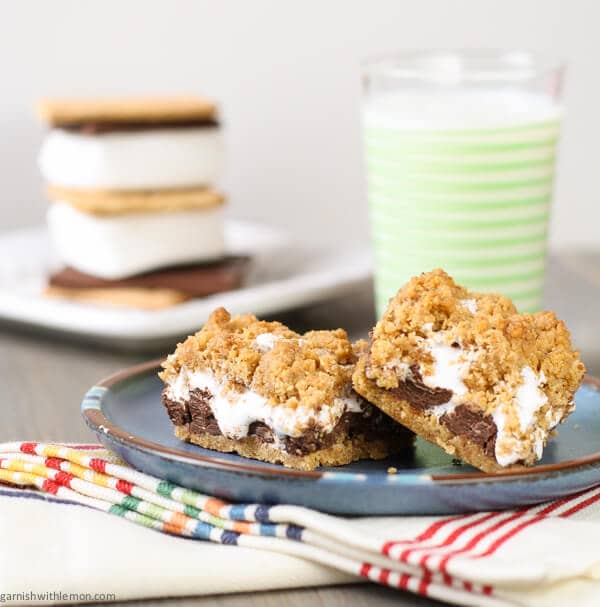 Did you make this recipe? We'd love to see it! Snap a pic of your creation and tag it #GarnishWithLemon. We might even feature your photo on social media!