Enjoying s'mores year-round just got a little bit easier with this easy Gooey Baked S'mores Bars Recipe.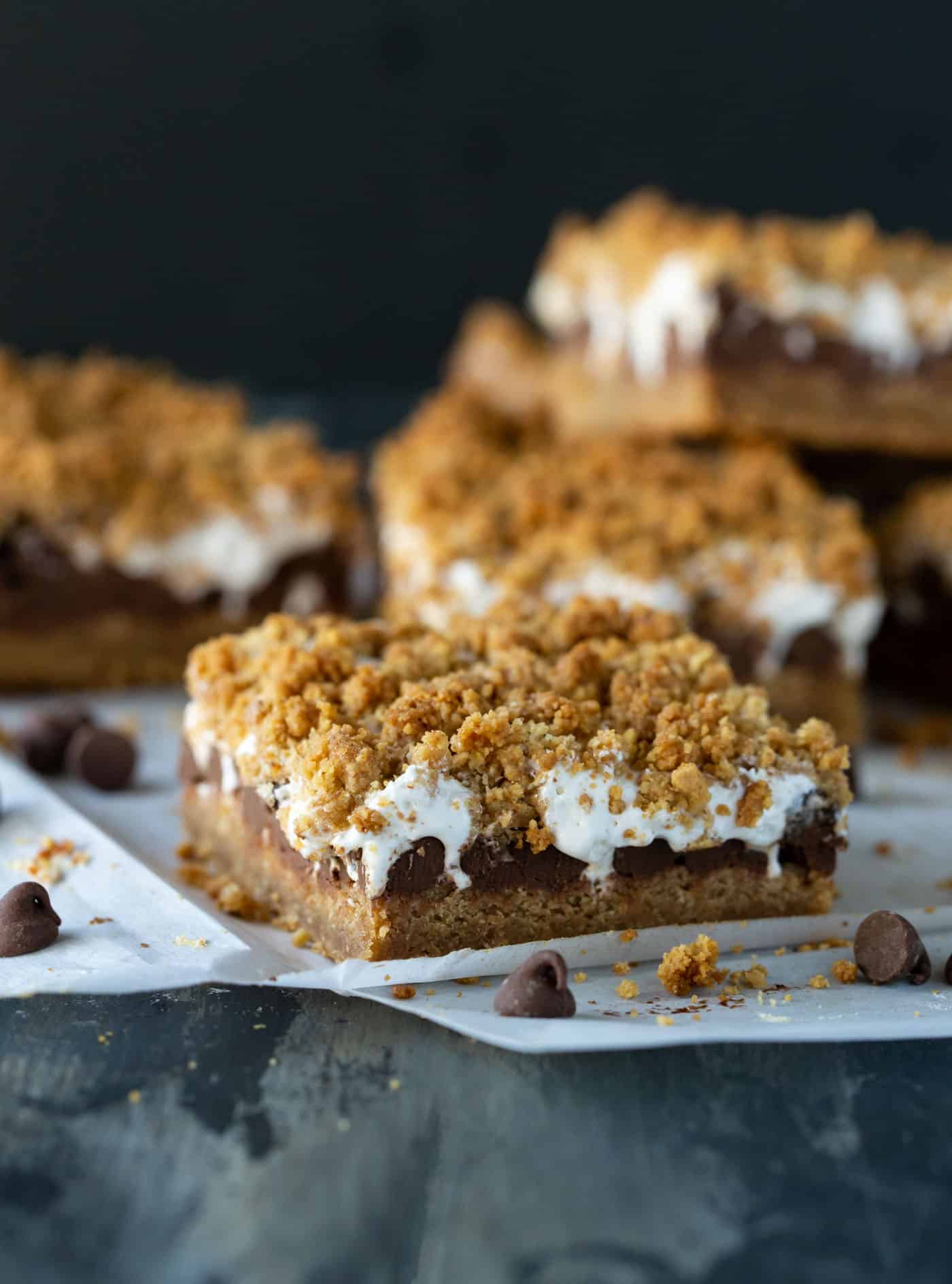 Around here s'mores are properly roasted over the fire during the summer months. But since Mother Nature occasionally throws a wrench in our outdoor plans, my backup option is always this Gooey Baked S'mores Bars Recipe. Equally messy, equally, chocolatey and equally delicious!
Easy Baked S'mores Bars Recipe
Fortunately for those of us who need immediate gratification (hand raised!), these Gooey Baked S'mores Bars come together quickly. They are fun for the kids to help make, too, and I've never seen anyone pass up one of these gooey bars at a party. The only tricky part to making these tasty treats is spreading the marshmallow creme on top of the chocolate chips, so make sure you have some hot water handy for rinsing the back of the spoon periodically. Or do as I do and get yourself one of these handy offset spreaders to make quick work of spreading the marshmallow creme. Works like a charm!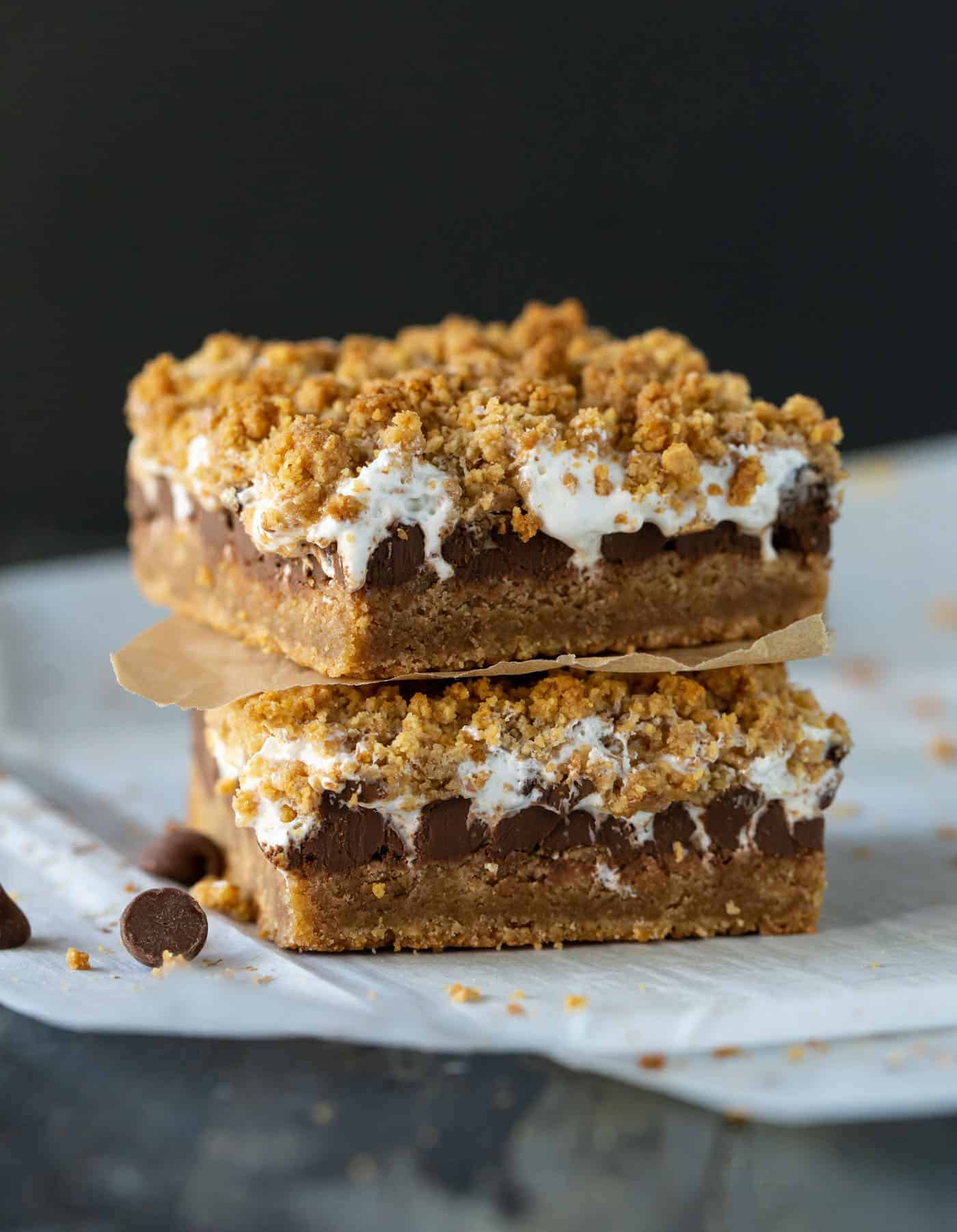 Add fun flavors to your Baked S'mores Bars
Do you like to get all fancy with your s'mores? Shake up the ingredients here. I'm thinking chocolate and peanut butter chips would be a good combo. Or maybe butterscotch chips and caramel bits. Or even chopped up pieces of your favorite candy bar.
Can I substitute marshmallows for the marshmallow creme in this s'mores bars recipe?
You can swap in mini marshmallows for the marshmallow creme BUT the end result will not be quite the same. The reason why is that marshmallows contain gelatin, so they will hold their shape more when baked than marshmallow creme which will melt and spread more evenly. Either option is tasty, but I prefer marshmallow creme for the extra gooey factor they bring theses s'mores bars.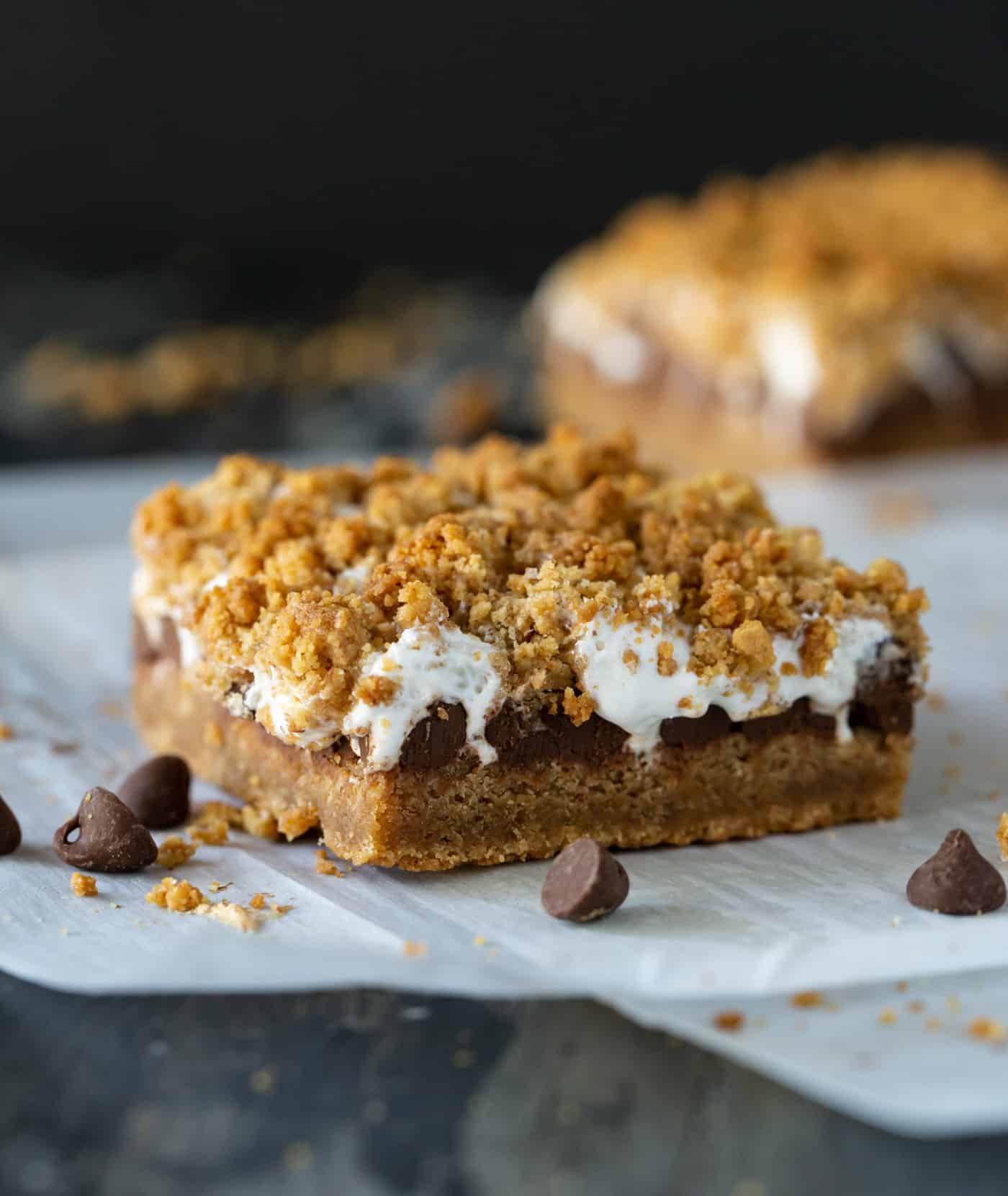 You can easily double this recipe for a 9 x 13 pan if you're hosting a crowd. You can even make them gluten-free if you have guests with food sensitivities by swapping in gluten-free graham crackers and gluten-free flour.
However you serve this Gooey Baked S'mores Bars Recipe, you can be sure they will disappear in an instant!
Looking for s'more? (Pun intended!) Get your s'mores fix with any number of these delicious s'mores recipes!
S'mores Ice Cream Cake - Garnish with Lemon®
S'mores Lasagna - Beyond Frosting
Peanut Butter S'mores Cheesecake Dip - Garnish with Lemon®
Cinnamon Toast S'mores Bars - In Katrina's Kitchen
S'mores Cookie Sandwiches with Roasted Marshmallows - Garnish with Lemon®
Yield: makes 12-16 bars
Gooey Baked S'mores Bars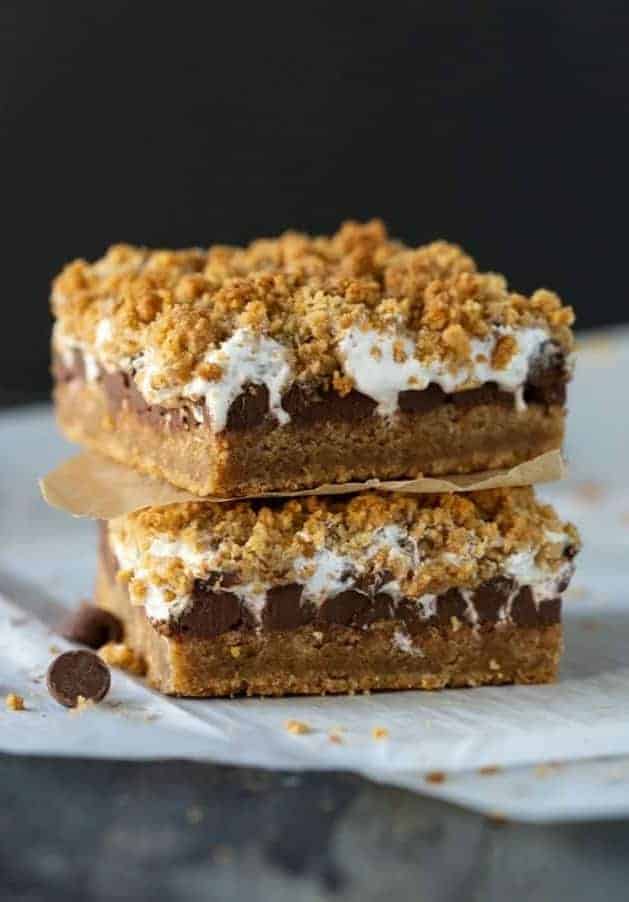 These popular s'mores bars are always the first dessert gone at a party.
Ingredients
⅔ cup sugar
½ cup butter softened
½ teaspoon vanilla
1 egg
2 ⅓ cups graham cracker crumbs
⅓ cup flour
¼ teaspoon salt
2 cups milk chocolate chips (about one 11.5-ounce bag)
1 (7-ounce) jar marshmallow creme
Instructions
Preheat oven to 350 degrees. Line an 7 x 11 pan with foil (overhanging the sides) and spray with cooking spray. Set aside.
In a small bowl, whisk together graham cracker crumbs, flour and salt.
In a medium bowl, beat together sugar, butter, vanilla and egg for about 2 minutes. Stir in flour mixture until thoroughly combined. Reserve 2 cups of this mixture. Press the remaining mixture into the bottom of the pan for the crust.
Evenly layer chocolate chips on top of crust. Drop spoonfuls of marshmallow creme over the chocolate chips. Using the back of a spoon warmed with hot water gently spread creme evenly over the chips, stopping to rinse spoon and warm with water as needed. Sprinkle the reserved graham mixture over the top.
Bake for 27-30 minutes or until marshmallow creme starts to lightly brown. Cool thoroughly before lifting foil from pan and cutting into squares.
Nutrition Information:
Yield:
16
Serving Size:
1
Amount Per Serving:
Calories:

264
Total Fat:

14g
Saturated Fat:

8g
Trans Fat:

0g
Unsaturated Fat:

5g
Cholesterol:

32mg
Sodium:

156mg
Carbohydrates:

33g
Fiber:

1g
Sugar:

22g
Protein:

3g