Bring on the summer heat! This 4-ingredient Peach Frosé recipe, made with a hint of savory fresh marjoram, is the only cocktail I need to stay cool on a steamy summer night. 
Rosé is the quintessential summer wine at my house.
Juicy peaches are one of my favorite summer fruits.
What's a girl to do when it's hot out? Combine both of her summer loves in the perfect patio cocktail!
This easy Peach Frosé recipe is like an adult version of the slushies we used to buy at the gas station when we were kids but so much better! Our four-ingredient recipe pairs fragrant peaches with fruity rosé wine and an easy marjoram-infused simple syrup for a subtle, herbal tang. It's pure refreshment in a glass.
Best Wine to use
The advice we give to people about choosing a wine for also applies to cocktails - use something you like to drink.
While my rosé of choice straight out of the bottle is on the drier side, I prefer a fruitier, full-bodied rosé wine for this cocktail. The flavor is a bit stronger and less likely to be overpowered by the peaches.
Tip: Rosé wines come in a rainbow of colors, from a light peach to an eye-catching dark pink. Though this tip is not entirely foolproof, many fuller bodied rosés have a richer color. If you are unsure, ask for a recommendation at your favorite wine store.
Making an herb-infused simple syrup couldn't be easier. Start with your basic simple syrup recipe (1:1 ratio of sugar and water). Place in a saucepan and heat over medium heat until sugar has dissolved.
If you want a more subtle syrup, remove the pan from the heat and allow your herbs to steep in the simple syrup for at least 20 minutes before removing. If you want a stronger flavor to your syrup, place the herbs in the saucepan and bring the mixture to a low boil for a minute or two before removing the pan from the heat and steeping for at least a half hour. 
Herbs
Marjoram is a close cousin to oregano with a more delicate, slightly sweeter flavor.
Not a fan? Basil, thyme and even fresh ginger are all great matches for peaches.
Tips
A few tips for making frosé with fresh fruit: 
In-season fruit is typically sweeter than frozen fruit, so you might want to start with only adding half of the marjoram-infused simple syrup. Taste and add more if necessary.
You'll have to pop the blended frosé made with fresh fruit back in the freezer for a few hours to get the right consistency since you aren't starting with hard, frozen fruit. Factor that extra prep time into your plans.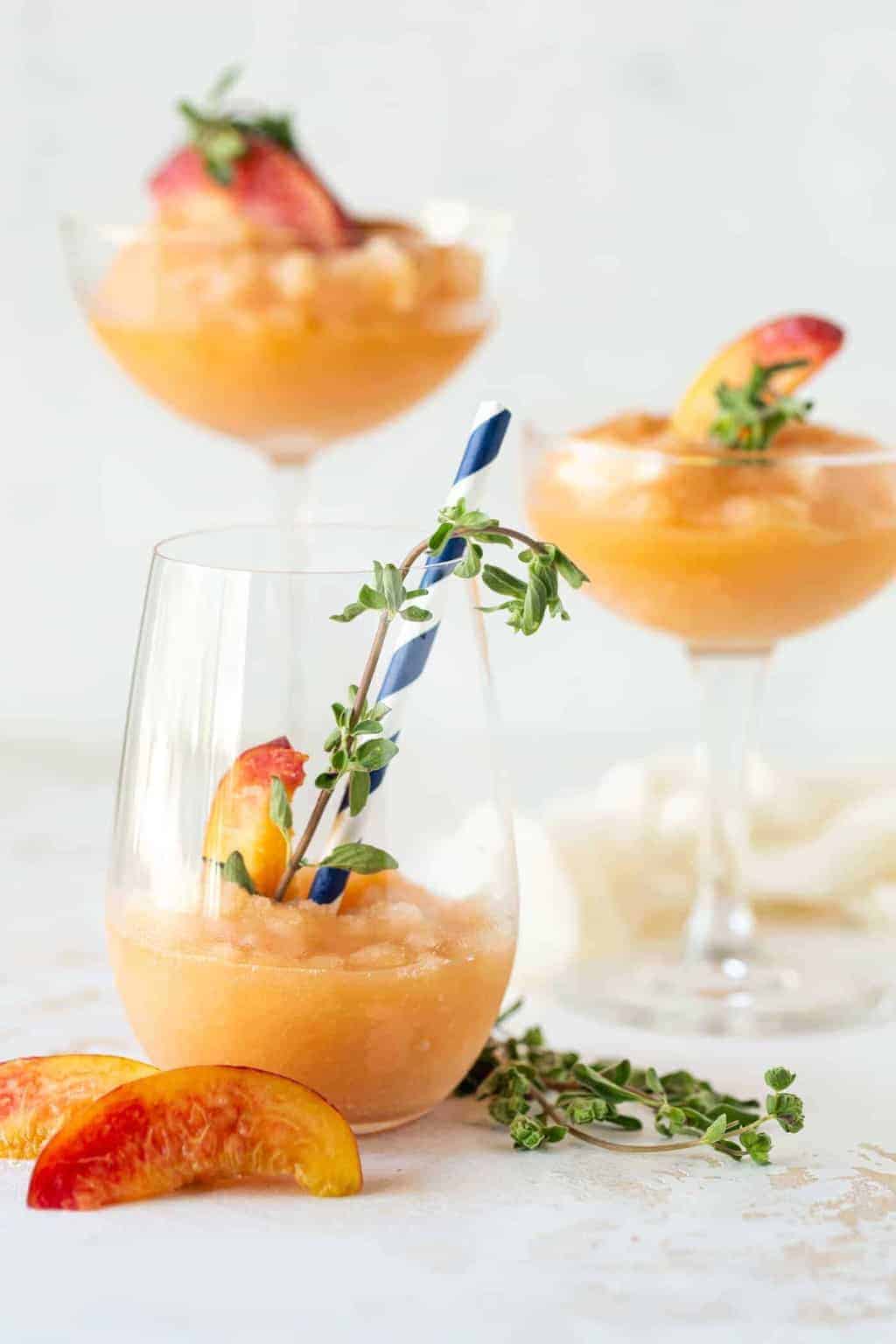 Serving Suggestions
Unlike sparkling wine or a martini, there aren't any designated frosé glasses. So that means you can make it your own.
Only own tumblers? Use those! Feeling fancy? Grab those stemmed wineglasses.
There are no wrong answers here though I do suggest making straws or small spoons available to help slurp up the slushy Peach Frosé goodness.
Make Ahead Tips
Time-strapped hosts will love frosé because you must prep it in advance. The wine must be frozen for at least 6-8 hours to get it as solid as possible before you add it to the other ingredients. (Don't worry; the alcohol in the wine prevents it from freezing into a completely solid block.)
You can make the simple syrup a few days in advance, too. Just let it hang out the fridge until you need it.
All that's left to do when guests arrive is a quick whirl in the blender to combine the rosé, peaches and syrup. Voila! Cocktails are served!
P.S. A word about blenders. A high powered blender like a Blendtec or Vitamix will give you a silky smooth slushy in minutes.
If you don't have one, I definitely recommend the investment (and not just for frozen cocktails, either!). You can absolutely make this recipe with other blenders. Just know you will probably have to process it repeatedly to pulverize those frozen peach chunks.
More summer cocktails
Easy Peach Frosé Recipe (Frozen Rosé Wine Slushies)
This refreshing, 4-ingredient Peach Frosé recipe is basically a wine slushy for adults. This easy, make-ahead cocktail is the perfect summer sipper on hot days.
Ingredients
1

bottle full-bodied rosé wine

½

cup

granulated sugar

½

cup

water

½

ounce

fresh marjoram

2

cups

frozen peaches
Instructions
Pour wine into a freezer-ready container (I used a large Tupperware.) Freeze for 6-8 hours.

Place sugar and water in a small saucepan and bring to a boil over medium heat until the sugar is dissolved. Remove from heat and add marjoram. Steep for 20-30 minutes and strain through a fine-mesh strainer. Cool completely and refrigerate until ready to use.

Add frozen rosé, peaches and simple syrup to a blender and process until smooth. Pour into glasses and garnish with fresh peach wedges and fresh marjoram sprigs, if desired.
Notes
Recipe inspired by The Lexington Restaurant in St. Paul, MN.
If you want a stronger herbal flavor from the simple syrup, add the marjoram to the boiling sugar syrup and allow to cook at a low boil for a minute or two before removing from heat and steeping for at least 30 minutes.
Nutrition
Serving:
8
ounces
Calories:
237
kcal
Carbohydrates:
33
g
Protein:
1
g
Sodium:
11
mg
Fiber:
2
g
Sugar:
31
g
Nutrition info not guaranteed to be accurate.