Hosting a big dinner or just want to get prep work done ahead of time? These creamy Make-Ahead Mashed Potatoes can be reheated in the slow cooker or oven making dinner a snap. It's the only mashed potato recipe you need!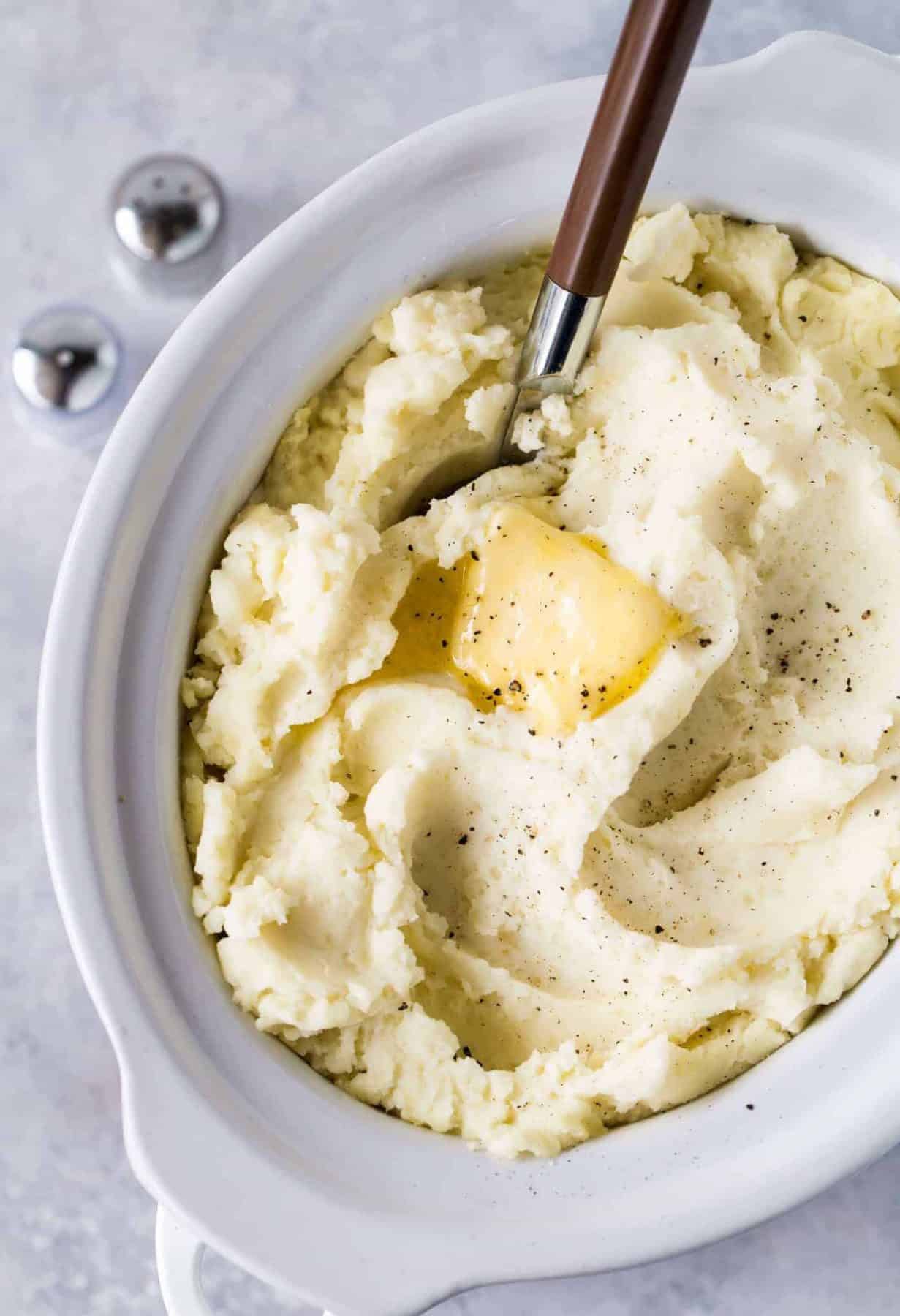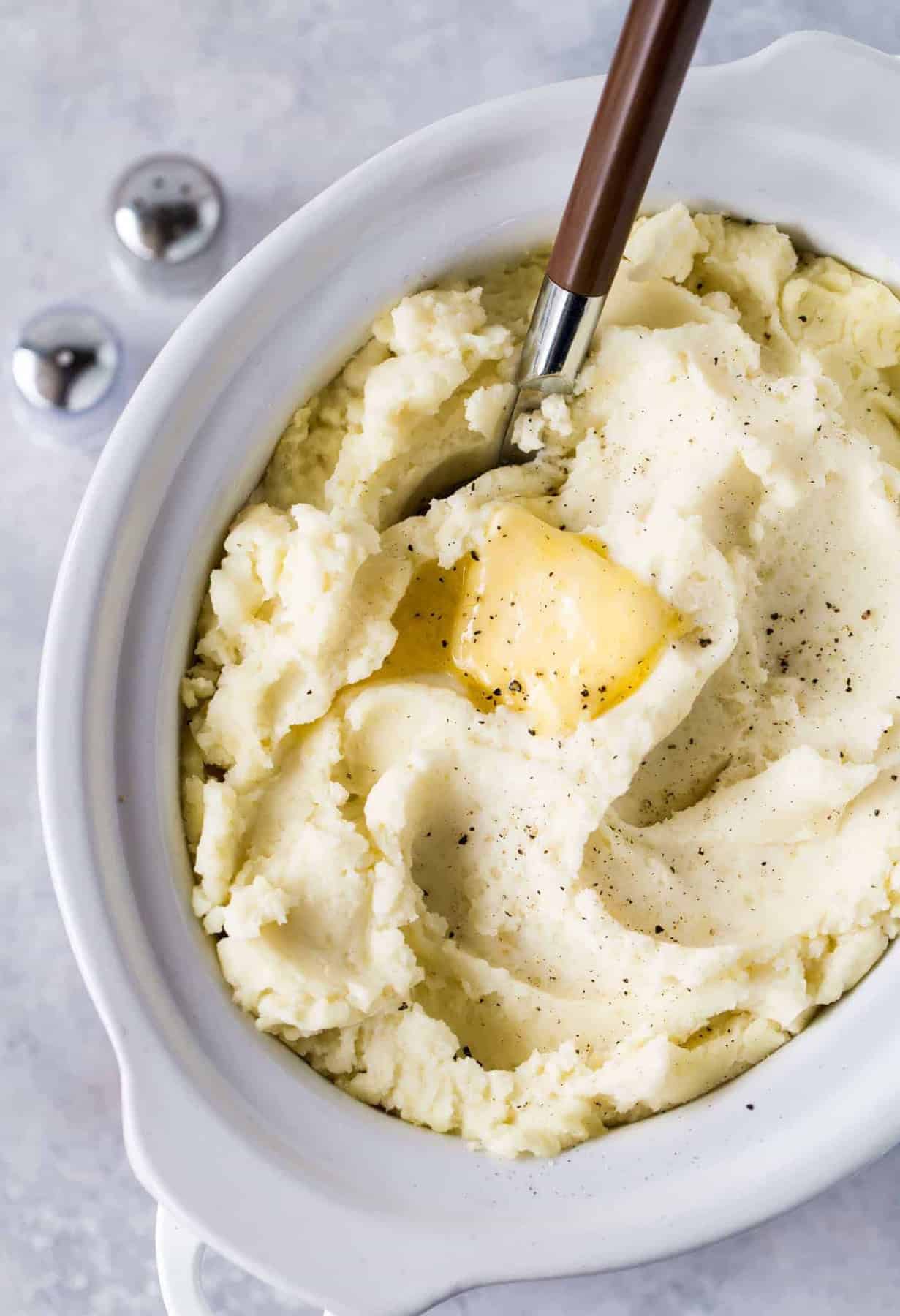 The biggest lifesaver of my Thanksgiving meal (and many events, holidays and even weeknight dinners) are these Make-Ahead Mashed Potatoes.
That's right, make the mashed potatoes the day before and reheat them in your slow cooker, which leaves your oven open for the rest of the feast's goodies.
And if you don't need the extra space in your oven, simply reheat them in the oven in a baking dish. But it's always nice to have the work done ahead of time.
After all, you can never have enough time. Am I right?
Jump to: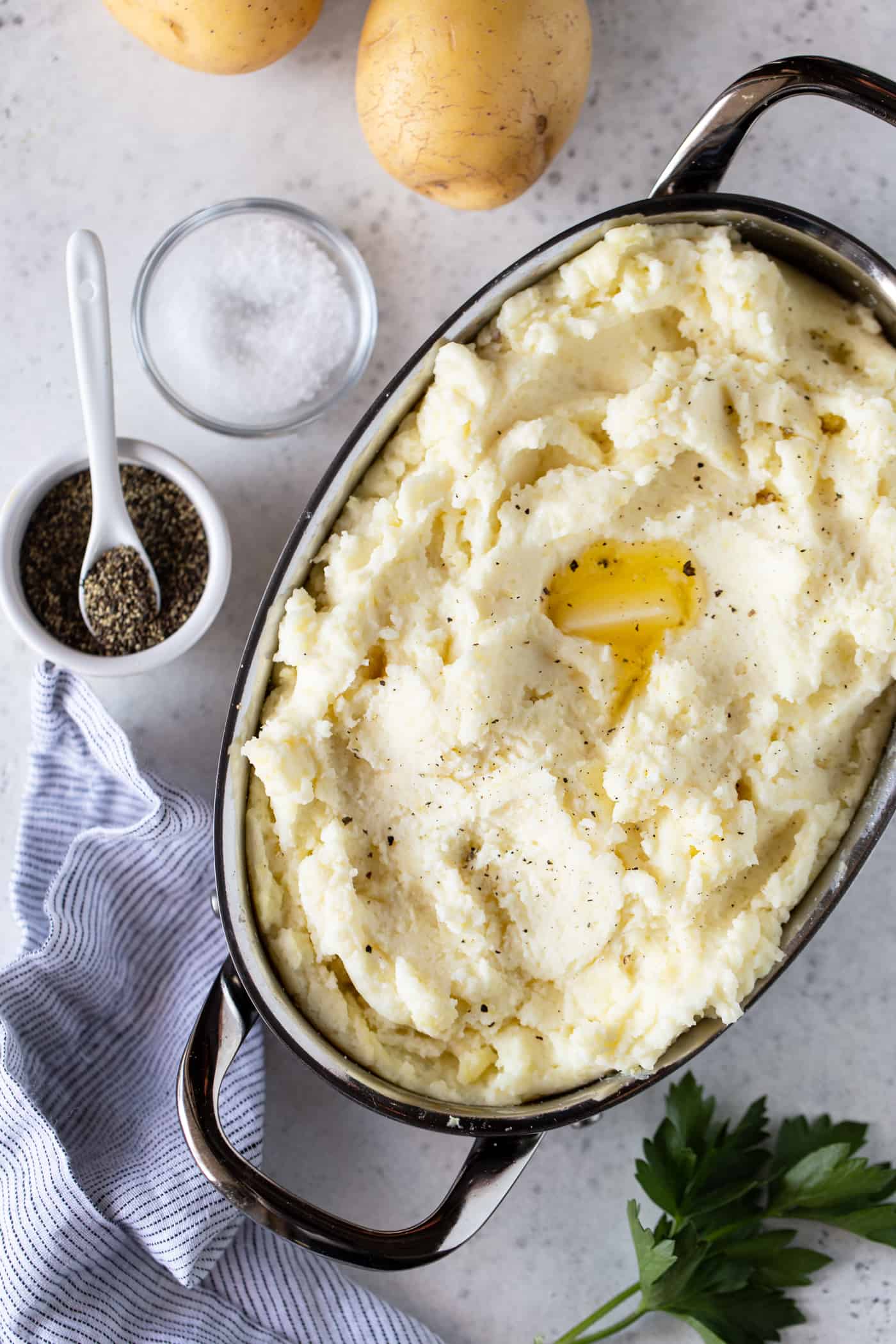 Ingredients
Mashed potatoes are made with just a handful of ingredients that are easy to keep on hand.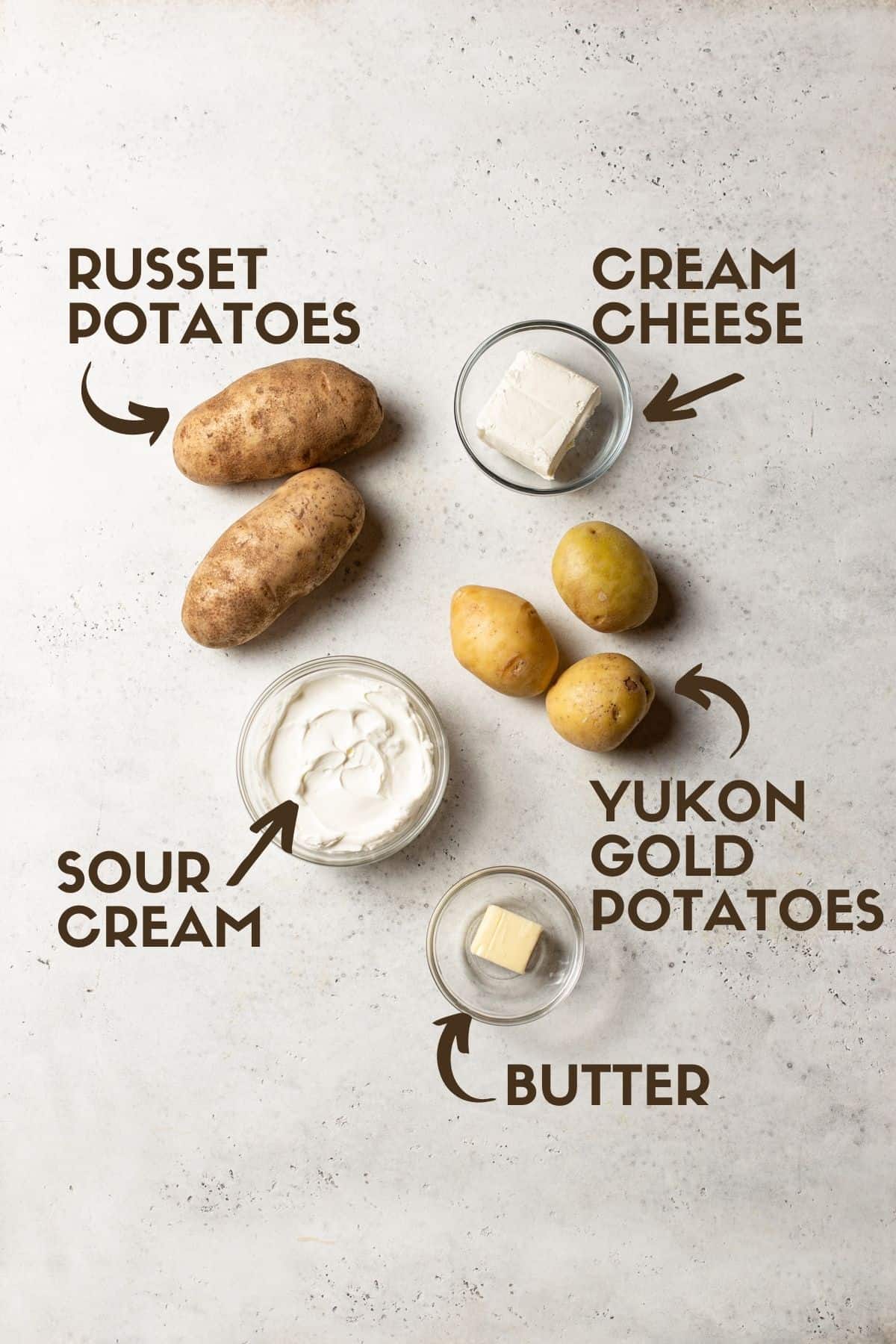 Ingredient Notes:
We used a combination of Yukon Gold and Russet potatoes, but feel free to use just one if you desire.
Room temperature cream cheese and sour cream make your potatoes really creamy!
Instructions
My favorite part of these mashed potatoes is that I can have them completely done ahead of time. Pans washed, potatoes mashed and all ready for the big day. Anything that makes dinner easy is a huge win in my book.
Step 1: Peel and cube potatoes so they are all the same size.
Step 2: Place potatoes in a large pot and cover with water. Cook.
Step 3: Strain potatoes in colander.
Step 4: Place potatoes back in pan and put over heat for 30 seconds to get rid of all of the water.
Step 5: Rice potatoes into a large bowl.
Step 6: Add cream cheese, sour cream, salt and pepper.
Step 7: Stir potatoes until smooth, but be careful not to overmix.
Step 8: Place potatoes in greased baking dish, top with two pats of butter, cover and refrigerate until baking time.
Follow all of our tips for a Stress Free Thanksgiving!
FAQs
What are the best potatoes to use?
There is a lot of discussion out there about which potatoes make the best mashed potatoes. I love to mix it up and use Yukon Gold and Russet potatoes for my mashed potatoes.
The Yukon Golds add a creamy buttery texture and the Russets are high in starch making them light and fluffy. Combining the two of them together gives you the best of both worlds. Who doesn't love getting everything they want in the same delicious bite?
What is the best way to reheat mashed potatoes?
Having options of how to reheat these is one of my favorite things about this recipe. You can reheat them in the oven, use a slow cooker or in a pinch, pop them in the microwave.
Why does the cream cheese and sour cream need to be room temperature?
Room temperature ingredients will blend into the potatoes faster so you won't over mix your potatoes. Over mixing = gluey potatoes.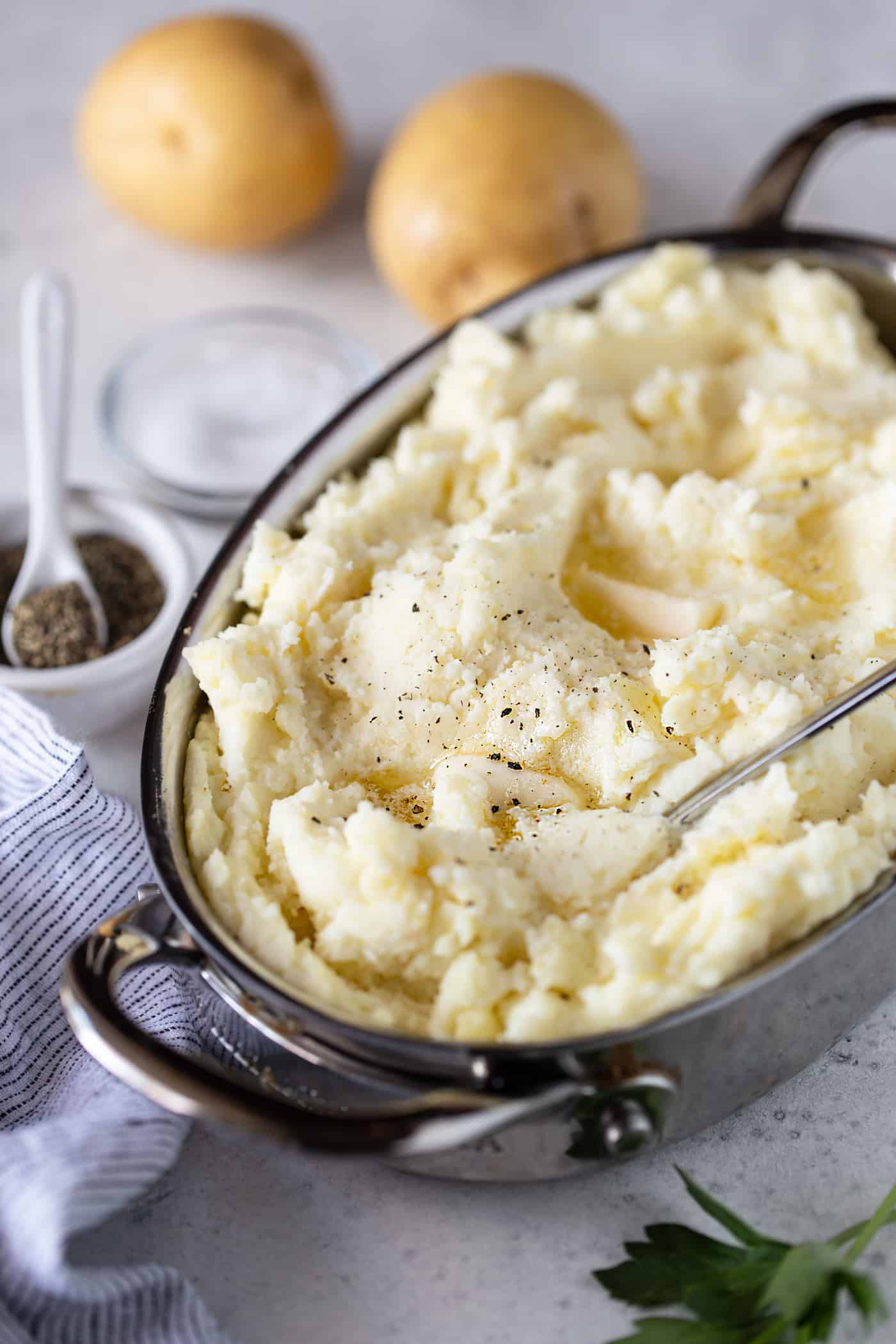 Tips
Use these easy tips to make craveable mashed potatoes every single time.
Cube the potatoes so they are the same size - potatoes that are cut into small cubes work best for this recipe because they will cook evenly.
Do not overcook your potatoes. Boil them for 9-10 minutes or until a fork goes into them easily. If you cook them too long you will end up with mushy potatoes.
Drain them well! This is a BIG one. Drain, drain, drain and then pop them back in the pan and place on stove for 1 minute to get all of the excess water out of them This critical step gives you fluffy potatoes!
Invest in a potato ricer - This is the MOST important tip of all. One of my ALL time favorite kitchen gadgets is this potato ricer. The triangular shape makes ricing the cooked potatoes a snap and nothing gets stuck in the corners. (Amazon Affiliate Link)
More side dishes
Find all of our side dish recipes in our archives.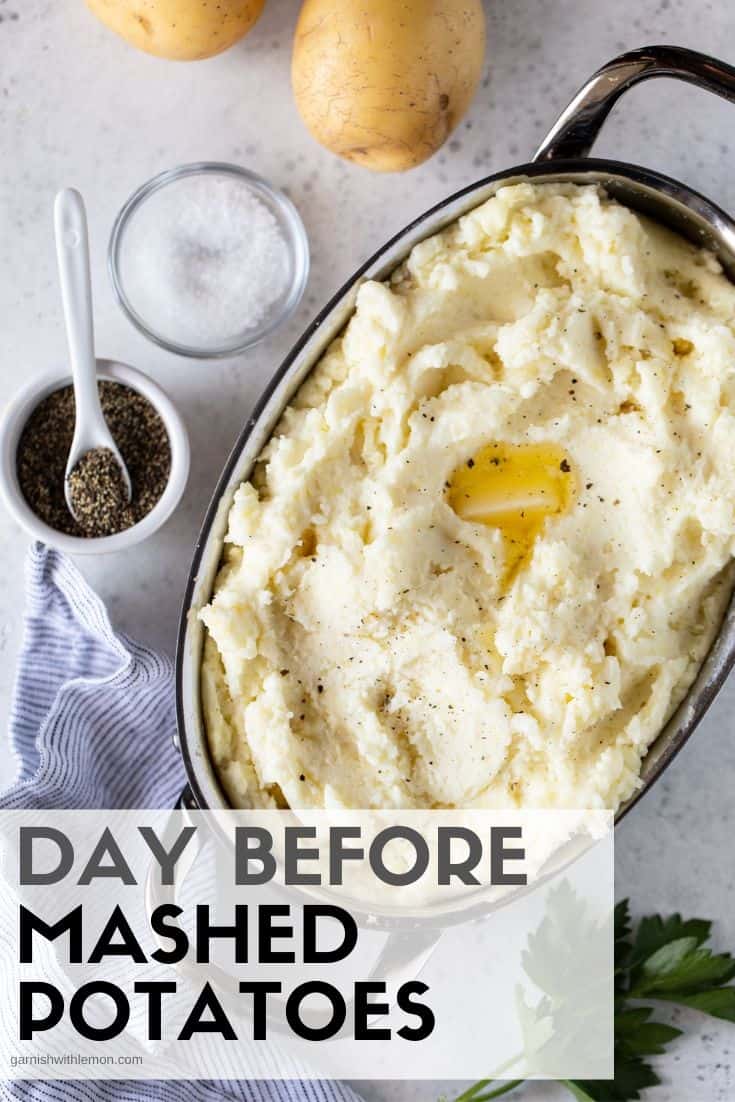 Recipe
Make Ahead Mashed Potatoes
A creamy mashed potato recipe made the day before and reheated in the oven, slow cooker or microwave.
Ingredients
3

pounds

potatoes

peeled and cubed (Yukon Gold + Russet mix)

6

ounces

room temperature cream cheese

light or regular

1

cup

room temperature sour cream

light or regular

salt and pepper to taste

2

tablespoons

butter
Instructions
Place potatoes in a large pot and cover them with water.

Bring to a boil and cook until tender but still firm, about 9 minutes once the water starts to boil.

Drain potatoes and then return to pan.

Place pan on heat to get the last drops of water out.

Scoop potatoes into ricer and rice into a large bowl.

Add room temperature cream cheese and sour cream. Stir until just combined.

Season with salt and pepper. Stir. Be careful to not over mix or they will become gluey.

Place in a greased baking dish with two pats of butter in top.

Cover and refrigerate until ready to bake.

Remove from refrigerator one hour before baking to bring to room temperature.

Bake in preheated 350 degree oven for 30-45 minutes or until warmed through.
Notes
Options for reheating:
 In the Oven: Preheat your oven to 350°. If your potatoes have been in the refrigerator, let them sit out for 60 minutes before you pop them in the oven, it will cut down on your baking time. Leave them in the oven until they are warmed through, about 30 minutes depending on how much stuff you have in your oven.
In a Slow Cooker or Crock Pot: I love to use my slow cooker to reheat these, especially with big holiday dinners. Simply heat them on high for one hour or low for 2-3. Don't forget to stir them so the bottom doesn't burn.
 In the Microwave: I'll use the microwave to reheat these in a pinch. Pop them in the microwave for 2-3 minutes and then stir. Repeat the process until heated through. Be careful when you touch the bowl, it will be hot!
Nutrition
Serving:
1
cup
Calories:
420
kcal
Carbohydrates:
51
g
Protein:
8
g
Fat:
21
g
Saturated Fat:
12
g
Polyunsaturated Fat:
6
g
Cholesterol:
61
mg
Sodium:
203
mg
Fiber:
5
g
Sugar:
5
g
Nutrition info not guaranteed to be accurate.
These easy, make-ahead mashed potatoes are made a day ahead of time and reheated right before serving. This creamy potato recipe is a long-time family favorite.