Cheesy potatoes get a whole new look with the addition of Provolone cheese, Portobello mushrooms and fresh thyme.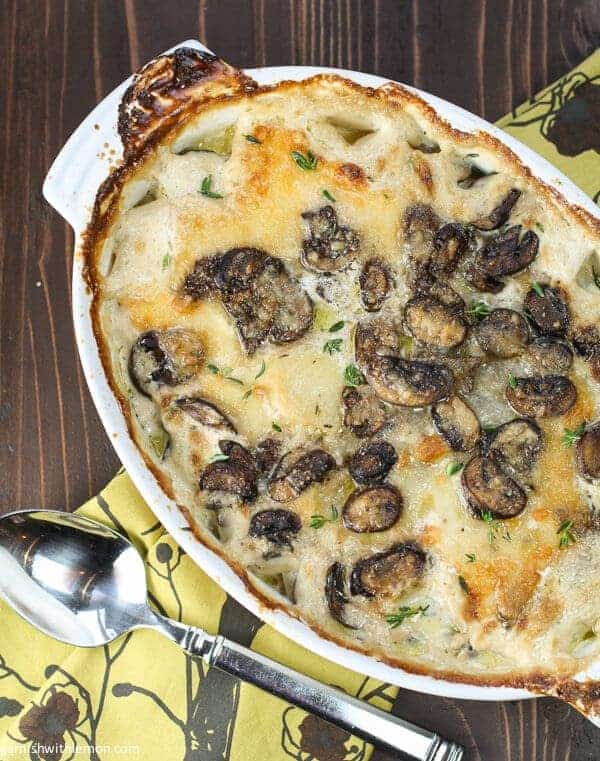 I made this Provolone, Mushroom and Potato Gratin using lots of provolone cheese and it's my newest crave-worthy side dish that would be impressive for entertaining as well as a unique side dish for your Thanksgiving table.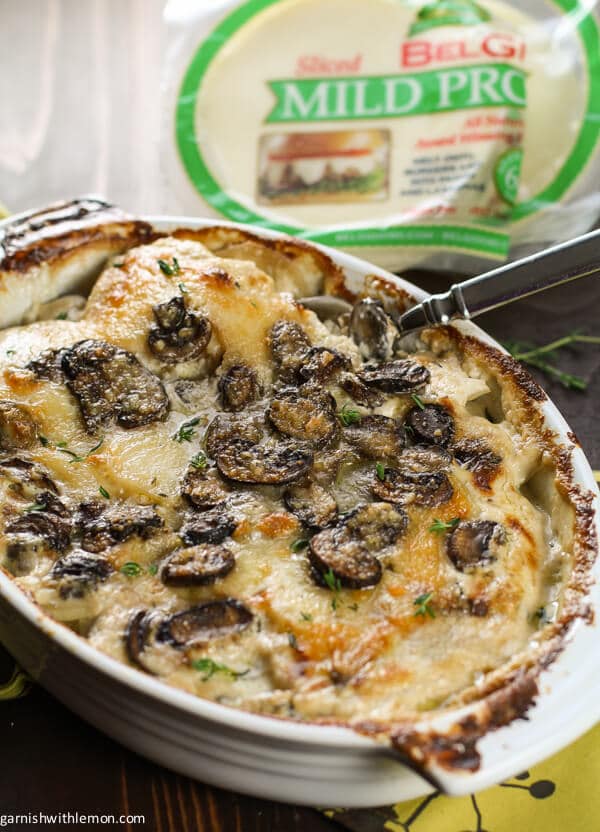 This gratin is filled with layers of thinly sliced potatoes, mushrooms, flavorful Provolone cheese, seasoned with thyme and then topped off with cream and a sprinkle of parmesan.
A couple of things I learned when making this gratin:
1) Stick with Russet potatoes. Don't try to sub in Yukon Golds. Their water content is too high, and the end result is a soupy mess.
2) A recipe is only as good as the ingredients you use, so don't try to "healthify" this with milk or less cheese and expect the same results. It's not going to happen.
Because the flavors in this gratin shine through, I used heavy cream and BelGioioso Mild Provolone cheese. Made in Wisconsin, this cheese is aged for 60 days to enhance its flavor and is a top-notch melting cheese. Makes it easy to see why it's a match made in heaven, right?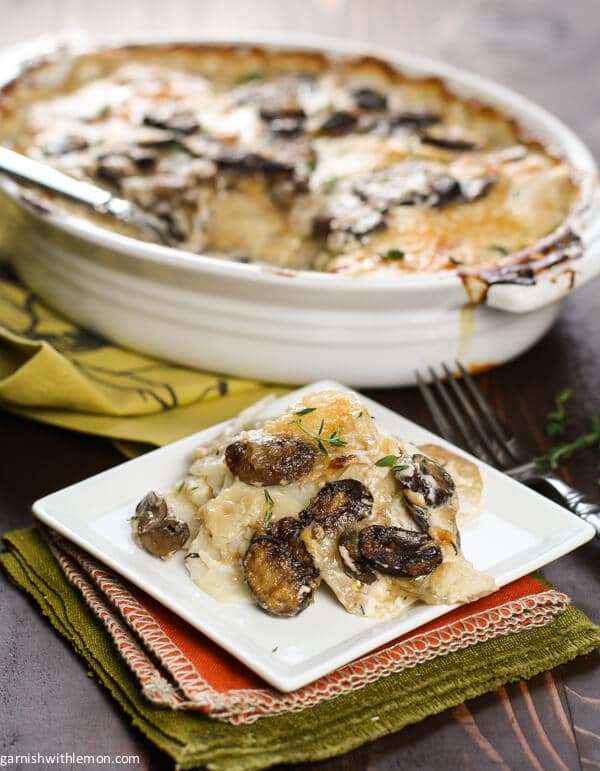 Using quality ingredients doesn't have to mean you'll break the bank, though. Being able to buy the two pound package of BelGioioso at Costco is ideal for dairy lovers like us. It may sound like a lot, but Provolone is really versatile, and I'm always amazed at how quickly it goes in our house.
No worries, though; I understand if your family doesn't consume the mass quantities of cheese that mine does.
But I encourage you to buy a little more than normal, because you're going to want to make this Provolone, Mushroom and Potato Gratin more than once.
Yield: 6 servings
Provolone and Mushroom Gratin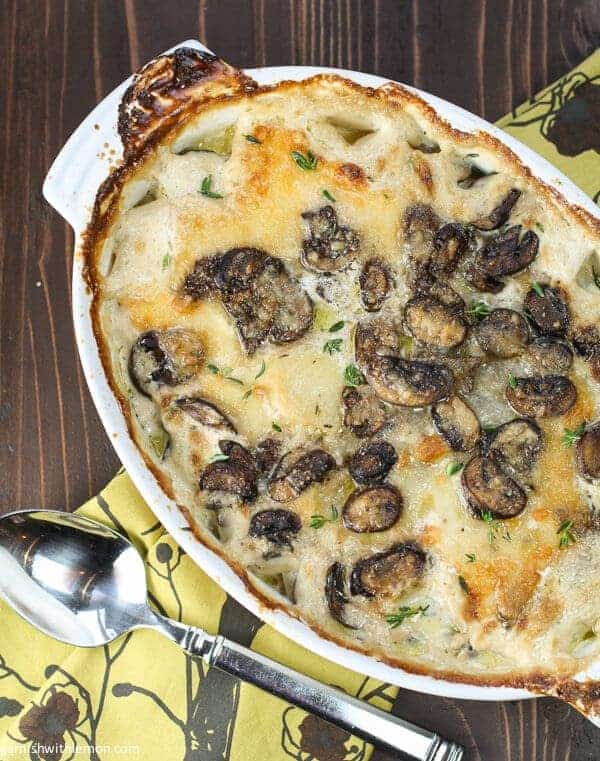 Ingredients
5 medium russet potatoes, sliced thinly (1/8 inch thick)
1 tablespoon olive oil
1 (8-ounce) package sliced portabello mushrooms
1 1/2 cups heavy cream
1 teaspoon thyme
1 teaspoon minced fresh garlic
6 slices provolone cheese
2 tablespoons parmesan cheese
salt and pepper
Instructions


Preheat oven to 400 degrees. Spray an oval baking dish lightly with cooking spray and set aside.
Peel potatoes and cut into 1/8 inch thin slices and place in a large bowl.
In a small skillet, add olive oil and mushrooms and heat on medium for 5-6 minutes to let mushrooms release moisture. Remove from heat and set aside.
Heat cream, thyme and garlic over low heat until warm but not boiling, and pour over potatoes. Season with salt and pepper. Stir gently to coat.
Spoon a third of the potato and cream mixture into prepared dish and arrange so potatoes are evenly distributed. Add 1/3 of the mushrooms and cover with 2 slices of provolone cheese. Repeat process two more times, finishing with mushrooms and cheese. Pour extra cream left in bowl over top.
Using a spatula, press down to compact layers and then sprinkle with parmesan cheese.
Cover with foil, but leave one corner vented to release steam. Bake for 45 minutes and let sit for 5 minutes before serving.
Notes
Be sure to leave one side of the foil vented or your potatoes will be watery.
Disclosure: This post was sponsored via the NoshOn.It Publisher Partner Program by BelGioioso Cheese. As always, all opinions expressed are my own. Thank you for supporting the companies and products that make Garnish with Lemon possible!