A healthy, make-ahead breakfast with just a few minutes of prep? Yes, it's possible thanks to this Slow Cooker Steel Cut Oats recipe. A bowl of this comforting overnight banana oatmeal tastes just like warm, homemade banana bread!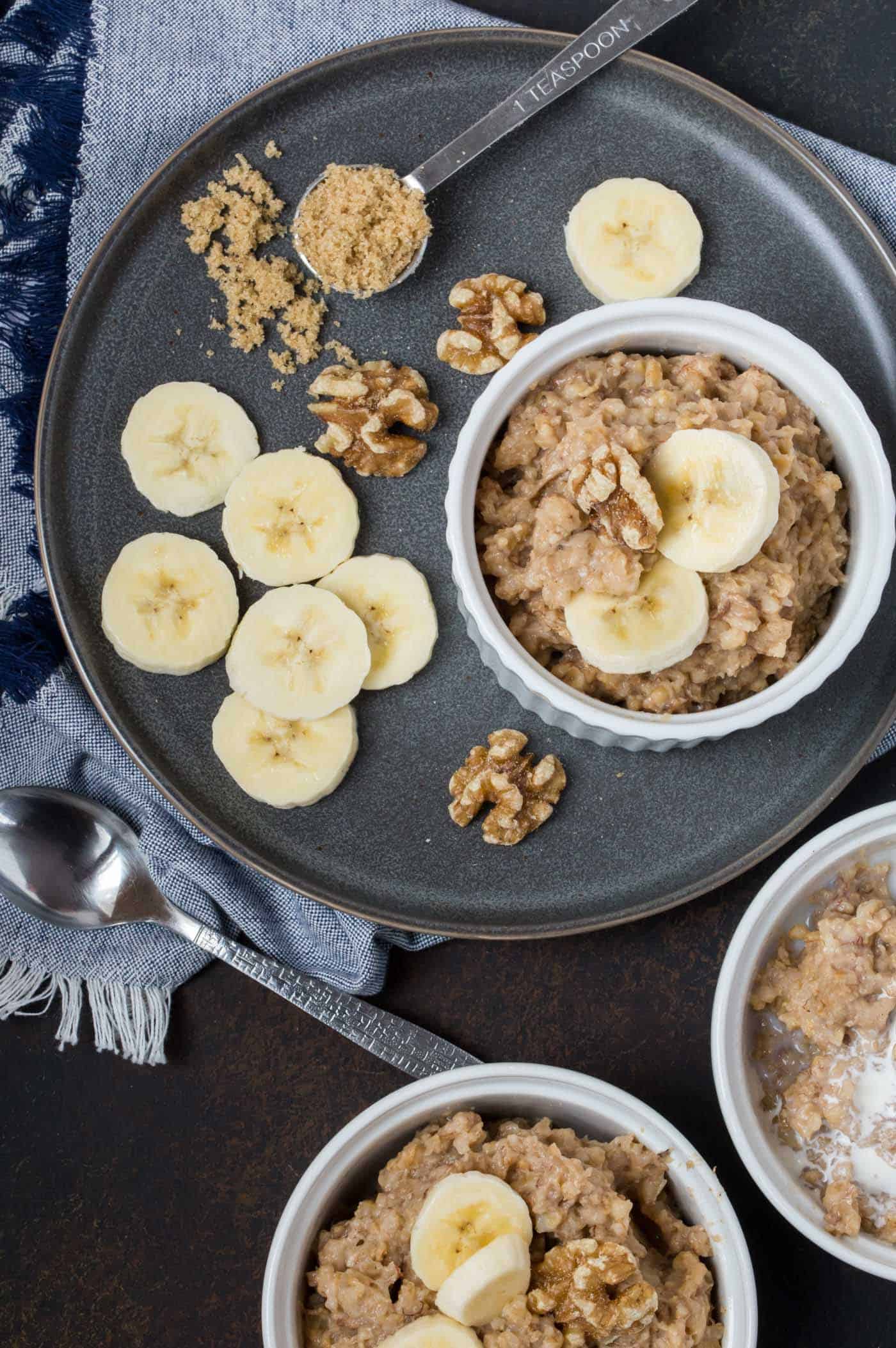 A hot, healthy breakfast can feel like a luxury on a busy morning, but a few minutes of prep the night before easily makes this goal a reality.
The best part about this Slow Cooker Steel But Oats recipe? All the hard work is done while you sleep. That's my type of breakfast!
Jump to:
Why this recipe works
Nutty, chewy steel cut oats are more nutritious than both rolled oats and instant oats because they are minimally processed.
You only need a few minutes of prep at night to make this recipe. All the ingredients for this oatmeal recipe are stirred together in a dish and placed in crock pot to cook overnight.
Using a water bath (a fancy term for putting your baking dish in another dish filled with warm water) to make this oatmeal ensures no overcooked edges or crusty bottoms - a common issue with many slow cooker oatmeal recipes.
It tastes like warm, homemade banana bread but is much healthier!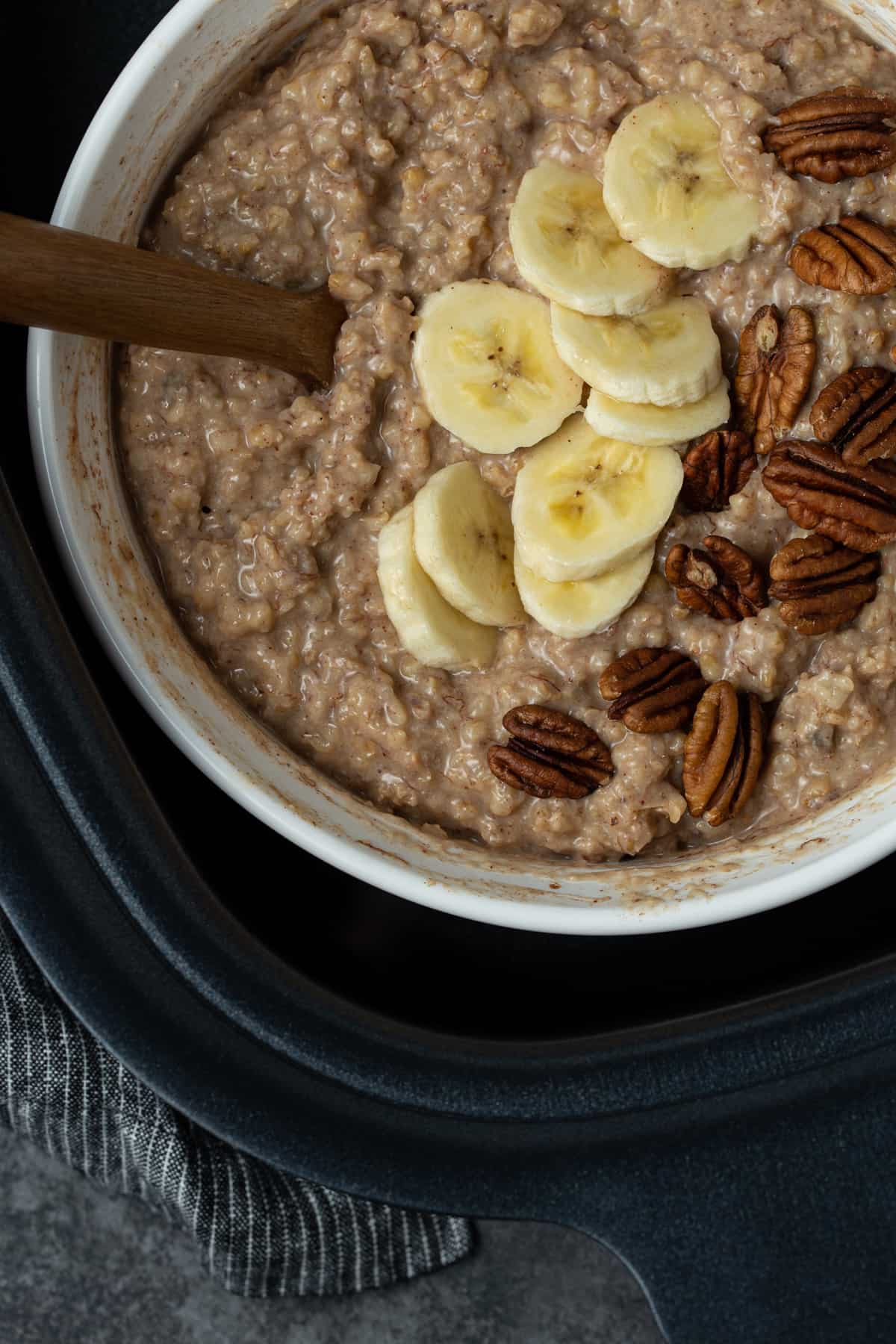 Difference between Steel Cut Oats, Rolled Oats and Instant Oats
If you were to place bowls of each of these oats next to each other, you'd immediately notice that they look different. Steel cut, rolled and instant oats may all be oat groats, but the difference between them lies in how much they have been processed. The more they have been processed, the quicker they cook.
Steel cut oats are oat groats that have been chopped into two or three pieces. They almost look like rice and retain much of their shape when cooked along with a slight bit of "chew". Because they are minimally processed, steel cut oats take the longest to cook but retain the most nutritional value of all oats.
Rolled oats are just that - oat groats that have been steamed and rolled flat. They also hold their shape fairly well when cooked but their cooking time is shorter than steel cut oats because of their additional processing.
Instant oats are the fastest cooking oats and are actually made from rolled oats. (You might also see them labeled as quick oats.) These oats are pre-cooked, dried and then rolled. You'll find their texture is a bit mushy when cooked.
Ingredients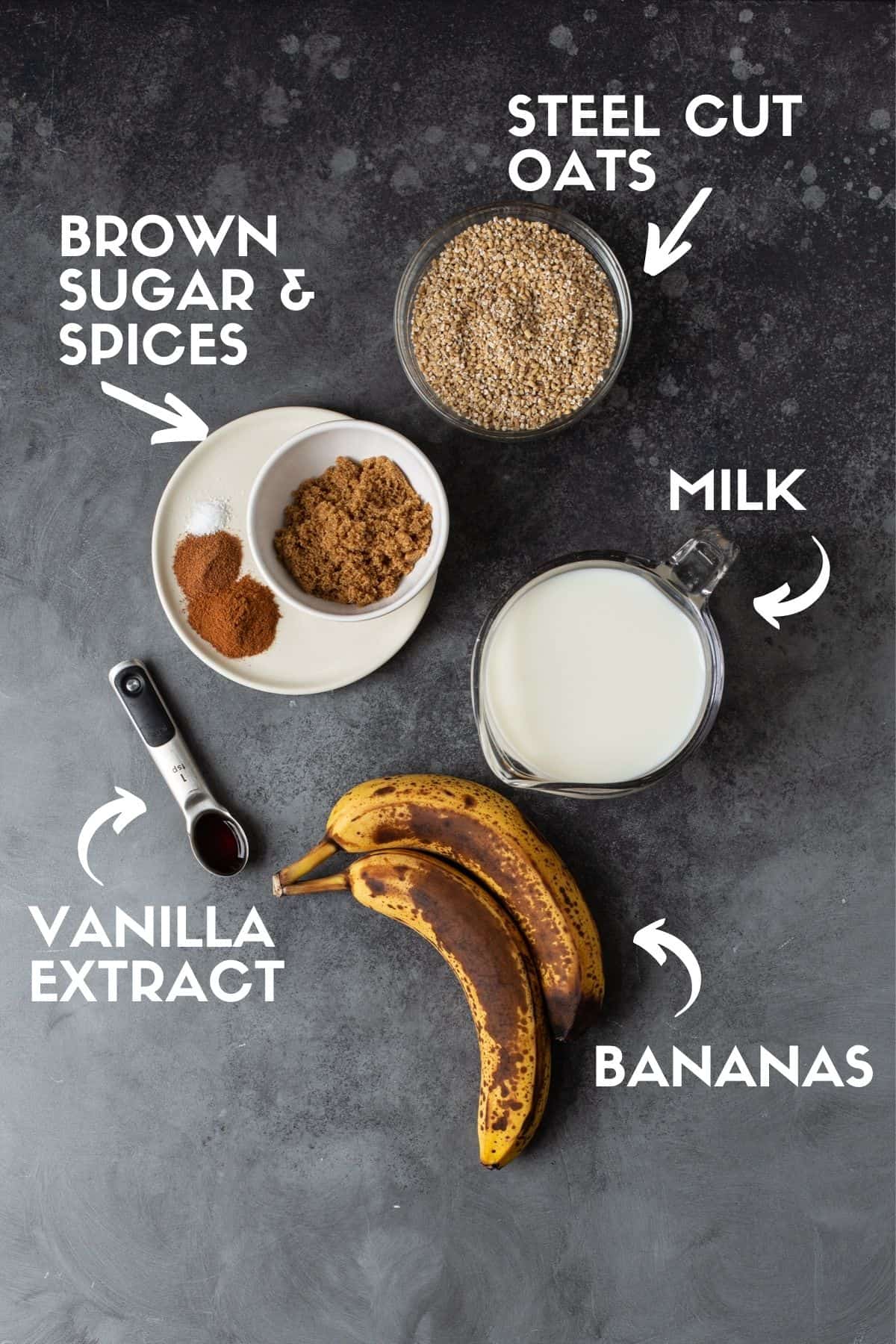 A few ingredient notes:
Bananas: Overripe bananas are key to flavorful oatmeal. I often use bananas that I previously froze, but feel free to use any bananas (fresh or frozen) as long as they are overripe.
Milk: I tested the recipe using dairy milk and have not tried it using any dairy-free liquids.
Oats: This recipe is written for steel cut oats. You cannot use rolled or instant oats without adapting the amount of milk and the cooking time.
Tip: Toast your steel cut oats for a few minutes in a skillet over medium heat before adding them to the recipe for nuttier flavor!
Instructions
Oatmeal cooked in a slow cooker can be notoriously fickle. Some units run hotter than others, and removing the lid hours later often reveals dry, overbaked oatmeal.
The solution? A WATER BATH! It helps keep the baking temperature as consistent as possible during the baking process. Even, moist heat ensures the oatmeal cooks at the same pace (no crusty bottoms or hard edges). And it's really as easy as pouring water!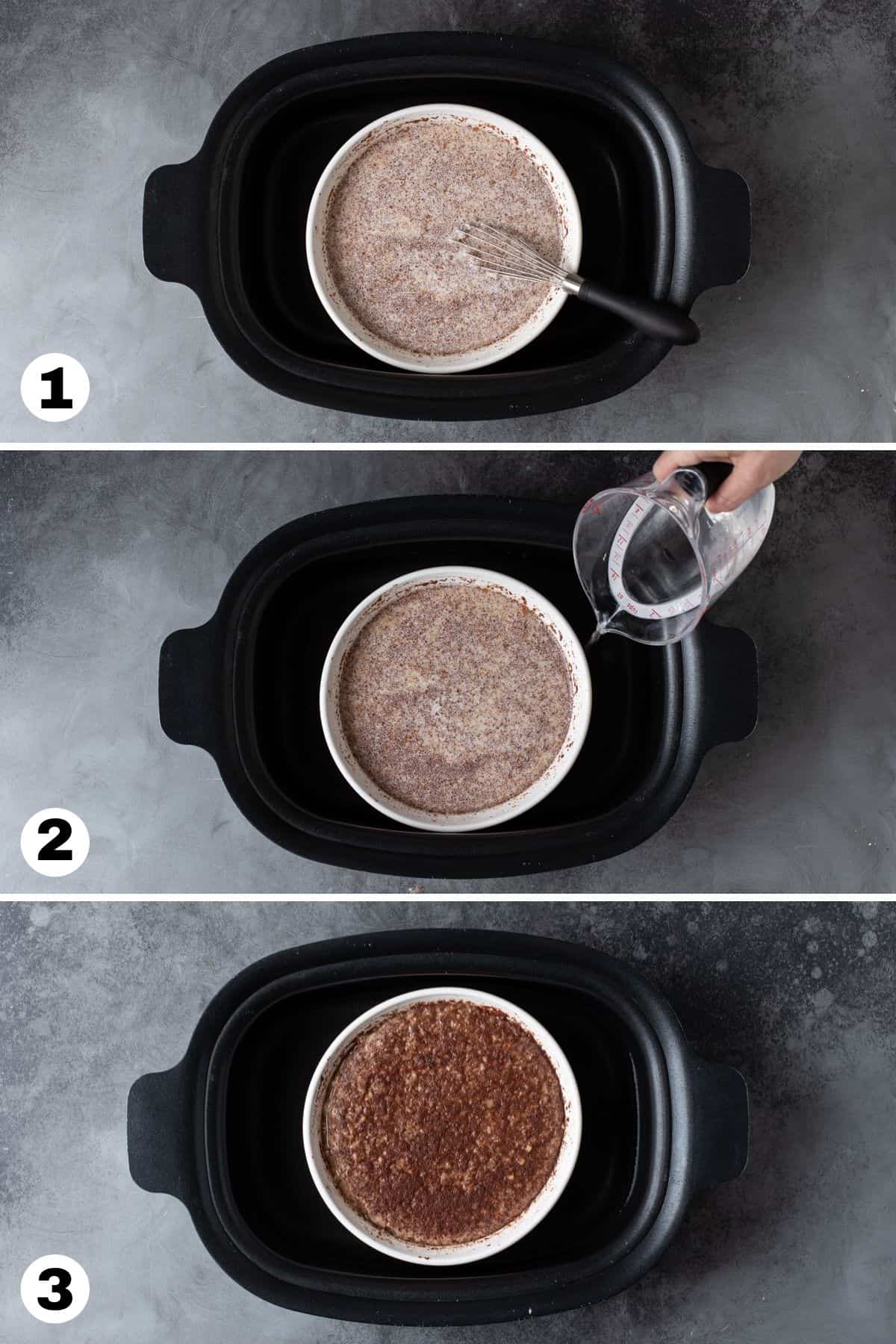 You'll need a large slow cooker for this recipe. Place a heat proof container inside it (I used CorningWare, but Pyrex would work well, too).
Stir together all of the oatmeal ingredients in that container and then place the dish in the middle of your slow cooker.
Add enough water to the slow cooker until it is about an inch or so below the top of the dish. Then step back and let 'er cook.
That tiny bit of effort ensures your oatmeal cooks gently and evenly in its toasty water bath. And no overcooked edges or bottoms means no scrubbing crusty, baked-on oatmeal out of your slow cooker the next day.
I mean, really, who wants to do dishes first thing in the morning?
FAQs
What are the best oatmeal toppings?

A bowl of this oatmeal is delicious as is, but the options for toppings are nearly unlimited. Here are some tasty ideas for add-ins:
*Nut butters add richness and a bit of healthy fats and protein to all oatmeal recipes.
*Chopped nuts (like pecans or walnuts) are a tasty way to add a bit of crunch.
*Top with a spoonful of maple syrup for extra sweetness.
*Ground chia seeds are loaded with good-for-you antioxidants and fatty acids.
*You can never go wrong with sliced fresh fruits like bananas or whole blueberries.
What do I do with leftover oatmeal?

This oatmeal will keep for a week in the fridge. You can also freeze portions of cooked oatmeal which is an awesome idea for breakfasts on the go. A small pour of milk is all you need to bring the leftovers back to their glory. Microwave until heated through and stir to combine.
Oatmeal for a crowd

Hosting a houseful for the holidays? This slow cooker oatmeal recipe has an advantage if you have early risers as guests because you can set out the toppings - brown sugar, walnuts or pecans and bananas - next to the slow cooker and have guests help themselves whenever they wake up in the morning. 
More baked oatmeal recipes
A spoonful of peanut butter stirred into a bowl of this easy Baked Apple Oatmeal is my idea of breakfast nirvana.
I love the individual portions of these Baked Oatmeal Cups. Pop them in the freezer and pull one out whenever the oatmeal craving strikes!
Not a huge oatmeal fan? Even ambivalent oatmeal eaters love this Baked Steel Cut Oatmeal with raspberries and cream.
If you love berries, you need to try our Blueberry Baked Oatmeal or this Blackberry Baked Oatmeal. Both are packed with berries in every bite!
Check out all of our Breakfast & Brunch recipes!
Recipe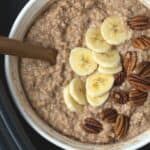 Slow Cooker Steel Cut Oats with Bananas
Why choose between banana bread and oatmeal when you can have both? This overnight Slow Cooker Steel-Cut Oats recipe smells and tastes just like banana bread with all the nutritional benefits of steel cut oatmeal.
Ingredients
3

cups

milk

2

very ripe bananas

mashed or pureed until smooth (I used frozen ones I had in my freezer)

4 - 6

tablespoons

brown sugar

depending on how sweet you like your oatmeal

1

teaspoon

cinnamon

½

teaspoon

ground nutmeg

1

teaspoon

vanilla

pinch

of salt

1

cup

steel cut oats

do not substitute quick cooking or rolled oats as the consistency of the oatmeal will be off
Instructions
Place heatproof bowl in your slow cooker. Stir together milk, mashed banana, brown sugar, cinnamon, nutmeg, vanilla, salt and oats in heatproof bowl. Fill the slow cooker with enough water so it is about one inch from the top of the bowl. Cover and cook on low for 7 hours.

When ready to serve, carefully remove hot bowl from slow cooker. Gently stir oatmeal until it is thoroughly combined. Serve with nuts, banana slices and extra brown sugar, if desired.
Notes
Leftovers can be refrigerated for up to one week or frozen in individual portions. Gently reheat with enough milk for desired consistency.
Nutrition
Serving:
1
cup
Calories:
272
kcal
Carbohydrates:
49
g
Protein:
9
g
Fat:
5
g
Saturated Fat:
2
g
Polyunsaturated Fat:
2
g
Cholesterol:
10
mg
Sodium:
93
mg
Fiber:
5
g
Sugar:
16
g
Nutrition info not guaranteed to be accurate.
Make breakfast effortless with this easy, overnight recipe for Slow Cooker Steel Cut Oats with Bananas. All the hard work is done while you sleep and your reward is a bowl of hearty steel cut oats that tastes just like banana bread!