A warm, make-ahead breakfast with just a few minutes of prep? Yes, it's possible thanks to this recipe for Slow Cooker Steel Cut Oatmeal with Bananas.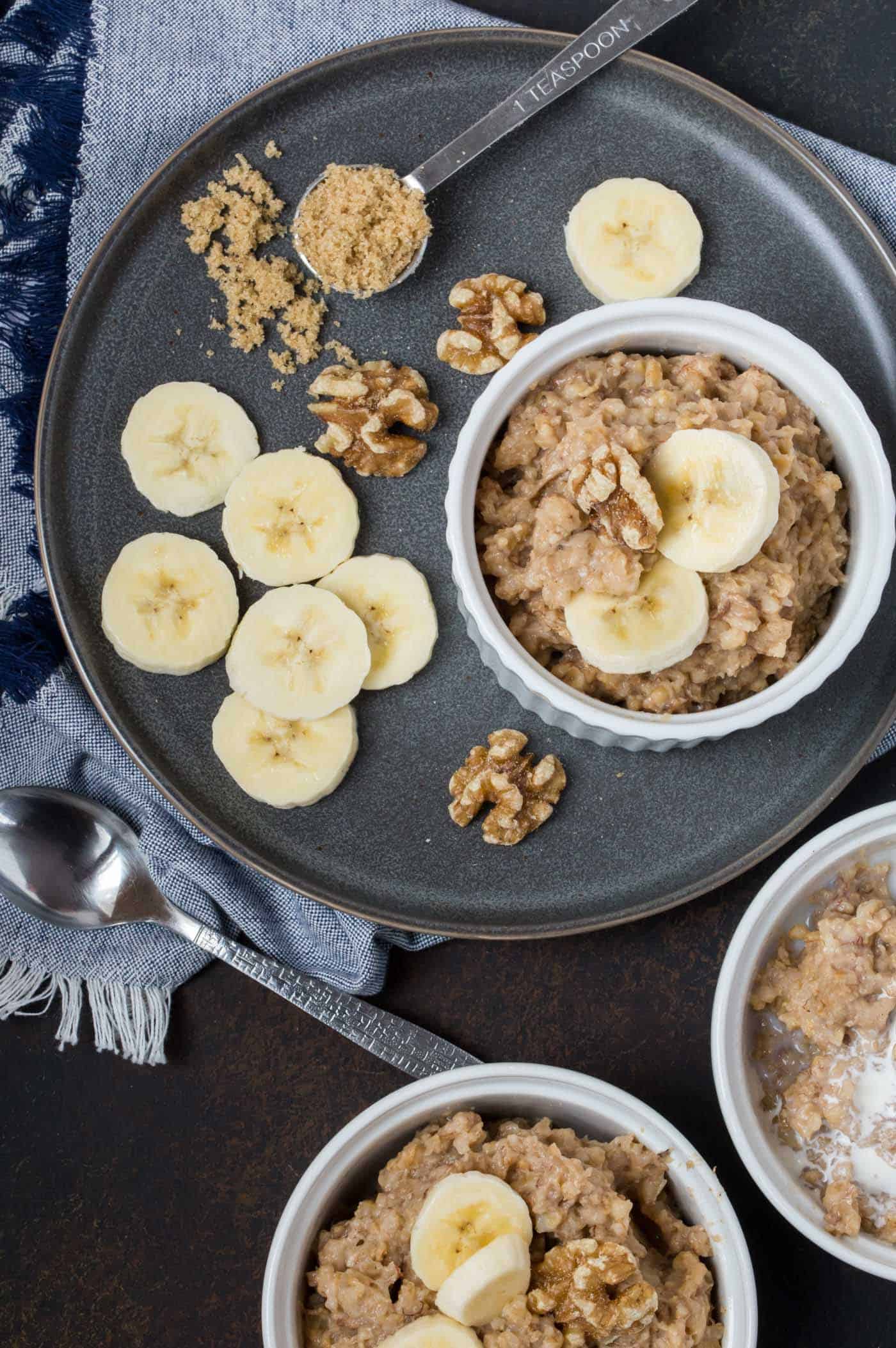 Last week's cold snap reminded me how much I love warm breakfasts. Truthfully any type of hot food was welcome during that freakishly freezing weather, but there is something so comforting and satisfying about a toasty bowl of oatmeal to start the day. Plus steel cut oats always keep me full for the entire morning. This Slow Cooker Steel Cut Oatmeal with Bananas recipe creates a tempting aroma that coaxes even the sleepiest of heads out of their warm beds in the morning.
How to cook Steel Cut Oatmeal in the slow cooker
Oatmeal cooked in a slow cooker can be notoriously fickle. Some units run hotter than others, and removing the lid hours later often reveals crusty, overbaked oatmeal. The solution? A slow cooker water bath! (If you've ever baked a cheesecake in a water bath, you know what I'm talking about.)
Get out your large slow cooker for this Slow Cooker Steel Cut Oatmeal recipe and find a heat-proof container that will fit inside it (I used CorningWare, but Pyrex would work well, too). Combine all of the ingredients in the dish and then place it in the middle of your slow cooker.

Add enough water to the slow cooker until it is about an inch or so below the top of the dish.

Then step back and let 'er cook.
That tiny bit of effort ensures your oatmeal cooks gently and evenly in its toasty water bath. And no overcooked edges or bottoms means no scrubbing crusty, baked-on oatmeal out of your slow cooker the next day. I mean, really, who wants to do dishes first thing in the morning?
This Slow Cooker Steel Cut Oatmeal with Bananas keeps for a week in the fridge and needs just a bit of milk when reheating to bring the leftovers back to their glory, just like our crazy popular Baked Steel Cut Oats with Apples and Cinnamon recipe.
But our slow cooker oatmeal recipe has the advantage if you have guests who are early risers because you can set out the toppings – brown sugar, walnuts or pecans, and bananas – next to the slow cooker and have guests help themselves whenever they wake up in the morning. Pop a tray of these make-ahead Cherry Almond Smoothie Shooters in the fridge before you call it a night and consider breakfast done.
Nothing beats a self-service buffet when you're hosting a crew, especially if you're not an early bird.
Love oatmeal in the morning? Check out some of our other favorite recipes for this belly-warming breakfast!
Yield: 4-6
Crock Pot Banana Bread Oatmeal
Total Time
8 hours
5 minutes
Ingredients
3 cups milk
2 very ripe bananas, mashed or pureed until smooth (I used frozen ones I had in my freezer)
6 tablespoons brown sugar
1 teaspoon cinnamon
1 teaspoon vanilla
pinch of salt
1 cup steel cut oats (do not substitute quick cooking or rolled oats as the consistency of the oatmeal will be off)
Water (for water bath)
Toasted, chopped pecans, optional
Banana slices, optional
Brown sugar, optional
Instructions
Combine milk, mashed banana, brown sugar, cinnamon, vanilla, salt and oats in a heat proof bowl. Place in your Crock Pot and fill the Crock Pot with enough water so it is about one inch from the top of the bowl.
Cover and cook on low for 7-8 hours.
When ready to serve, carefully remove hot bowl from Crock Pot. Gently stir oatmeal until it is thoroughly combined. Serve with pecans, banana slices and extra brown sugar.