Make a batch of this hearty Baked Steel Cut Oatmeal with Apples and Cinnamon and enjoy breakfast all week long. 
Oatmeal was not my favorite breakfast when I was younger. I would eat it but never really craved it until years later when I was introduced to Irish oatmeal (otherwise knows as steel cut oatmeal) on our honeymoon in Ireland. Now it's one of my favorite breakfasts, and this recipe for Baked Steel Cut Oatmeal with Apples and Cinnamon brings me right back to the Emerald Isle. 
Have you ever had steel cut oatmeal before? Steel cut oats have such great texture, and because of that, they feel like more of a meal than regular oatmeal. If it is your first time eating steel cut oatmeal, it might take a little time to get used to the coarser texture of steel cut oats, but the addition of baked apples and cinnamon will surely win you over. (Plus a little maple syrup and brown sugar doesn't hurt, either.) 
I toast the oats on the stove in this recipe before I bake them, and I highly recommend this step. Why? This little bit of effort truly enhances the flavors and add more depth to the already hearty steel cut oats.
Feeding a crowd? This recipe makes a huge batch of baked steel cut oatmeal and is perfect for weekday breakfasts or brunch for a bunch.  It takes about an hour to bake, so you can even make it ahead of time and reheat individual portions when needed.  
Tip: Reheating the oatmeal? Add a little milk to regain the creamy texture. Serve with brown sugar and maple syrup, of course! .
Hosting brunch? Serve this Baked Steel Cut Oatmeal with some smoothie shooters and a few muffins, and you have yourself a perfect menu for weekend guests.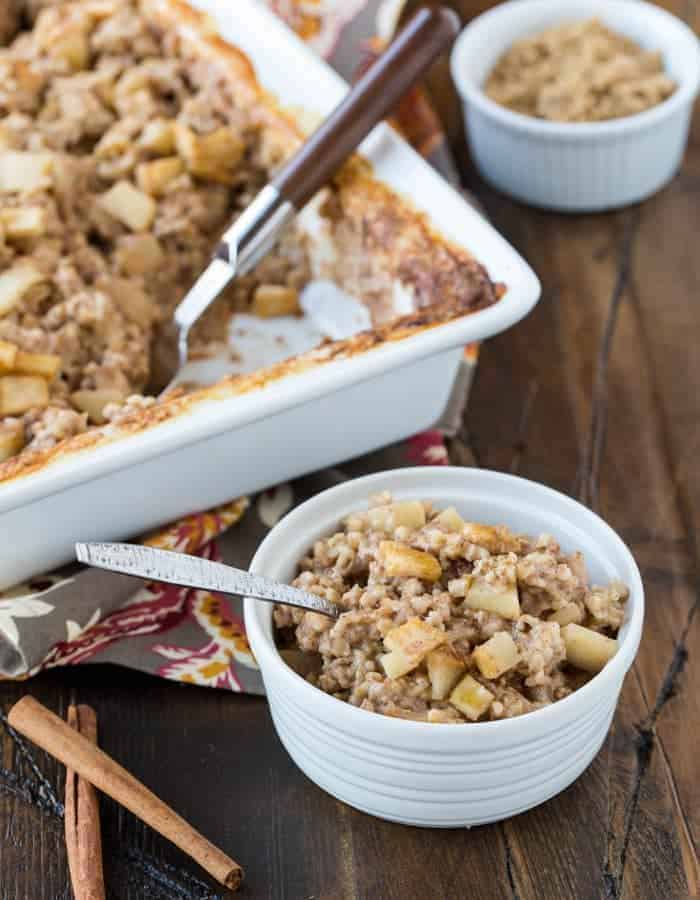 RECOMMENDED EQUIPMENT
Baked Steel Cut Oatmeal with Apples and Cinnamon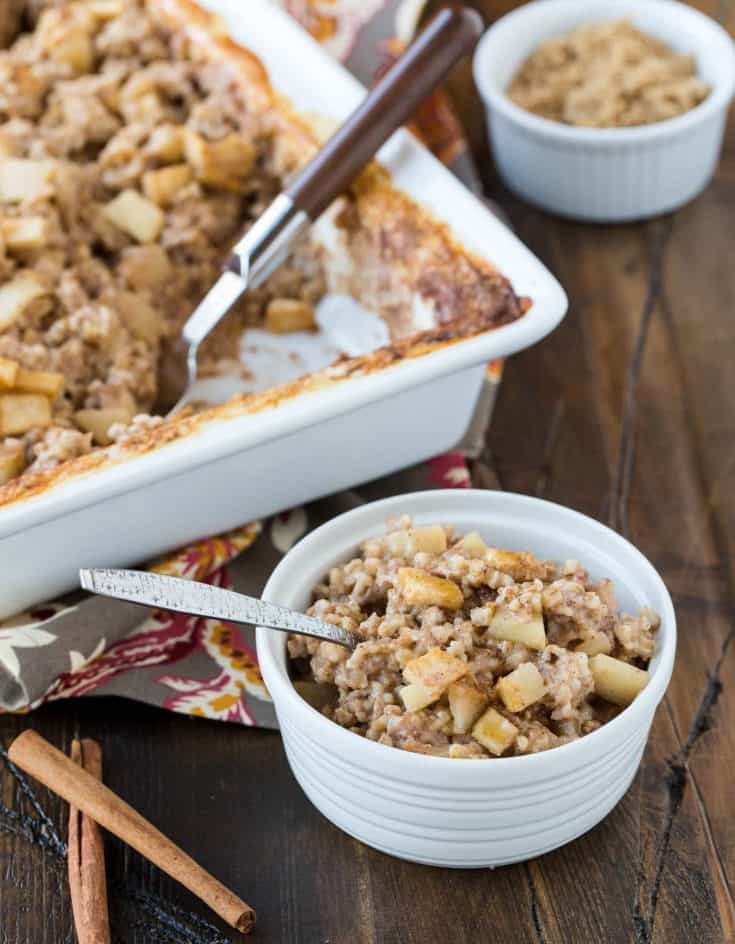 Total Time
1 hour
15 minutes
Ingredients
1 tablespoon butter
2 cups Steel Cut Oats
4 cups boiling water
2 teaspoons cinnamon
3 apples, peeled and diced
1/4 cup brown sugar
1 teaspoon salt
2 1/2 cups milk
Brown sugar, maple syrup, fruit, nuts (optional toppings)
Instructions
Preheat oven to 375 degrees and grease a 9 x 13 pan.
Melt butter in skillet and add oats. Stir until lightly toasted. Put oats in a large mixing bowl and pour boiling water over them. Add apples, cinnamon, brown sugar and salt and stir until combined. Add milk and stir. Pour into prepared dish and bake for 50-60 minutes or until browned and set.
Stir oatmeal before serving and then add toppings as desired.
Notes
This reheats well. Just add a little milk before you reheat to prevent the oatmeal from drying out.