Start your morning off right with these heart healthy, make-ahead Banana Nut Baked Oatmeal Cups!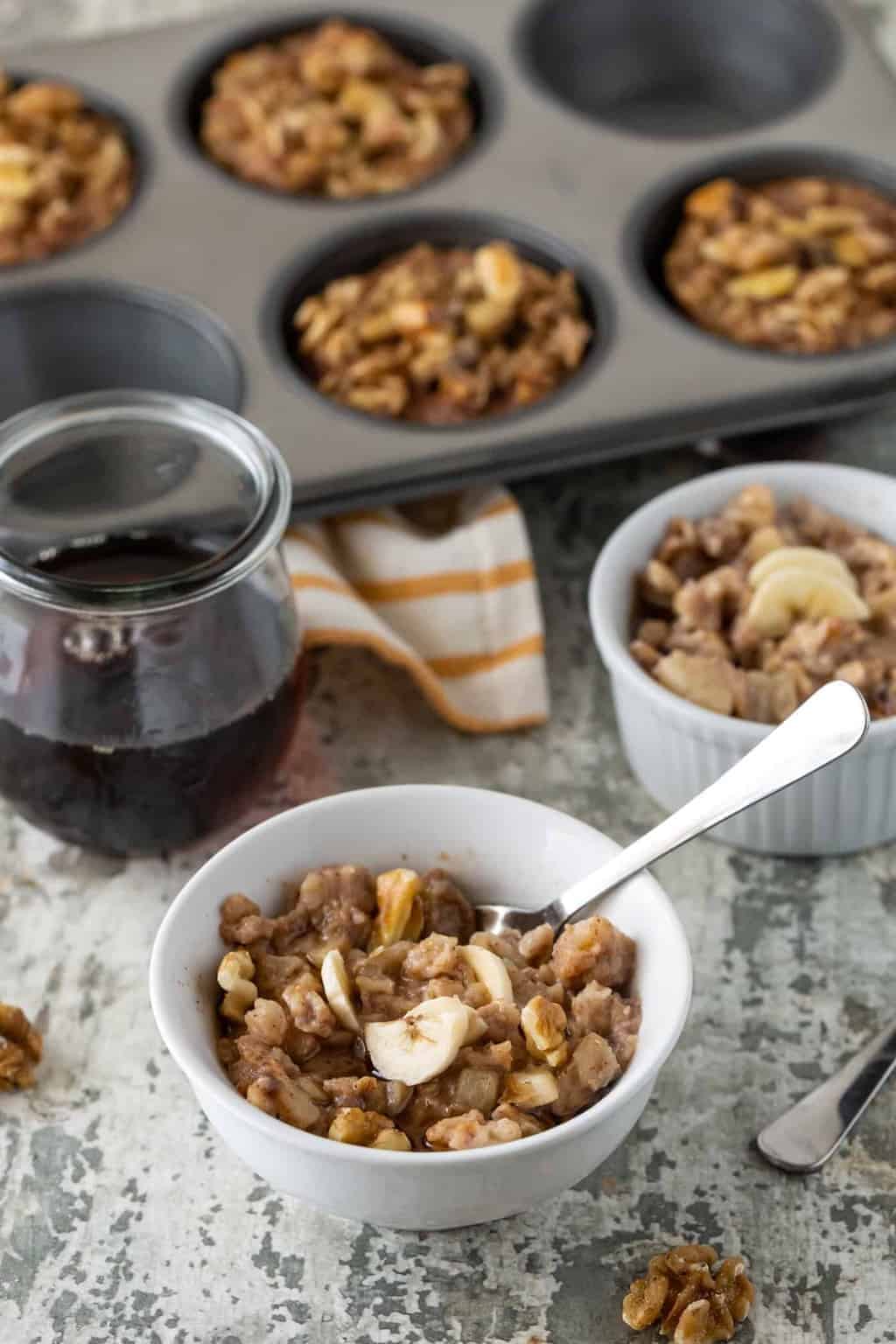 New Favorite Breakfast Alert!
I'm slightly obsessed with these scrumptious Banana Nut Baked Oatmeal Cups. I've made them a number of times in the last few weeks, and they have definitely become my latest go-to breakfast obsession.
Not only do these Banana Nut Baked Oatmeal Cups offer portion control (which is exactly what we need around here after our excessive holiday eating habits), but they can be made in advance and popped in the freezer to pull out whenever you need a quick and filling breakfast.
Did someone say delicious AND healthy convenience? Sign me up!
How to store baked oatmeal cups
After the oatmeal cups have been baked and cooled, pop them in either the fridge or freezer, depending on how quickly you plan to eat them. I usually double the recipe and put the extra batch in the freezer to pull out later.
How to reheat baked oatmeal cups
A quick spin in the microwave is all it takes to ensure these Banana Nut Oatmeal Cups taste as fresh as if they just came from the straight from the oven.
The length of time in the microwave will depend on whether the cups are coming from the fridge or freezer. But if the cups are frozen, I usually defrost them at 50% power first before heating them through.
Which brings me to the best part of this recipe: My favorite toppings for Banana Nut Baked Oatmeal Cups
I know some people like to eat their oatmeal cups like a muffin but that's missing out on all the yummy toppings!
Nine times out of ten I put my oatmeal cup in a small bowl and pour a little milk over the top before I reheat it. Then I add a healthy dollop of almond butter and a drizzle of maple syrup before stirring it all together. So, so, so good!!
You can even make these baked oatmeal cups gluten-free if you want.
Simply swap in gluten-free oats, and you have a naturally gluten-free recipe for anyone with allergies or sensitivities.
These Banana Nut Baked Oatmeal Cups also make a great brunch recipe for a crowd.
Make this baked oatmeal recipe in a two quart baking dish and serve it family style to your guests. Bake for around 30 minutes or until the center is set.
Hosting a larger group? Make two batches and swap the bananas for blueberries and the walnuts for pecans in one of the batches. Serve it with a variety of topping for guests to help themselves.
This versatile recipe for Banana Nut Baked Oatmeal Cups is perfect for busy mornings on the run as well as a delicious and unique option to add to your next brunch buffet. Whip up a batch today!
What I used to make these Baked Oatmeal Cups
You know we love the pans from USA Pans, and their muffin pan is no exception. I've never had sticking issues with this sturdy, easy-to-clean pan.
Make quick work of dividing the batter among the muffin cups with a stainless steel scoop. This size is perfect for any muffin recipe.
I always sprinkle a bit of this sugar on top of my oatmeal cups. The sugar caramelizes slightly and adds a delicious crunchy bite. Not necessary, of course, but oh so tasty!
Add delicious variety to your breakfast routine with any one of these tasty oatmeal recipes!
Raspberry and Cream Baked Steel Cut Oatmeal – Garnish with Lemon®
Pumpkin Pie Oatmeal with Vanilla Whipped Cream – Barefeet in the Kitchen
Baked Steel Cut Oatmeal with Apples and Cinnamon – Garnish with Lemon®
Spiced Vanilla Chai Oatmeal – A Mind "Full" Mom
Blueberry Baked Oatmeal – Garnish with Lemon®
Yield: 12 oatmeal cups
Banana Nut Baked Oatmeal Cups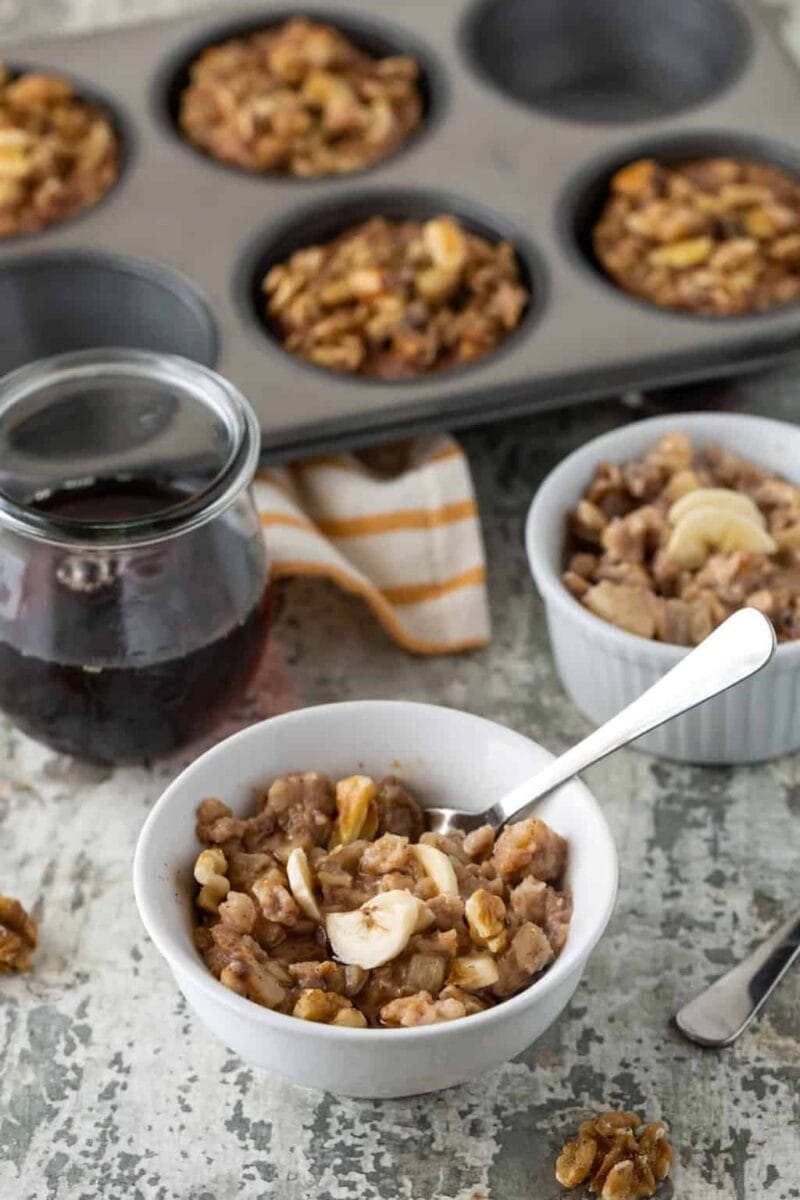 Ingredients
1 3/4 cups milk
1/4 cup maple syrup
1 egg
2 tablespoons butter, melted
1 teaspoon cinnamon
1/2 teaspoon nutmeg
1/4 teaspoon salt
1 1/2 cups rolled oats
2/3 cup chopped walnuts
3 bananas, sliced or chopped
1 tablespoon sugar in the raw or brown sugar
Instructions
Preheat oven to 375 degrees. Grease a muffin pan and set aside.
Whisk together first 7 ingredients (milk through salt) in a medium bowl. Stir in oats, walnuts and bananas. Divide evenly among muffin tins. Sprinkle brown sugar evenly over muffin tins.
Bake for 20 minutes or until centers are set. Cool for at least 10 minutes before removing from pan.
Add stir ins like extra milk and almond butter, if desired.
Notes
Allow to cool completely before freezing. Recipe adapted from Serious Eats.
Nutrition Information:
Yield:
12
Serving Size:
1
Amount Per Serving:
Calories:

180
Total Fat:

8g
Saturated Fat:

2g
Trans Fat:

0g
Unsaturated Fat:

5g
Cholesterol:

23mg
Sodium:

86mg
Carbohydrates:

24g
Fiber:

3g
Sugar:

10g
Protein:

5g