Make a batch of these Banana Nut Baked Oatmeal Cups and freeze the extras for busy mornings when you need a quick and healthy breakfast!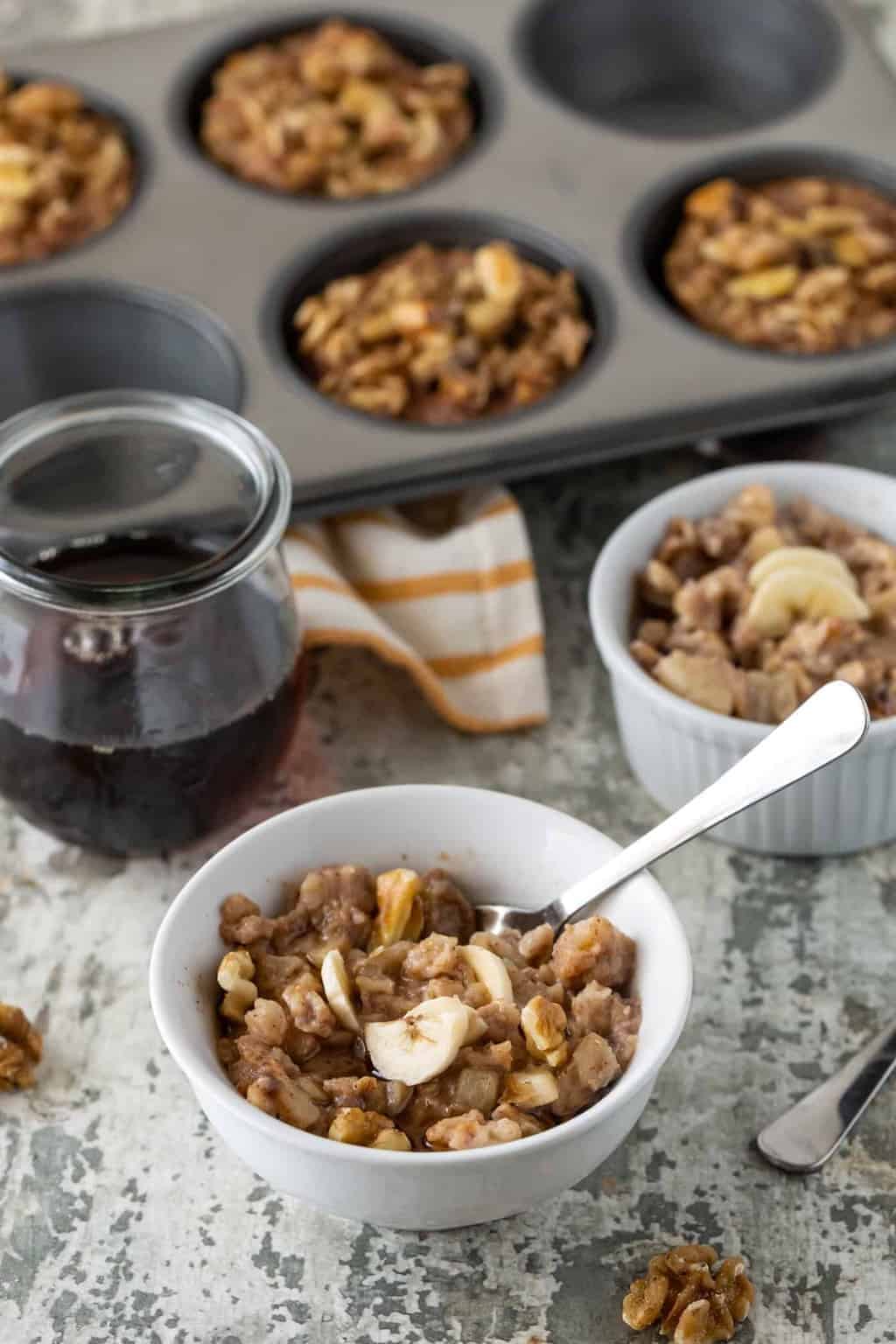 New Favorite Breakfast Alert!
I'm slightly obsessed with these scrumptious Banana Nut Baked Oatmeal Cups. I've made them a number of times in the last few weeks, and they have definitely become my latest go-to breakfast obsession.
Baked Oatmeal recipe
We happen to be pretty fond of baked oatmeal around here. Maybe it's the fact that we live in the frozen tundra for 7 months out of the year, but a hearty, warm breakfast is right up our alley.
You'll find any number of baked oatmeal recipes on our site, ranging from baked steel cut oats like this Baked Steel Cut Oatmeal with Apples and Cinnamon to regular rolled oats in this Blueberry Baked Oatmeal, but this is our only oatmeal CUP recipe. What makes it different?
It's made in a muffin pan!
Not only do these Banana Nut Baked Oatmeal Cups offer portion control (which is exactly what we need around here after our excessive holiday eating habits), but they can be made in advance and popped in the freezer to pull out whenever you need a quick and filling breakfast.
Did someone say delicious AND healthy convenience? Sign me up!
Tips
Making oatmeal cups is not rocket science, but there are a nuggets of information that you might find helpful if you're an oatmeal cup newbie:
Grease your muffin tins well so the oatmeal cups don't stick to the sides when you try to remove them. Running a knife around the edge of the tin is usually all you need to do to remove them cleanly.
A stainless steel scoop is a huge help in evenly dividing the batter between muffin tins. (If you've ever made a mess with transferring soupy batter from one container to another, you know what I mean.) I have several sizes of these scoops for various uses, but this one is perfect for muffins, cupcakes and oatmeal cups.
Prefer to use a plant-based milk? Go for it. You can substitute that seamlessly.
Note: Although this recipe is made in a muffin pan and the cups look like muffins when they come out of the pan, they are NOT muffins. Don't be swayed by appearances; this recipe makes oatmeal cups that are far too soft to eat out of hand.
Storage Tips
Thought it's tempting to dive into those fresh from the oven oatmeal cups because they smell so darn good, I do suggest waiting for them to cool slightly if you're planning to eat them immediately or else they will be too soft to easily remove from the pan.
If you have the time, I prefer to thoroughly cool them before taking them out of the tins.
Planning to eat them this week? Place them in a sealed container and pop them in the fridge.
If you'd rather freeze them for later, I usually place the cups on a baking sheet lined with parchment and freeze them solid before putting them in a zip top bag in the freezer for up to 3 months.
Tip: Making a double batch of the recipe is just as easy as making a single batch (provided you have two muffin pans). I highly recommend this as they will go quickly!
How to reheat baked oatmeal cups
A quick spin in the microwave is all it takes to ensure these Banana Nut Oatmeal Cups taste as fresh as if they just came from the straight from the oven.
The length of time in the microwave will depend on whether the cups are coming from the fridge or freezer. But if the cups are frozen, I usually defrost them at 50% power first before heating them through.
Toppings
I know some people like to eat their oatmeal cups like a muffin but that's missing out on all the yummy toppings!
Nine times out of ten I put my oatmeal cup in a small bowl and pour a little milk over the top before I reheat it. Then I add a healthy dollop of almond butter and a drizzle of maple syrup before stirring it all together.
So, so, so good!!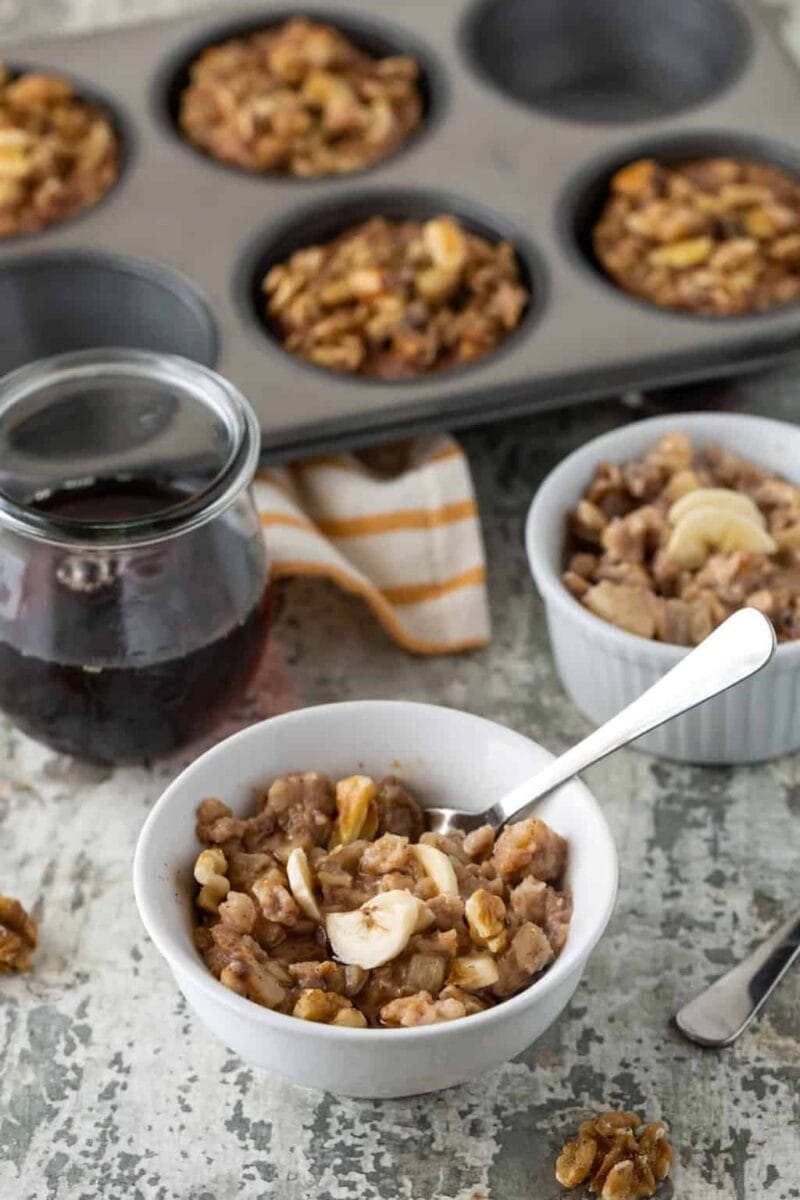 Make this baked oatmeal recipe in a two quart baking dish and serve it family style to your guests. Bake for around 30 minutes or until the center is set.
Hosting a larger group? Make two batches and swap the bananas for blueberries and the walnuts for pecans in one of the batches. Serve it with a variety of topping for guests to help themselves.
This versatile recipe for Banana Nut Baked Oatmeal Cups is perfect for busy mornings on the run as well as a delicious and unique option to add to your next brunch buffet. Whip up a batch today!
What I used to make these Baked Oatmeal Cups
You know we love the pans from USA Pans, and their muffin pan is no exception. I've never had sticking issues with this sturdy, easy-to-clean pan.
Make quick work of dividing the batter among the muffin cups with a stainless steel scoop. This size is perfect for any muffin recipe.
I always sprinkle a bit of this sugar on top of my oatmeal cups. The sugar caramelizes slightly and adds a delicious crunchy bite. Not necessary, of course, but oh so tasty!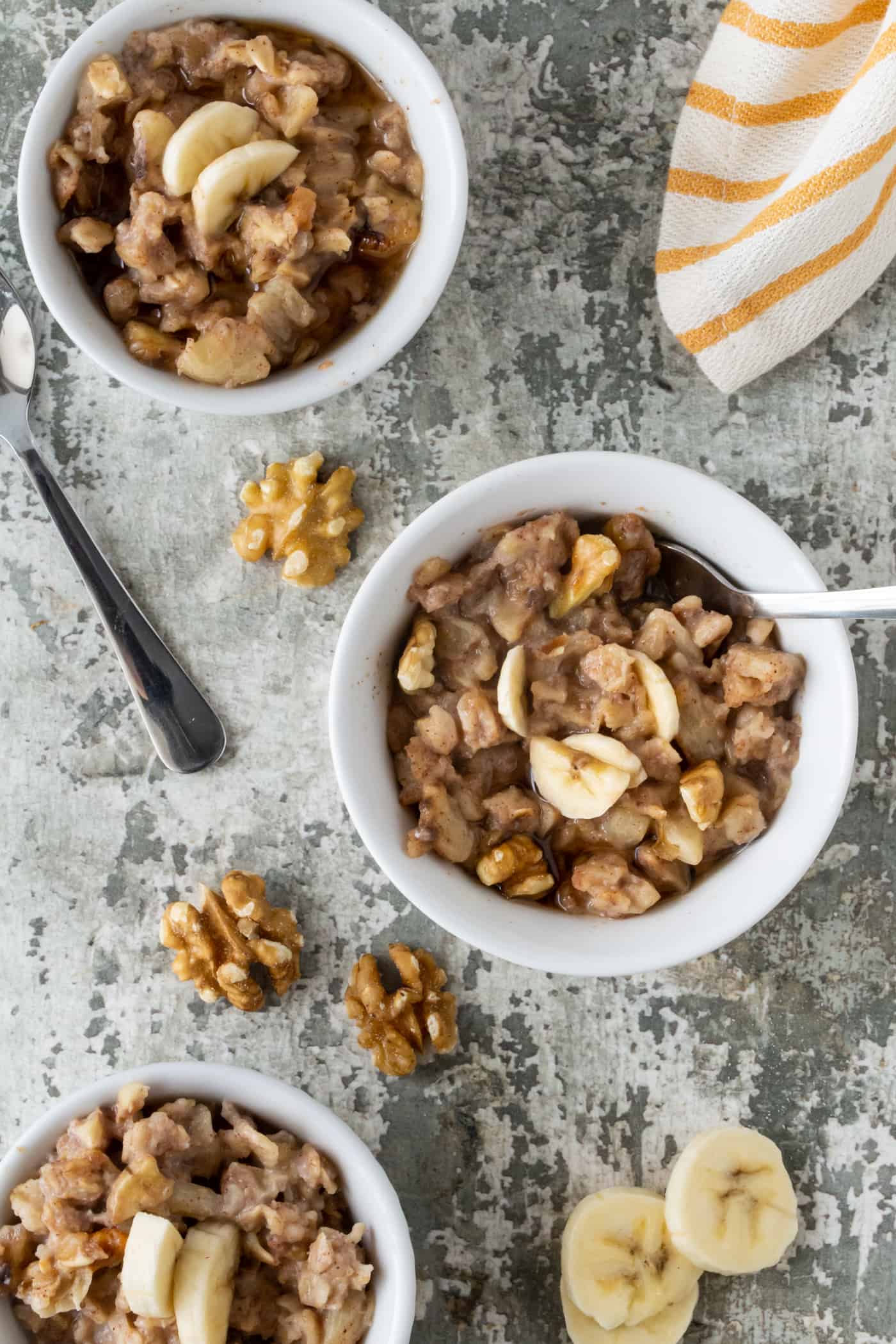 More oatmeal recipes!
Our Blueberry Baked Oatmeal and our Raspberry and Cream Baked Steel Cut Oatmeal recipes highlight just how irresistible the combination of juicy berries and oatmeal can be.
Not a fan of sweet breakfasts? These Savory Oatmeal Cups might just be for you.
Check out all of our Breakfast & Brunch recipes HERE!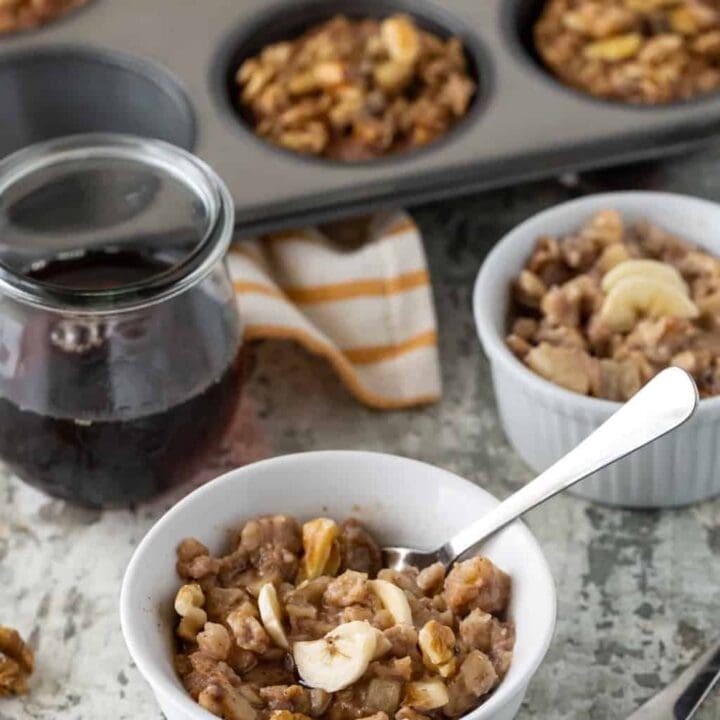 Banana Nut Baked Oatmeal Cups
Make a batch of these easy Banana Nut Baked Oatmeal Cups and freeze the extras for a quick and easy healthy breakfast!
Ingredients
1 ¾

cups

milk

¼

cup

maple syrup

1

egg

2

tablespoons

butter

melted

1

teaspoon

cinnamon

½

teaspoon

nutmeg

¼

teaspoon

salt

1 ½

cups

rolled oats

⅔

cup

chopped walnuts

3

bananas

sliced or chopped

1

tablespoon

sugar in the raw or brown sugar
Instructions
Preheat oven to 375 degrees. Grease a muffin pan and set aside.

Whisk together first 7 ingredients (milk through salt) in a medium bowl. Stir in oats, walnuts and bananas. Divide evenly among muffin tins. Sprinkle brown sugar evenly over muffin tins.

Bake for 20 minutes or until centers are set. Cool for at least 10 minutes before removing from pan.

Add stir ins like extra milk and almond butter, if desired.
Notes
Allow to cool completely before freezing. Recipe adapted from Serious Eats.
Nutrition
Serving:
1
muffin
Calories:
173
kcal
Carbohydrates:
22
g
Protein:
4
g
Fat:
8
g
Saturated Fat:
2
g
Polyunsaturated Fat:
5
g
Cholesterol:
23
mg
Sodium:
86
mg
Fiber:
2
g
Sugar:
9
g
Nutrition info not guaranteed to be accurate.
Eating a healthy breakfast couldn't be easier with this make-ahead Banana Nut Baked Oatmeal Cups recipe. Freeze the extras and you'll always be prepared to start the morning with a nutritious, whole-grain breakfast.