Take bartending off your to-do list this holiday season and whip up a batch of this festive Cranberry Vodka Punch. It's the perfect party punch recipe for all of your holiday events!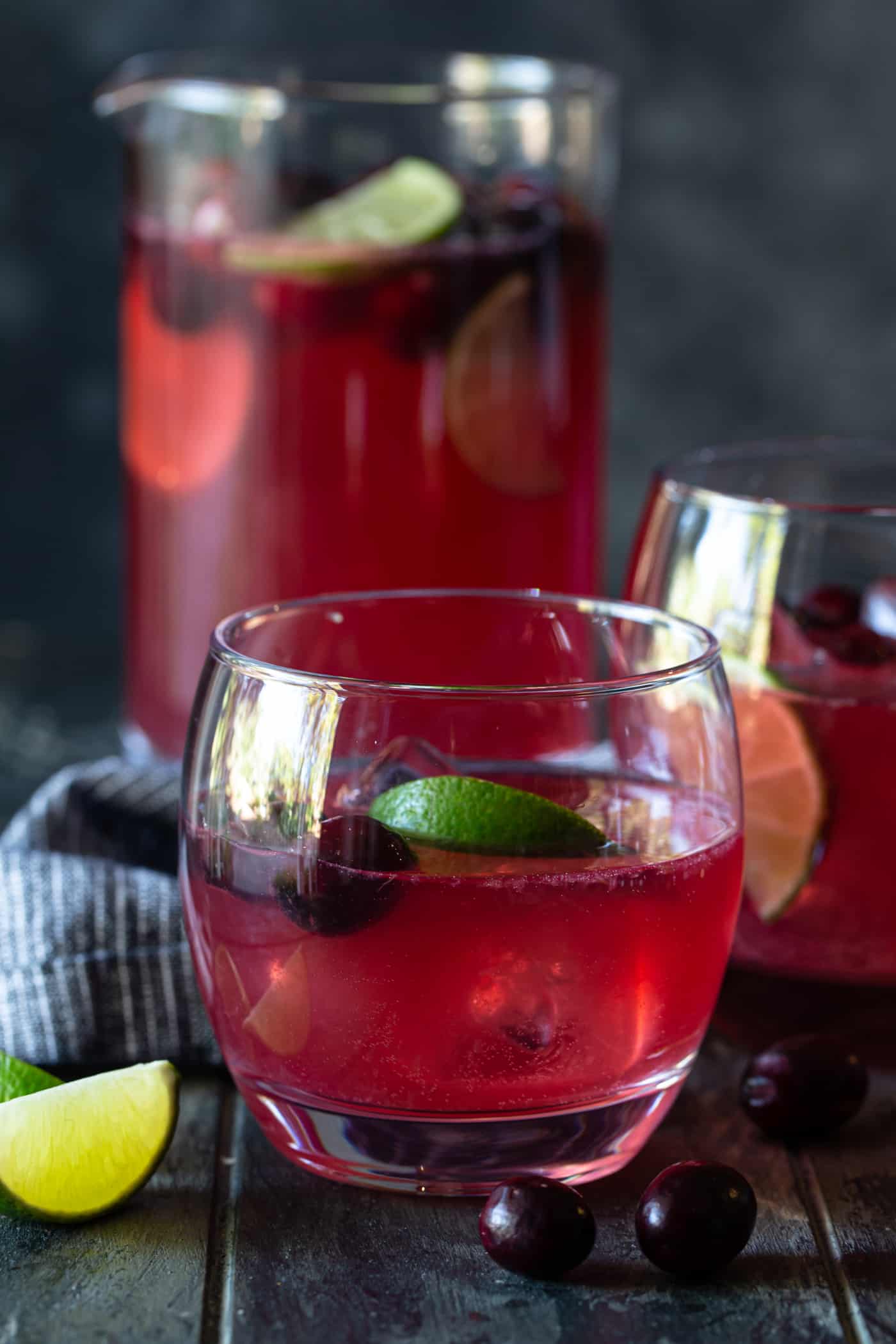 Punch is one of the best ways to serve up a big batch of party drinks. Make it ahead of time, and you can mingle as much as you please because you are no longer tied to mixing up drinks for your guests.
During the summer, our Watermelon Gin Punch is hands-down our most popular party punch recipe, but the holidays call for something more seasonal - like this easy, make-ahead Cranberry Vodka Punch recipe.
What are the ingredients for this Cranberry Vodka Party Punch?
This holiday punch has only 5 ingredients that you should be able to find at any well-stocked grocery/liquor store.
Citrus vodka (I used Absolut Citron, but Belevedere, Grey Goose, Stolichnaya and even Smirnoff make citrus vodkas)
Unsweetened cranberry juice (the unsweetened version is key here)
Fresh lime juice
Simple Syrup
Lemon Lime Soda (Sprite, 7-Up, etc)

How to make simple syrup at home
Simple syrup is easy and inexpensive to make at home. Yes, I admit, I've definitely grabbed a bottle at the store when time is tight, but after making it once yourself, you'll wonder why you didn't do it sooner!
Place equal amounts of sugar and water in a saucepan.
Bring the mixture to a low boil over medium heat and cook until sugar is completely dissolved.
Remove the pan from heat and allow syrup to cool before placing in an airtight container in the refrigerator for up to one month.
Unsweetened cranberry juice vs. cranberry juice cocktail
You'll notice that this recipe calls for unsweetened cranberry juice and ask yourself if it's really necessary.
Unsweetened cranberry juice means no additional sugars have been added to the juice where the sweetened varieties often combine additional fruit juices and sugars to mellow the naturally tart flavor of the cranberries (think apple, pear and even grape juice concentrates).
Because you are adding sweet simple syrup and soda to this party punch, definitely seek out the unsweetened cranberry juice. It helps balance out the sweetness of the soda and syrup. If you try to use sweetened cranberry juice, the punch will be too cloying.

How to make punch for a party
The beauty of an alcoholic party punch for a crowd is it requires little more than stirring ingredients together in a pitcher or punch bowl. That said, we still have some tips for you to follow for perfect punch making:
1. Make your punch base up to 12 hours ahead of time. This gives the punch flavors a chance to meld together as well as ensures the punch is thoroughly chilled before guests arrive.
2. You can also assemble garnishes in advance. Slice those citrus wedges and twists or thread your cocktail skewers so all that's left to do is add them to the beverage buffet.
3. Add bubbles just before the party starts. If your punch calls for carbonated ingredients (alcoholic or not), stir them in just before the party starts. If you add them too early, they will go flat before the doorbell even rings.
4. Keep your punch cold throughout the night. Avoid adding ice cubes to a punch bowl as they will quickly melt and dilute the punch. Either add a large block of molded ice to the bowl to minimize dilution with a slow melt or do as I do and serve the punch in pitchers that are placed in ice baths. You can also add an ice bucket filled with ice cubes to your beverage buffet for guests to add to their own punch glasses.

How much punch should I make?
This Cranberry Vodka Punch recipe makes around 15 (1-cup) servings in low ball glasses. If you use smaller glasses (say short plastic punch glasses), then you should estimate 30 (1/2-cup) servings per recipe.
A good rule of thumb for punch portions is to assume that guests will drink between 1-2 glasses of punch in the first hour and then another 1 glass per hour after that.
Of course, this is entirely dependent on the type of party (you'll probably serve fewer drinks at a baby shower vs. a tailgating party) and if you are serving additional beverages like wine or beer.
If you're unsure about your alcoholic punch quantities and don't want to waste ingredients, try making one batch in advance and then have the ingredients for a second (or third) batch ready to go if you see the first batch going quickly. Since punch is so easy to make, you can easily stir together another batch on a moment's notice.
Minimize holiday stress with a make-ahead menu
Love the idea of doing as much as you can in advance? Make an entire party menu that is mostly make-ahead and self-serve (like this DIY Chili Bar and this collection of cheesecake bars) and suddenly you're enjoying every moment of your gathering just like everyone else rather than stuck in the kitchen prepping food and drink. What's not to love about that?
This Cranberry Vodka Punch recipe is always a hit with guests who love a good vodka cranberry or cosmopolitan cocktail. One sip and it might just become your go-to drink for family parties and get-togethers, too!

Punch is one of the easiest and best party cocktails - but it's not the only one.
You can find all of our cocktail recipes HERE.
Need more punch recipes?
Yield: Makes 15 (1-cup) servings
Cranberry Vodka Punch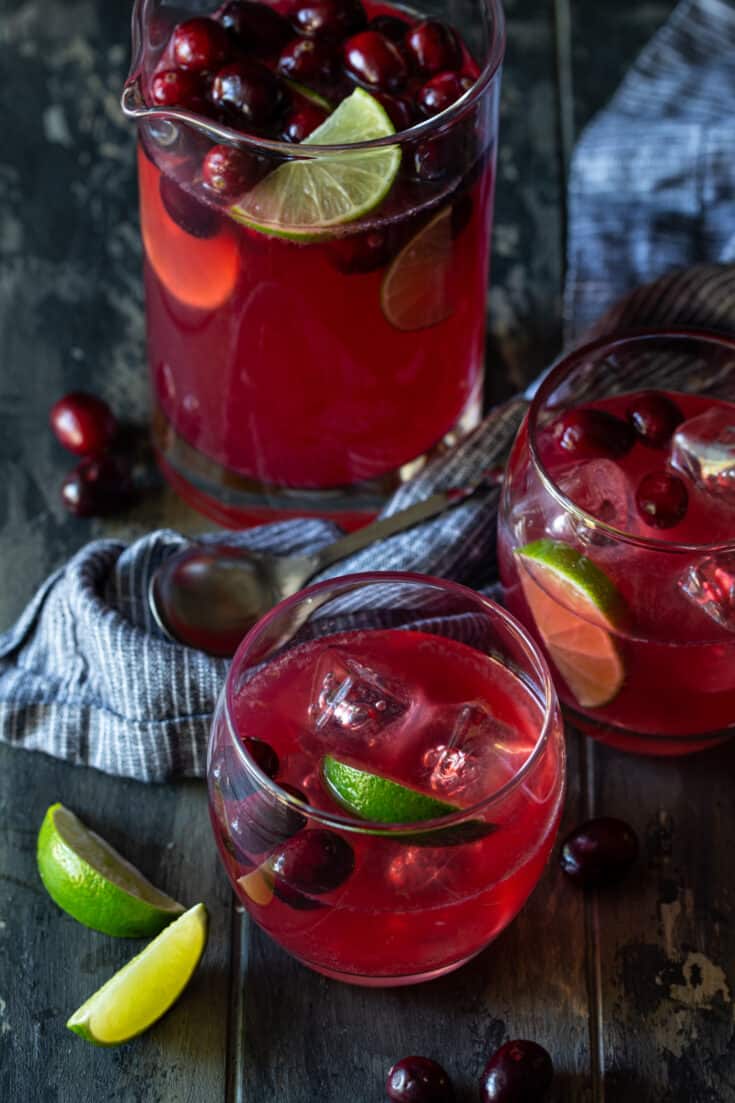 This Cranberry Vodka Punch recipe is one of the easiest and best party cocktails. Make this recipe ahead of time and watch it disappear at your holiday parties. 
Ingredients
6 cups citrus vodka
18 ounces unsweetened cranberry juice
18 ounces fresh lime juice
12 ounces simple syrup
24 ounces lemon lime soda
Instructions
Stir together all ingredients in a pitcher or punch bowl. Serve over ice in low ball glasses and garnish with lime wedges and fresh cranberries, if desired.
Notes
If making and serving immediately, make sure all ingredients are well-chilled before combining. If making punch in advance, stir in the lemon lime soda just before serving.
Recommended Products
As an Amazon Associate and member of other affiliate programs, I earn from qualifying purchases.
Nutrition Information:
Yield:
15
Serving Size:
1 glass
Amount Per Serving:
Calories:

293
Total Fat:

0g
Saturated Fat:

0g
Trans Fat:

0g
Unsaturated Fat:

0g
Cholesterol:

0mg
Sodium:

8mg
Carbohydrates:

23g
Fiber:

0g
Sugar:

21g
Protein:

0g
This Cranberry Vodka Punch recipe is one of the easiest and best party cocktails. Make this recipe ahead of time and watch it disappear at your holiday parties.