Spicy, sweet and full of flavor, this easy Cranberry Salsa recipe is a mouthwatering addition to your holiday spread. It's SO good it will quickly become your signature holiday snack. Everyone will beg for the recipe!
Cranberry Salsa? Yup, you read that right. It's cranberry season and cranberries never get the love and respect they deserve. So we changed that and made an appetizer that will be the star of your next happy hour.
Think of it as a fun, seasonal spin on the traditional pepper jelly and cream cheese appetizer that everyone knows and loves.
We love all the cranberry things but easy appetizers are at the top of our list, especially during the holidays. After all, when else is it totally socially acceptable or even expected to have appetizers count as a full meal?
This blog post is also available as a Web Story: 👉 Cranberry Salsa Recipe 💃🏻
Jump to:
Ingredients
The list is short but this salsa is full of flavor! If you like it spicier, feel free to add more jalapeño or keep the seeds in. However you make it, it will be delicious. Add this to your holiday spread and watch it disappear.
Instructions
Step 1: Place cranberries in the bowl of a food processor.
Step 2: Pulse until finely chopped. You can decide how smooth or chunky you want it. Any way to chop them works, so pick what texture you prefer. Me? I'm a chunky salsa kind of gal, so I just give it a couple of quick whirls.
Step 3: Add sugar and stir to combine.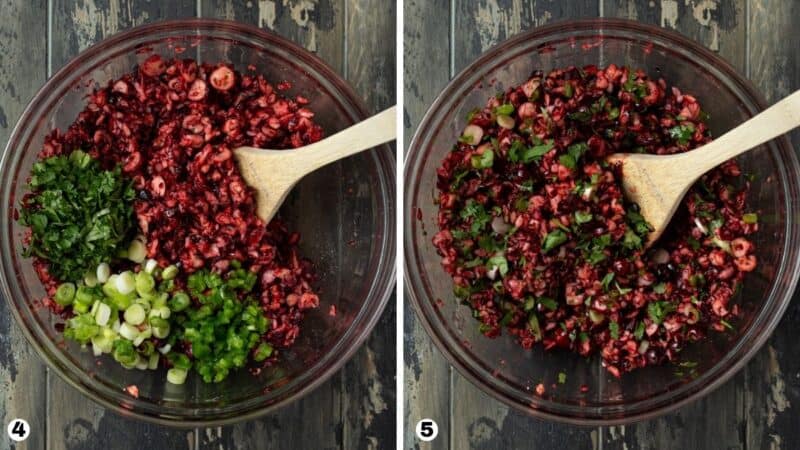 Step 4: Add cilantro, green onions, jalapeño, salt and the juice of one lime.
Step 5: Place in a glass dish, cover and refrigerate at least 4 hours or overnight. The waiting is the hardest part, but trust me this step is the most important.
Pro tip: Short on time? Sometimes I pop the jalapeno, onions and cilantro in the food processor and let it do ALL the work.
FAQs
Ways to serve
Your options are endless. Here are a few of our favorite ways to eat it.
Serve it is with a block of softened cream cheese and some hearty crackers.
Set it out with some crostini and whipped cream cheese and let people build their own little bite size appetizers.
Eat it straight up as a relish.
Upgrade your leftovers and slather it on top of a turkey sandwich.
Simple, festive, and absolutely delicious. It's your new go-to dish for the holiday season.
Follow our Garnish with Lemon Pinterest board Easy Appetizer Recipes
More Cranberry Recipes
Check out our whole collection of simple appetizer recipes!
Recipe
Spicy Cranberry Salsa with Cream Cheese is an easy appetizer that uses just a handful of ingredients. This spicy-sweet salsa is a tasty addition to your holiday party menu!