This Bacon Ranch Pasta Salad recipe is great for feeding a group! Who can say no to a make-ahead salad filled with bacon, tomatoes, cheese, and a creamy ranch dressing?
Summer is all about keeping things easy in our house, especially when entertaining a group. We love to have casual get-togethers, and this Bacon Ranch Pasta Salad recipe is a great make-ahead salad that easily feeds a group.
My mom turned me onto this recipe when she brought it to a bbq we hosted at our house. It was an instant hit with everyone and once you take a bite, it's easy to see why.
This creamy pasta salad filled with bacon, cheddar cheese cubes, and grape tomatoes tossed in a creamy ranch dressing.
How to make a good pasta salad
All good pasta salads start with pasta that is cooked correctly. Follow these tips to get perfect pasta every time.
Fill a large pot with water. Make sure that you have enough to cover the pasta. This recipe calls for a half pound of pasta so I use 2 quarts of water.
Cover the pot and bring the large pot of water to a rolling boil.
Stir in 2 teaspoons of kosher salt.
Add pasta and cook to al dente stage. Follow the directions on the package.
Why do I need to salt the water when I cook pasta?
Do you ever wonder why pasta that you eat in a restaurant always tastes better? It has been seasoned properly.
The only time you can season the pasta itself is while it is cooking. 2 teaspoons of kosher salt may seem like a lot, but the pasta only absorbs a fraction of it.
So be sure you don't skip this step. Otherwise, you will end up with pasta that doesn't have any flavor.
What does it mean to cook it to al dente?
Al dente literally means "to the tooth" in Italian. When pasta is cooked al dente, it is easy to bite into but is still firm. Start your timer and cook pasta according to the package al dente directions. Check it by biting into to it. If it is still firm but not crunchy it is done! If not, check again after 30 seconds.
Overcooked pasta is gummy and soft and will ruin your pasta salad recipe.
Should I rinse the pasta after it is done?
YES! And you want to do that for 2 reasons and be sure to use cold water!
It stops the cooking process so you don't end up with overcooked pasta. No one likes a mushy pasta salad.
It rinses off the starchy film that coats the pasta after cooking. Rinsing it will keep the pasta loose, otherwise, it will clump together.
Simply pour the cooked and rinsed pasta into a large bowl and add the dressing and toss to coat. It may seem soupy, but don't worry! All of that great flavor absorbs into the pasta.
Can I make this pasta salad recipe ahead of time?
Not only is it make-ahead, but this Bacon Ranch Pasta Salad tastes even better the next day. Just be sure to give it a stir before you serve it.
Things don't need to be complicated when you are hosting. I always look for recipes that don't keep me in the kitchen when friends and family are here. I try to have everything done before people arrive so I can to enjoy the night with everyone else.
Tips for this making this Bacon Ranch Pasta Salad recipe:
Make sure you let the pasta salad sit for at least 8 hours to let the flavors develop.
Precooked bacon makes prep super easy and saves on clean up.
Be sure to stir the salad well before serving. Add a little milk or buttermilk if it seems dry.
Love black olives? Feel free to toss some in, they are a tasty addition.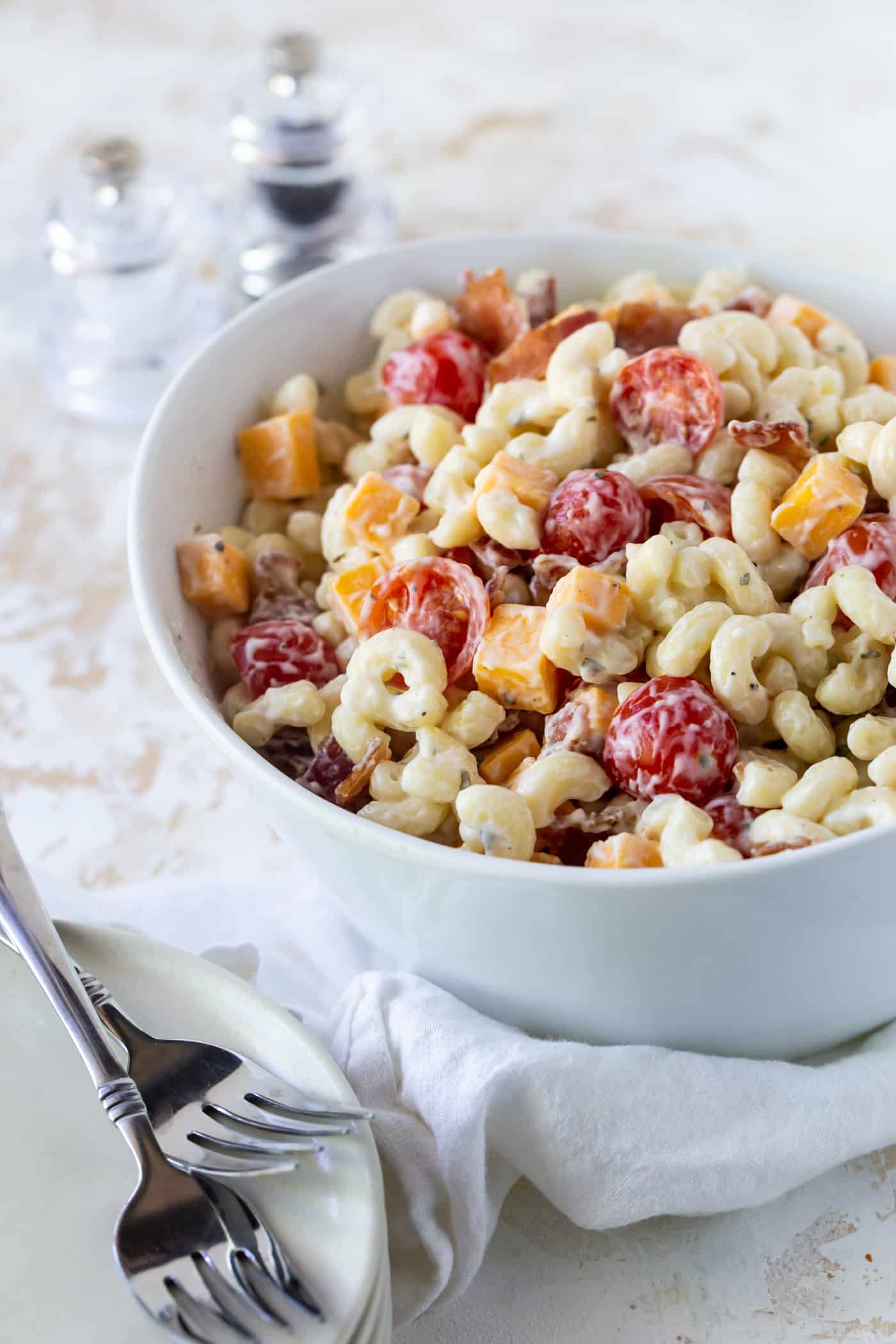 What can I serve with this pasta salad?
The versatile ingredients in this salad recipe make a great companion to any protein. We like to serve it with these Hoisin Grilled Ribs and a simple green salad.
Check out all of our side dish recipes for your favorites or try something new!
How much ranch dressing is in a packet?
This recipe calls for 3 tablespoons of ranch dressing, which is equal to a 1-ounce packet. Our favorite brand is Hidden Valley Ranch, but feel free to make your own too!
Do you buy ranch seasoning in bulk too? We always have some on hand for our favorite ranch recipes.
Spicy Ranch Pretzels - Perfect party snack!
Crispy Italian Ranch Cups- These addictive little bites are just what your next party spread needs!
Ranch Chipotle Chicken Wings- You can never have too many wing recipes!
We love to serve this Bacon Ranch Pasta at BBQs! Check out our other favorite BBQ side dishes!
Tomato, Mozzarella and Grilled Corn Salad
Antipasto Salad with Red Wine Vinaigrette
Tomato, Feta and Vidalia Onion Salad
Mediterranean Quinoa Salad recipe
Yield: 8 servings
Bacon Ranch Pasta Salad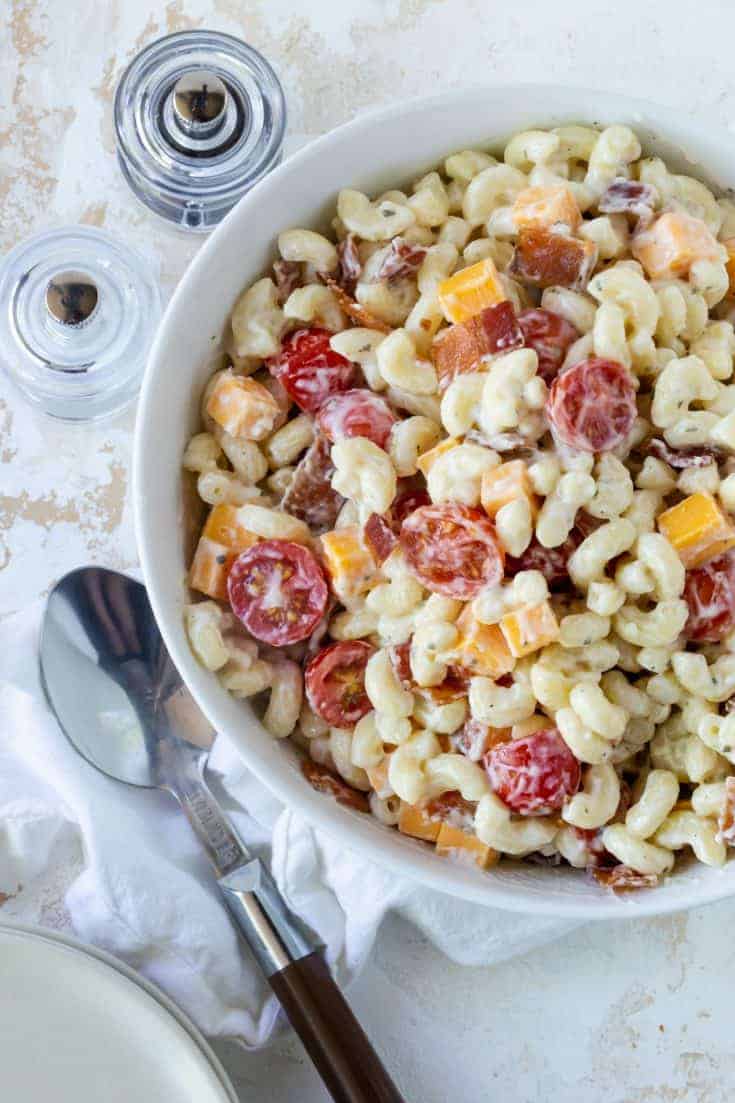 This Bacon Ranch Pasta Salad recipe is great for feeding a group! Who can say no to a make-ahead salad filled with bacon, tomatoes, cheese and a creamy ranch dressing?
Total Time
8 hours
25 minutes
Ingredients
3 tablespoons ranch dressing mix
3/4 cup buttermilk
1/2 cup mayonnaise
2 tablespoons rice wine vinegar
8 ounces dried elbow pasta
1 cup grape tomatoes, cut in half
4 ounces sharp cheddar cheese, cut into small cubes
8 slices bacon, chopped
Black pepper to taste
Instructions
Whisk together ranch dressing seasoning and buttermilk. Stir in the mayonnaise and vinegar and set aside.
Cook pasta according to package directions. Drain and run water over the pasta to cool slightly.
Place pasta in a large bowl and add the dressing. Stir well to coat the pasta.
Add tomatoes, cheese and bacon and toss gently to combine.
Cool at least 8 hours or overnight.
Stir before serving. Add more milk or buttermilk if pasta salad is dry.
Notes
You may need to add a small amount of milk before serving if salad seems dry.
Nutrition Information:
Yield:
8
Serving Size:
1 cup
Amount Per Serving:
Calories:

214
Total Fat:

20g
Saturated Fat:

4g
Trans Fat:

0g
Unsaturated Fat:

15g
Cholesterol:

15mg
Sodium:

266mg
Carbohydrates:

6g
Fiber:

0g
Sugar:

2g
Protein:

3g
This make-ahead Bacon Ranch Pasta Salad recipe is filled with cubed cheddar cheese, bacon bits, and grape tomatoes and is tossed in a creamy ranch sauce. It's a family favorite ranch salad recipe that disappears every time I make it!