Filled with protein and made with pantry staples, this Mediterranean Quinoa Salad is a tasty light lunch or perfect side dish to any meal!
I'm always trying to get more whole grains into our regular menu rotation and this Mediterranean Quinoa Salad has become a family favorite! I'm lucky that my family loves olives and will eat them in anything. But really, who wouldn't love a quinoa salad filled with red onion, red pepper, tomatoes, kalamata olives and feta cheese? The fact I can make it ahead of time is just the icing on the cake. 
This Mediterranean Quinoa Salad has so many great flavors in one bite and is finished off with a squeeze of fresh lemon juice and cilantro….Delish! Quinoa itself doesn't have much flavor; it's what you put with it that gives it the flavor. I've found that letting the quinoa cool to room temperature and then adding the red wine vinegar and olive oil before all of the other ingredients really lets the flavors seep into the quinoa.
A flavorful quinoa salad can't be beat. Serve it for lunch, as a side with dinner or as a quick after school snack. It keeps well in the fridge and can be eaten at room temperature or cold. All great options when trying to please a family. 
This salad is super easy to customize for your family. Italian parsley makes a tasty substitution for the cilantro! Don't have any feta on hand? Use some fresh mozzarella or shredded parmesan instead!
Looking for more side dish and salad ideas? Follow us on Pinterest!
Follow Garnish with Lemon's board Side Dishes and Salads on Pinterest.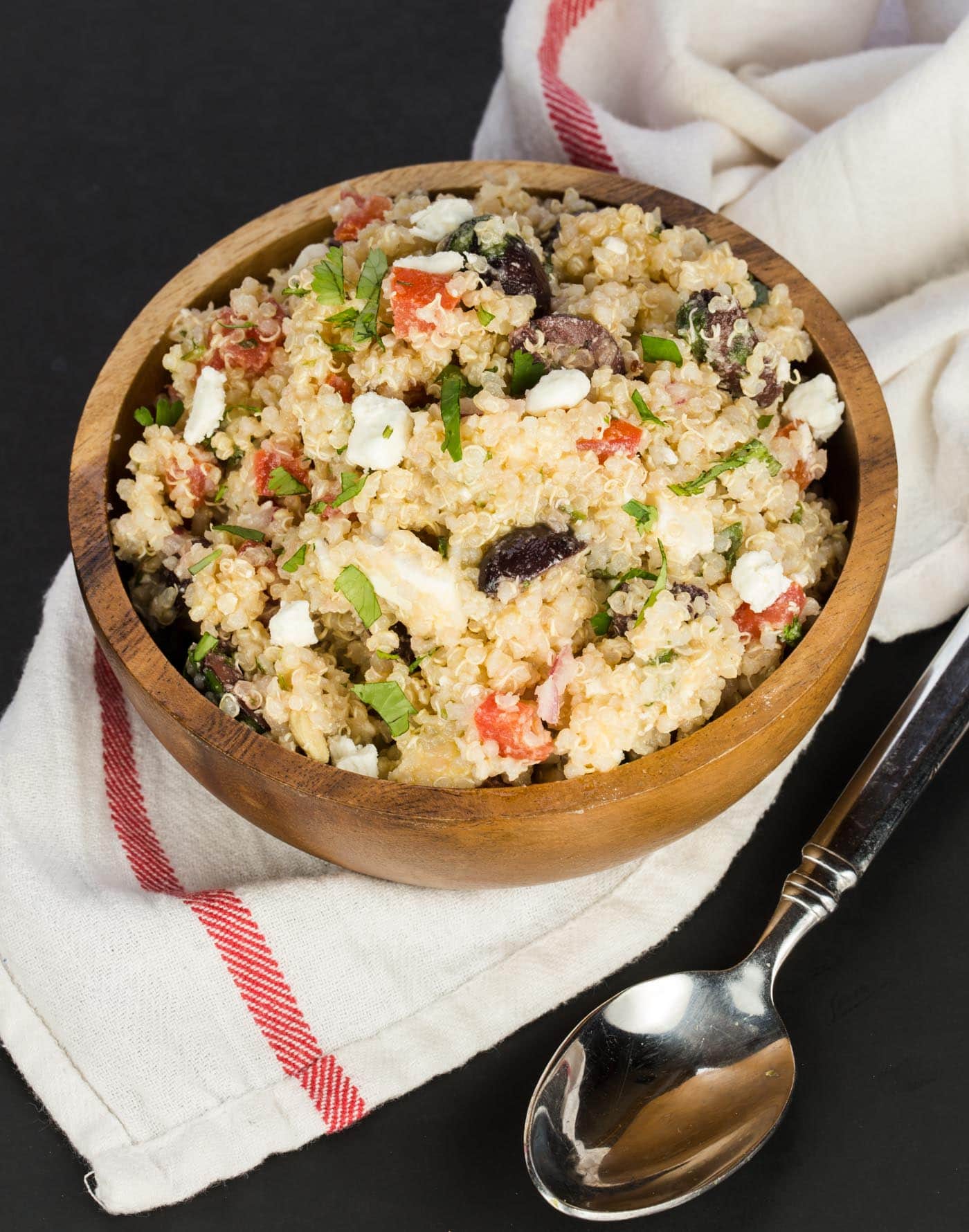 Mediterranean Quinoa Salad
A quinoa salad filled with olives, red onion, tomatoes, and feta cheese.

Prep Time 15 minutes

Cook Time 20 minutes

Total Time 35 minutes
Ingredients
2 cups water
1 cup uncooked quinoa
1/3 cup red wine vinegar
1/4 cup olive oil
1 small red onion, diced
1 red pepper, diced
2 Roma tomatoes, seeded and diced
1/2 cup chopped kalamata olives
1/2 cup crumbled feta cheese
1/2 cup chopped fresh cilantro
1 tsp salt
1/2 tsp freshly ground pepper
Juice of one lemon
Instructions
Bring quinoa and water to a boil over medium heat. Reduce to a simmer and cook for 15-20 minutes or until water is absorbed in quinoa. Fluff with a fork and cool for 5 minutes.
Add the oil and vinegar and let quinoa come to room temperature.
Add onion, tomatoes, pepper, olives, cilantro, and salt and pepper. Stir gently. Add feta cheese and gently combine. Chill for 2 hours to let flavors combine. Squeeze lemon juice over salad right before serving to brighten flavors.
Nutrition Information:

Amount Per Serving: Calories: 269.39 Total Fat: 16.68g Carbohydrates: 17.6g Protein: 13.3g