Looking for a substantial salad for a group that you can make ahead of time and is easy to customize? This Antipasto Salad is packed with meat and veggies and fits the bill perfectly!
Antipasto Salad With Red Wine Vinaigrette
A person can never have too many salad recipes on hand for summer gatherings.  They are easy to make ahead of time and keep you out of the kitchen when friends are over.
Win-win, right? And this Antipasto Salad with Red Wine Vinaigrette is no exception.
Packed with meat, veggies, romaine lettuce and dressed in a tasty red wine vinaigrette; this salad is substantial enough for a light meal on its own or a great addition to a summer BBQ. 
After all, who doesn't need a go-to vinaigrette in their back pocket for easy summertime meals?

What is Antipasto?
You might be thinking right now, "what in the world is antipasto? This just looks like a salad to me". You're not totally wrong, because antipasto can be a salad of sorts.
The term antipasto is an Italian phrase meaning "before the meal" this means its usually used to describe whatever appetizers are enjoyed during the first course, before the main dish.
Some traditional ingredients often include things like cured meats, olives, pepperoncini, mushrooms, anchovies, artichoke hearts, various cheeses, pickled meats, and vegetables in oil or vinegar.
What Ingredients Do I Need for an Antipasto Salad
Roasted red peppers, coarsely chopped and drained
Pitted Kalamata olives
Canned, chopped artichoke hearts, drained
Sliced red onion
Genoa salami
Pepperoni
Provolone cheese
Grape tomatoes
Pepperoncini
Romaine leaves
What if I don't like all of the ingredients?
You can definitely customize this recipe however you like. That's the beauty of dishes like this antipasto with red wine vinaigrette.
Just don't go skipping too many of the ingredients or you won't get the unique full flavor of the dish. A skipped topping here or there won't hurt though if absolutely necessary.
I do highly suggest giving it at least one try with everything on it. You would be surprised how much you might find you love it, even with an ingredient you don't typically like hidden inside.
How To Make Antipasto Salad With Red Wine Vinaigrette
This Antipasto Salad with Red Wine Vinaigrette is devoured by everyone, even those who aren't salad fans. (Yes, it's shocking those people exist!)It has all of the good things that people love like pepperoni, tomatoes, olives, salami, and artichoke hearts while still having a little lettuce.
Simply pile the meat and veggies in a large bowl with chopped romaine leaves, drizzle with the red wine vinaigrette and voila - you have the perfect substantial summer salad!
Summer eating can't get much easier or more delicious.
Follow these simple steps to make this recipe.
Step 1: Make sure that the roasted red peppers, artichoke hearts, and Kalamata olives are well-drained and place them in a large bowl.
Step 2: Add the red onion, meats, cheese, chopped romaine, and tomatoes, Stir gently to combine.
Step 3: Add Red Wine Vinaigrette and coat the antipasto salad. If needed, add more dressing to get to desired taste.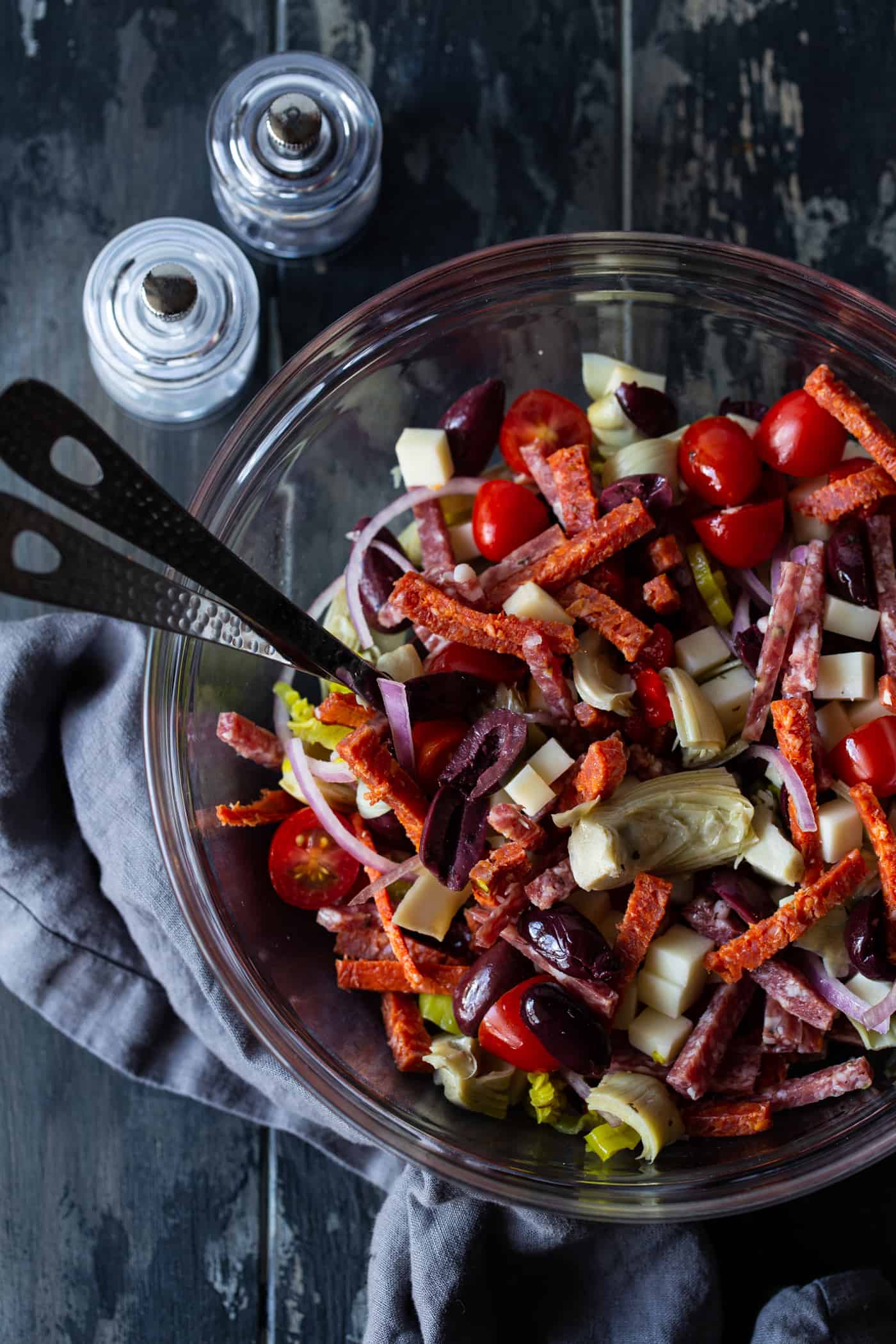 Do I Have To Use This Homemade Red Wine Vinaigrette?
No, at all! While we love this antipasto salad with the red wine vinaigrette, it can be just as good with a different dressing as well. When you still want a vinaigrette, but would rather use store-bought, or you prefer to make a different type of dressing, the options are endless.
This recipe would be good with Italian, balsamic, or any other oil-based dressings. I don't suggest a creamy dressing as it will be too thick and heavy for a recipe like this.
You want a light and fresh dressing to give the antipasto salad recipe just that extra bump of flavor.
How Do I Serve Antipasto Salad?
As the name suggests, you'll typically want to serve your antipasto salad as a pre-dinner appetizer, but it could also work well as a hearty side dish if the main dish is lighter, or meatless.
It also makes a great summer party appetizer that people will devour, and won't take too much time to make. Then, all you have to do is place it on a nice platter with some serving spoons and let people flock to their new favorite appetizer.
Make-ahead tip: Save on mess and time the day of your BBQ. Clean, chop and slice all of the ingredients the day before and assemble right before serving. 
Tips For Storing Antipasto Salad
Serve cold: This is a dish best served cold, not room temperature, or warm, so once you're done making the salad, stick it in the refrigerator for a few hours to chill all the ingredients, for best results.
Always keep it in the refrigerator: If you plan to keep leftovers, to safely eat again, don't leave this sitting on the counter too long. You'll want to make sure everything is put away and refrigerated overnight, or some of the fresh ingredients will begin to go bad.
Store leftovers in an airtight container: Don't just shove the serving platter in the refrigerator and call it a day. Everything will get dried out, and will significantly reduce the shelf life of this antipasto recipe. Store in an airtight container in the refrigerator for 3-4 days.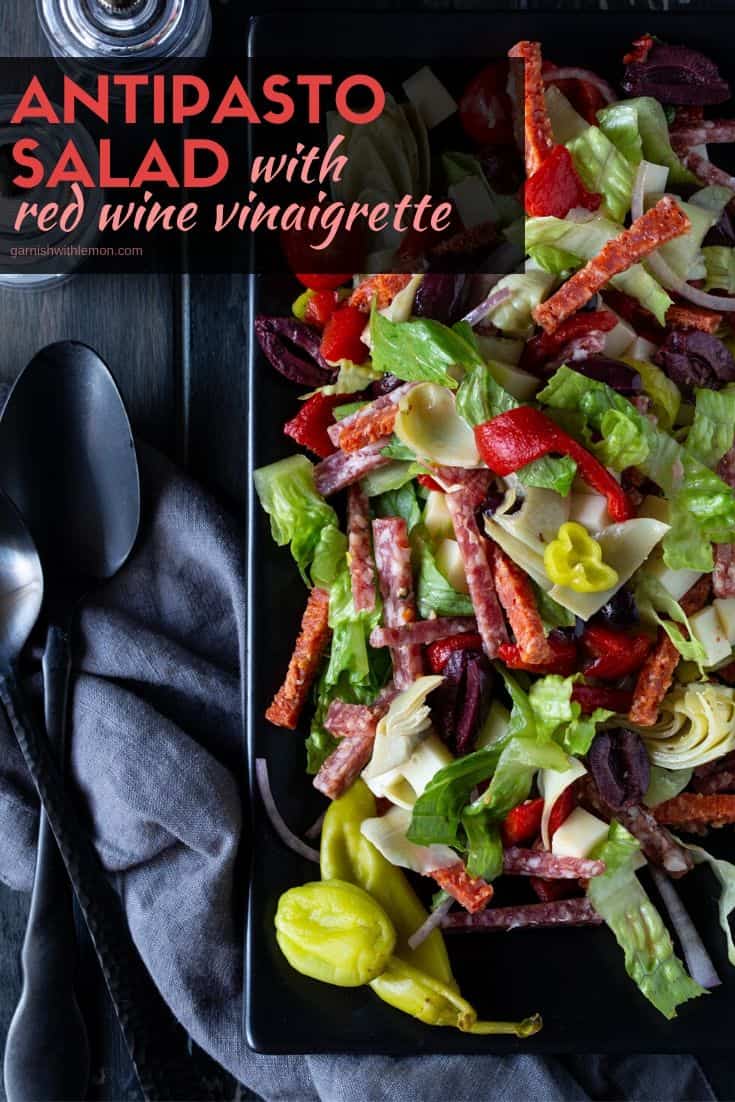 Looking for more great BBQ side dishes?
Yield: 6-8
Antipasto Salad with Red Wine Vinaigrette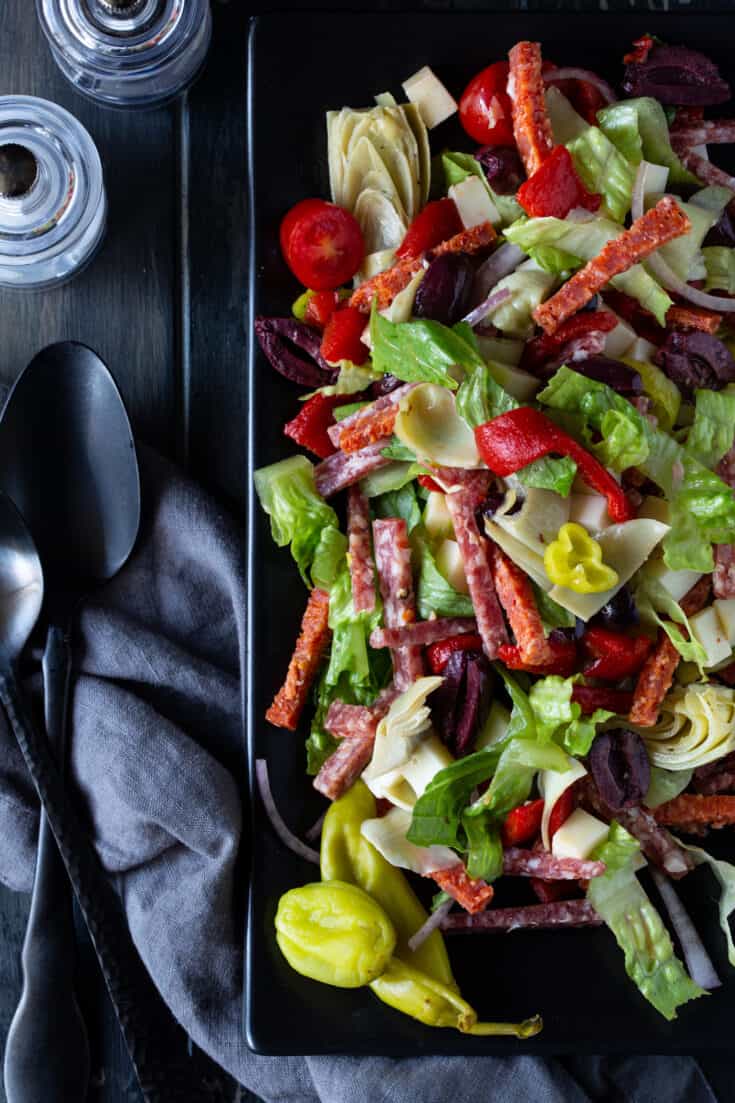 This Antipasto Salad with Homemade red wine vinaigrette is an easy side dish that is full of flavor!
Ingredients
Vinaigrette:
1/4 cup Red Wine Vinegar
1 teaspoon dried oregano
3/4 teaspoon Dijon mustard
1 teaspoon minced garlic
1/2 teaspoon black pepper
1/4 teaspoon salt
1/2 cup Extra Virgin Olive Oil
Antipasto Salad:
1/2 cup bottled roasted red peppers, coarsely chopped and drained
1 (7-ounce) jar pitted Kalamata olives, drained
1 1/2 cups canned, chopped artichoke hearts, drained
1/4 cup sliced red onion
1/2 cup Genoa salami, cut in matchsticks
1/4 cup pepperoni, cut in matchsticks
1/2 cup diced Provolone cheese
1 cup grape tomatoes, halved
5 pepperoncini chopped
2 cups chopped Romaine leaves
Instructions
To make the vinaigrette:
Place the vinegar, oregano, mustard, garlic, salt and pepper in a bowl and stir together.
Gradually add the olive oil and whisk to thoroughly combine.
Set aside until needed. (You will have extra.)
To make the Antipasto Salad:
Place all ingredients in a large bowl and stir gently to combine.
Drizzle with a small amount of red wine vinaigrette dressing and toss to coat.
Season to taste with salt and pepper.

Recommended Products
As an Amazon Associate and member of other affiliate programs, I earn from qualifying purchases.
Nutrition Information:
Yield:
8
Serving Size:
1 1/2 cups
Amount Per Serving:
Calories:

271
Total Fat:

23g
Saturated Fat:

6g
Trans Fat:

0g
Unsaturated Fat:

16g
Cholesterol:

21mg
Sodium:

1038mg
Carbohydrates:

9g
Fiber:

3g
Sugar:

3g
Protein:

8g
This simple to assemble Antipasto Salad with Homemade red wine vinaigrette is a substantial salad that makes a great side dish or appetizer for any gathering.