Looking for a substantial salad for a BBQ? This easy Antipasto Salad is packed with meat and veggies and fits the bill perfectly!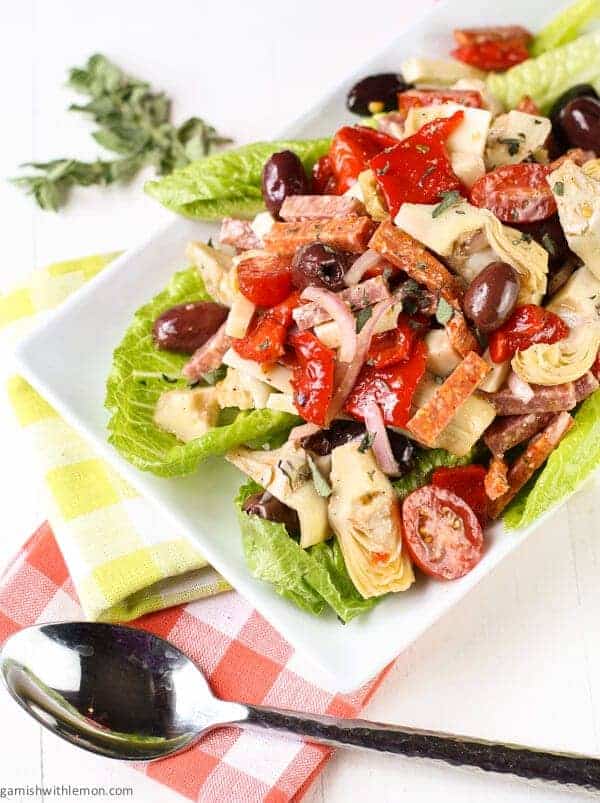 A person can never have too many salad recipes on hand for summer gatherings.  They are easy to make ahead of time and keep you out of the kitchen when friends are over. Win-win, right? And this Antipasto Salad with Red Wine Vinaigrette is no exception. Packed with meat and veggies, and dressed in a tasty red wine vinaigrette; this salad is substantial enough for a light meal on its own or a great addition to a summer BBQ. 
After all, who doesn't need a go-to vinaigrette in their back pocket for easy summertime meals? (And if you have some extra dressing, save it and make this Italian Party Sub.)
This Antipasto Salad with Red Wine Vinaigrette is devoured by everyone, even those who aren't salad fans. (Yes, it's shocking those people exist!)  It has all of the good things that people love like pepperoni, tomatoes, olives, salami, and artichoke hearts while still having a little lettuce.  Simply pile the meat and veggies on top of a bed of Romaine leaves on the platter, drizzle with the red wine vinaigrette and voila – you have the perfect substantial summer salad!
Summer eating can't get much easier or more delicious.
Make-ahead tip: Save on mess and time the day of your BBQ. Clean, chop and slice all of the ingredients the day before and assemble right before serving.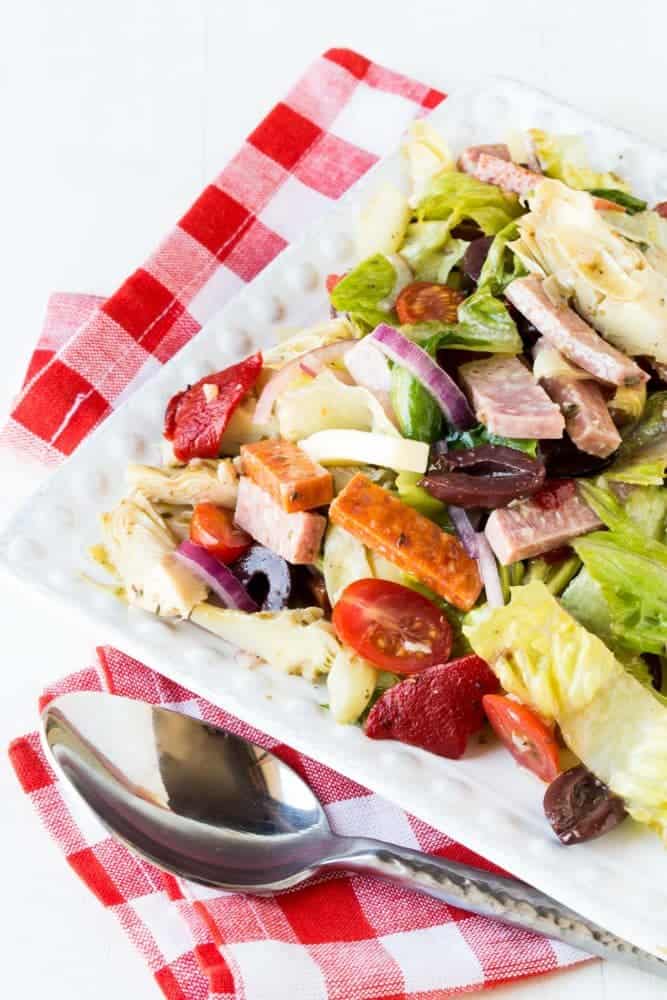 Looking for more great BBQ side dishes?
Danish Potato Salad– Garnish with Lemon
Bacon Pea Salad– Foodie with Family
Tomato Feta Pasta Salad– Garnish with Lemon
Asian Napa Cabbage Slaw– Dinners, Dishes and Desserts
Panzanella– Garnish with Lemon
Yield: 6-8
Antipasto Salad with Red Wine Vinaigrette
An easy salad that is full of flavor!
Ingredients
Vinaigrette:
1/4 cup Pompeian Red Wine Vinegar
1 teaspoon dried oregano
3/4 teaspoon Dijon mustard
1 teaspoon minced garlic
1/2 teaspoon black pepper
1/4 teaspoon salt
1/2 cup Extra Virgin Olive Oil
Antipasto Salad:
1/2 cup bottled roasted red peppers, coarsely chopped and drained
1 (7-ounce) jar pitted Kalamata olives, drained
1 1/2 cups canned, chopped artichoke hearts, drained
1/4 cup sliced red onion
1/2 cup Genoa salami, cut in matchsticks
1/4 Cup pepperoni, cut in matchsticks
1/2 cup Provolone cheese, cut in matchsticks
1 cup grape tomatoes, halved
Romaine leaves for serving
Instructions
To make the vinaigrette:
Place the vinegar, oregano, mustard, garlic, salt and pepper in a bowl and stir together. Gradually add the olive oil and whisk to thoroughly combine. Set aside until needed. (You will have extra.)
To make the Antipasto Salad:
Make sure that the roasted red peppers, artichoke hearts and Kalamata olives are well-drained. Place them in a large bowl. Add the red onion, meats, cheese and tomatoes, Stir gently to combine. Add 1/4 cup Red Wine Vinaigrette and coat the antipasto salad. If needed, add more dressing to get to desired taste.
Serve over a bed of romaine leaves.


Nutrition Information:
Amount Per Serving:
Calories:

75
Carbohydrates:

15g
Protein:

4g