This salty & sweet, 4-ingredient Watermelon Feta Salad is the perfect side dish for any BBQ or potluck. Easy to make and great for groups!
BEST Watermelon Feta Salad with mint
This watermelon recipe is one of my favorite summer side dishes.
You'll see variations of this salad all over the internet. Some have red onion, others have cucumber or even arugula.
So why do I like this recipe the best?
For starters, it has only four ingredients, so it's super easy to make.
But beyond ease, this Watermelon Feta Salad tastefully bridges the gap between sweet and savory flavors with the perfect combination of juicy watermelon, salty feta cheese, fresh mint leaves and a splash of tangy rice vinegar.
Trust us; everyone ALWAYS asks for this recipe.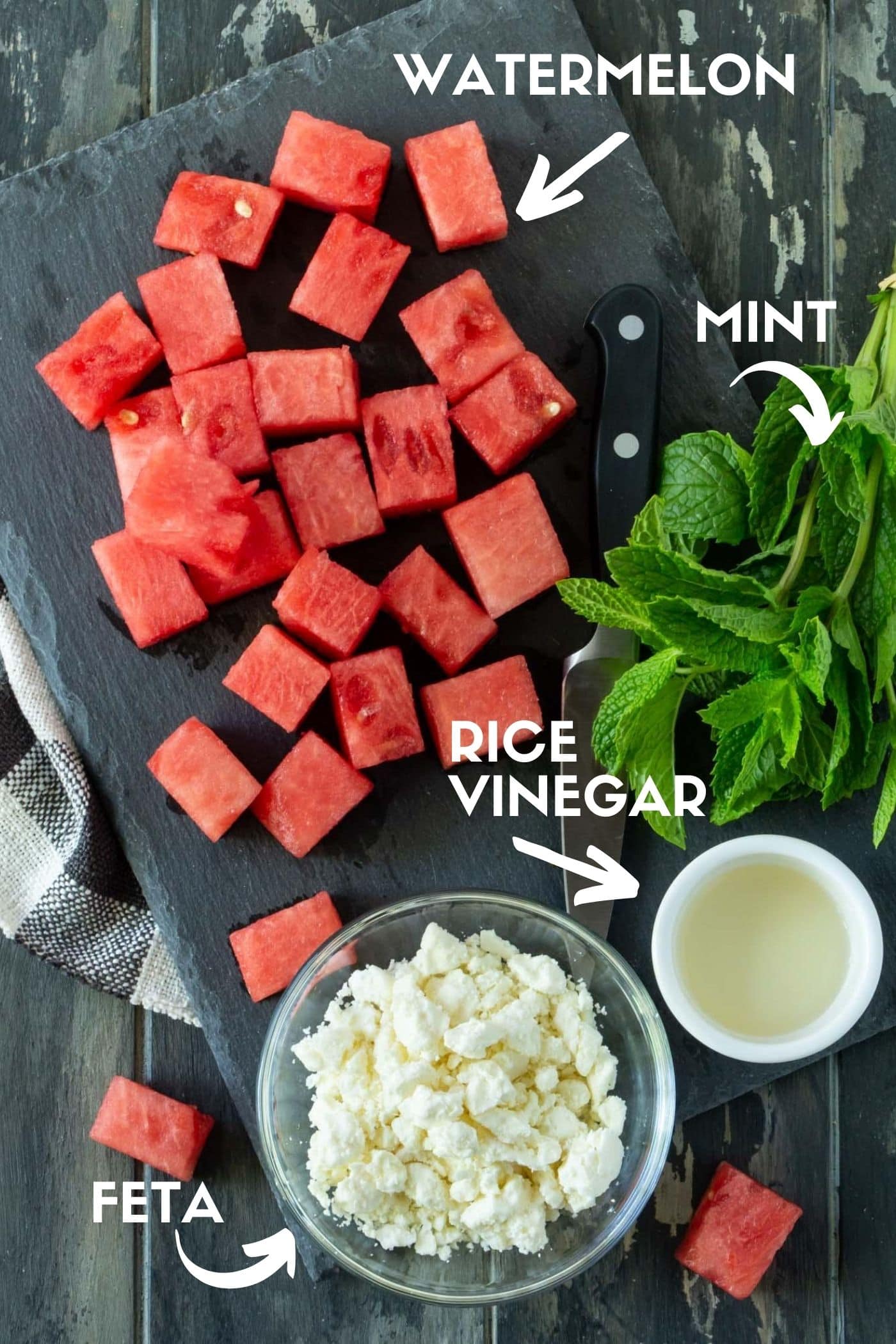 Ingredients
As promised, there are only FOUR ingredients in this quick and easy salad (not counting salt and pepper):
Watermelon
Feta cheese
Fresh mint leaves
Rice vinegar - If you're unfamiliar with rice vinegar, it has a very delicate, almost sweet flavor that is often used in recipes that call for quick pickling as well as a variety of Asian recipes. It definitely has a mild flavor when compared to white or apple cider vinegar. You can find this inexpensive item in the Asian foods section of your grocery store.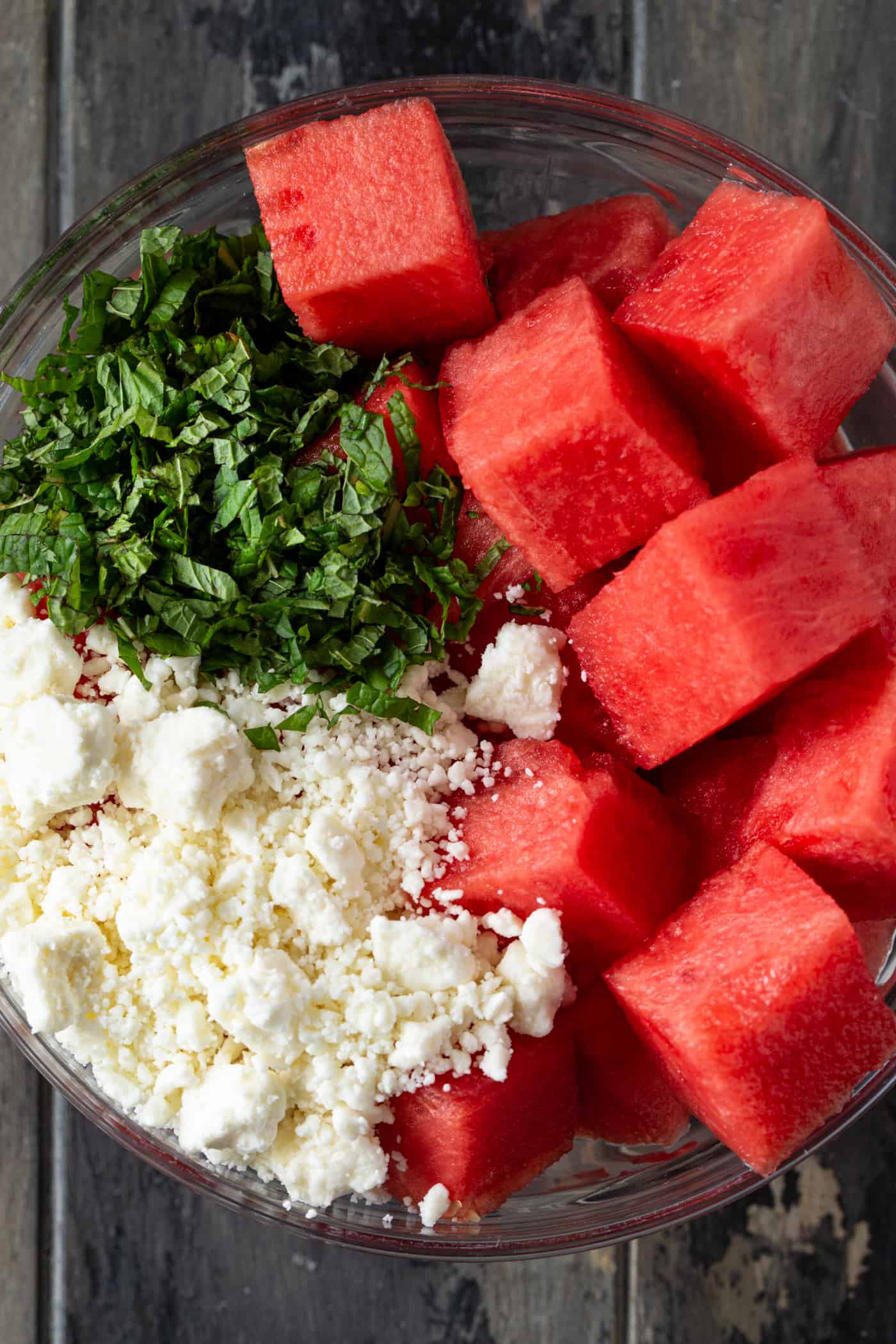 Instructions
This Watermelon Feta Salad comes together quickly. The most time-consuming chore is chopping up the watermelon, which can be done up to two days ahead of time and kept covered in the refrigerator.
Place watermelon cubes in a large bowl. Add feta cheese and mint leaves and gently stir to combine.
Sprinkle with rice vinegar and salt and pepper, if desired. Gently stir again and serve immediately.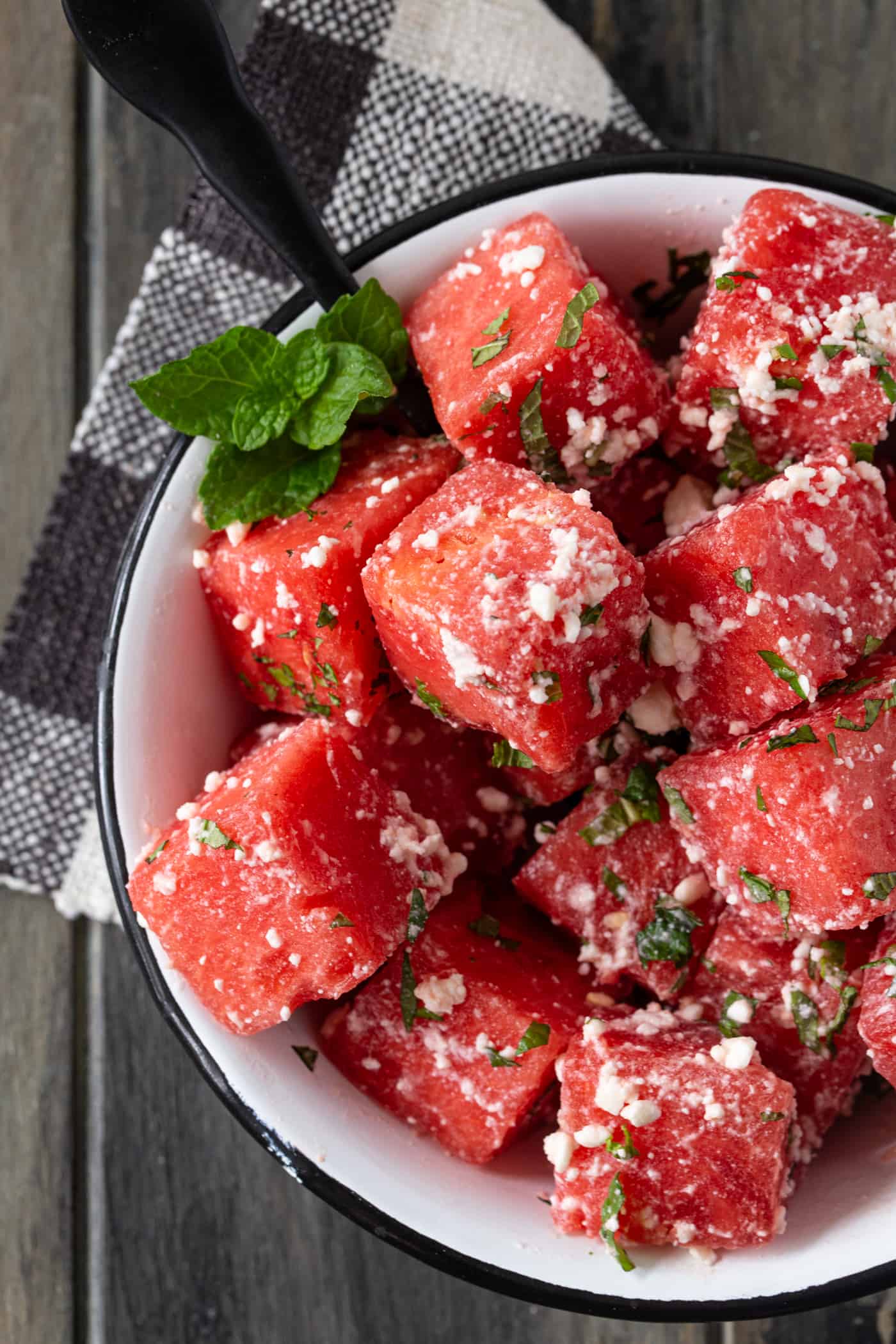 FAQs

How to pick a ripe watermelon


A ripe, juicy watermelon is key to the flavor of this salad.

Although it's easy to make a beeline for the first fresh watermelon you see at the grocery store, try to resist. The best watermelons are those that are grown in season, so that means July for us northerners, but it can also mean a few weeks earlier for warmer climates. 

My first choice for picking a ripe watermelon is to buy direct from the farmer at the farmer's market. I always ask for a ripe melon and they never steer me wrong.

If I can't make it to the farmer's market, there are a few rules I follow when choosing a ripe melon: 

1. The watermelon should feel heavy for its size. A heavy melon is a juicy melon. 
2. Look at the underbelly of the melon where it has been sitting in the field. What color is it? You're looking for a creamy yellow color. Any other color (green or white) means it's not fully ripened yet. 
3. Give the melon a good thump. If it has a full, hollow sound, you're in for some sweet, juicy melon. If you hear a dull thud, the melon will not likely be as ripe. 

Feta cheese: block vs. pre-crumbled


Although it's tempting to reach for the pre-crumbled feta cheese at the store, try to resist. We know; sometimes it's just more convenient to grab the container that's already crumbed.

But feta in block form that has been packed in brine is always more flavorful and more moist than any dry crumbles from the deli. Plus it's usually around the same price and you always get more cheese in block form than you do in the pre-crumbled container. 

Can you make this ahead of time?


Short on time? You can prep a lot of this salad in advance: cut the watermelon and crumble the feta cheese a few days beforehand. Chop the mint the day of, too, but don't assemble the salad until serving. 

Why?

The vinegar will start to slowly break down the melon. This salad is best enjoyed immediately after making it and is not a great candidate for leftovers.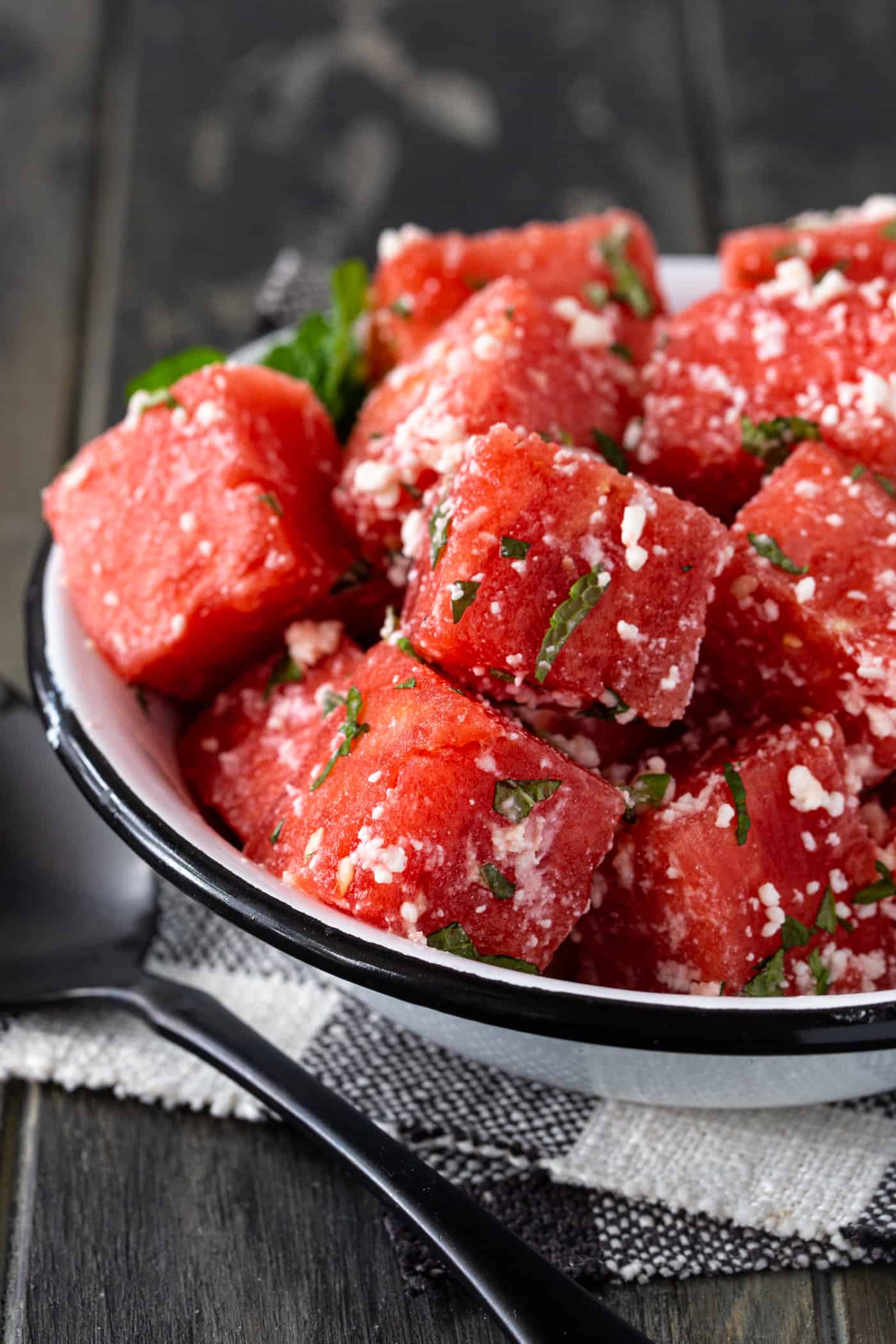 Serving suggestions
This salad goes with ANYTHING off the grill. Kickstart your meal with this mini Grilled Peppers that are stuffed with a savory goat cheese filling.
You won't be able to resist these flavorful Lamb Burgers. Topped with a creamy tzatziki sauce, they always earns rave reviews.
Looking for another side dish? Our herby Grilled Potatoes in Foil are super easy and a huge crowd pleaser.
And yes, we even grill our desserts sometimes! Nothing beats this Cherry Crisp warm from the grill and topped with a scoop - or two - of vanilla ice cream.
The combination of flavors in this side dish is perfect for all of you salty-sweet lovers out there like me.
The feta actually makes the melon taste sweeter (but not too sweet thanks to the rice vinegar) while the fresh mint ensures every bite is lively. One last sprinkle of salt and pepper on top, and you have a familiar but intriguing twist on a staple summer side dish.
P.S. Got leftover watermelon? Use it to make a batch of these refreshing Watermelon Margaritas or a pitcher of this Watermelon Gin Punch!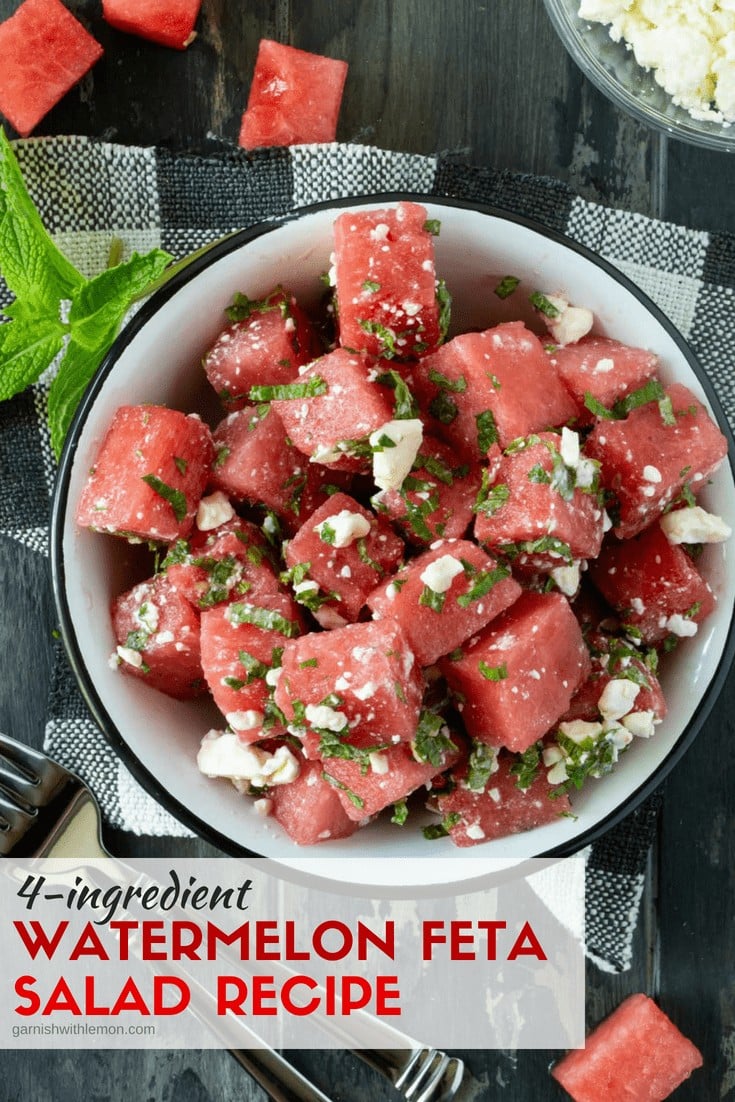 Need more summer side dish recipes?
Or explore all of our Side Dishes in our recipe archives!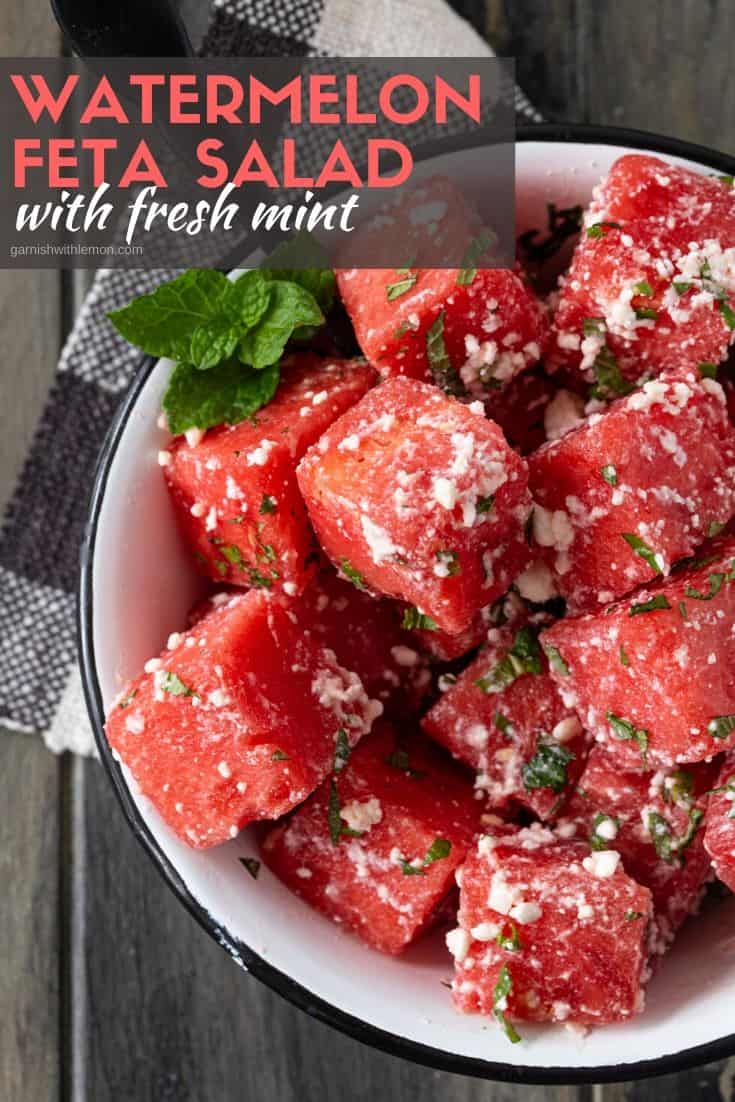 Recipe
Watermelon Feta Salad
A perfect combination of salty and sweet, this 4-ingredient Watermelon Feta Salad is a refreshing side dish for any summer BBQ or party.
Ingredients
7

cups

of cubed watermelon

chilled and well drained

4

ounces

crumbled feta cheese

1

cup

loosely packed fresh mint leaves

coarsely chopped

1

tablespoon

rice vinegar

Kosher or sea salt

Freshly ground pepper
Instructions
Gently stir together watermelon, feta cheese and mint.

Sprinkle with rice vinegar and gently stir again. Season with salt and pepper, if desired. Serve immediately.
Notes
This salad is best served right away. The vinegar starts to break down the watermelon if made too far in advance. If you are bringing it to a potluck, combine all ingredients except the rice vinegar ahead of time and then stir in the vinegar right before serving.
Nutrition
Serving:
1
cup
Calories:
160
kcal
Carbohydrates:
22
g
Protein:
6
g
Fat:
6
g
Saturated Fat:
4
g
Polyunsaturated Fat:
2
g
Cholesterol:
25
mg
Sodium:
410
mg
Fiber:
2
g
Sugar:
18
g
Nutrition info not guaranteed to be accurate.
You'll be the star of your next BBQ with this easy, refreshing Watermelon Feta Salad. Made with only 4 ingredients, it's an irresistible salty and sweet recipe that everyone always asks for!