This sweet and salty, 4-ingredient Watermelon Feta Salad is a surprising favorite at any summer BBQ or potluck. Easy to make and great for groups!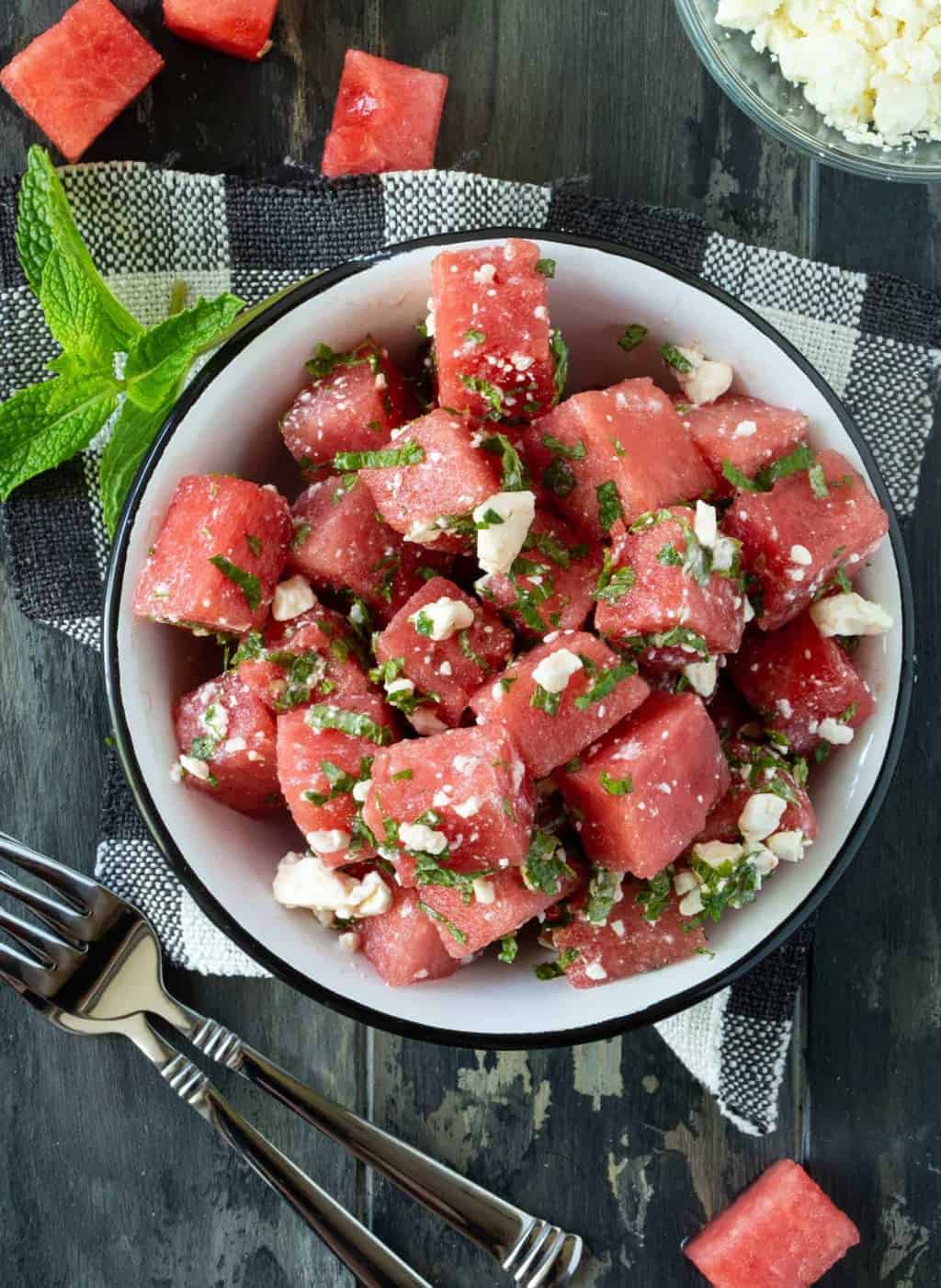 Nothing screams summer like a wedge of watermelon. It is the quintessential summer fruit.
My daughter is the biggest watermelon fan in our house and could easily go through a melon a week if I let her. Don't get me wrong; I love watermelon, too, but after a few weeks of gorging myself on plain melon, I need to shake it up a bit.
That's why I love this Watermelon Feta Salad. It's just different enough to wake up my tastebuds but not so different that I forget I'm eating one of our favorite spoils of summer.
(Now for those of you who consider salting their watermelon sacrilege, hear me out. Most people associate watermelon with sweet not savory foods, but this surprising dish is the best of both worlds.)
How to pick a ripe watermelon
With only four ingredients in this Watermelon Feta Salad recipe (not counting salt and pepper), you need to be sure you choose a ripe, juicy watermelon.
Although it's easy to make a beeline for the first fresh watermelon you see at the grocery store, try to resist. The best watermelons are those that are grown in season, so that means July for us northerners and a few weeks earlier for warmer climates.
My first choice for picking a ripe watermelon is to buy direct from the farmer at the farmer's market. I always ask for a ripe melon and they never steer me wrong. If I can't make it to the farmer's market, there are a few rules I follow when choosing a ripe melon:
The watermelon should feel heavy for its size. A heavy melon is a juicy melon.

Look at the underbelly of the melon where it has been sitting in the field. What color is it? You're looking for a creamy yellow color. Any other color (green or white) means it's not fully ripened yet.

Give the melon a good thump. If it has a full, hollow sound, you're in for some sweet, juicy melon. If you hear a dull thud, the melon will not likely be as ripe.

Can I make this Watermelon Feta Salad in advance?
Yes and no. You can cut the watermelon up to two days ahead of time, and you can prep the feta and/or mint the same day you are serving the salad, but I would not assemble the salad until serving.
Why? The vinegar will start to slowly break down the melon. This Watermelon Feta Salad is best enjoyed immediately after making it.
The combination of flavors in this Watermelon Feta Salad is perfect for all of you salty-sweet lovers out there like me. The feta actually makes the melon taste sweeter (but not too sweet thanks to the rice vinegar) while the fresh mint ensures every bite is lively.
One last sprinkle of salt and pepper on top, and you have a familiar but intriguing twist on a staple summer side dish.

Looking for more melon inspiration? We've got loads of great ways to use one of summer's best fruits with these tried and true watermelon recipes:
Yield: serves 6
Watermelon Feta Salad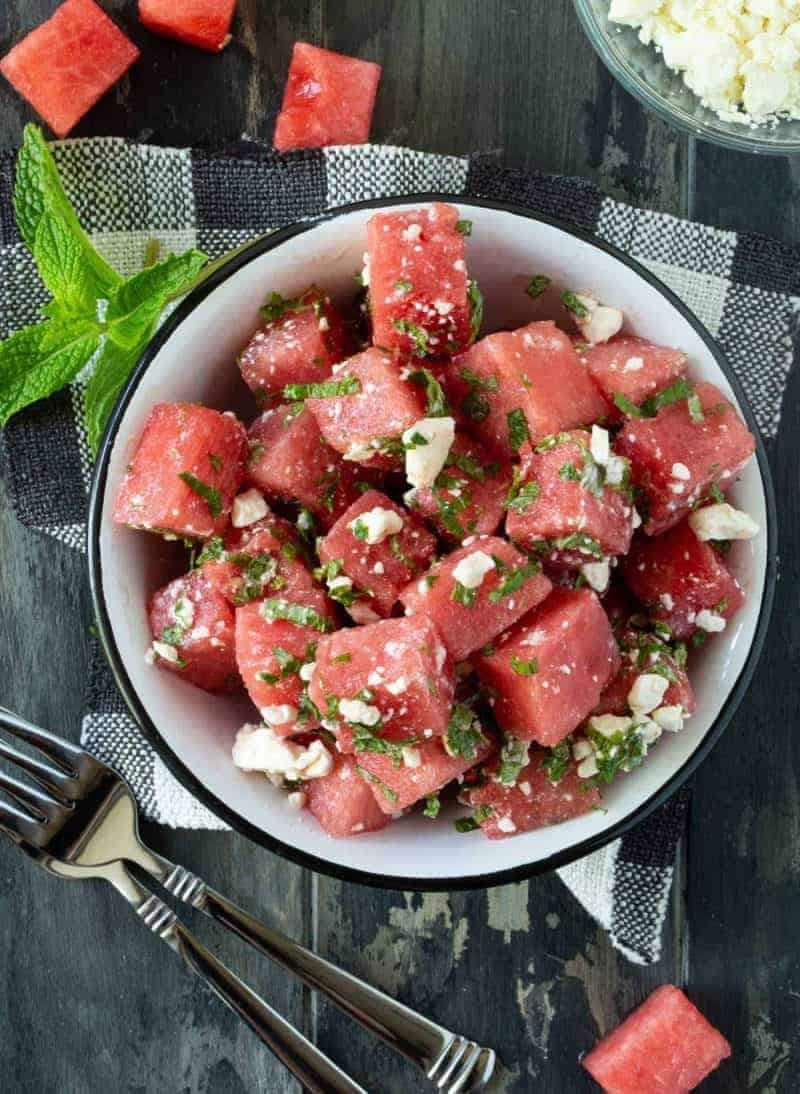 A perfect combination of salty and sweet, this 4-ingredient Watermelon Feta Salad is a refreshing side dish for any summer BBQ or party.
Ingredients
7 cups of cubed watermelon, chilled and well drained
1 tablespoon rice vinegar
4 ounces crumbled feta cheese
1 cup loosely packed fresh mint leaves, coarsely chopped
Kosher or sea salt
Freshly ground pepper
Instructions
Gently toss melon with rice vinegar, feta cheese and mint. Season with salt and pepper.
Serve immediately.
Notes
This salad is best served right away. The vinegar starts to break down the watermelon if made too far in advance.
Nutrition Information:
Yield:
6
Serving Size:
1
Amount Per Serving:
Calories:

107
Total Fat:

4g
Saturated Fat:

3g
Trans Fat:

0g
Unsaturated Fat:

1g
Cholesterol:

17mg
Sodium:

273mg
Carbohydrates:

15g
Fiber:

1g
Sugar:

12g
Protein:

4g