This savory and smoky Turkey Pumpkin Chili is a seasonal twist on a fall favorite. Perfect for an easy weeknight meal!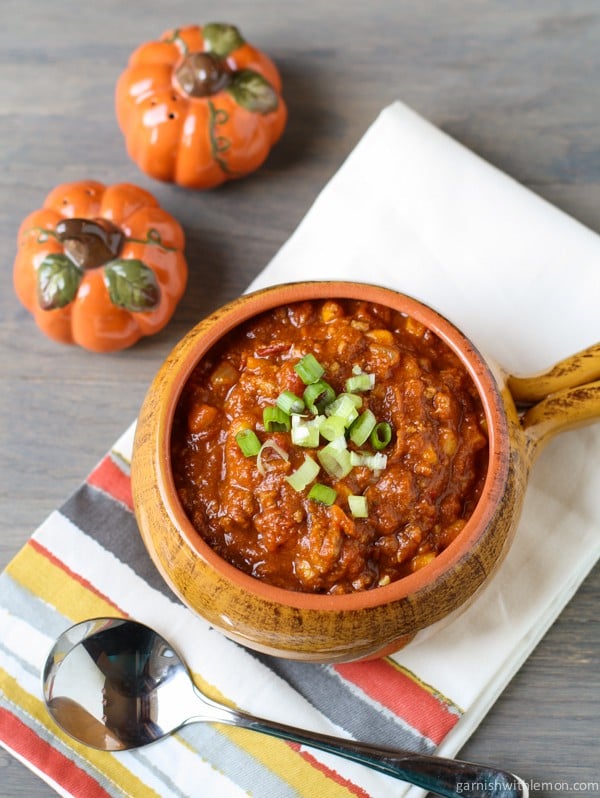 Have you broken out the pumpkin yet? October first is right around the corner, so if you haven't already, it's time to jump on the pumpkin train. Now I'm not talking pumpkin spice or pumpkin pie. I'm talking Turkey Pumpkin Chili. Pumpkin in my chili? Turkey in my chili? Are you kidding me? Nope, I'm being straight with you. Just try it, and I bet you will be an instant fan, too. But make sure you use pumpkin puree, NOT pumpkin pie filling. Otherwise you will be in for an unpleasant surprise. The smoky chipotle peppers, cumin and chili powder, along with the savory pumpkin, transform this dish into an amazing fall chili. I love being able to have a little twist on the ordinary that is seasonal and healthier.  
My recipe does not call for beans, mainly because my husband and son aren't big fans, but feel free to add them if you prefer. You can make this chili on the stove top or in the crock pot, which makes it an ideal (and seasonally perfect!) meal for Halloween. I know you might be skeptical of pumpkin in chili. I was, too. But since I encourage my kids to try new things all the time, it was time I took my own advice. And I'm so glad I did. This is some good eatin'.  
6
adjust servings
Ingredients
1

tablespoon canola oil

1

small onion, diced

2

cloves garlic, minced

1

pound ground turkey (extra lean)

2

– 15 oz cans diced tomatoes

2

– 15 oz cans pumpkin puree (NOT pumpkin pie filling)

1 15-ounce

can tomato sauce

4

tablespoons chili powder

1/2

teaspoon cayenne pepper

1

teaspoon dried oregano

2-3

tablespoons cumin (depending on how much cumin you like)

1

teaspoon ground pepper

2

chipotle peppers in adobe sauce, chopped (optional)

Salt to taste

11/2

cups frozen corn
Instructions
In a large dutch oven, cook onion and garlic in canola oil over medium heat until translucent. Add turkey and cook until meat is no longer pink. Stir in tomatoes, pumpkin, and spices. Add chipotle peppers if desired. Adjust seasonings if necessary (adding more chili powder or cumin to suit your taste).
Cook on medium for 15 minutes to let flavors develop. Add corn and cook for an additional 15 minutes. Serve with warm corn bread.
Recipe Notes
This can also be made in a crock pot. After step one, put cooked meat, garlic and onions in crockpot and add remaining ingredients. Cook on low for 8 hours.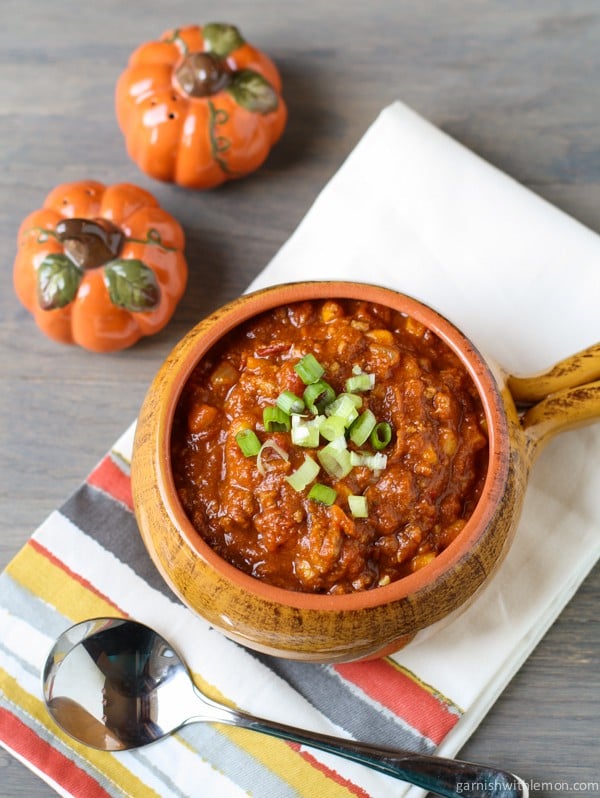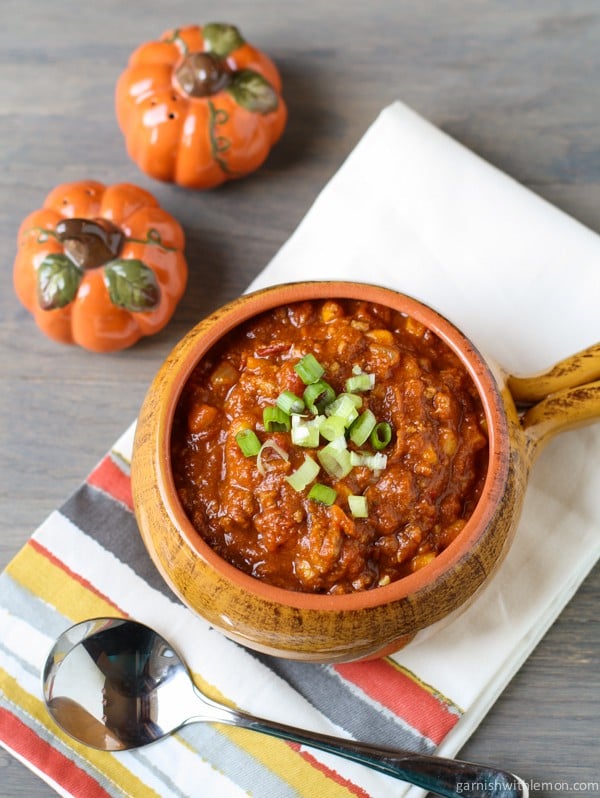 Did you make this recipe? We'd love to see it! Snap a pic of your creation and tag it #GarnishWithLemon. We might even feature your photo on social media!