This rich, velvety Slow Cooker Thai Curried Butternut Squash Soup recipe is packed with flavor and conveniently made in the slow cooker. Perfect for busy weeknight meals!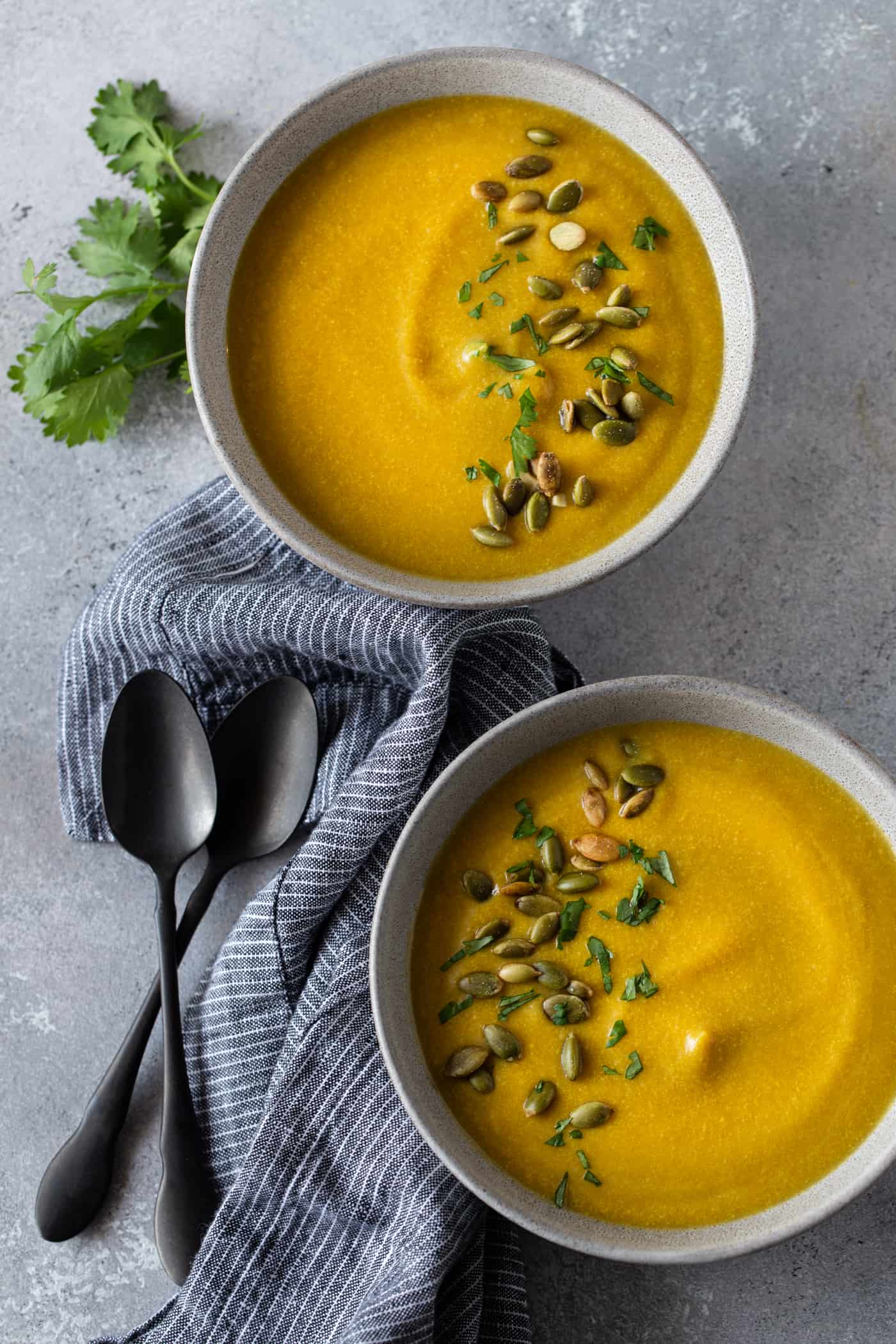 Nothing is more satisfying on a chilly fall or winter day than a bowl of homemade soup. Fortunately this Slow Cooker Thai Curried Butternut Squash Soup can be a reality more quickly than you think, thanks to the help of your trusty slow cooker and a handful of uber-flavorful ingredients.
The best butternut squash soup in the crock pot
Nothing beats having a homemade dinner 90% complete when you walk in the door after a busy day. Which is why I BIG PUFFY HEART my slow cooker.
This curried squash soup recipe couldn't be simpler. There is no fancy layering technique to the ingredients. It's merely dump, stir, set and forget!
Load up the slow cooker in the morning (this one is my current favorite), and you'll be greeted with a heavenly aroma that will make you extremely grateful for the few moments you spent earlier that morning prepping the soup.

Soup that tastes like curry
I adore the flavors of Thai curry dishes, so naturally a soup that includes many of the same signature elements is a total winner in my book:
Green curry paste: You will also find red (and occasionally yellow) curry paste on the shelves. The differences primarily come from the ingredients and color of chilis used (red = red chili peppers and chili powder, green = green chili peppers, coriander, basil and lime leaf). Green curry paste is generally a touch sweeter than red curry paste, which has traditionally been a bit spicier.
Freshly grated ginger: Never grated ginger before? It's quite simple: grab a knob of fresh ginger at the store, peel the skin using a vegetable peeler and grate it using a microplane grater. If you're short on time, you can also buy fresh ginger paste in either refrigerated or frozen form.
Coconut milk: I've made this recipe using lite coconut milk and regular coconut milk and I much prefer the regular version. I think Bon Appetit said it the best when it described lite coconut milk as the 2% of coconut milks. The result is slightly grainy and less rich.
Fish sauce: My go-to fish sauce is Red Boat. It's available at many Asian markets as well as Amazon. But if I'm out of that, Thai Kitchen is a solid choice (and is sold at Target).
Butternut squash, onion, garlic, broth and a finishing touch of brown sugar and butter round out the ingredient list. If you make Asian dishes frequently, you might just have all of these ingredients in your pantry. If not, they are readily available at any well-stocked grocery store.
Tip: Peeling and chopping a butternut squash can be a near-death experience (especially if you haven't had your knives sharpened in a while.) Save yourself the time and hassle by picking up peeled and cubed butternut squash at the grocery store. Have leftover squash? Make our Roasted Butternut Squash Naan Pizza!

How to safely puree hot soup in the blender
To get the uber creamy soup texture like you see in the pictures, you really need to give the soup a generous spin in the blender before serving it. But if you've ever tried to puree hot liquids before, the results can be "explosive" if you don't follow a few simple tips:
Allow the soup to cool for at least 15 minutes before adding to the blender. 

Fill your blender half way full - no more! Hot liquids expand when they blend and can blow the top off the blender resulting in a mess at the very least and possibly a burn.

Securely attach the lid to the blender and cover with a towel. Hold the top closed while blending as extra insurance against explosions. 

Pour pureed soup into a serving dish or pot. Repeat puree process in stages with remaining soup. 
My Blendtec does an amazing job of creating a smooth, velvety texture to this soup. However, if you don't mind soup with a less smooth consistency, a standard blender or even an immersion blender works great, too. 
Freeze homemade soup
Soup is one of those recipes that freezes beautifully with minimal effort. I often freeze this Slow Cooker Thai Curried Butternut Squash Soup in individual containers. They are perfect to pull out for lunches when the fridge looks rather bare.
Frozen soup lasts about 4-6 months in the freezer. Just be sure you leave a little bit of headroom in your containers when you fill them. Soup expands when frozen so you want to make sure you have adequate headspace in the container to allow for the expansion.

How to reheat frozen soup
If I'm thinking ahead, I pull a frozen container of soup out of the freezer and pop it in the fridge overnight to defrost. But if I'm not that organized, I've also done a quick defrost in the microwave or dumped the frozen block into a saucepan on the stovetop over low heat to slowly warm and heat through.
Serving this soup for a group? I prepare the recipe as written then add small bowls of extra green curry paste to the serving area so guests can swirl a little more in their bowls for an extra curry kick. I also load it up with some salty pepitas and ample amounts of fresh chopped cilantro for a bit of crunch and bright flavor in every bite.
Nothing beats a tasty slow cooker soup at the end of a long day. Check out some of these other tasty options:
Slow Cooker Chicken Tortilla Soup
Slow Cooker Italian Wedding Soup
Slow Cooker White Chicken Chili
Slow Cooker Split Pea Soup with Ham
Crock Pot Broccoli Cheese Soup
Check out all of our Soup and Salad recipes!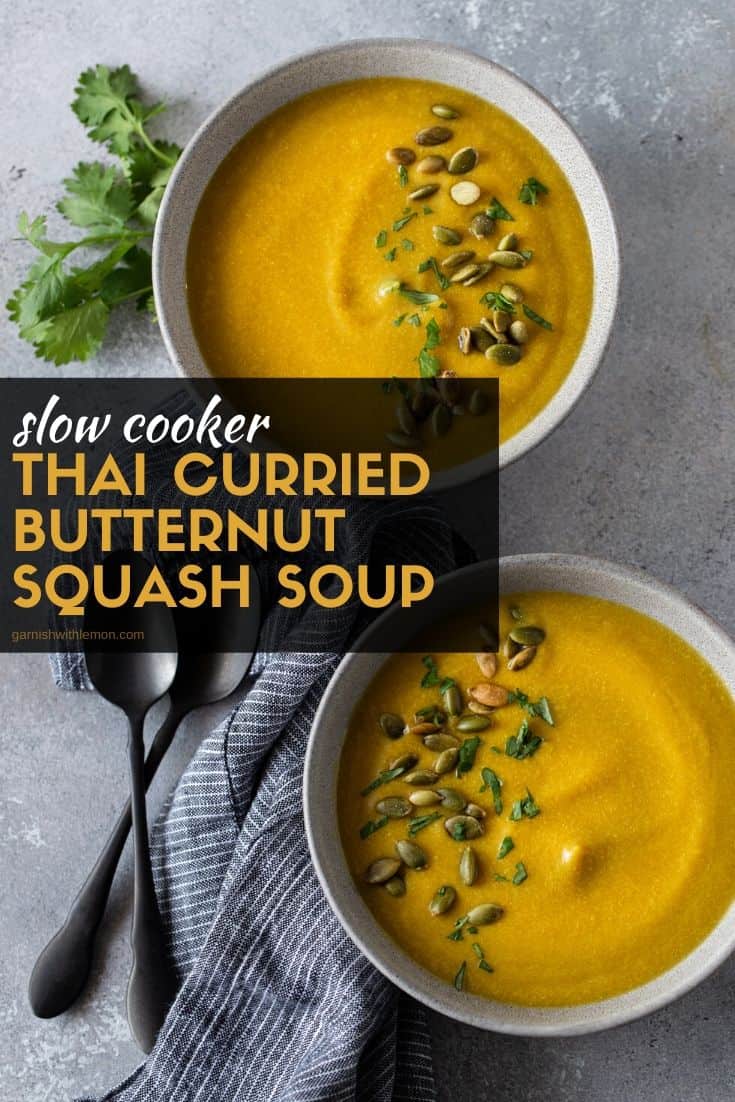 Yield: Serves 8
Slow Cooker Thai Curried Butternut Squash Soup
This simple Slow Cooker Thai Curried Butternut Squash Soup is infused with green curry paste, fresh ginger and coconut milk for a creamy, velvety texture. The perfect "warm me up" soup recipe for fall and winter! 
Total Time
8 hours
15 minutes
Ingredients
8 cups of peeled, cubed butternut squash
1 large onion, chopped
3 garlic cloves, chopped
1 tablespoon peeled and grated fresh ginger root
3 tablespoons green curry paste
4 cups chicken stock
1 can (13.5 ounces) regular coconut milk
3 tablespoons fish sauce
1 tablespoon brown sugar
1 tablespoon butter
Salt and pepper
Chopped cilantro, optional
Roasted, salted pepitas, optional
Instructions
Combine squash, onion, garlic, ginger and curry paste in a large slow cooker. Pour in the chicken stock and coconut milk. Cook on high for 4 hours or low for 8 hours.
Puree the soup using an immersion blender or a regular blender.
Stir in the fish sauce, brown sugar and butter. Let soup sit for 15 minutes before serving to allow all the flavors to meld together. Add salt and pepper to taste and garnish with fresh cilantro and pepitas.
Notes
This soup is pretty mild as written. Feel free to stir in an extra spoonful of curry paste if you want a more pronounced curry flavor.
This soup freezes beautifully. I often freeze individual portions to pull out for easy lunches.
Recommended Products
As an Amazon Associate and member of other affiliate programs, I earn from qualifying purchases.
Nutrition Information:
Yield:
8
Serving Size:
1 bowl
Amount Per Serving:
Calories:

238
Total Fat:

11g
Saturated Fat:

7g
Trans Fat:

0g
Unsaturated Fat:

3g
Cholesterol:

7mg
Sodium:

962mg
Carbohydrates:

32g
Fiber:

7g
Sugar:

8g
Protein:

7g
This simple Slow Cooker Thai Curried Butternut Squash Soup is infused with green curry paste, fresh ginger and coconut milk for a creamy, velvety texture. The perfect "warm me up" soup recipe for fall and winter!