Make lunch for the whole week with this savory slow cooker Thai Curried Butternut Squash Soup!
In a hurry and missing an ingredient? Get our free Ingredient Substitution Cheat Sheet.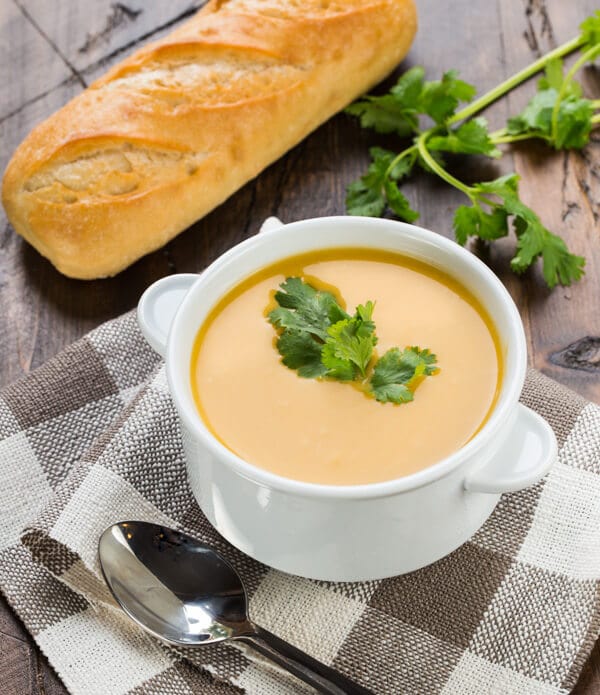 Back when I worked a 9-5 office job, I was dutiful about packing my lunch. My intentions were good, but it seemed like I brought the same types of things every day: baby carrots, yogurt, sandwiches, leftovers, frozen meals….you get the idea. My lunches may not have had a lot of variety, but I tried to make them well-rounded. Now that I'm at home, I find that I rarely make time for a proper lunch. Mostly I graze throughout the day, which isn't healthy, and it certainly isn't fulfilling. That's why I love this silky smooth Thai Curried Butternut Squash Soup. It makes a huge batch that not only freezes well but also has a decent shelf life in the fridge. Plus extra bonus brownie points because it's made in the slow cooker!
Pile all the ingredients into the slow cooker in the morning (this one is my favorite!), and you'll be greeted with a heavenly aroma from the squash, curry paste and coconut milk when you walk in the door later that day. You can feast that evening or – do what I do – freeze the soup in individual containers. They are perfect to pull out when that midday hunger strikes and the fridge looks rather bare. 
Tip: I always stir extra curry paste into the bowls for myself and my husband. The kids prefer the milder curry flavor from the recipe as it's written, but we like a bit more spunk.
Slow Cooker Thai Curried Butternut Squash Soup
8
adjust servings
Ingredients
8

cups of peeled, cubed butternut squash

1

large onion, chopped

3

garlic cloves, chopped

1

tablespoon peeled and grated fresh ginger root

2

tablespoons green curry paste

4

cups chicken stock

1

can (13.5 ounces) coconut milk, regular or light

3

tablespoons fish sauce

1

tablespoon brown sugar

1

tablespoon butter

Chopped cilantro (optional, but not to be missed in my opinion)

Salt and pepper to taste
Instructions
Combine squash, onion, garlic, ginger and curry paste in a large slow cooker. Pour in the chicken stock and coconut milk. Cook on high for 4 hours or low for 8 hours.
Puree the soup using an immersion blender or a regular blender.
Stir in the fish sauce, brown sugar and butter. Let soup sit for 15 minutes before serving to allow all the flavors to meld together. Add salt and pepper to taste and garnish with fresh cilantro.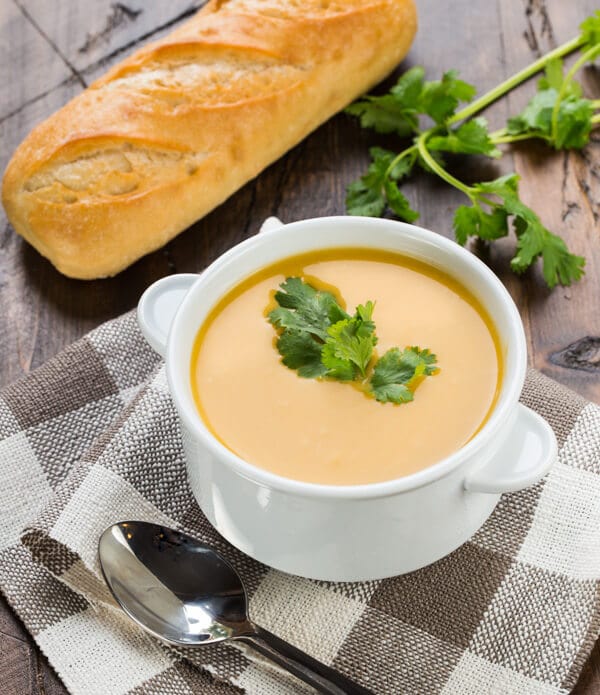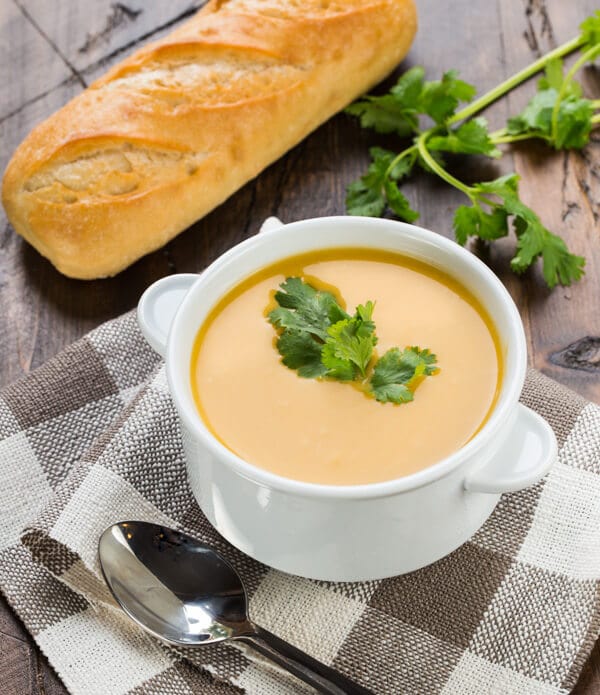 Did you make this recipe? We'd love to see it! Snap a pic of your creation and tag it #GarnishWithLemon. We might even feature your photo on social media!