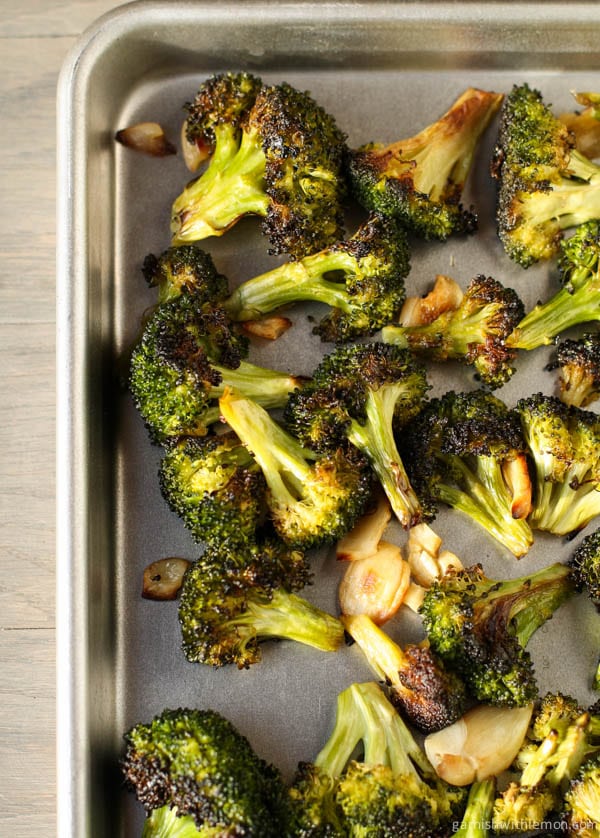 Broccoli has a pretty lousy reputation as a side dish. Most people don't crave it raw (even with dip), and one can only eat so much steamed broccoli. What broccoli does have going for it is year-round availability and reasonable prices. Oh, and it's super good for you, too. How do you make this rock star vegetable more appealing to the masses? Roasting. 
Ever roasted broccoli? I had not until I tried recently. It's funny because I've roasted asparagus, cauliflower, carrots, squash, beans….why had I never considered broccoli? Roasting brings out such a different flavor to any vegetable. Roasted broccoli caramelizes and brings out its natural sugars. Balance that out with smooth and savory roasted garlic, and you have a combination that smells and tastes delicious. 
This is a fast and easy side dish - equally wonderful for a holiday menu or on a busy weeknight. All you need olive oil, garlic, salt, pepper and high heat. Remove from the oven once the tips start to brown. If you're feeling adventurous, consider any number of add-ons such as parmesan cheese, fresh lemon juice, roasted pine nuts or even crushed red pepper for a little kick.
When I served this a few weeks ago, a 7-year old asked for seconds…and then thirds. THIRDS?!! What greater endorsement do you need? 
Yield: 4 servings
Roasted Broccoli
This roasted broccoli will make a veggie lover out of anyone!
Ingredients
1 1/2 - 2 pounds of broccoli
6 - 8 garlic cloves, peeled and smashed
3 - 4 tablespoons canola or grapeseed oil
Salt
Pepper
Instructions
Preheat oven to 425 degrees.
Cut broccoli into florets, leaving some stem intact. Combine broccoli, garlic and oil in large bowl. Season with salt and pepper.
Place broccoli onto baking sheet and roast in the oven for 15-20 minutes, shaking and/or turning broccoli halfway through.
Notes
The broccoli will be nicely browned on the tips when it is done.
Nutrition Information:
Yield:
4
Serving Size:
1
Amount Per Serving:
Calories:

210
Total Fat:

15g
Saturated Fat:

2g
Trans Fat:

0g
Unsaturated Fat:

12g
Cholesterol:

0mg
Sodium:

239mg
Carbohydrates:

19g
Fiber:

8g
Sugar:

3g
Protein:

6g