These 5-ingredient Roasted Brussels Sprouts with Balsamic Reduction will convince even the most reluctant veggie eater to dive right in.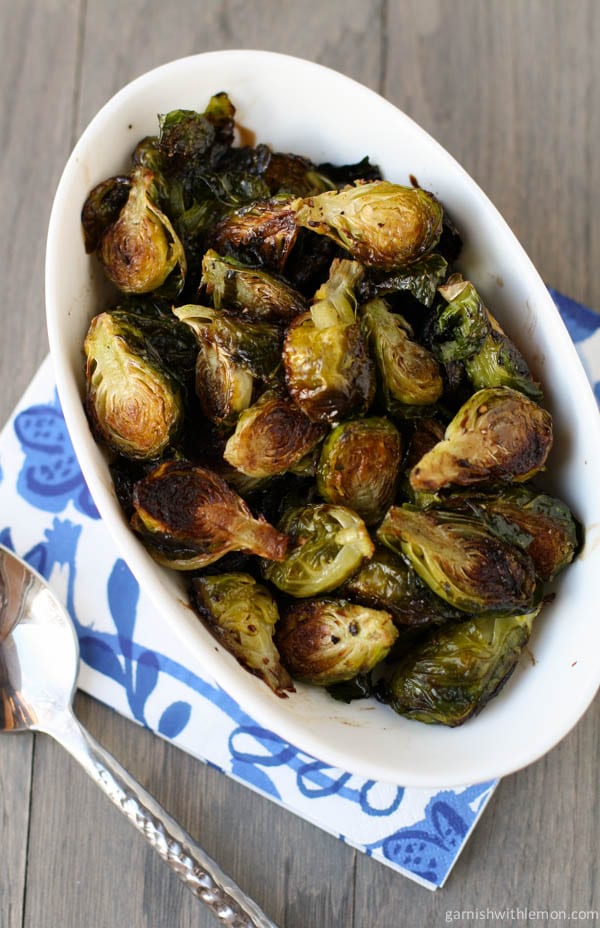 One of the hardest things to get my daughter to eat is vegetables. Especially green ones unless it's green beans with parmesan cheese. She will eat those like french fries, but everything else is tolerated and accompanied by a large glass of milk. Why is it that we don't like veggies as kids and yet we love them as adults and actually seek out recipes to make them for ourselves? And we become determined to be the ones who can get our children to eat them?? It's a never-ending cycle. But these Roasted Brussels Sprouts with Balsamic Reduction? Game changer. 
Brussels Sprouts are often looked at as a less than desirable vegetable, but here is a way that you can win over almost anyone. These brussels sprouts are roasted to a crisp in the oven with olive oil, pepper and lots of salt. They are salty almost like french fries (see where I'm going with this?). Salt them when you roast them and then salt them again right when you take them out of the oven. Toss them with the balsamic reduction, and these toasty, crispy brussels sprouts will be a hit. It's a great combination of salty and sweet. Even the most finicky eater will eat them. 
My daughter ate these without complaining and without a lot of milk. Another vegetable conquered. Do you have any ways to get your kids to eat vegetables? Send them our way! We are always looking for ideas.
Yield: 4
Roasted Brussels Sprouts with Balsamic Reduction
Crispy, roasted brussels sprouts with a balsamic reduction.
Ingredients
1 1/2 pounds Brussels Sprouts
2 tablespoons Olive Oil
Kosher Salt
Pepper
1/2 cup good Balsamic Vinegar
Instructions
Heat oven to 400 degrees.
Slice brussels sprouts in half through the core. Toss with olive oil and generously season with salt and pepper. Place on jelly roll pan and roast for 30-40 minutes or until golden brown and crispy.
While the sprouts are roasting, put 1/2 cup balsamic vinegar in a small sauce pan and heat over medium heat until boiling. Reduce heat to a simmer until reduced to 1/4 cup. About 15 minutes.
Place brussels sprouts in a serving bowl and toss with balsamic reduction.
Nutrition Information:
Yield:
4
Serving Size:
1
Amount Per Serving:
Calories:

150
Total Fat:

8g
Saturated Fat:

1g
Trans Fat:

0g
Unsaturated Fat:

6g
Cholesterol:

0mg
Sodium:

189mg
Carbohydrates:

18g
Fiber:

5g
Sugar:

8g
Protein:

5g