Looking for an easy side dish packed with flavor? These 5-ingredient Roasted Brussels Sprouts with Balsamic Reduction will convince even the most reluctant veggie eater to dive right in.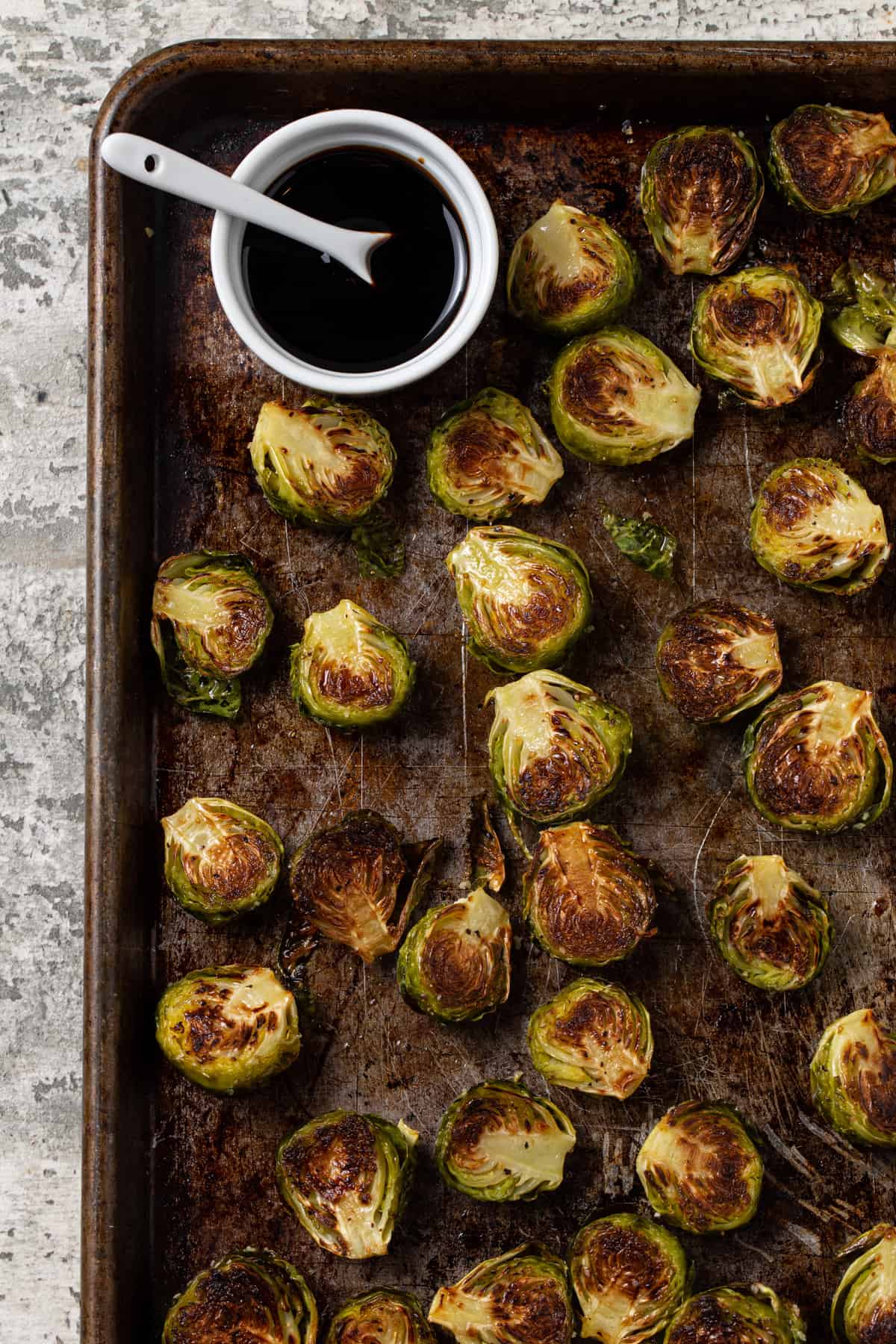 Brussels Sprouts don't get the love they deserve. Am I right?
You can change that when you make these crispy Roasted Brussels Sprouts with Balsamic Reduction for dinner. You will be left with an empty bowl and your family asking for the recipe.
There is something magical that happens to vegetables when you roast them in the oven. The flavor is intensified and no one can resist the crispy edges. Add a balsamic reduction and you have the perfect salty/ sweet combination.
Jump to: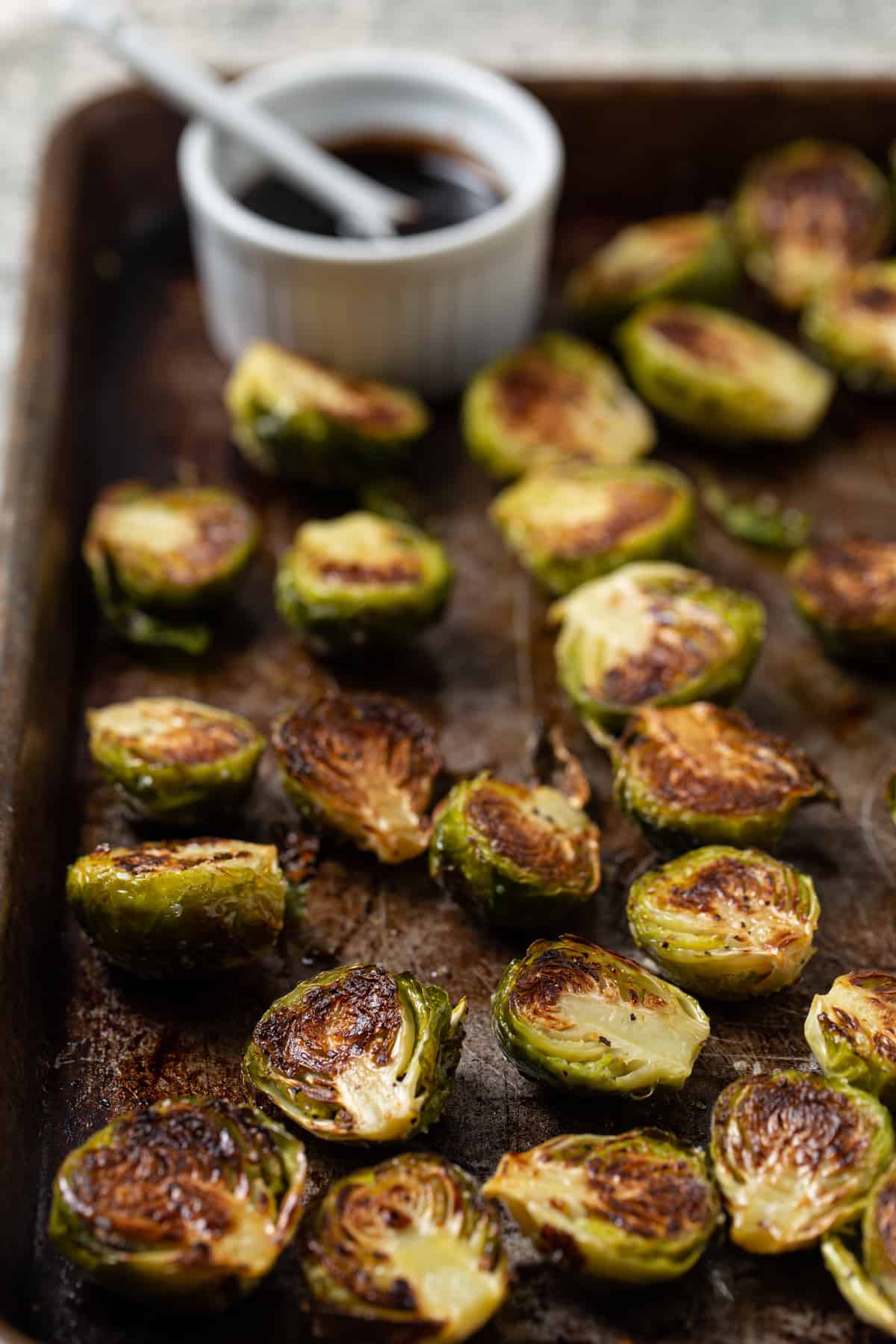 Ingredients
You don't need much to make this easy side dish! Just a handful of pantry staples plus the brussels sprouts and you are set:
Olive oil
Brussels Sprouts - Try to pick sprouts that are similar in size, if possible. They will cook at the same rate and be done at the same time.
Balsamic reduction - Don't be scared! It's easy to make and can be used on any roasted vegetable or even a Caprese salad!
Salt & pepper
Pro Tip: Don't skimp on the salt. I salt them when I toss them with oil and again when they come out of the oven. They "almost" taste just like french fries!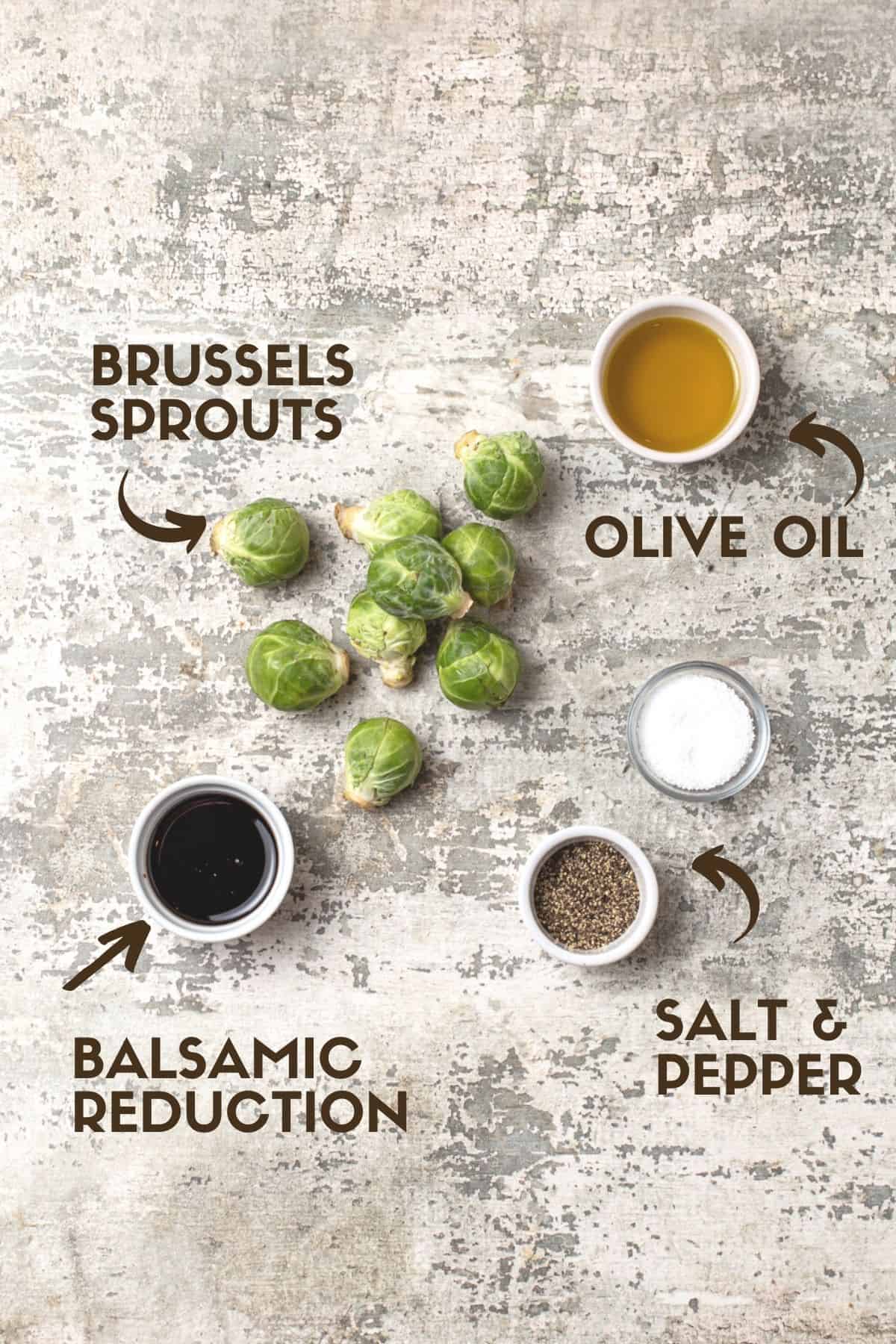 Instructions
Place your sprouts cut side down on the sheet pan to make sure they get extra crispy. Watch the veggies for how quickly they brown as every oven is different.
1
Gather your ingredients.
2
Cut ends off of sprouts and slice in half.
3
Toss with olive oil, salt and pepper.
4
Place cut side down on baking sheet.
5
Roast until crispy and brown.
6
Serve warm with balsamic reduction on the side.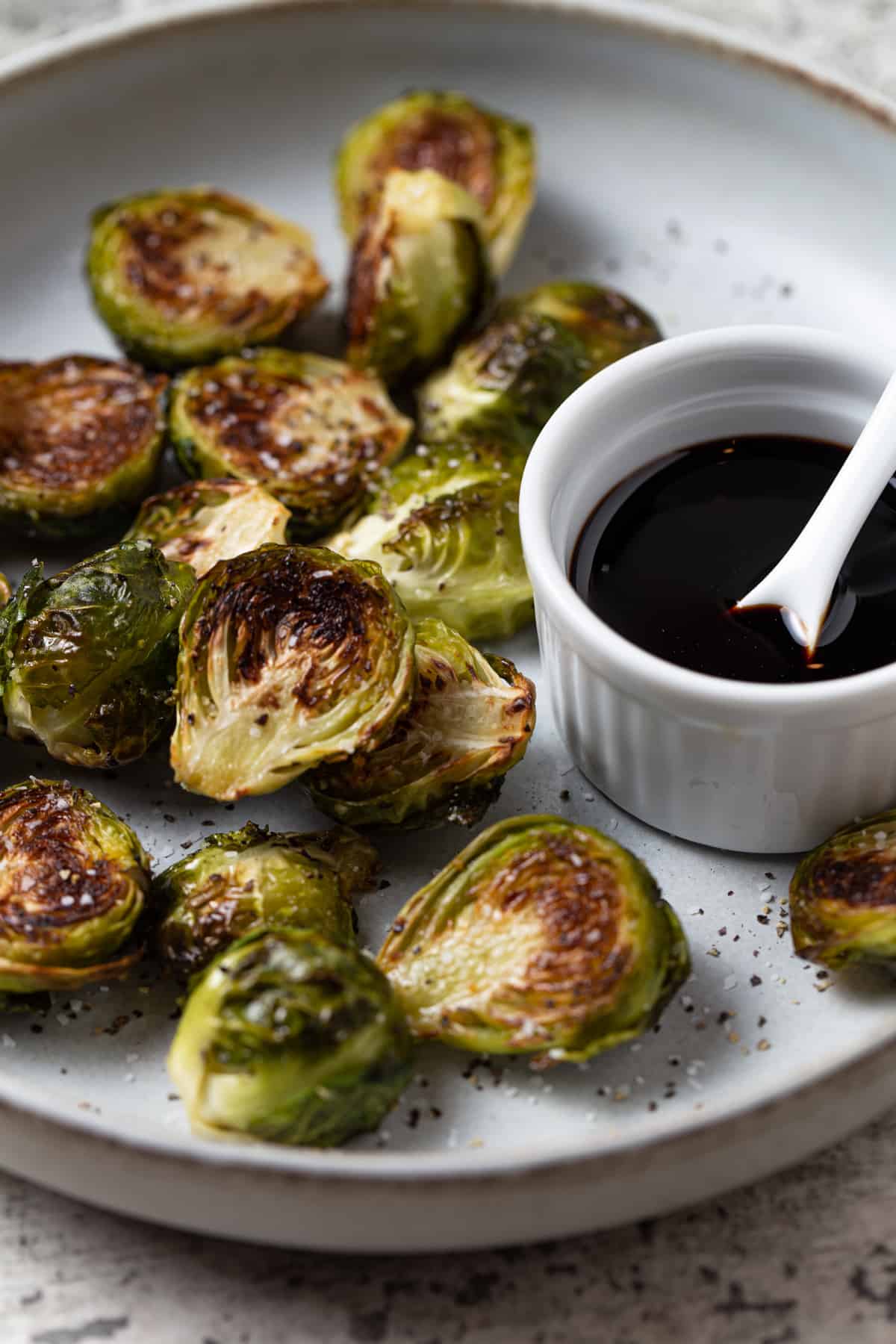 FAQs
How to pick the best brussels sprouts

Look for bright green heads that are firm and heavy for their size without yellow leaves.
Why didn't my vegetables get crispy?

The most common culprits are an overcrowded pan or an oven that wasn't hot enough. Make sure you have enough breathing room around your vegetables - use two pans if needed - and the oven is adequately preheated.
How to make balsamic reduction

Making balsamic reduction is a snap and will keep in the refrigerator for a few weeks after you make it.

Simply place 1/4 -1/2 cup good balsamic vinegar in a small sauce pan, bring to a boil and reduce heat. Let simmer on stove for 15-20 minutes or until vinegar is syrupy and coats a spoon. It will thicken as it cools.

If you like a sweeter reduction, add a tablespoon of honey to the vinegar as it cooks.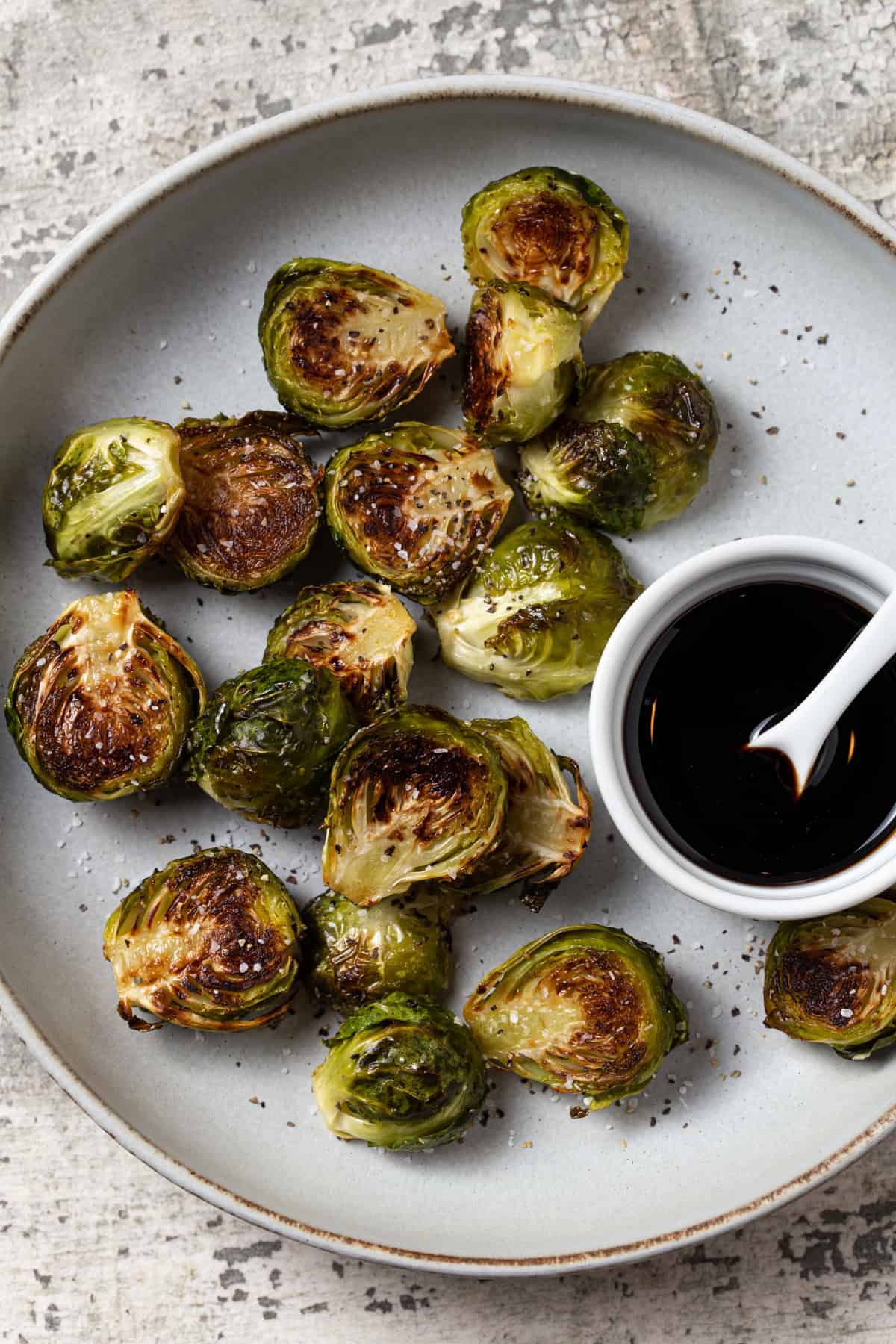 Tips for the Best Roasted Vegetables
Use the right temperature - Use 400°F, 425°F or even 450°F to get that nice caramel color we all love. If you go lower than 400°F, your vegetables will end up being steamed instead of crispy.
Use a hot pan - Preheat the oven with your pan in it to get that instant sizzle.
Cut your vegetables in similar sizes - This will ensure they cook evenly and are done at the same time.
Use a bowl to toss the veggies with oil - This makes sure they are coated evenly allowing all sides to brown.
Don't crowd the pan and place the veggies cut side down on the pan to get even browning.
Serve them hot from the oven! Roasted Brussels Sprouts can get soft as they sit (but will still be delicious).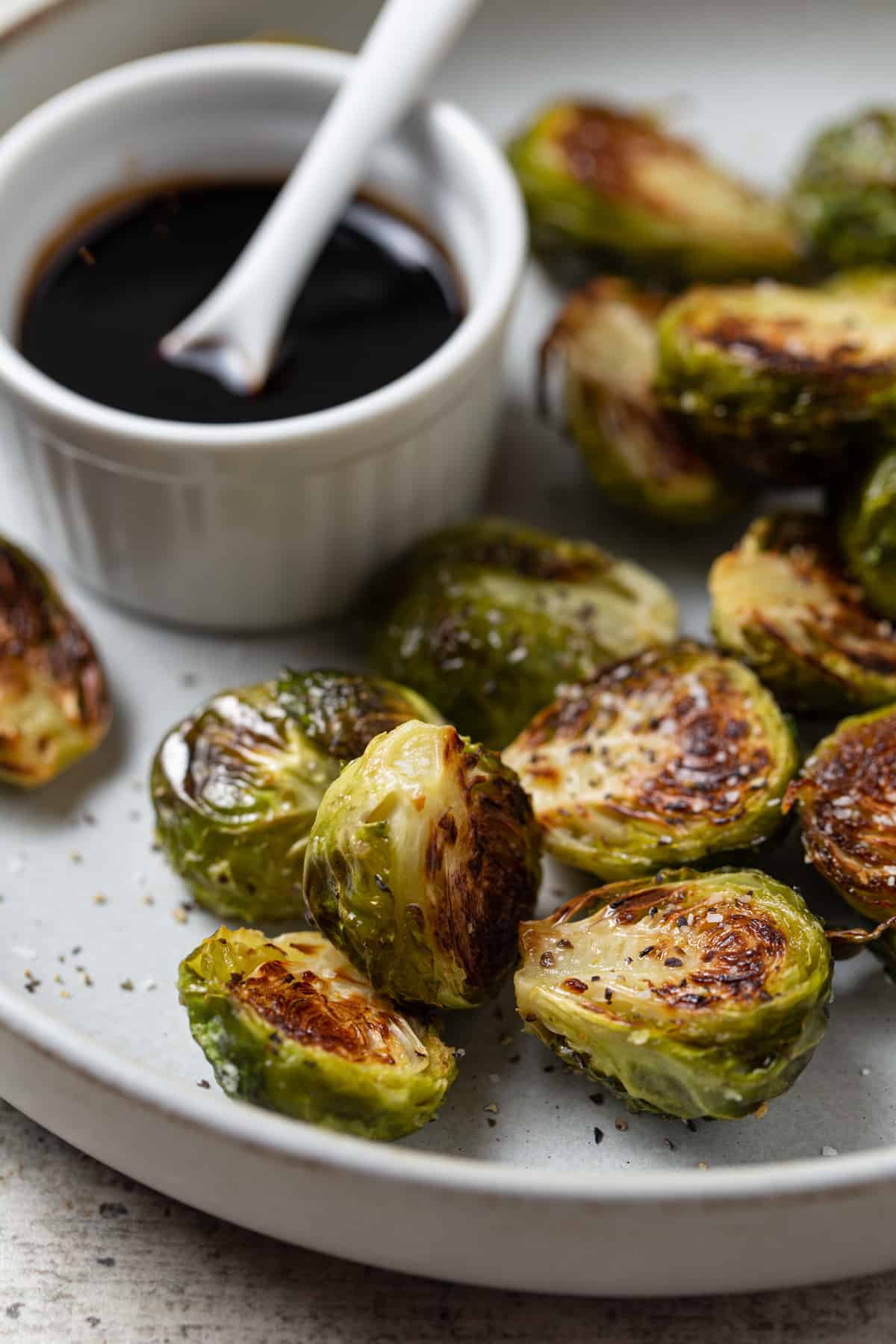 More Roasted Vegetables
You can find more easy side dish recipes in our archives!
Recipe
Yield: 4
Roasted Brussels Sprouts with Balsamic Reduction
Crispy, roasted brussels sprouts with a balsamic reduction will make anyone a veggie lover!
Ingredients
1 1/2 pounds Brussels Sprouts
2 tablespoons Olive Oil
Kosher Salt
Pepper
1/3 cup Balsamic Vinegar
Instructions
Heat oven to 400 degrees.
Slice brussels sprouts in half through the core.
Toss with olive oil and generously season with salt and pepper.
Place on sheet pan and roast for 30-40 minutes or until golden brown and crispy turning once halfway through.
While the sprouts are roasting, put 1/3 cup balsamic vinegar in a small sauce pan and heat over medium heat until boiling. Reduce heat to a simmer until reduced to about half and it coats a spoon. About 15 minutes.
Place brussels sprouts in a serving bowl and toss with balsamic reduction.
Serve.
Notes
If you want your reduction a little sweeter add a tablespoon of honey when it is cooking.
Recommended Products
As an Amazon Associate and member of other affiliate programs, I earn from qualifying purchases.
Nutrition Information:
Yield:
4
Serving Size:
1
Amount Per Serving:
Calories:

150
Total Fat:

8g
Saturated Fat:

1g
Trans Fat:

0g
Unsaturated Fat:

6g
Cholesterol:

0mg
Sodium:

189mg
Carbohydrates:

18g
Fiber:

5g
Sugar:

8g
Protein:

5g
Looking for an easy side dish? Let your oven do the hard work and make these crispy Roasted Brussels Sprouts for dinner tonight!