Cheesy potatoes get a whole new look with the addition of Provolone cheese, Portobello mushrooms, and fresh thyme to this potato gratin recipe.
Au gratin potatoes don't get the love they should so I gave them an update and made this Provolone, Mushroom and Potato Gratin recipe. It uses lots of provolone cheese and fresh thyme and it's my newest crave-worthy side dish.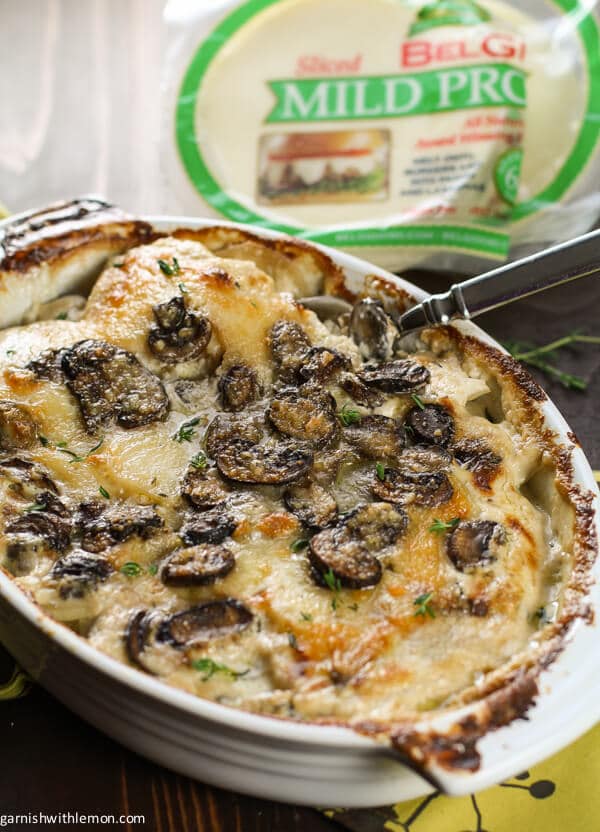 And you're probably wondering, what even is a gratin?
Simply put, a gratin is a French dish that has a browned crust, often using breadcrumbs, grated cheese, egg or butter. It's usually made with cream and baked in a shallow pan with cheese or butter on top that gets nice and crispy on top. How can you go wrong with that? You can't.
Do I need a special pan to make a gratin?
Traditionally gratin pans are used to make au gratin potatoes. What exactly is a gratin pan? A gratin pan is a shallow oval baking dish that allows the ingredients to be spread in thin layers so you can have a large surface area on top that can get a nice browned crust when it is baked in the oven.
Do you have to use one for these potatoes? No, but it sure looks pretty and its a great addition to any kitchen bakeware collection. But don't worry, if you don't have one you can sub in an 8 x8 or 9x 13 glass baking dish. Just be sure to adjust your baking time.
You'll need to add a little time in the oven if you use an 8 x 8 because the layers will be thicker and shave a little time off if you use a 9 x 13 since your layers will be thinner.
How do I slice potatoes thinly?
There are a few kitchen tools that I will give up valuable storage space in my kitchen and a mandoline is one of them. There is NO better, faster way to get even thin-sliced potatoes than with a mandoline. I have an OXO mandoline slicer and I absolutely love it.
But please promise me that you will use the supplied holder to grip the potatoes. Your fingers will thank you for saving them from the sharp blades.
Once you get your hands on a mandoline you'll be looking for all of the things to slice. You can also use it to make slicing easy in these recipes too.
What ingredients do I need for this potato gratin?
Russet Potatoes
Portobello Mushrooms
Provolone Cheese
Heavy Cream
Fresh Thyme
Grated Parmesan Cheese
This gratin is filled with layers of thinly sliced potatoes, mushrooms, flavorful Provolone cheese, seasoned with thyme and then topped off with cream and a sprinkle of parmesan.
What kind of potatoes do I use for a gratin recipe?
I tried this recipe with several different kinds of potatoes. So trust me and stick with russet potatoes, they do the best job of keeping their texture when baked in cream.
Don't try to sub in Yukon Golds. Their water content is too high, and the end result is a soupy mess. And no one wants to eat a soupy mess.
Do I need to use cream in au gratin potatoes or can I use milk?
Because the flavors in this gratin shine through, I used heavy cream and lots of cheese
A couple of things I learned when making this gratin. A recipe is only as good as the ingredients you use, so don't try to make this low cal and use milk or less cheese and expect the same results.
It's not going to happen.
Fair warning: This is not a recipe for someone counting calories. I'm a firm believer in enjoying everything in moderation so I don't make this heavy side dish all of the time, but when I do make it, I let myself enjoy it.
This easy side dish is impressive for entertaining as well as a unique side dish for your holiday dinner menu.
If you are looking for a lighter potato dish give this flavor-packed Rosemary Roasted Sweet Potatoes and Onions recipe a try. It's a staple in our dinner side dish rotation.
Looking for more options? Check out all of our side dish recipes here.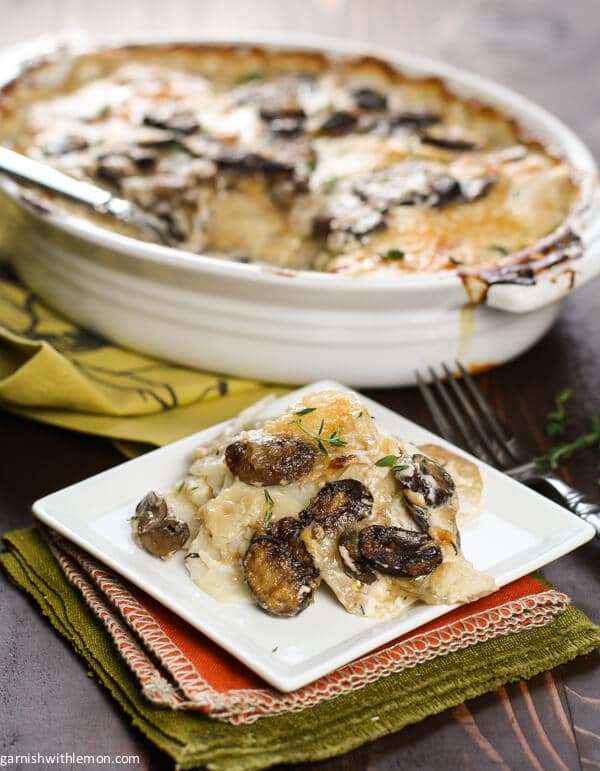 What to serve with au gratin potatoes?
You can't have a meal with potatoes alone. Add these reader favorite recipes to round out your holiday menu.
Try some of our other favorite potato recipes.
Brown Butter Hasselback Potatoes
Provolone and Mushroom Gratin
Cheesy potatoes just got an upgrade with this easy Provolone and Mushroom Potato Gratin Recipe.
Ingredients
5

medium russet potatoes

sliced thinly (⅛ inch thick)

1

tablespoon

olive oil

1

8-ounce package sliced portabello mushrooms

1 ½

cups

heavy cream

1

teaspoon

thyme

1

teaspoon

minced fresh garlic

6

slices

provolone cheese

2

tablespoons

parmesan cheese

salt and pepper
Instructions
Preheat oven to 400 degrees. Spray a 2 quart oval baking dish lightly with cooking spray and set aside.

Peel potatoes and cut into ⅛ inch thin slices and place in a large bowl.

In a small skillet, add olive oil and mushrooms and heat on medium for 5-6 minutes to let mushrooms release moisture. Remove from heat and set aside.

In a small pan heat cream, thyme and garlic over low heat until warm but not boiling, and pour over potatoes. Season with salt and pepper. Stir gently to coat.

Spoon a third of the potato and cream mixture into prepared dish and arrange so potatoes are evenly distributed. Add ⅓ of the mushrooms and cover with 2 slices of provolone cheese.

Repeat the process two more times, finishing with mushrooms and cheese. Pour extra cream left in the bowl over top.

Using a spatula, press down to compact layers and then sprinkle with parmesan cheese.

Bake for 45 minutes and let sit for 5 minutes before serving.
Nutrition
Serving:
1
g
Calories:
472
kcal
Carbohydrates:
34
g
Protein:
13
g
Fat:
32
g
Saturated Fat:
19
g
Polyunsaturated Fat:
11
g
Trans Fat:
1
g
Cholesterol:
88
mg
Sodium:
366
mg
Fiber:
4
g
Sugar:
4
g
Nutrition info not guaranteed to be accurate.
This easy Provolone, Mushroom and Potato Gratin recipe is a simple, flavor-packed side dish for entertaining or a great addition to your holiday menu.