This easy, 3-ingredient recipe for Balsamic Strawberry Sauce combines the best of summer's fragrant strawberries with zesty balsamic vinegar for a sweet and tangy sauce that is super versatile and works as a topping for everything from breakfasts to snacks to desserts.
It's pretty hard to beat homemade Strawberry Sauce; it's simple, sweet and easy to make. But add a generous pour of balsamic vinegar, and you take an average sauce to outstanding in a hurry.
Why add balsamic vinegar? It reduces as the berries roast and its flavor intensifies. The result is an addictive sauce that is both sweet and savory and will have you hunting for All.The.Things to put it on. It's THAT good!!
Jump to:
Why this recipe is unique
Making strawberry sauce from scratch is pretty straightforward - fresh berries and sugar. This recipe includes aged balsamic vinegar to give incredible depth and flavor to the sauce. It also makes it perfect for both sweet AND savory uses.
With only three ingredients and minimal prep, this is one of the easiest homemade sauces you can make. All the heavy lifting happens in the oven. No babysitting the sauce on the stovetop!
Roasting strawberries in the oven is the best way to use up those slightly overripe berries that sometimes accumulate in the fridge. Once roasted, there is no difference betweeen ripe and overripe berries.
Ingredients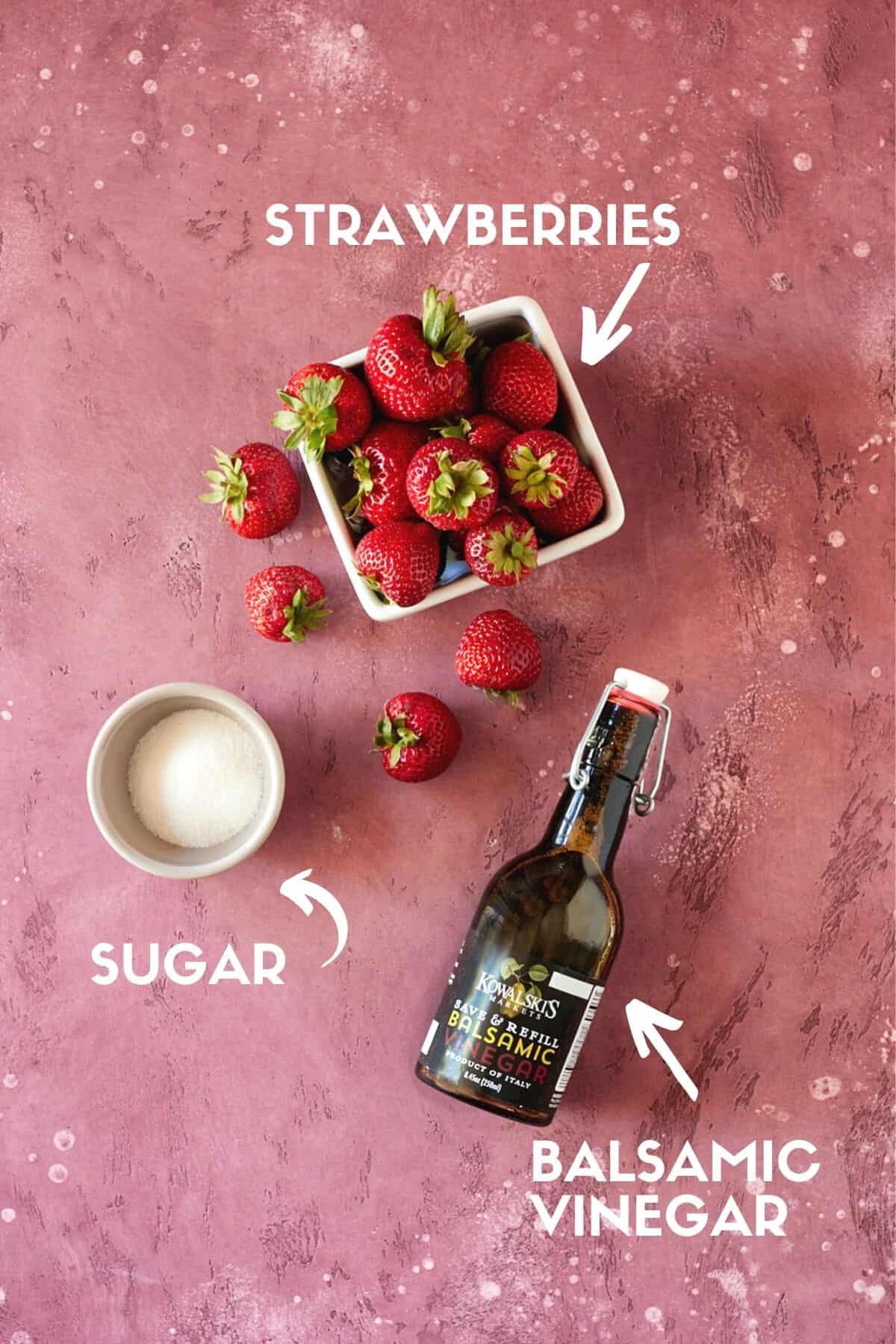 Tip: Use good quality balsamic vinegar as it makes a big difference in this recipe. If you've ever done a taste test of balsamic vinegars, you know that quality and flavor vary greatly. Prices can also vary widely but you don't need to break the bank. Choose a vinegar that has been aged for at least three years. My local grocery store carries amazing (and reasonably priced!) balsamic vinegar in refillable bottles so do your homework or ask for a recommendation from your favorite store.
Instructions
It's crazy how little effort is required to make something so delicious. Follow these thre steps to make your own sauce: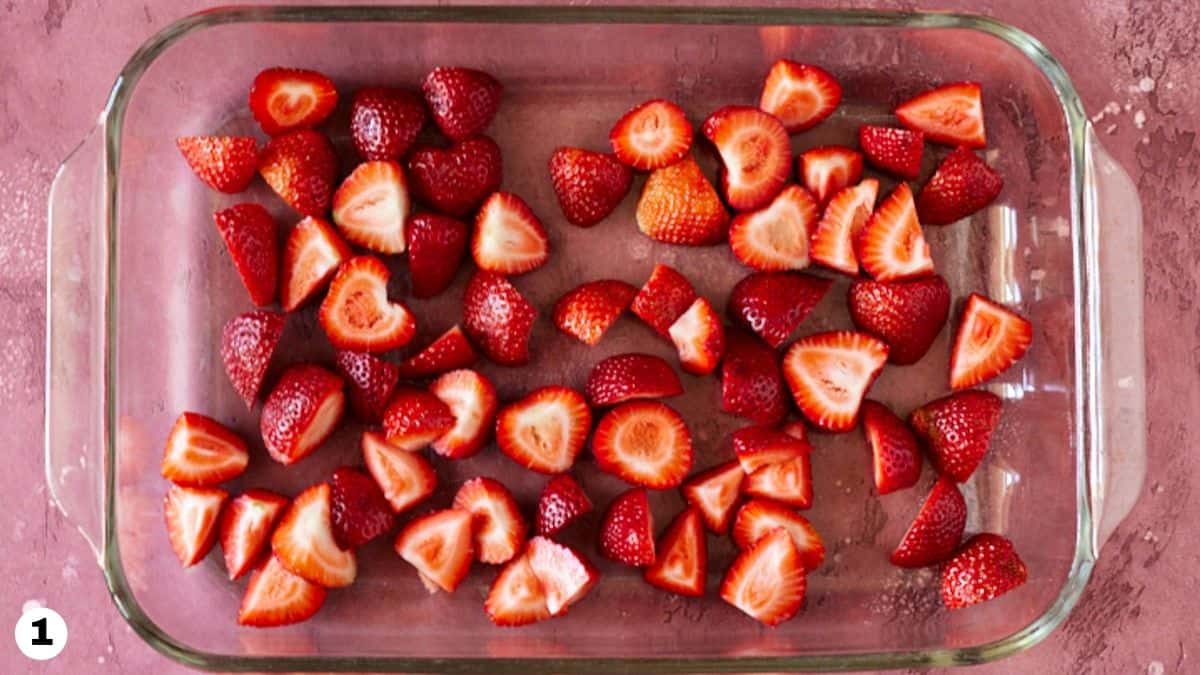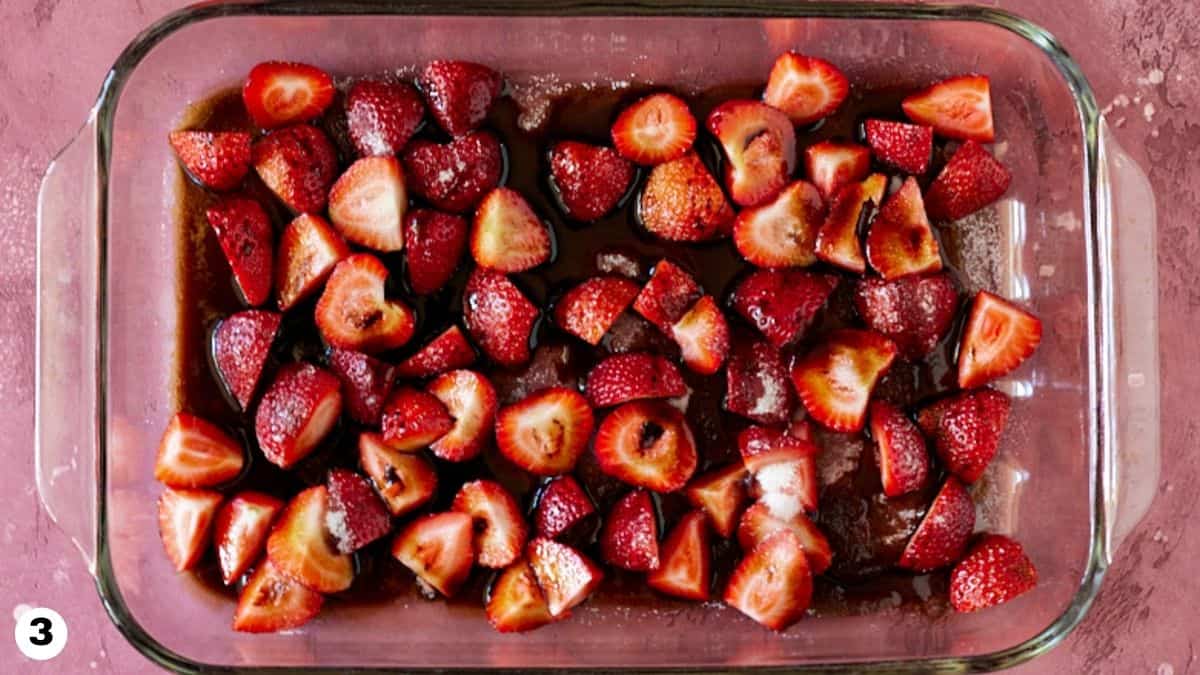 FAQs
Can I use frozen strawberries?

Yes! Frozen strawberries work well in a variety of recipes. You've probably used them in smoothies and other baked goods, but they will also work well in this balsamic strawberry sauce.

Note: Look for sliced frozen strawberries rather than whole frozen berries.
How long does strawberry sauce last?

Keep this sauce in a tightly sealed container in the refrigerator for up to 10 days. You can also freeze it for up to 3 months.
How much sauce does 1 pound of strawberries make?

This recipe cooks down to about one generous cup of strawberry sauce.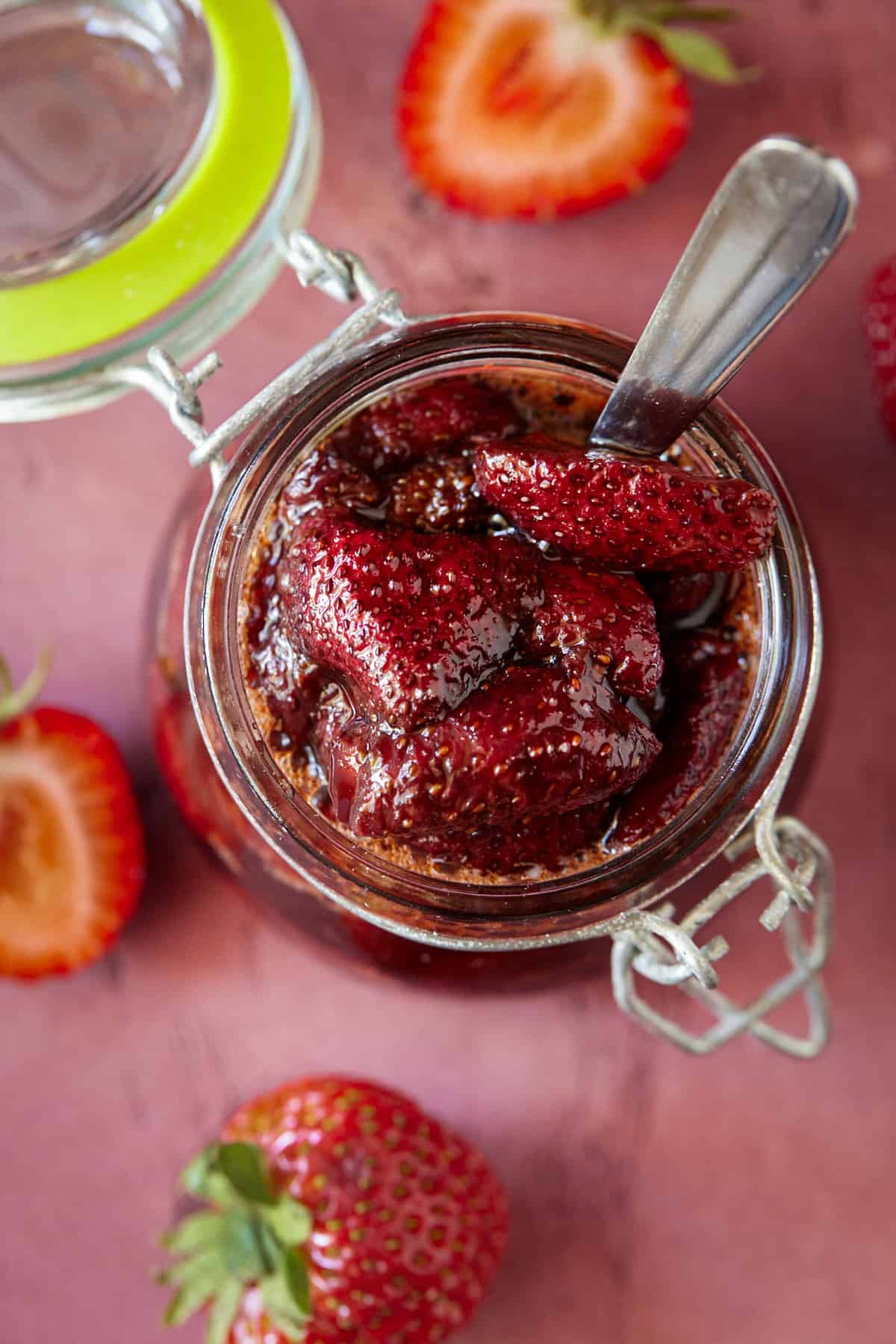 Favorite ways to use Balsamic Strawberry Sauce
Bruschetta - Swipe a thick layer of goat cheese on a baguette slice and top with a spoonful of sauce. Want to fancy it up even more? Sprinkle some chopped fresh basil over the sauce.
Ice cream - Drizzle this sauce over a bowl of your favorite strawberry or vanilla ice cream, and prepare to dig into the BEST strawberry sundae ever.
Cheesecake - Nothing fancies up a store-bought cheesecake faster than this balsamic strawberry sauce. It's an easy way to make a semi-homemade dessert when you're short on time.
Shortcake - Swap out fresh strawberries for a spoonful of this sauce to add a new layer of flavor to this popular dessert. (Check out our recipe for EASY Strawberry Shortcake Biscuits!)
Plain yogurt - Stir this sauce into your afternoon yogurt break for a super tasty snack.
Oatmeal - Add instant flavor to your morning bowl of oats with a generous swirl of this sauce. You can even add peanut butter for the ultimate bowl of PB&J oats.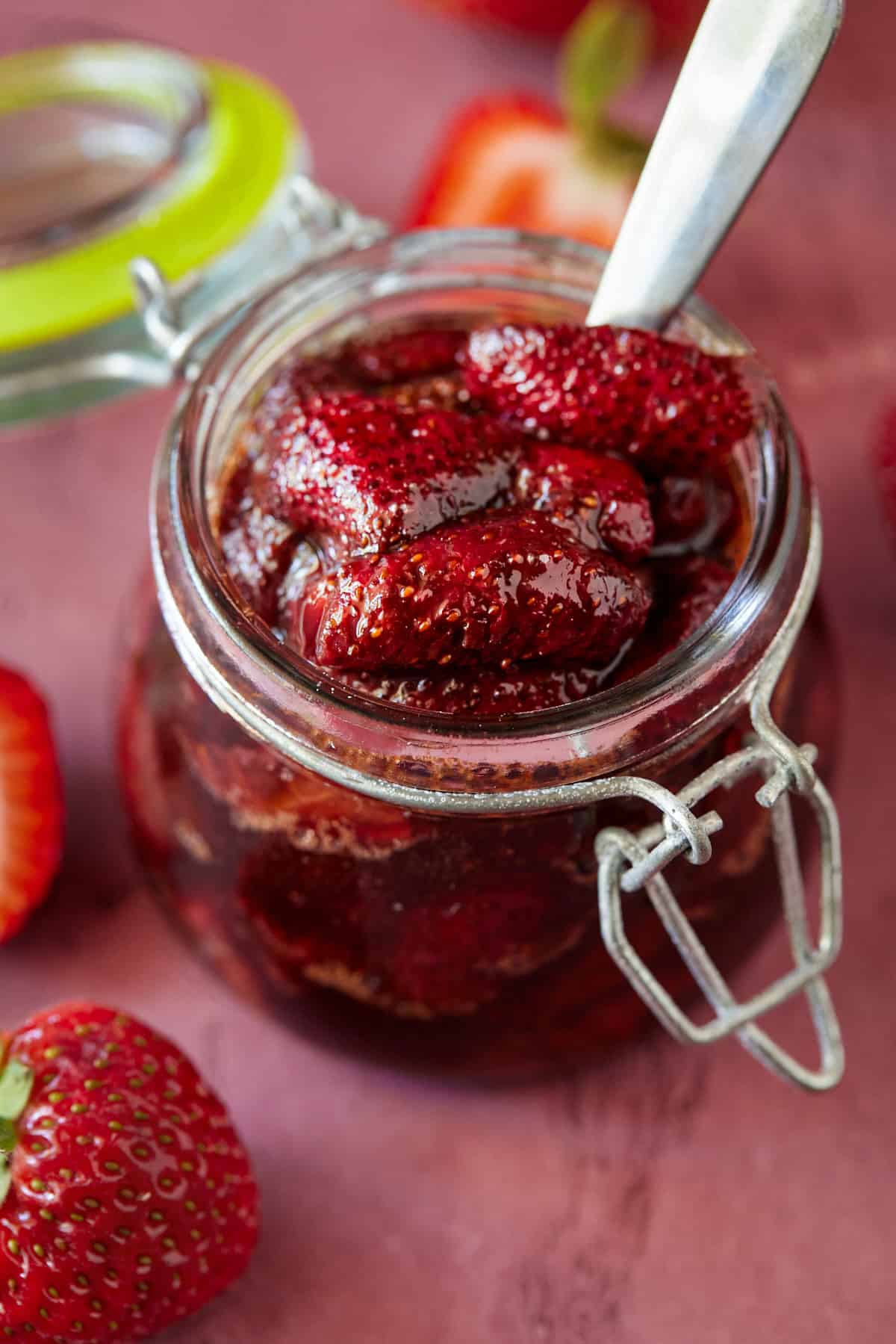 Expert tips to make fresh strawberry sauce
Use a quality aged balsamic vinegar. With only three ingredients, this recipe relies heavily on the flavor of its ingredients. Make sure you use a moderately-priced, smooth vinegar or your roasted berries might end up with an acidic taste.
The sauce will thicken as it cools. Want more of a runny, drippy sauce? Bake the berries for a shorter amount of time. The longer they bake, the thicker the sauce becomes.
I often use a glass 9x13 pan for this recipe, but a similarly sized metal pan will work just as well. If I double the recipe, I'll use a sheet pan so all the berries fit.
Strawberries can vary quite a bit in size. The berries from the grocery store are always larger than ones you can buy at farmer's markets or pick from berry farms. Quarter your berries if they are large, but if you have smaller berries, you can either half them or leave them whole, depending on their size.
More Fresh Strawberry Recipes



Did you make this recipe? We'd love to hear your thoughts! 

Please rate the recipe and leave a comment below. Your feedback helps us and your fellow readers! 



Recipe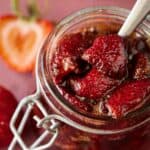 Balsamic Strawberry Sauce
This 3-ingredient, fresh Strawberry Sauce has an unusual ingredient - balsamic vinegar! The result is a sweet and tangy sauce that you'll want to pile on everything from breakfast to snacks to desserts!
Ingredients
1

pound

fresh strawberries

1 ½

tablespoons

sugar

¼

cup

aged balsamic vinegar
Instructions
Preheat oven to 350 degrees.

Hull strawberries and cut in halves or quarters, depending on size. Place berries in a 9 x 13 glass baking dish.

Sprinkle berries with sugar and drizzle vinegar on top. Carefully stir together.

Roast for 45 minutes or until vinegar is reduced, thickened and syrupy. Stir once while roasting. Cool completely and store covered in the refrigerator.
Notes
You can make this sauce in advance. Store covered in the refrigerator for up to 10 days and up to 3 months in the freezer. 
Frozen strawberries will work in this recipe but they might give off a bit of moisture as they roast. Extend the baking time by another 5-10 minutes if the sauce seems too thin at the 45 minute mark. It will continue to thicken as it cools. 
This is also a great recipe for slightly overripe strawberries. After roasting, you'll never know they were a bit past their prime! 
If you want to make a double batch, you can use two different baking dishes or use a single large sheet pan for twice the ingredients. 
Balsamic vinegars vary greatly in flavor. You don't need to break the bank on an expensive bottle of vinegar for this recipe, but try to find an aged variety with a smooth taste. A quality vinegar makes a huge difference here. 
Nutrition
Serving:
0.25
cup
Calories:
68
kcal
Carbohydrates:
16
g
Protein:
1
g
Fat:
1
g
Saturated Fat:
1
g
Polyunsaturated Fat:
1
g
Monounsaturated Fat:
1
g
Sodium:
5
mg
Potassium:
191
mg
Fiber:
2
g
Sugar:
12
g
Vitamin A:
14
IU
Vitamin C:
67
mg
Calcium:
22
mg
Iron:
1
mg
Nutrition info not guaranteed to be accurate.