Craving comfort food? This quick & easy Lemon Poppy Seed Bread recipe hits the spot! It's made with Greek yogurt & a fresh lemon juice glaze for bright, tangy flavor in every bite.
The post was originally published in 2016 and updated in 2020.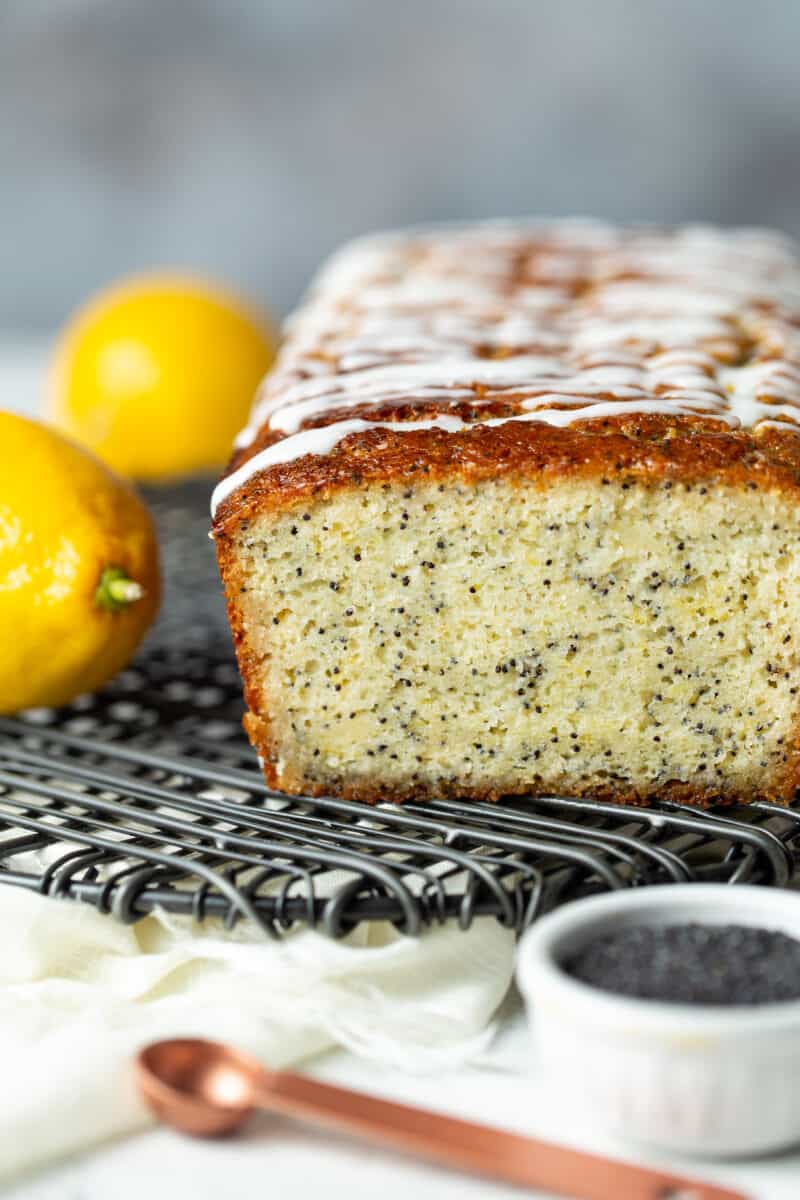 Bread in any form will always and forever be my comfort food of choice, and this moist and flavorful Lemon Poppy Seed Bread made with Greek yogurt ranks pretty high on the list when stress eating hits. This family favorite is super easy to make and is the perfect nibble for breakfast, snack time or even dessert!
Easy Lemon Poppy Seed Bread recipe
What makes this quick bread so irresistible is the extra lemony syrup that is poured over the bread right after it comes out of the oven. The hot bread soaks up the syrup and the result is a super moist loaf with just the right balance of tangy sweetness. It's hard to eat just one slice!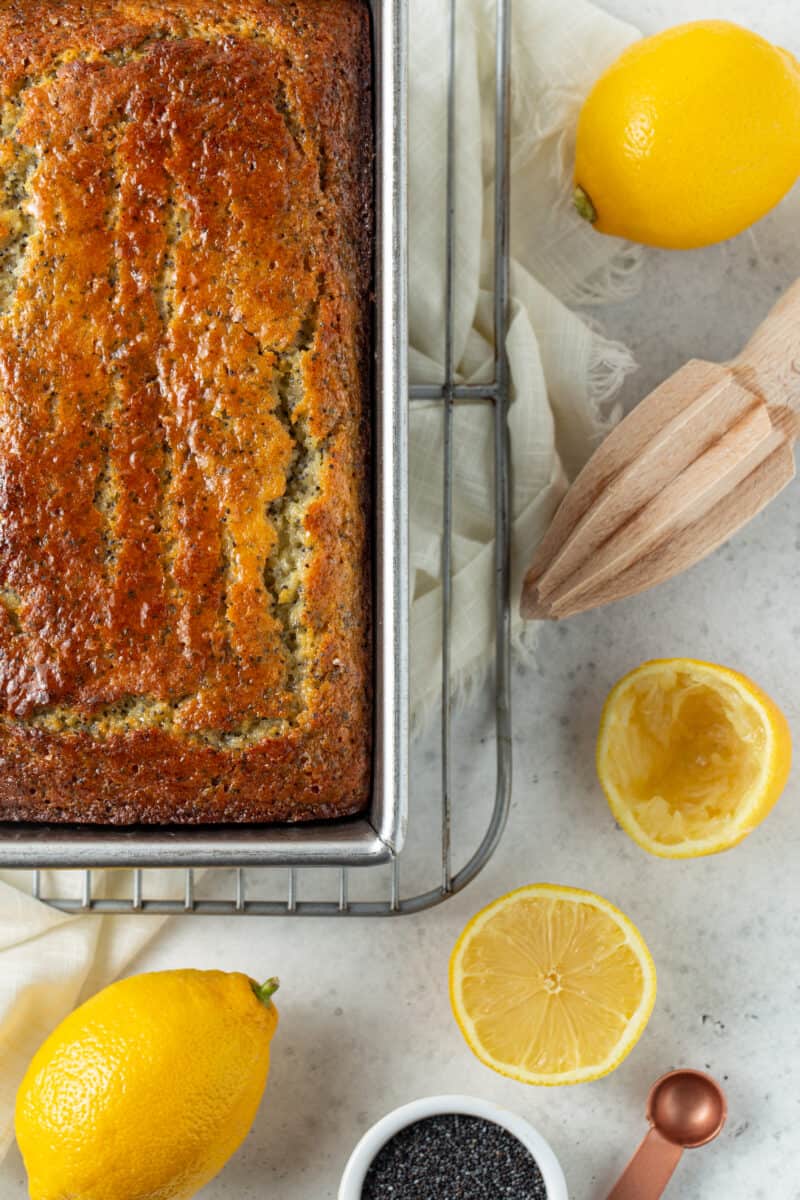 Ingredients
Simple pantry items are all that you need to make this quick bread:
All-purpose flour
Baking powder
Kosher salt
Plain whole milk Greek yogurt
Granulated sugar
Eggs
Oil (vegetable, canola, olive)
Milk
Vanilla extract
Lemons (for juice and zest)
Poppy seeds
Powdered sugar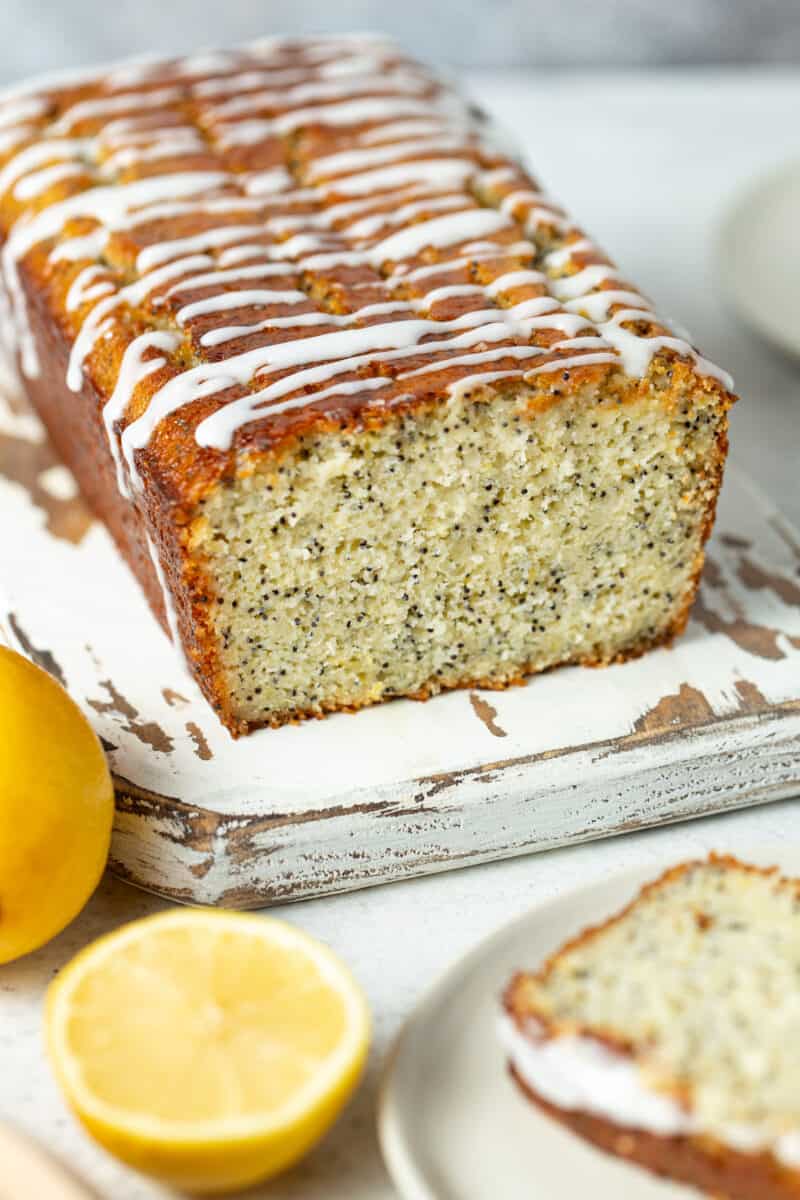 Quick bread defined
No yeast? No problem! Quick breads are just that; a fast and easy bread (can be sweet or savory) that is leavened without yeast.
Baking powder is what gives this bread recipe lift, but you might also see recipes that call for baking powder AND baking soda. (Baking powder actually contains a bit of baking soda so no need to double dip here.)
Without yeast, there is no rising or proofing time involved, so you can pull a steaming loaf of fresh quick bread from the oven in just about an hour from start to finish.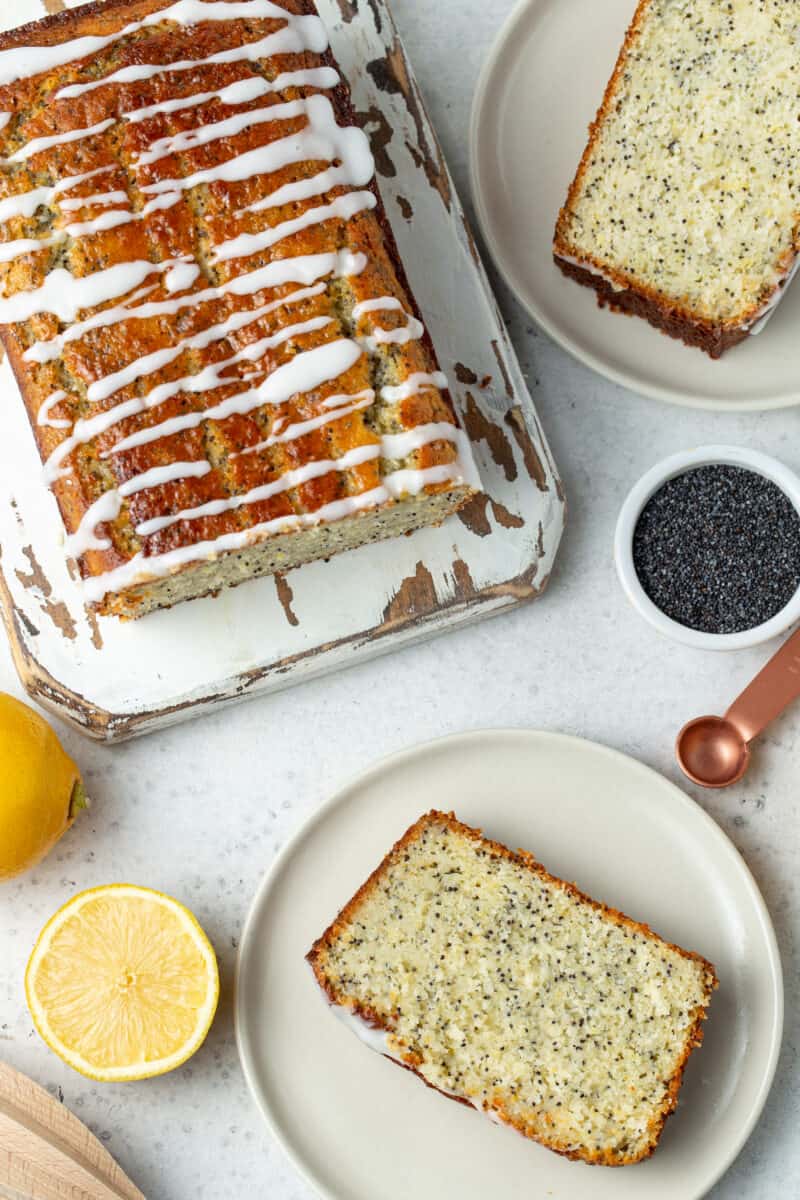 Quick bread baking tips
Quick breads are so popular because their ingredients are simply stirred together (no mixer required). But there are still a handful of tips to follow to make sure your Lemon Poppy Seed Bread is the best it can be:
Mix the wet and dry ingredients just until combined. The batter will look lumpy and that's OK. If you overmix everything, you'll develop the gluten in the flour and toughen up the bread.
Use a metal pan. It might be tempting to reach for a glass pan but I prefer metal when making quick breads. Glass pans take longer to heat up, but once they do, they retain their heat for longer than metal pans. This is advantageous if you want to keep a casserole warm after you've removed it from the oven but not when you are trying to prevent your quick bread from being overbaked. NOTE: This is my favorite metal loaf pan. It releases everything I make in it easily and is a snap to clean. I have several sizes but I use the 8 ½ x 4 ½-inch pan for this Lemon Poppy Seed Bread.
Check your bread five minutes before the recipe's suggested baking time. Why? Ovens temperatures are notoriously fickle. The perfect baking time in my oven might be just a few minutes too long in yours. You can always add more baking time but you can't take it away. It's also a good idea to keep an inexpensive oven thermometer in your oven to verify the temperature. A toothpick inserted in the center of the bread should come out clean when the bread is done.
Use a sawing motion to slice quick bread. This prevents it from being smooshed by using too much force. A serrated knife is best for this job.
Store loosely wrapped if glazed. If you're adding the powdered sugar glaze, you'll want to make sure you wrap the bread loosely in either plastic wrap or foil. If you wrap it too tightly, the lack of air will cause the glaze to absorb completely into the bread. Quick breads don't usually last long at my house, so I usually slice the loaf, put it in a larger container and then loosely cover the container with the lid (but not completely seal it). This also makes it easy to grab a slice of bread and go!
Baking with Greek yogurt
Have you ever baked with Greek yogurt? Simply swapping in Greek yogurt for some of the sour cream, butter or oil called for in many recipes produces moist, tender cakes with less fat.
Greek yogurt is acidic, so it naturally activates the baking soda (an ingredient in baking powder) to give Greek yogurt baked goods a light texture.
That said, I usually don't do a one-to-one substitution of Greek yogurt for an ingredient like butter or sour cream. I keep some of the fat in the recipe and then thin the yogurt with a bit of liquid (milk and lemon juice in this recipe) to keep the bread from becoming too dense. Some fat is necessary to keep an airy crumb.
Tip: Use whole milk Greek yogurt for best flavor. Low fat or fat free yogurts have stabilizers and other additives that are not as reliable when baked.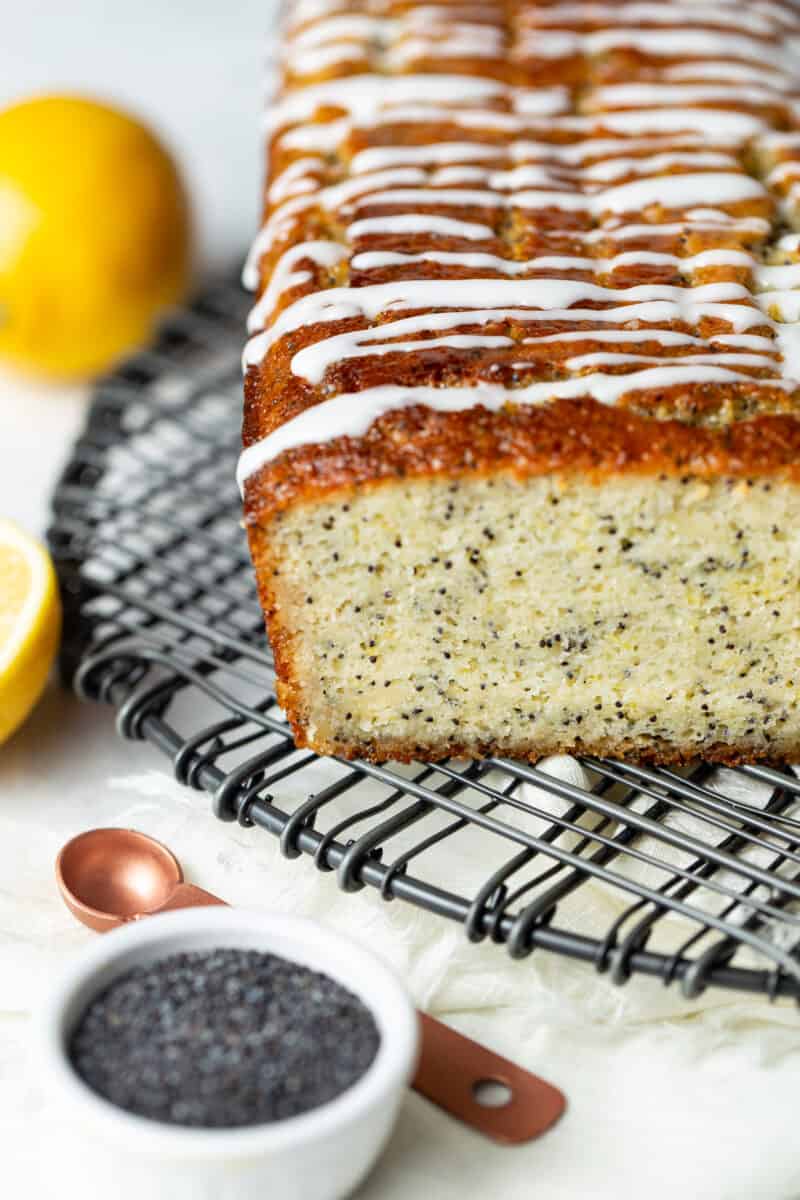 Extra lemony Lemon Poppy Seed Bread
Love lemon? We do, too! This Lemon Poppy Seed Bread gets a boost from fresh lemon juice in three different places: in the batter itself, in the simple syrup and in the powdered sugar glaze. Fresh lemon juice plus lemon zest ensures there is a burst of bright, tangy lemon flavor in every bite - no lemon extract required!
The powdered sugar glaze is optional, of course, but no one here has ever refused a glazed slice. It's homemade comfort food, pure and simple. And we can all use a bite of that from time to time.
Here are some of our other favorite quick bread recipes:
This easy zucchini bread recipe is studded with dried cranberries and topped with a luscious vanilla bean glaze.
Our chocolate banana bread is half chocolate and half regular banana bread. It's the best of both worlds!
Muffins and coffee cakes are considered quick breads, too!
Add fresh or frozen rhubarb to these strawberry muffins for the perfect balance of sweet and tart.
A fresh orange juice glaze gives a sweet finish to every bite of these cranberry orange muffins.
Why pick just one flavor? Add a pint of blueberries to these lemon poppy seed muffins for the perfect muffin mashup!
Everyone will eat their veggies when you serve these decadent chocolate zucchini muffins.
My Grandma's delicious sour cream coffee cake has been a staple in our house for generations.
The breakfast of champions: a mug of coffee and a slice of this citrusy breakfast cake.
Don't miss all of our best Breakfast Recipes and make ahead Brunch ideas!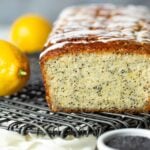 Easy Lemon Poppy Seed Bread (w/Greek Yogurt)
Craving comfort food? This easy Lemon Poppy Seed Bread recipe is made with Greek yogurt for extra moistness and fresh lemon juice and zest for an extra tangy flavor!
Ingredients
Bread
1 ½

cups

all-purpose flour

2

teaspoons

baking powder

½

teaspoon

kosher salt

Freshly grated zest of 2 large lemons

¾

cup

whole milk plain Greek yogurt

1

cup

granulated sugar

2

large eggs

lightly beaten

3

tablespoons

poppy seeds

⅓

cup

oil

(vegetable, canola or olive)

2 ½

tablespoons

fresh lemon juice

2 ½

tablespoons

milk

½

teaspoon

vanilla extract
Lemon syrup
¼

cup

fresh lemon juice

¼

cup

granulated sugar
Lemon glaze
1 - 2

tablespoons

fresh lemon juice

½

cup

powdered sugar
Instructions
To make the bread:
Preheat oven to 350 degrees. Lightly grease an 8 ½ x 4 ½-inch loaf pan.

Whisk together flour, baking powder and salt in a small bowl. Set aside.

Place lemon zest, yogurt, sugar, eggs, poppy seeds, oil, lemon juice, milk and vanilla extract in a large bowl and whisk until combined. Gently fold flour mixture into yogurt mixture until just combined. (Batter will look lumpy.)

Pour batter into pan and bake for 42 - 47 minutes or until toothpick inserted in the center of the loaf comes out clean.
To make the syrup:
While the bread is baking, combine lemon juice and sugar in a small saucepan over medium heat. Cook until sugar has dissolved.

Immediately pour warm syrup over hot bread after it has been removed from oven and allow to cool in the pan for 20 minutes and then invert onto cooling rack that has been placed on a baking sheet. (The syrup will be fully absorbed by the bread while it is cooling in the pan.)

To make the glaze:
Whisk together 1 tablespoon of lemon juice with powdered sugar, adding more to achieve a smooth consistency. Drizzle glaze over top of bread. Slice and serve.

Notes
Storage:
Loosely wrap bread and store on the counter for 1-2 days.
Nutrition
Serving:
1
slice
Calories:
389
kcal
Carbohydrates:
63
g
Protein:
8
g
Fat:
13
g
Saturated Fat:
2
g
Polyunsaturated Fat:
10
g
Cholesterol:
50
mg
Sodium:
294
mg
Fiber:
2
g
Sugar:
41
g
Nutrition info not guaranteed to be accurate.
This quick & easy Lemon Poppy Seed Bread recipe is just like mom used to make - but with a little less fat thanks to protein-rich Greek yogurt. Topped with a tangy lemon glaze, this moist and flavorful quick bread recipe will satisfy any comfort food craving - morning, noon or night!