There's truth in the saying that the way to a person's heart is through his stomach. Raspberry White Chocolate Cheesecake Bars are the perfect way to make your valentine fall in love with you all over again.
Valentine's Day – the perfect opportunity to go the extra mile and show your friends and family how much you care. Who doesn't love it when someone they love puts a little time into preparing something special?
Cheesecake is a favorite dessert in our house, but a whole cheesecake can be a bit much for our family of four. Making cheesecake in bar form takes care of that problem in a hurry, and you can't help but feel special when one of these gorgeous Raspberry White Chocolate Cheesecake Bars is placed in front of you. 
The secret to making really great cheesecake? Room temperature cream cheese. Start with that, and you will be on your way to the silkiest cheesecake bars ever. Promise. Another tip? Take your time and beat the cream cheese until it's light and fluffy. I beat mine in my stand mixer for a full 5 minutes. No cheating. Your patience needed is rewarded with smooth, silky cheesecake bars every single time.
White chocolate is a perfect complement to the chocolate graham cracker crust and gives the cheesecake filling a hint of chocolate without overdoing it. The fresh raspberry puree brightens the flavors and adds the perfect swirls of color to make a dessert that is sure to impress even the toughest critic.
And while these Raspberry White Chocolate Cheesecake Bars are the perfect dessert for your Valentine dinner, they're also great any time. Who wants to save such a delicious sweet treat for only once a year? Not me, that's for sure.



Yield: 9
Raspberry White Chocolate Cheesecake Bars
Prep Time 30 minutes

Cook Time 1 hour

Total Time 1 hour 30 minutes
Ingredients
Crust:
2 cups chocolate graham cracker crumbs
6 tablespoons melted butter
2 tablespoons sugar
Raspberry Puree:
1 1/2 cups frozen raspberries, thawed
2 tablespoons sugar
Cheesecake filling:
2 (8-ounce) packages cream cheese, room temperature
1/3 cup sugar
3 eggs
1 tablespoon flour
1 teaspoon vanilla
4 ounces white chocolate, melted and cooled
Instructions
Preheat oven to 350 degrees. Line a 9 x 9 baking pan with foil and set aside.
Crust:
In a small bowl, combine chocolate graham cracker crumbs and sugar. Add melted butter and stir until moistened. Pour into prepared pan and press down with your hands to make an even layer.
Bake for 6 minutes and let cool. Lower oven to 325 degrees.
Raspberry Puree:
Combine raspberries and sugar in a blender and puree until smooth. If desired, pour raspberry puree through fine meshed strainer and discard seeds. Set aside.
Cheesecake Filling:
Place room temperature cream cheese in a stand mixer and beat for 5 minutes. Add sugar and mix until combined. Add eggs, one at a time, beating thoroughly after each one. Add flour and vanilla and mix well. Fold in white chocolate and pour mixture over cooled crust. Add raspberry puree in tablespoons on top of cheesecake filling and use a toothpick to make swirls throughout the top.
Bake for 45-55 minutes or until cheesecake bars are set. Remove from oven and cool. Chill for at least 2 hours before serving.
Cut into squares and garnish with fresh raspberries.
 More swoon-worthy desserts!
Mascarpone Tarts with Fresh Berries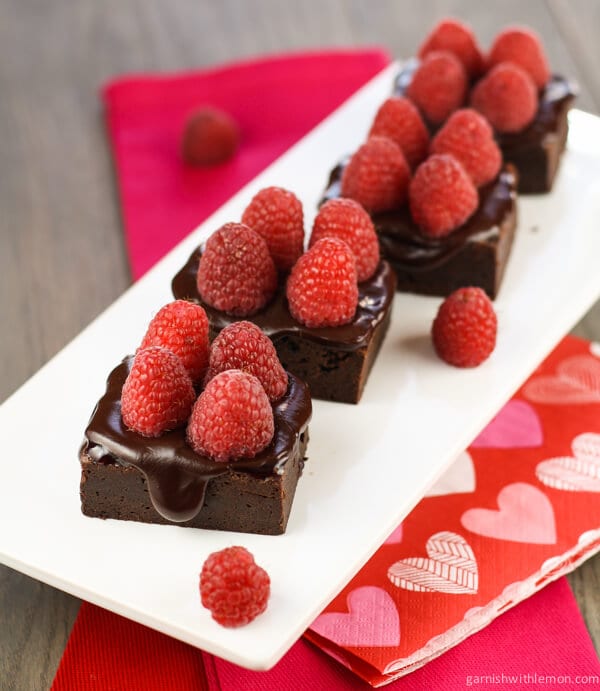 Chocolate Raspberry Truffe Brownies
Raspberry Chocolate Chip Ice Cream Cake