Light, bubbly, and super refreshing, this Hugo Cocktail recipe is the perfect way to cool off on a hot summer afternoon. Make this low-alcohol Italian aperitivo in minutes with just four ingredients — crisp Prosecco, fragrant elderflower liqueur, sparkling water, and tangy, fresh lemon juice.
Hugo Cocktail
Enjoy a taste of Italy in your own backyard with an authentic aperitivo (or pre-dinner) drink, the Hugo Spritz. This Prosecco and St. Germain spritz is a staple of Italian cocktail hours and, in my opinion, is a far tastier alternative to the overhyped Aperol Spritz. This simple drink has a fresh and delicate flavor — it's a perfect sipper for spring and summer.
Find all of the details on how to make my Hugo Spritz recipe below!
Jump to:
Why you'll love this Hugo Spritz recipe
➤ Low alcohol: The Hugo Cocktail is a refreshing and effervescent pre-dinner drink that isn't super boozy, so it won't spoil your appetite for the main meal.
➤ Four ingredients: All you need to enjoy this spritzer is Prosecco, elderflower liqueur (or elderflower cordial), sparkling water, and a squeeze of fresh lemon juice.
➤ Make it in minutes: Nothing to prep in advance here! Simply measure, pour, stir, and serve your Hugo drink.
Ingredients & Substitutions
Since there are so few ingredients in this drink, quality matters. Choose the best you can within your budget.
A few ingredient notes:
Prosecco: This sparkling wine originates in northeastern Italy. Look for a bottle with either the DOC or DOCG designation, which means it has met the Italian quality rules to be labeled an authentic Prosecco. You can use Cava or another sparkling wine instead of Prosecco for a similar flavor if that's what you have on hand. Avoid overly sweet sparkling wines like Moscato to keep your Hugo drink from becoming too sweet.
Elderflower liqueur: St. Germain is the most well-known brand of elderflower liqueur, but we also love Drillaud's version at a fraction of the price of St. Germain. You can also skip the liqueur entirely and use a non-alcoholic elderflower syrup/cordial instead.
Sparkling water: I prefer a lightly carbonated sparkling mineral water (like San Pellegrino) for this drink, but you can also swap any plain sparkling water. Club soda is an option, but it has a bit of a saltier flavor.
Lemon juice: Freshly squeezed juice will give the best flavor. The bottled stuff contains preservatives that can impact the taste of the drink.
Instructions
A Hugo cocktail is traditionally served in a large globe or goblet-shaped wine glass, but feel free to use the glass of your choice.
Prepare the mint: Gently crush the mint leaves in your hands a few times, then place them in your glass of choice. Add some ice to the bottom of the glass.
Start to incorporate the ingredients: Pour in the elderflower liqueur and lemon juice.
Finish mixing and serve: Finish off this Hugo Spritz recipe with Prosecco and sparkling water, then stir gently to combine. Garnish with a lemon slice and a mint sprig, if desired.
FAQs
Why is this drink called a Hugo Spritz?

This drink recipe is rumored to have been created in 2005 by an Italian bartender named Roland Gruber as an alternative to the Aperol Spritz. It was originally called an Otto Spritz and featured lemon syrup instead of elderflower.

The lemon was soon dropped in favor of syrup made from the flowers of the elderberry bush, which is commonly found in the region. At that time, the name of the drink was also changed to Hugo (pronounced U-go) Spritz.

Generally speaking, the concept of spritzes dates back to the 1800s in northeastern Italy near the Dolomites. This area of Italy was controlled by the Austro-Hungarians at that time, and they found Italian wines to be too strong. So, they added water (a "spritz" in German) to their drinks to lighten them up. 
What are aperitivo cocktails?

An aperitivo, like a spritz cocktail, is typically a low-alcohol, pre-dinner drink that is very common in Italy (think Italian happy hour). It's said to stimulate the appetite for dinner. Spritzes of all types — including Aperol and Limoncello — all follow a similar basic recipe: liqueur, Prosecco, and sparkling water.
What is elderflower liqueur?

Elderflower liqueur is made from the small, white flowers of the elderberry plant. These blossoms are often handpicked, and the liqueur is made with no preservatives or stabilizers (which means it really should be used in about 6 months for best flavor).

Note: Elderflower liqueur is NOT the same as elderflower syrup or elderflower cordial. The syrup and cordial do not contain any alcohol, but both can be swapped for the liqueur in this recipe.
Is a Hugo Spritz the same thing as a St. Germain Spritz?
While a Hugo Spritz recipe can contain St. Germain (it's another one of my favorite brands of elderflower liqueur), it is not the same as a St. Germain spritz. The latter is made with St. Germain liqueur, Prosecco, soda water, and lemon, and doesn't feature mint.
Don't worry about buying a whole bottle of liqueur just for this recipe. We have more than 14 elderflower drinks on our website for you to try!
Expert tips for making the best Hugo drink
✔︎ Want a stronger drink? Add a shot of gin to this spritz recipe. We're fans of London dry gin, but feel free to choose your favorite.
✔︎ Don't have elderflower liqueur? Non-alcoholic elderflower cordial makes a great substitute.
✔︎ Any dry sparkling wine, including Champagne, Cava, and American sparkling wines, works well in this recipe. Avoid sparkling wines that are sweet, such as Moscato.
✔︎ Plain sparkling water or sparkling mineral water are the best choices for a Hugo cocktail. Club soda can be used in a pinch, but it has a slightly saltier flavor.
✔︎ Other substitutions include fresh basil for mint and a lime wheel in place of the lemon.
✔︎ The traditional way to serve this drink is in a large goblet or globe-shaped wine glass with plenty of ice.
✔︎ Make a batch of Hugo Spritzes in a pitcher! Make sure all ingredients are well-chilled before adding them to the pitcher. Stir well and serve immediately while the sparkling wine and water are both effervescent.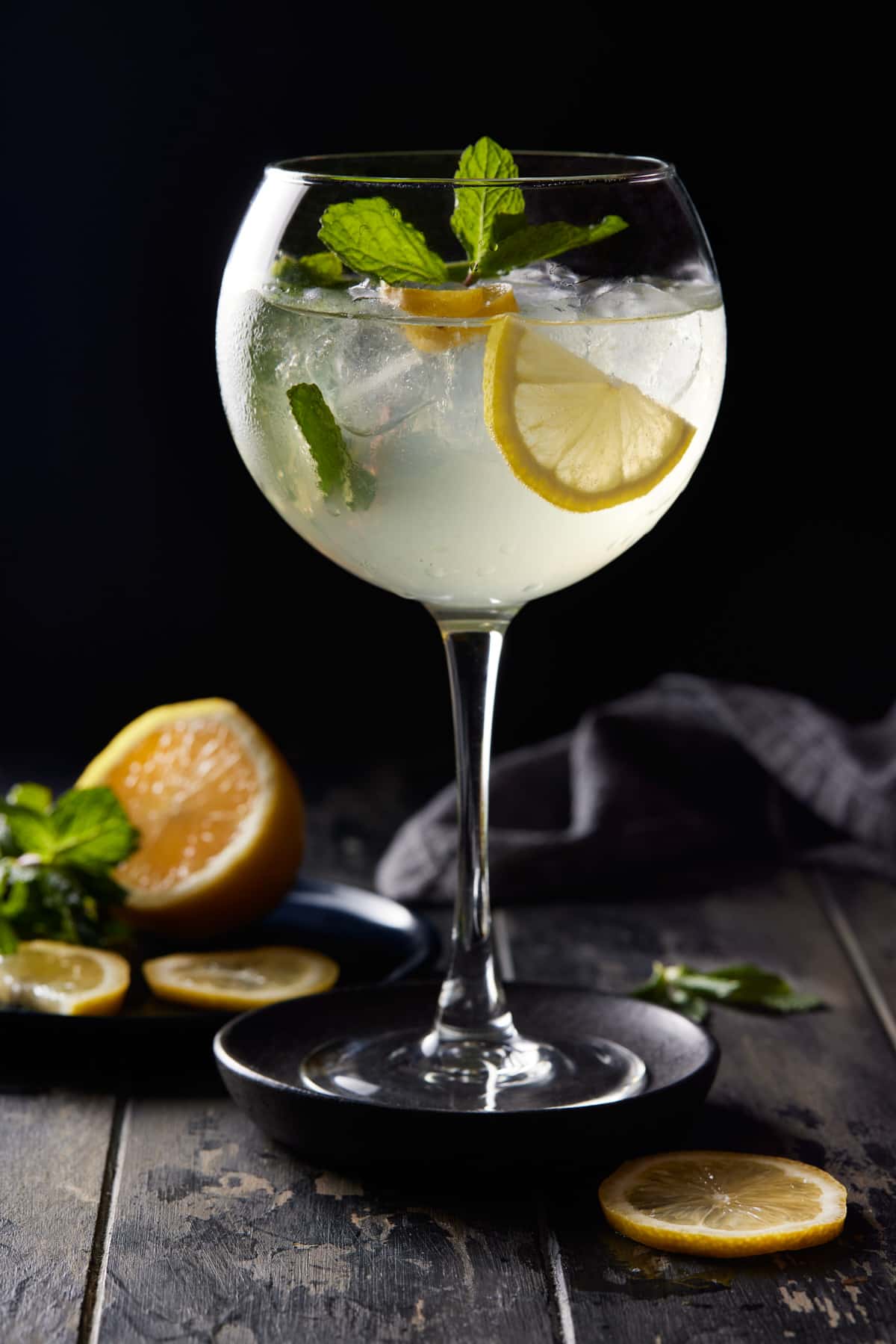 More light and refreshing summer drinks
Craving something else? We have over 100 more drink recipes on our website!



Did you make this recipe? We'd love to hear your thoughts! 

Please rate the recipe and leave a comment below. Your feedback helps us and your fellow readers! 



Recipe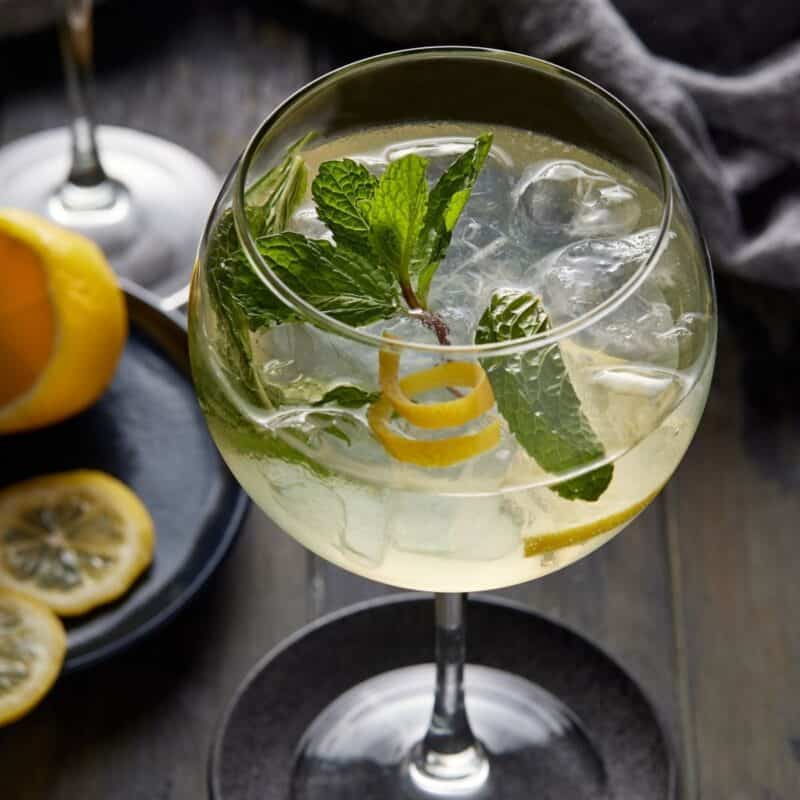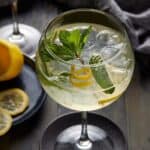 Hugo Cocktail Recipe
This 4-ingredient, Italian Hugo Spritz is light, bubbly, and refreshing — the perfect thirst quencher on a hot afternoon!
Ingredients
4

fresh mint leaves

(optional)

1 ¼

oz

elderflower liqueur

½

oz

fresh lemon juice

3

oz

Prosecco

1

oz

sparkling water
Instructions
Gently crush mint leaves in your hand and drop into glass. Fill glass with ice.

Add elderflower liqueur, lemon juice, Prosecco and sparkling water to glass.

1 ¼ oz elderflower liqueur,

½ oz fresh lemon juice,

3 oz Prosecco,

1 oz sparkling water

Stir gently to combine. Garnish with optional lemon slices. Serve immediately.
Notes
The Hugo Spritz is traditionally served in a large, goblet-shaped wine glass, but feel free to use whatever glass you prefer. 
There are a variety of substitutions you can make with this drink:

use Cava or another dry sparkling wine instead of Prosecco (but skip sweet sparklers like Moscato)
use limes instead of lemons
use non-alcoholic elderflower syrup instead of elderflower liqueur
skip the mint entirely
use club soda instead of sparkling water

Multiply the recipe to make a batch cocktail. Simply use 1 (750ml) bottle of Prosecco, 10 ounces of elderflower liqueur, 4 ounces of fresh lemon juice and 8 ounces of sparkling water. Combine chilled ingredients in a pitcher with a large handful of mint leaves, stir and pour into ice-filled glasses. 
Want a cocktail with a bit more kick? Add a shot of gin. 
Nutrition
Calories:
176
kcal
Carbohydrates:
16
g
Protein:
1
g
Fat:
1
g
Saturated Fat:
1
g
Polyunsaturated Fat:
1
g
Sodium:
13
mg
Potassium:
113
mg
Fiber:
1
g
Sugar:
15
g
Vitamin A:
171
IU
Vitamin C:
7
mg
Calcium:
20
mg
Iron:
1
mg
Nutrition info not guaranteed to be accurate.