It's summer!! You only need 4 ingredients to change up your traditional cocktail of choice and sip on a refreshing Elderflower Vodka Lemonade cocktail.
This post was published in 2017 and updated in 2020.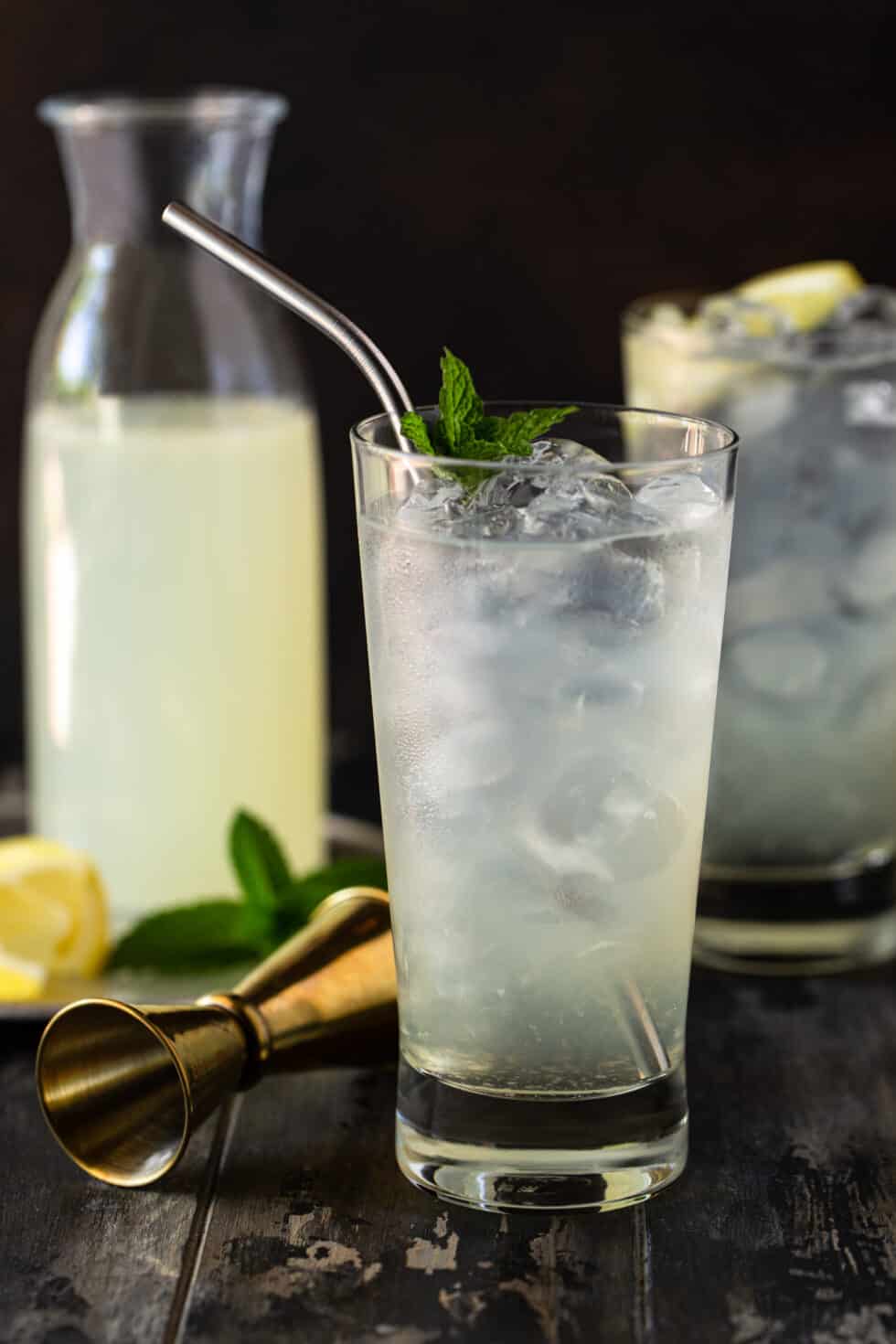 Summer is here and that means it's time to relax and sip cocktails on the patio with friends. Batch cocktails always make entertaining easy and one of our favorites is this delicious Elderflower Vodka Lemonade.
Wait, what's elderflower?
What is Elderflower Liqueur
Now it's no secret that we are big fans of elderflower. In fact, our most popular drinks on Garnish with Lemon include elderflower liqueur like this Elderflower Martini and this Gin, Elderflower and Prosecco Cocktail.
If you haven't jumped on the elderflower bandwagon yet, it seriously needs to be in your shopping cart the next time you go to the liquor store. And since we have many elderflower cocktail recipes for you to find different ways to enjoy it, your worries about using the whole bottle have just disappeared!
Elderflower Taste
Don't worry; even though elderflower liqueur is made from flowers, it doesn't taste like you are drinking your grandma's perfume! Rather the liqueur has a delicate floral flavor that is more nuanced than you'd expect.
Since elderflower liqueur is rather sweet, you can easily use it to replace other sweeteners in your cocktail recipes like simple syrup, agave and maple syrup.
Elderflower liqueur adds just enough flavor to take a classic vodka lemonade and turn it into a fancy drink.
Fancy drinks that are easy and people can serve themselves? What more could a girl ask for?
Ingredients for Elderflower Vodka Lemonade
Vodka
Lemonade
Elderflower Liqueur
Club Soda
Lemon Wedges for Garnish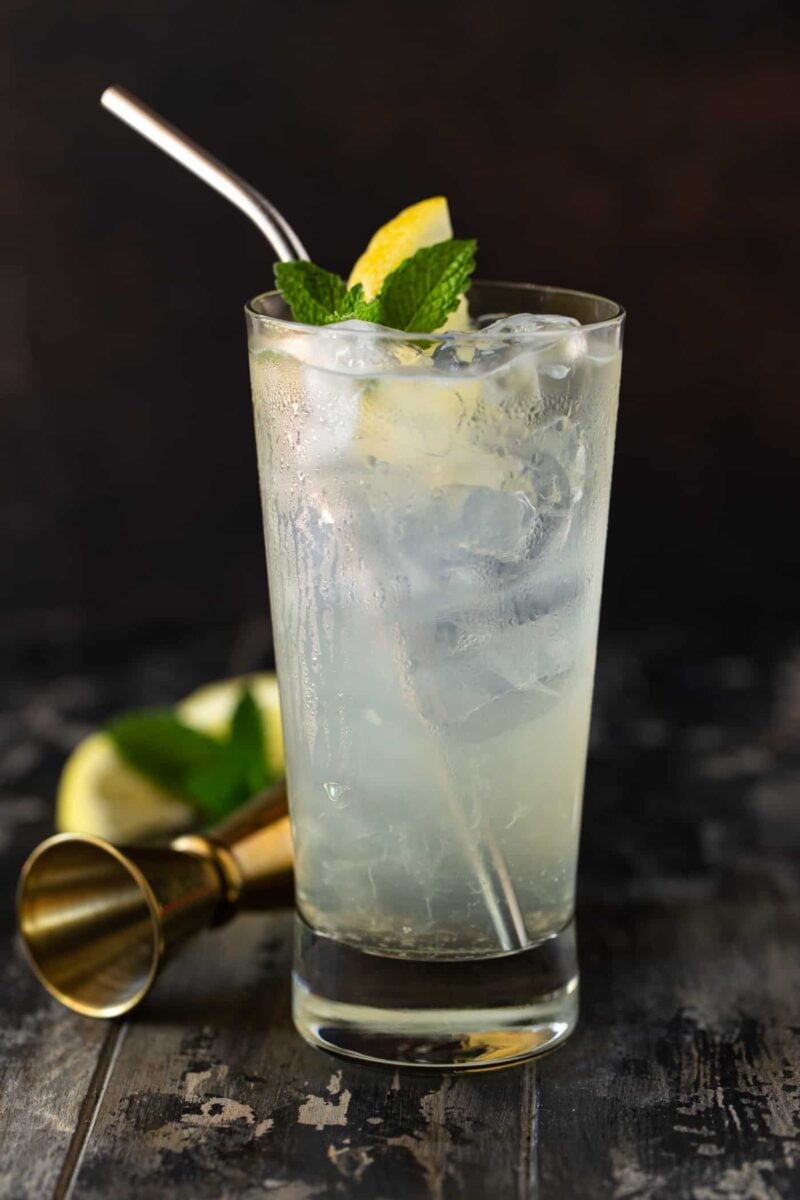 Best Lemonade for cocktails
I'm a firm believer that your end product can only be as good as the parts that make it up. I like to splurge on some fresh squeezed lemonade from the grocery store when I serve these at a party.
When you only have four ingredients in a drink, only use the best as it definitely makes a difference.
Vodka Lemonade Batch Cocktails
Making a batch is much easier when you are having a group or to sip on all week! Follow these simple steps to get an easy cocktail for happy hour on the deck. This recipe makes 8 drinks.
12 ounces Vodka
8 ounces Elderflower Liqueur
16 ounces fresh squeezed lemonade
Club Soda (Do not add until right before serving)
Pour lemonade, vodka and elderflower liqueur in a pitcher.
Stir, cover and refrigerate until you are ready to serve it.
Add club soda right before serving.
Serve over ice and garnish with a lemon wedge.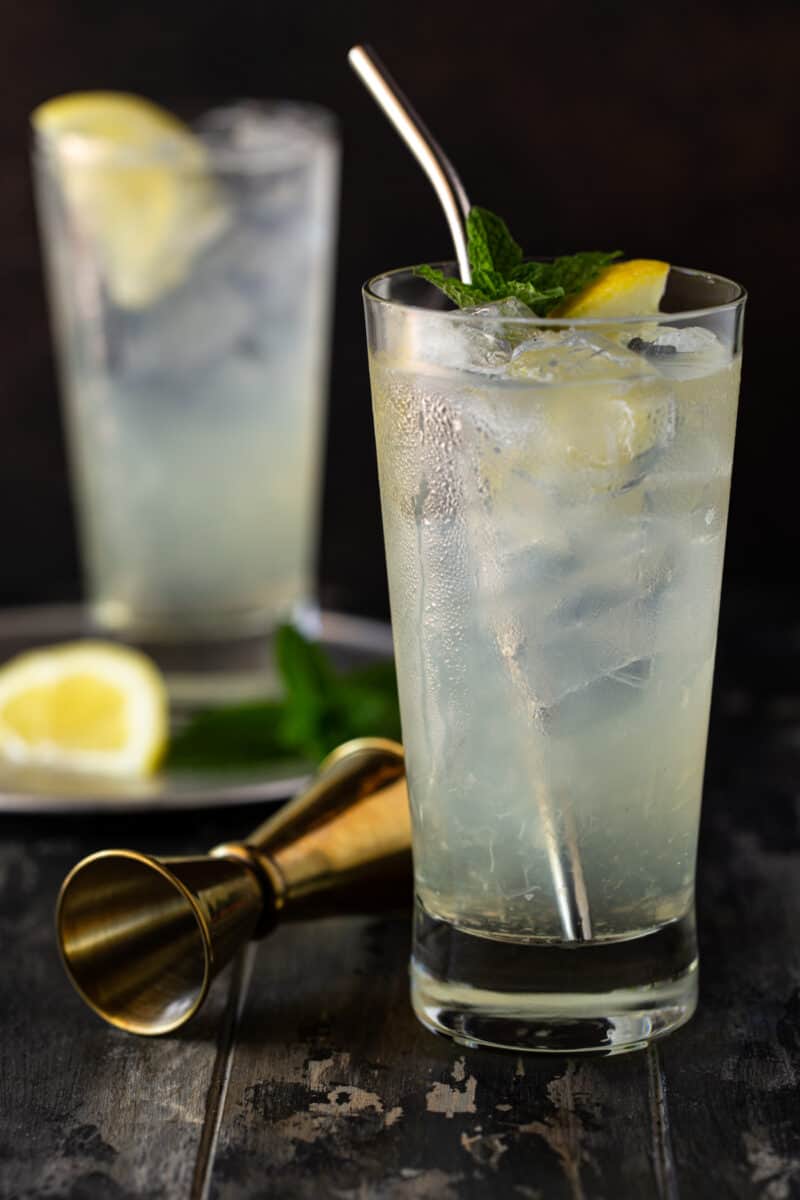 Vodka Lemonade Drinks without Elderflower
Did you run out of elderflower? Or is elderflower liqueur not your thing? Don't stress, simply omit the elderflower from the recipe and add a half ounce more vodka, top with club soda and enjoy!
Other hard alcohol to mix with Elderflower Lemonade
This recipe is pretty forgiving so you can use swap in your favorite hard alcohol for the vodka.
Rum- use plain rum or give it an extra spike of smooth citrus flavor and use Bacardi Limon Rum. One sip and you will be in love.
Gin- Looking for a drier cocktail? We are huge gin fans so gin is always a great answer. The piney flavor cuts the sweetness of the lemonade even more.
Citrus Vodka- Like things packed with citrus flavor? Amp things up with using a lemon flavored vodka. We love Absolut Citron on Stolichnaya Limon.
Happy Hour Pro Tip: Set out all 3 at a party and let people mix them up themselves. That way they can get the cocktail they want AND you don't have to do the work!
How's that for a win-win?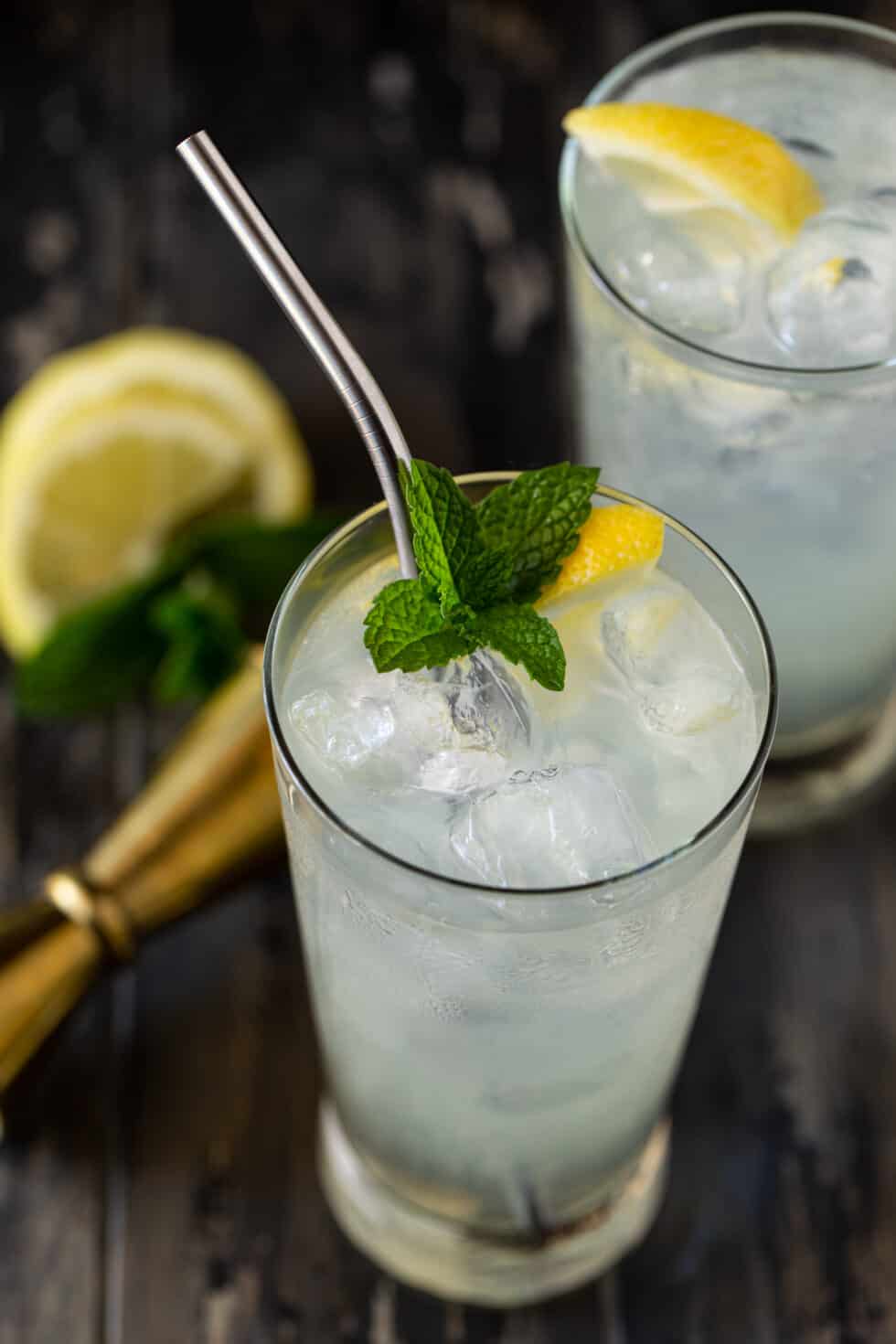 Elderflower Lemonade Mocktails
While we love a good cocktail, not everyone wants alcohol in their drinks but still want something fun to sip on at a party.
Elderflower tonic is readily available at the stores. Follow these easy steps to make an alcohol-free drink.
Fill a high ball glass with ice.
Add 6 ounces freshly-squuezed lemonade.
Top with elderflower tonice.
Add a lemon wedge for garnish and serve.
The end result? A crisp and refreshing lemonade mocktail that is an easy addition to any happy hour or BBQ.
Fun Cocktails are definitely a passion of ours! You don't want to miss some of the Best Vodka Drinks around. Some of our summer favorites and Strawberry Basil Vodka Cocktails and our Cucumber Vodka Gimlet recipe.
Vodka not your thing? Don't worry we have a collection of tasty tequila drinks and some fantastic Gin Mixed Drinks. However you pour it, you can't go wrong!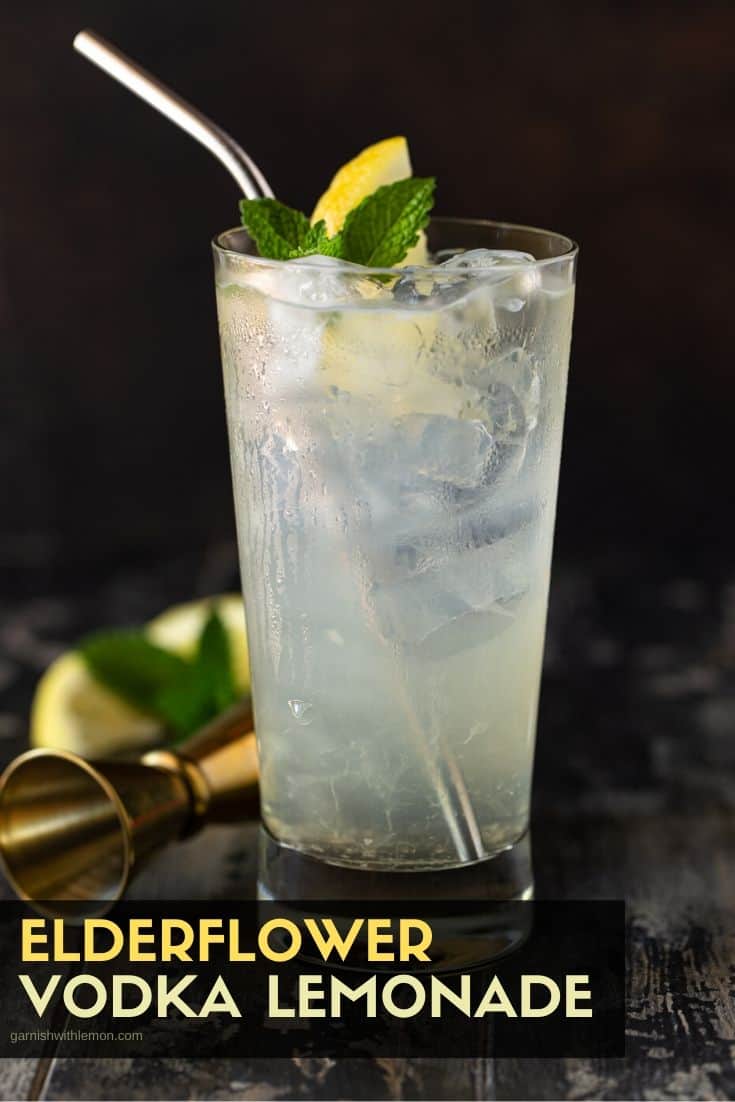 Yield: 12 ounces
Vodka and Elderflower Lemonade
A refreshing twist on a classic cocktail, this Elderflower Vodka Lemonade is a great summer sipper!
Ingredients
3 ounces vodka
2 ounces elderflower liqueur
4 ounces freshly squeezed lemonade
Club soda
Lemon slices for garnish
Instructions
Place ice in a highball glass.
Add vodka, elderflower liqueur and lemonade.
Stir to combine.
Top with club soda and garnish with a lemon slice.
Serve immediately
Recommended Products
As an Amazon Associate and member of other affiliate programs, I earn from qualifying purchases.
Nutrition Information:
Yield:
2
Serving Size:
6 ounces
Amount Per Serving:
Calories:

210
Total Fat:

0g
Saturated Fat:

0g
Trans Fat:

0g
Unsaturated Fat:

0g
Cholesterol:

0mg
Sodium:

4mg
Carbohydrates:

14g
Fiber:

0g
Sugar:

13g
Protein:

0g
Update a classic cocktail and serve these easy Elderflower Vodka Lemonades at your next BBQ or happy hour. You can't go wrong with a cocktail that shines with only 4 ingredients!