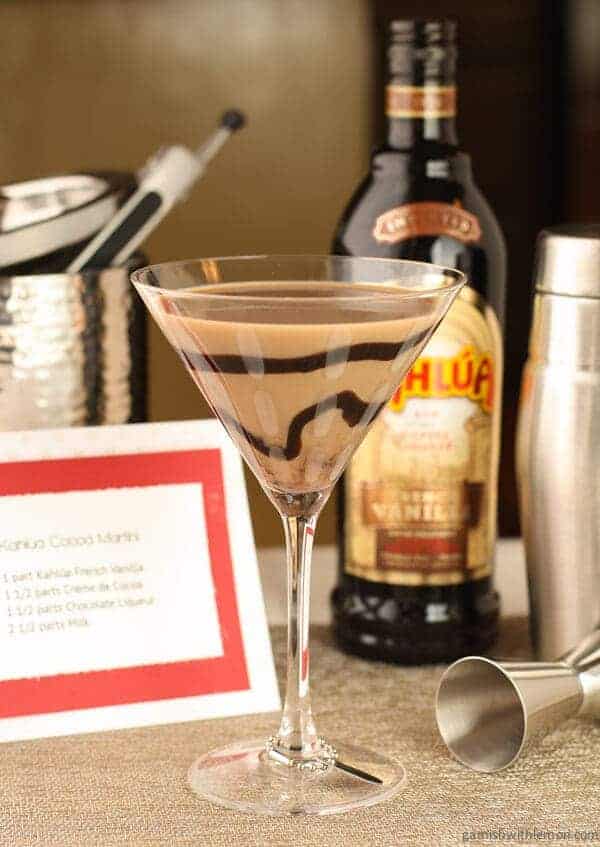 It's holiday party planning time, and that, my friends, makes me giddy. This year, Kevin and I will be hosting our 7th annual holiday party, and it is my absolute favorite night of the year. To make entertaining easier, we set up a self-service martini bar for our guests. It is such a fun addition to our party. People always ask to help the hosts, and making their own cocktails is the perfect job to give them. We set up several different martini stations around a table and include recipe cards with a few signature martinis, all of the alcohol needed for those drinks and a a couple trusty martini shakers. This way we get to enjoy the party and not play bartender all night. Genius, right? We add a new martini to the mix every year, and we're super excited to unveil the martini of 2013: the Kahlúa Cocoa Martini.
Our Kahlúa Cocoa Martini uses Kahlúa French Vanilla liqueur, which is ideal for dessert martinis because it is so rich and smooth. Shake up your Kahlúa French Vanilla with some milk,  créme de cocoa, and chocolate liqueur, drizzle a chocolate swirl in the glass, and you have a festive martini that is a delicious accompaniment for desserts (Chocolate Chip Cheeseball or Pecan Tarts, anyone?) and perfect for entertaining.  
Our martini bar has become a signature feature at our holiday party. People always go there first to see what's new and plan their drink for the evening. Lucky for us, our friends haven't figured out that we are actually putting them to work. Let's hope it stays that way. After all, who wants to host a party and not enjoy it?
Kahlúa Cocoa Martini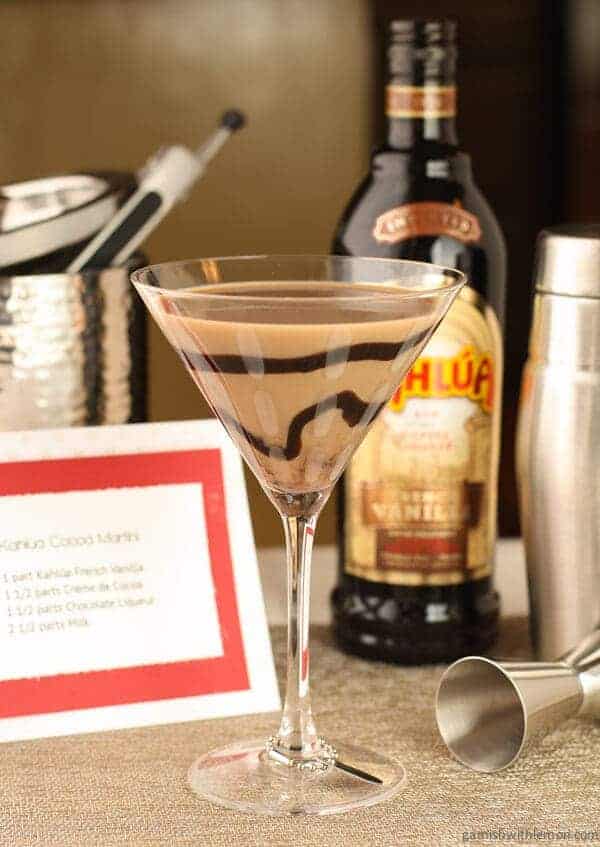 Ingredients
1 part Kahlúa French Vanilla liqueur
1 1/2 parts creme de cocoa
1 1/2 parts chocolate liqueur
2 1/2 parts milk
Chocolate Syrup (For swirling in glass)
Instructions
Place Kahlúa French Vanilla, creme de cocoa, chocolate liqueur, and milk in a martini shaker with ice. Shake vigorously to mix. Swirl chocolate syrup in martini glass. Strain mixture into glass and serve immediately.
Nutrition Information:
Amount Per Serving:
Calories:

390.48
Total Fat:

20.92g
Carbohydrates:

33.94g
Protein:

20.78g