Why choose between dessert and an after-dinner drink when you can have both? This Kahlúa Chocolate Martini is a decadent spin on a traditional chocolate martini and will definitely be a party favorite.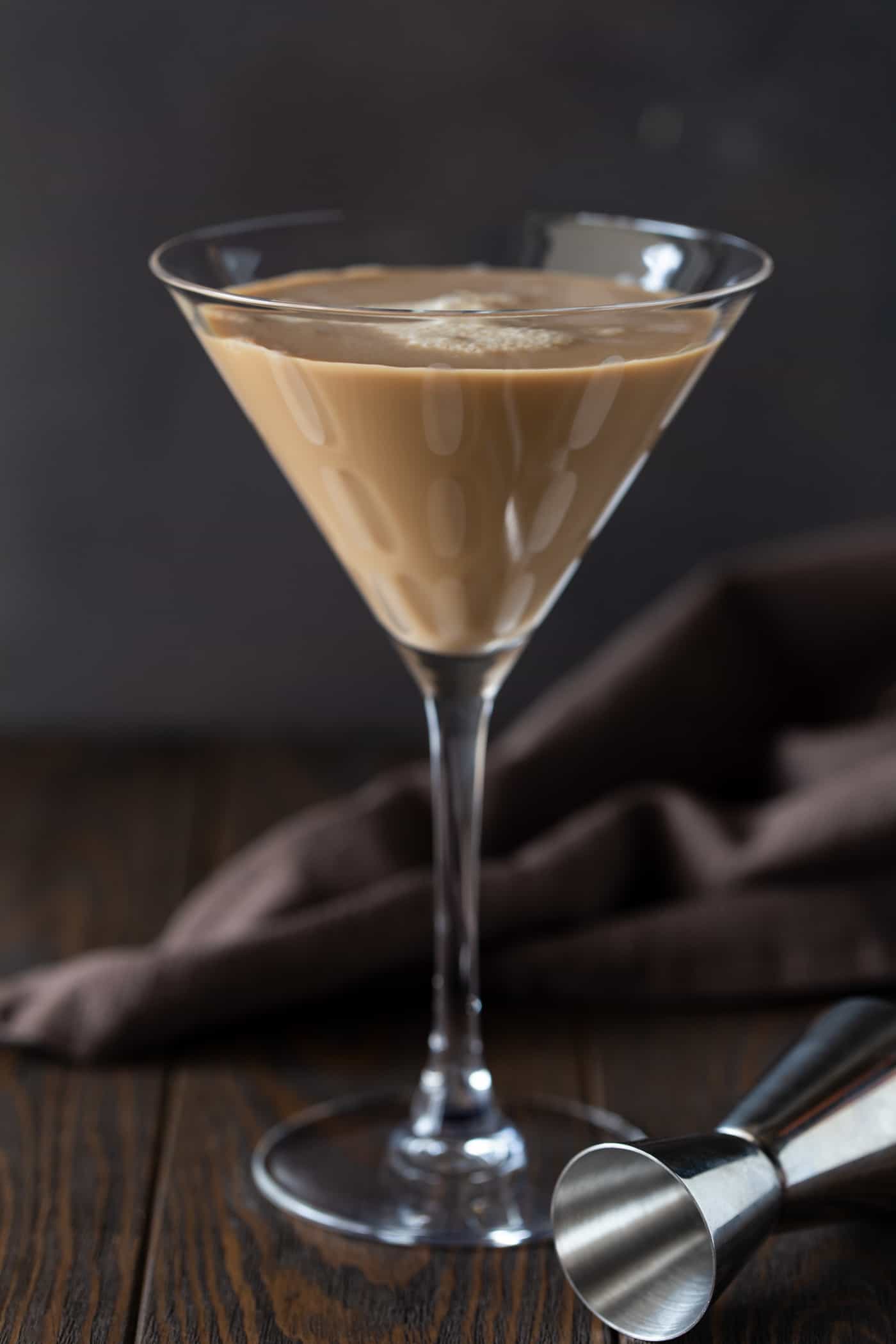 Kahlúa Chocolate Martini
It's holiday party planning time, and that, my friends, makes me giddy. I love entertaining, but holiday entertaining is my favorite. The menus, the decor, the parties - I love it all!
So you can take my word when I say every holiday party is better with a signature cocktail especially when that cocktail is a dessert martini.
Dessert Martinis are a slam dunk at parties because people love them but they rarely take the time to make at home. After you see how easy these Kahlúa Chocolate Martinis are to make, you will be sipping on these after-dinner drinks all year long.

What ingredients are in a Kahlúa Chocolate Martini?
No surprise here that Kahlúa is the star ingredient in this cocktail recipe but it also has a solid backup of supporting ingredients that make this drink smooth, creamy and delicious:
Kahlua
Vanilla Vodka
Créme de Cacao
Chocolate Liqueur
Milk
What's the difference between créme de cacao and chocolate liqueur?
They both have the same 15% alcohol percentage and both are made from the cacao bean. You will often find both créme de cacao and chocolate liqueur listed as ingredients in a variety of dessert cocktails. But their appearances and flavors are distinct.
Créme de cacao (pronounced cream da ka-kow) is a type of sweet chocolate liqueur that is heavily accented with vanilla. You might see different colored bottles of créme de cacao at the liquor store - one clear and one dark. The dark version has had the cacao bean percolated in it, which gives it the darker color. The process to make light créme de cacao omits the bean percolation and results in the clear color.
Chocolate liqueur is still made with cacao beans but it often includes real chocolate and cream in it. The result is a richer, creamier texture. There are several different brands of chocolate liqueurs available but our favorite brand is Godiva. It comes in White, Milk and Dark Chocolate varieties.
The chocolate liqueur adds a lot of richness to this Kahlúa Chocolate Martini cocktail and can even be served by itself for a tasty after-dinner drink if you are lucky enough to have any left over.
Should I use dark or light créme de cacao?
With this cocktail, you can use either one! The main difference between light and dark créme de cacao is the color. Use light créme de cacao in drinks where you want the hint of chocolate flavor without altering the color of the drink. Use dark when you want a darker drink.
In this recipe, it doesn't matter so you can use whatever you have on hand in the liquor cabinet. If you are going to purchase it now, pick whichever kind you think you will use more.
Is the vanilla vodka necessary for this martini recipe?
Yes, it is! Vanilla vodka gives this drink a smooth flavor and adds a lot of depth to the chocolate. So save your plain vodka for some of our other martinis, like the Elderflower Martini, and pick up a small bottle of vanilla vodka for this one. You won't regret it.
How to make a Kahlúa Martini
These tasty drinks are easy to make as a single or shake up a batch for a crowd.
Step One: Fill a shaker with ice
Step Two: Add all of the ingredients
Step Three: Give it a good shake, This step is very important because the liquids are all different weights and shaking combines them into one delicious chilled concoction.
Step Four: Strain into a martini glass and serve.
If you want to be really fancy, you can even rim the edge of the glass in cocoa sugar or give a quick chocolate swirl in the glass like we do with our popular Chocolate Martini recipe.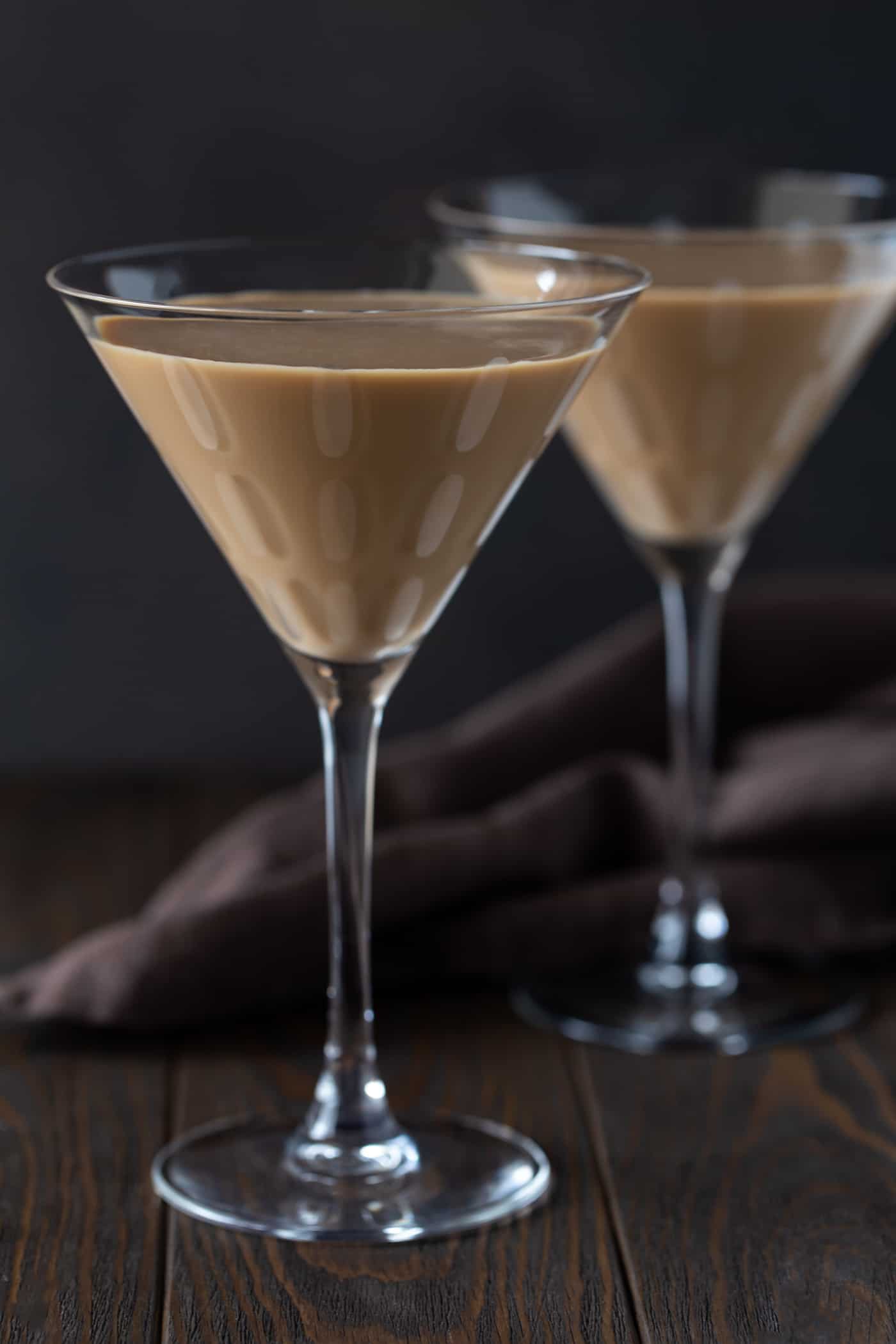 Can I make these after-dinner drinks ahead of time?
I'm always a fan of anything I can get done ahead of time. These Kahlúa Chocolate Martinis are super easy to get done before the party. Here's how.
Simply multiply the ingredients by the number of cocktails you want to make.
Pour the ingredients into a large mason jar WITHOUT ICE and shake them up. (If you use ice, you will end up with a watered-down drink and no one wants that.)
Store the mason jar in the refrigerator until ready to serve.
Remove from refrigerator and shake again before serving.
Boom! Dessert Martinis for everyone in a flash.
Looking for more drinks? Check out all of our cocktail recipes!
What do I serve with dessert drinks?
We love to add dessert drinks to party menus. After all, not everyone wants to eat dessert and this is the perfect sweet drink to end the night.
But there are also people who want their cake and eat it too. You know who you are.
This festive martini is a delicious accompaniment for some of our favorite holiday desserts. Chocolate Chip Cheeseball, Pecan Tarts or Chocolate Chip Cookie Dough Truffles anyone?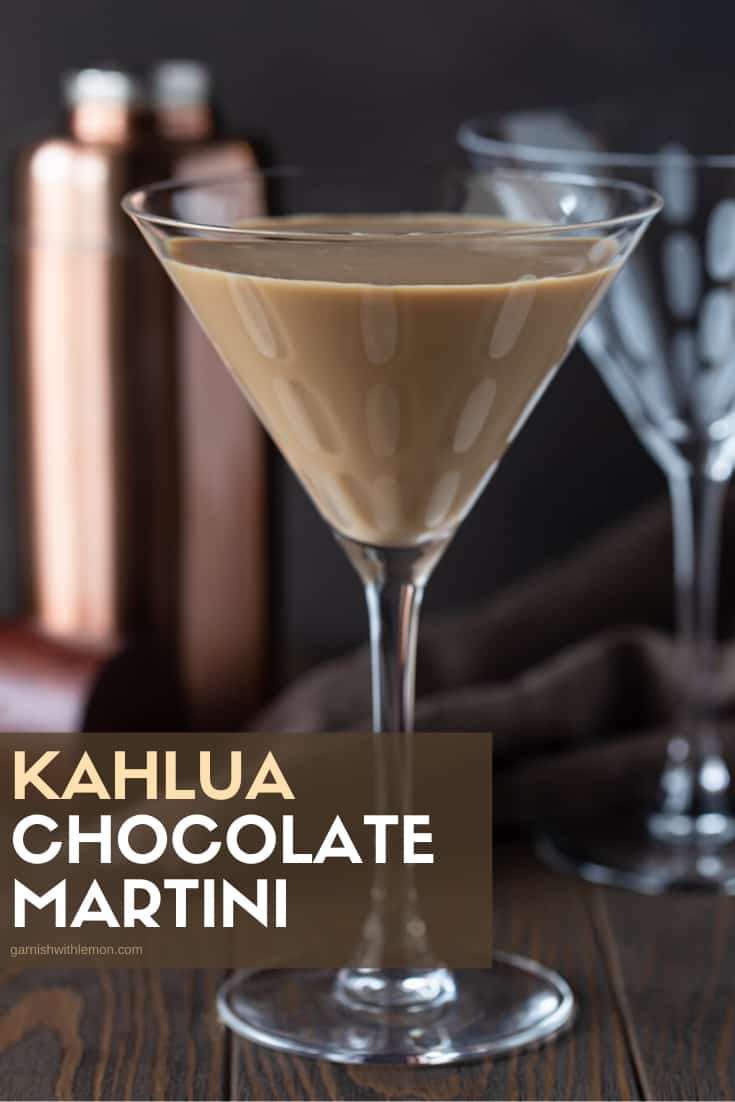 DIY Martini Bar for Easy Entertaining
To make entertaining easier, we set up a self-service martini bar for our guests which has become a signature feature at our holiday party and it's such a fun addition to any gathering.
People always ask to help the hosts, and making their own cocktails is the perfect job to give them.
We set up several different martini stations around a table and include recipe cards with a few signature martinis, all of the alcohol needed for those drinks and a couple of trusty martini shakers. This way we get to enjoy the party and not play bartender all night. Genius, right?
Lucky for us, our friends haven't figured out that we are actually putting them to work. Let's hope it stays that way.
After all, who wants to host a party and not enjoy it?
Cheers!
Yield: Makes 1 cocktail
Kahlúa Chocolate Martini
Wind down your party in tasty style with a tray full of these Kahlúa Chocolate Martinis. Everyone loves these easy dessert cocktails!
Ingredients
1 ounce chocolate liqueur
1 1/2 ounces creme de cacao
1/2 ounce vanilla vodka
1 1/2 ounces Kahlúa
1 1/2 ounces milk
Instructions
Place Kahlúa, créme de cacao, chocolate liqueur, vanilla vodka and milk in a cocktail shaker filled with ice.
Shake vigorously to mix.
Strain mixture into martini glass and serve immediately.
Recommended Products
As an Amazon Associate and member of other affiliate programs, I earn from qualifying purchases.
Nutrition Information:
Yield:
1
Serving Size:
1 drink
Amount Per Serving:
Calories:

396
Total Fat:

1g
Saturated Fat:

1g
Trans Fat:

0g
Unsaturated Fat:

0g
Cholesterol:

4mg
Sodium:

29mg
Carbohydrates:

44g
Fiber:

0g
Sugar:

42g
Protein:

2g
A Kahlúa Chocolate Martini is a decadent spin on a traditional chocolate martini and is made with vanilla vodka, kahlúa, and chocolate liqueurs. It's the perfect dessert drink recipe for any party!