You'll look like a master bartender when you shake up an Elderflower Lemon Drop Martini for happy hour at home!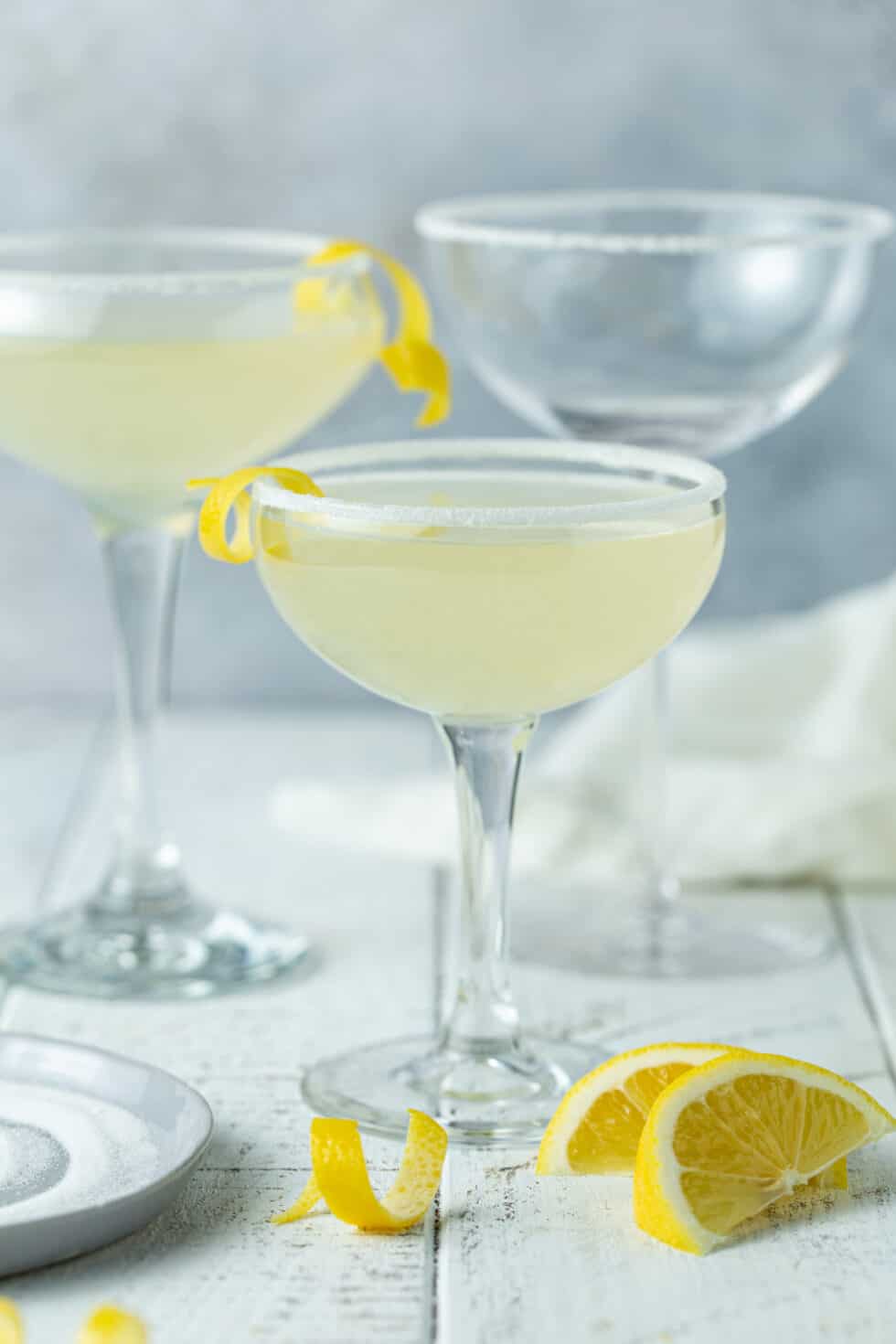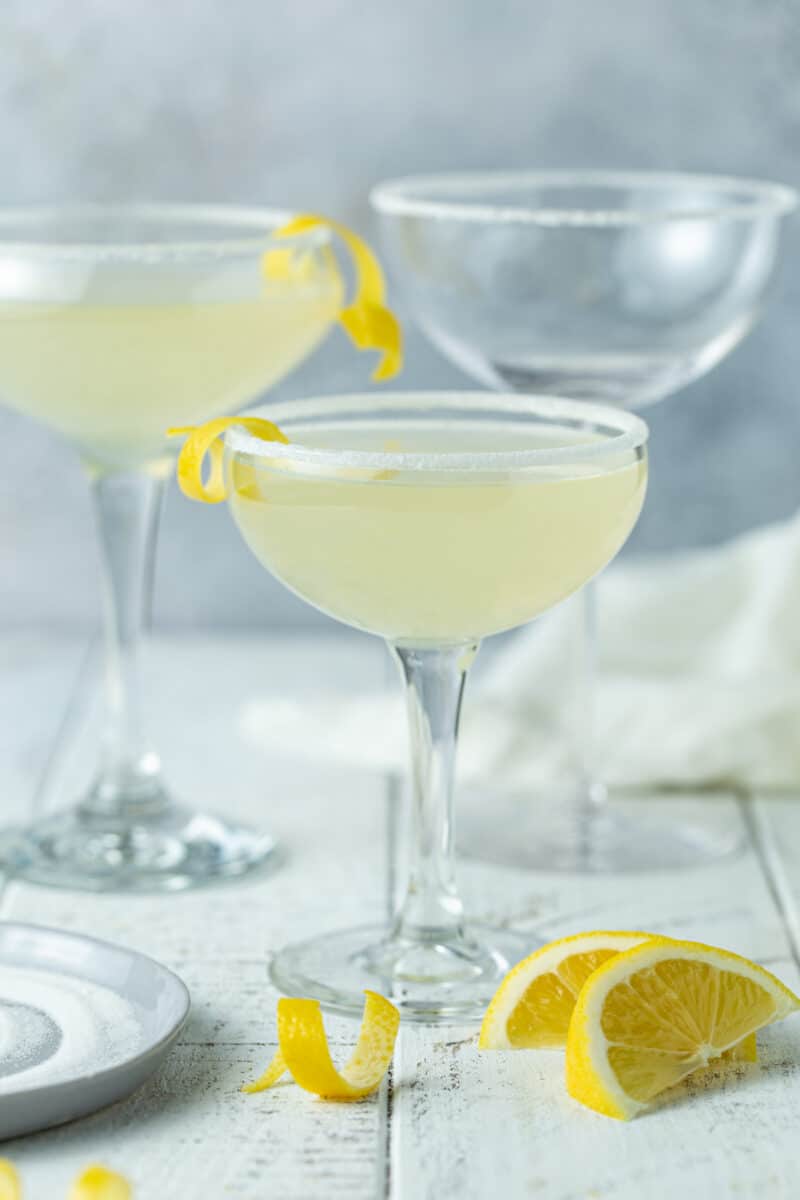 Easy Elderflower Martini Recipe
What do you get when you combine elderflower liqueur, lemon juice, and vodka? Your new go-to martini for happy hour that looks fancy, but is SO easy to make!
We took our rock-solid and super popular Lemon Drop Martini recipe and updated it with the addition of elderflower liqueur. The subtle difference takes this classic cocktail and makes it even better. Proof positive that you can improve a classic!
Jump to: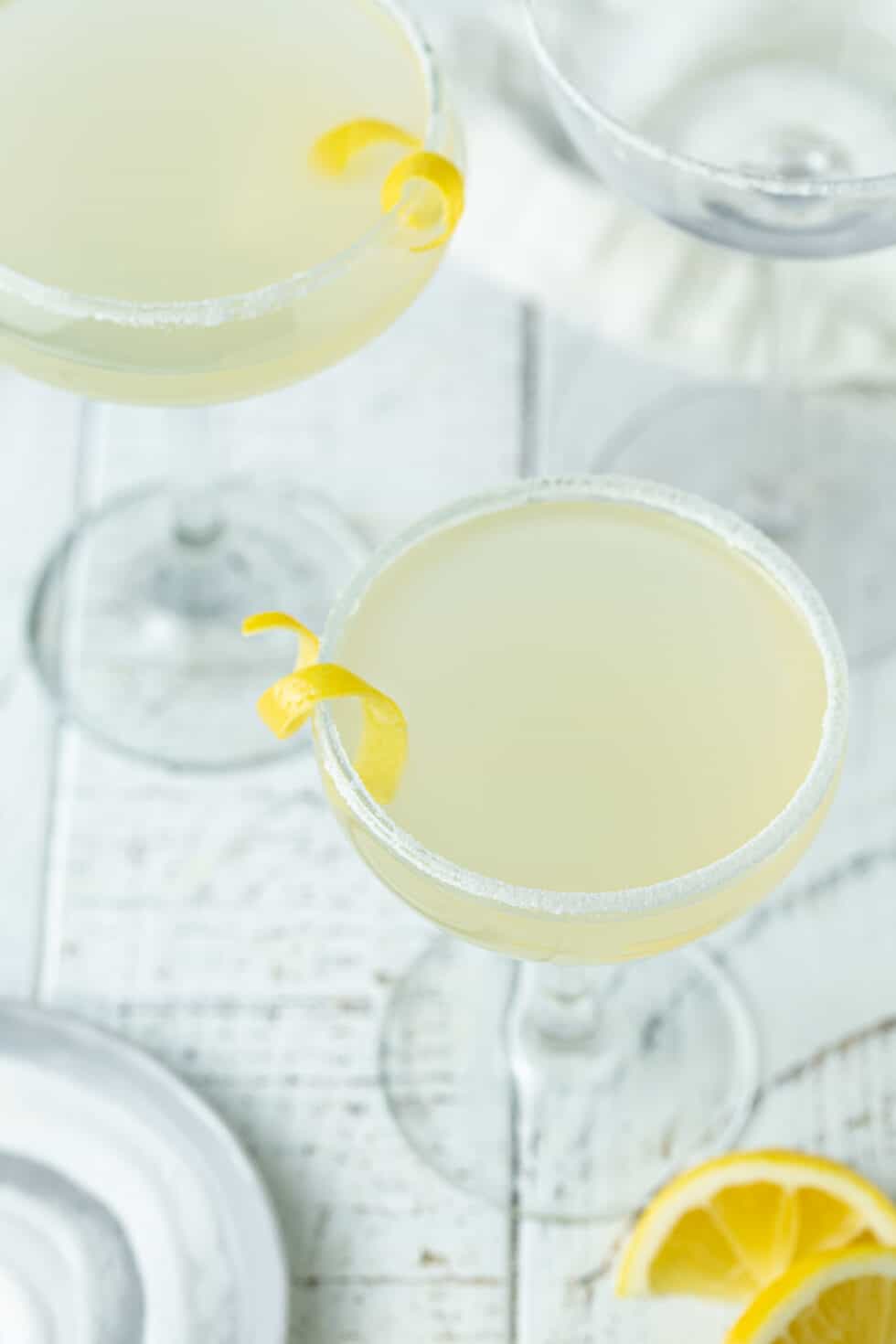 What is elderflower liqueur?
New to the elderflower scene? Let us catch you up! We have a whole post about elderflower liqueur to get you up to speed in no time flat! Click through the link to learn more about what it is, what it tastes like and ideas for other elderflower cocktail recipes.
Once you try our favorite liqueur, you will be searching for all the elderflower drinks.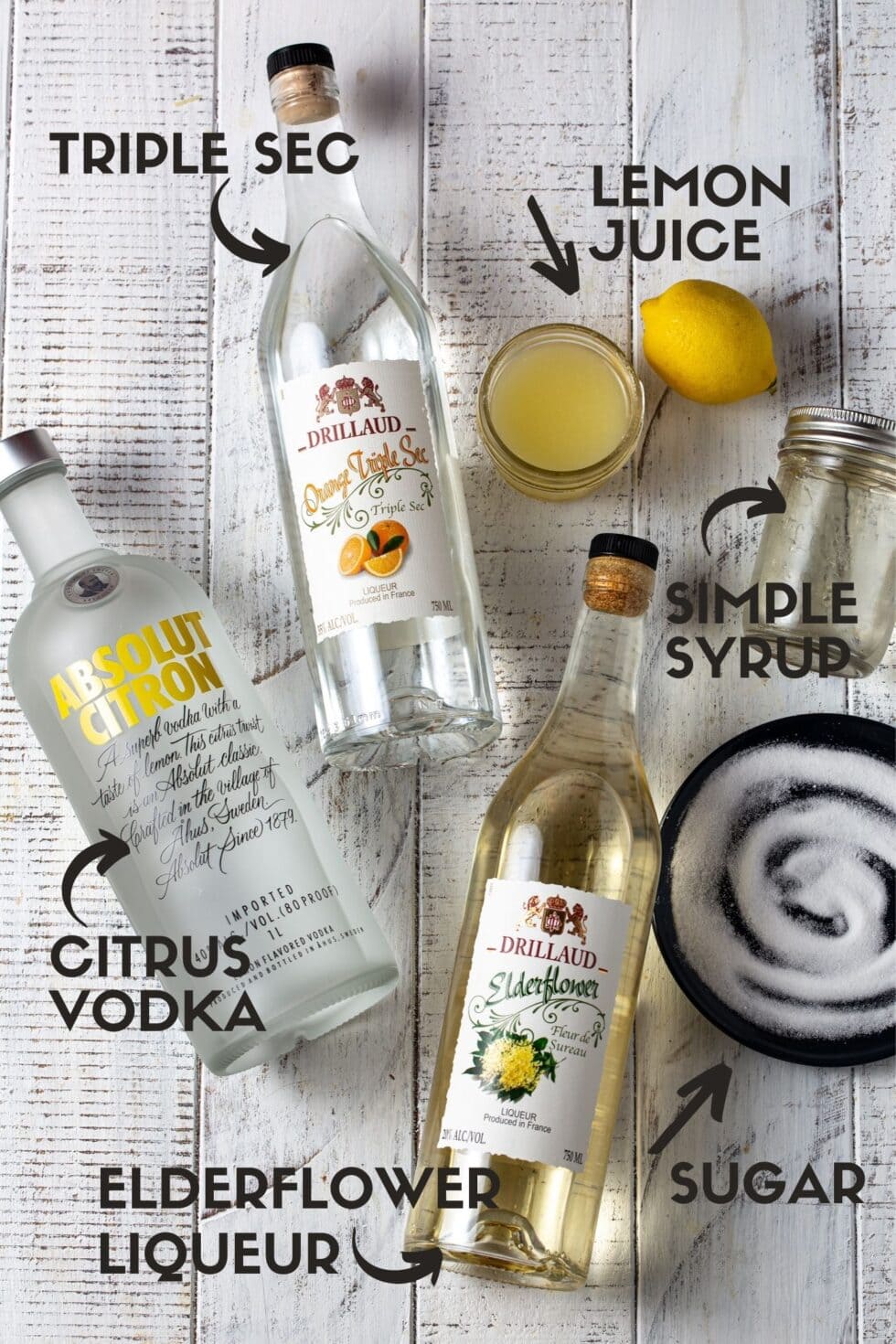 Ingredients
The ingredient list for this cocktail is short and sweet:
Elderflower Liqueur
Citrus Vodka- it's a game changer in this drink, makes it sooo smooth!
Fresh Lemon Juice- please only use fresh lemon juice. Juicing lemons is easy, especially when you have this reamer. It's a workhorse in my kitchen.
Simple Syrup- it's easy to make at home!
Triple Sec-orange liqueur that is used in cocktails, other varieties are Grand Marnier and Cointreau
Superfine Sugar- It's a fine sugar that sweetens without the grainy residue that regular sugar can leave behind. Find superfine sugar online or in the baking aisle of any grocery store.
Cocktails are only going to be as good as the individual ingredients.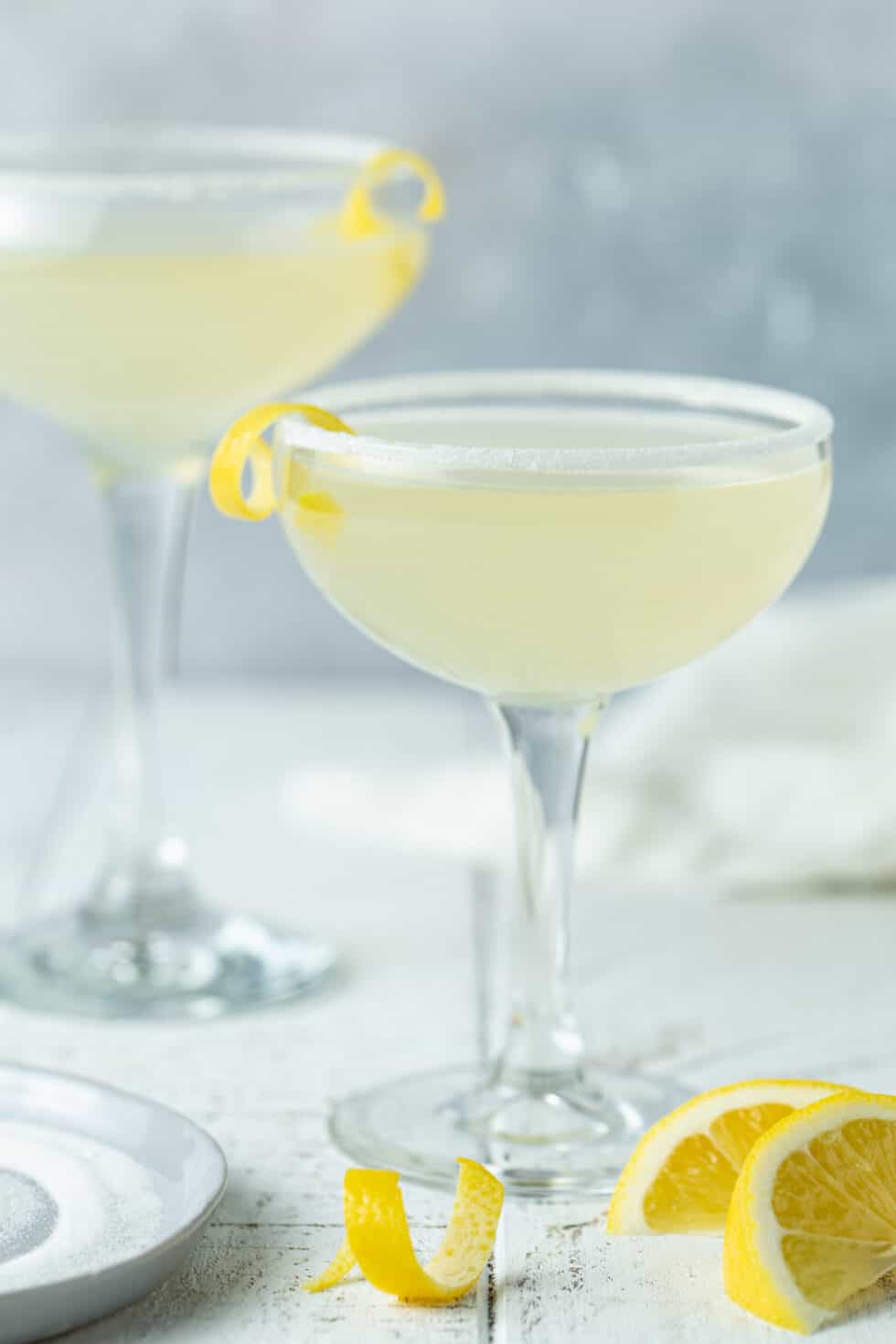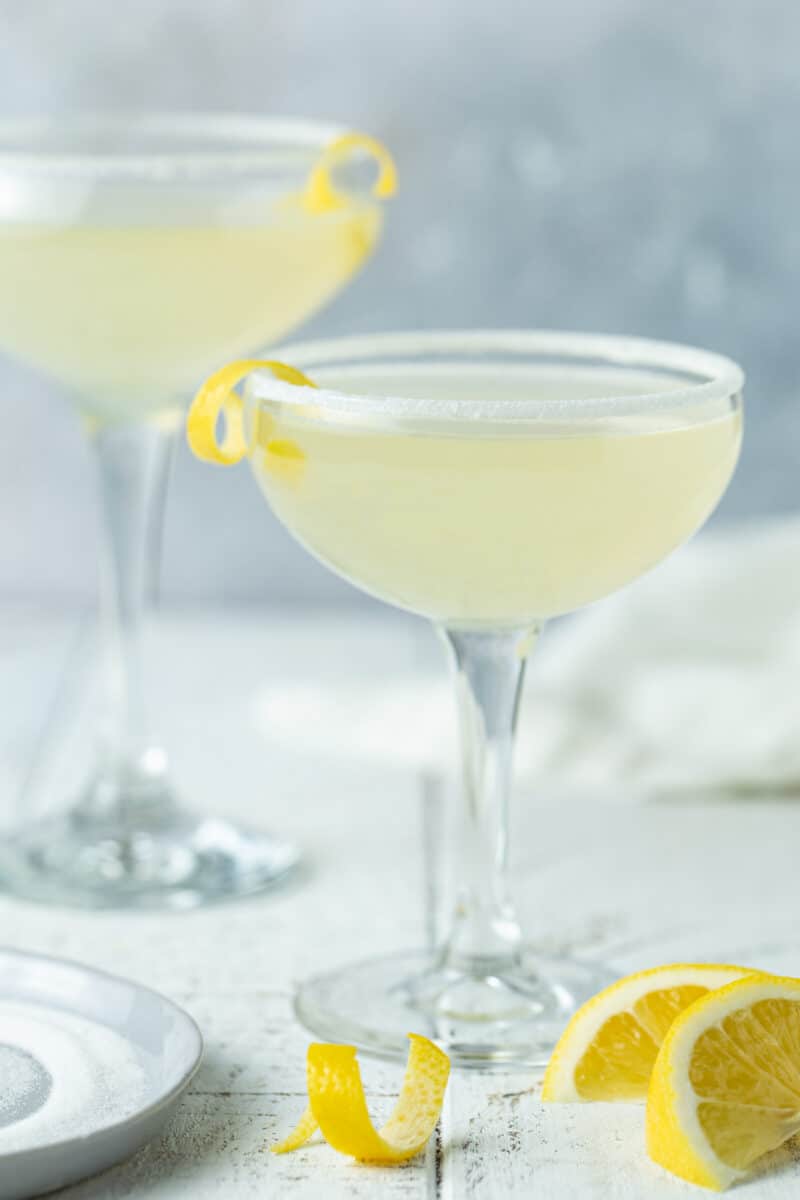 FAQ
Shake vs Stir
Drinks that have citrus juice in them need to be shaken, not stirred and here's why:

1. Shaking a cocktail with citrus breaks down the juice and the result is a cocktail that is light and refreshing instead of acidic. 

2. Citrus juice and alcohol have different densities and won't mix easily unless they are shaken together.
Best Martini Glass
Lemon drop cocktails are typically served in martini glasses with sugared rims. There are a variety of styles of martini glasses available. Some have stems, some are stemless. Use whatever version you prefer.
How to rim a glass with sugar
The little touches like this sugared rim are what make fun cocktails even more special.
1. Pour superfine sugar on to a small plate.
2. Cut a lemon into wedges and run a wedge around the rim of the martini glass to moisten the edge.
3. Invert the rim into the superfine sugar until evenly coated.
4. Turn the glass over and set aside until ready to use.

It only takes 30 seconds it takes to rim the glass with a lemon wedge and dip it in the sugar, but it is the difference between a good cocktail and a great one.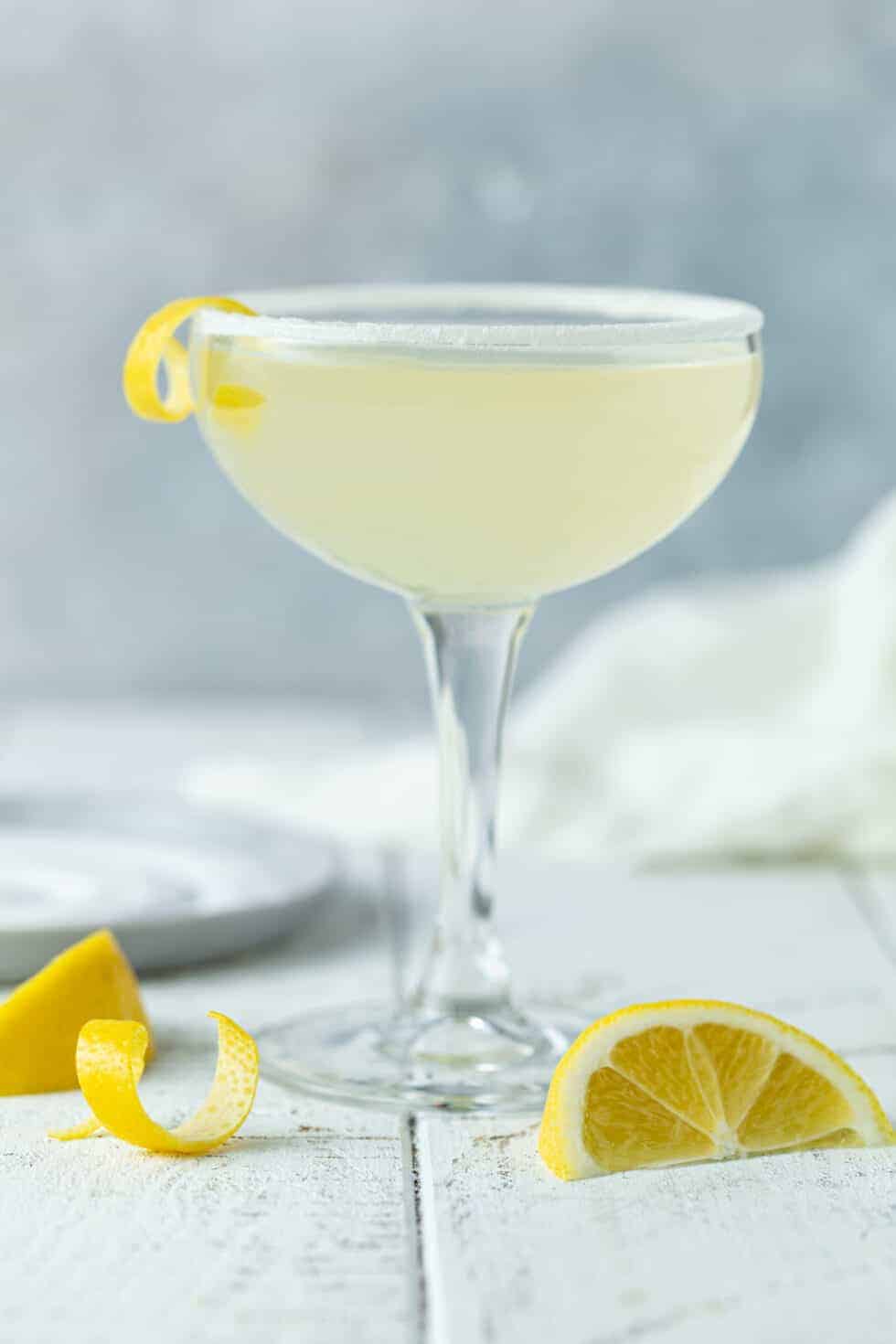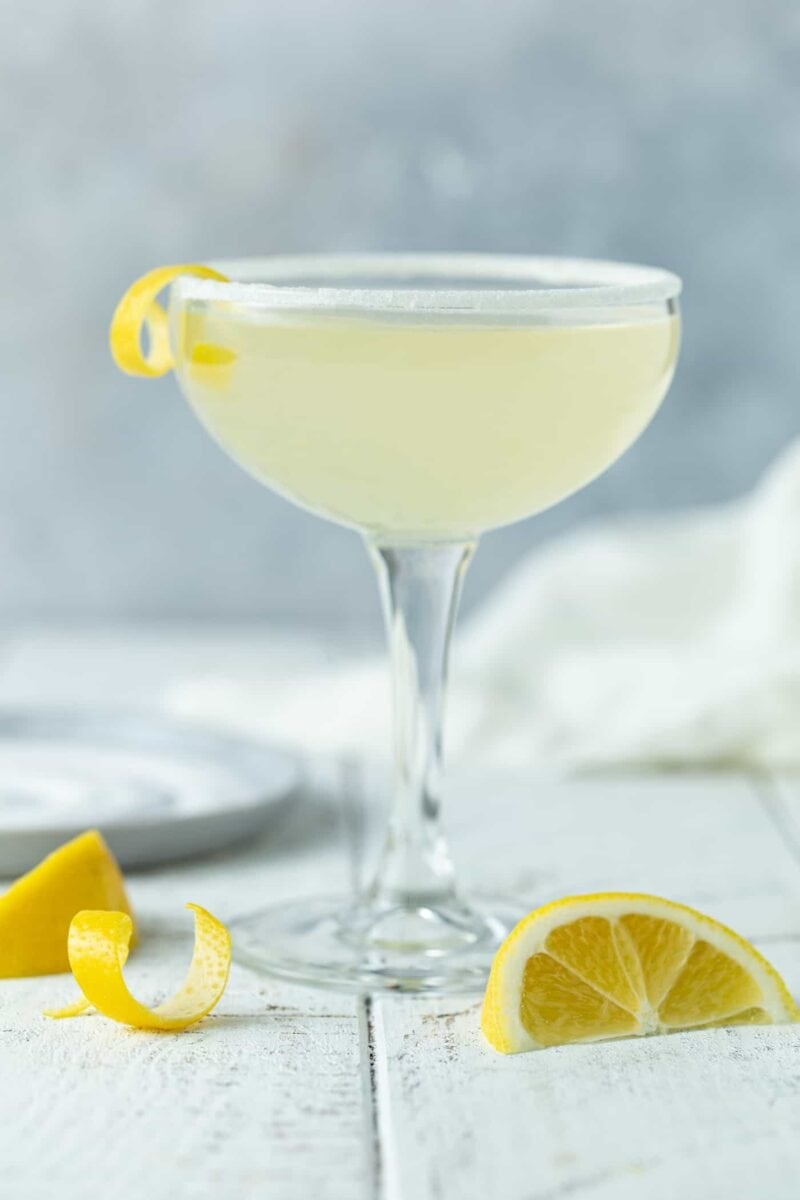 Easy Elderflower Lemon Drop Martini by garnishwithlemon on Jumprope.
Instructions
It's easy to make great drinks at home! Just be sure to measure your ingredients instead of eyeballing it.
Trust us, it makes a HUGE difference in how your cocktail tastes and no one wants to dump all of that good alcohol down the drain because the proportions are off.
Fill a cocktail shaker with ice.
Add 1 ounce elderflower liqueur, 1 ounce Triple Sec, 1 ounce simple syrup and 2 ounces fresh lemon juice
Shake well and strain the liquid into a martini glass with a sugared rim
Garnish it with a lemon twist and serve immediately.
Unlike most garnishes that are just for show, the sugared rim is an important component of this drink. If you're feeling particularly fancy, go ahead and add the lemon twist for even more flair.
Pro Tip: These drinks are BEST served ICE cold! Be sure to shake it well over lots of ice!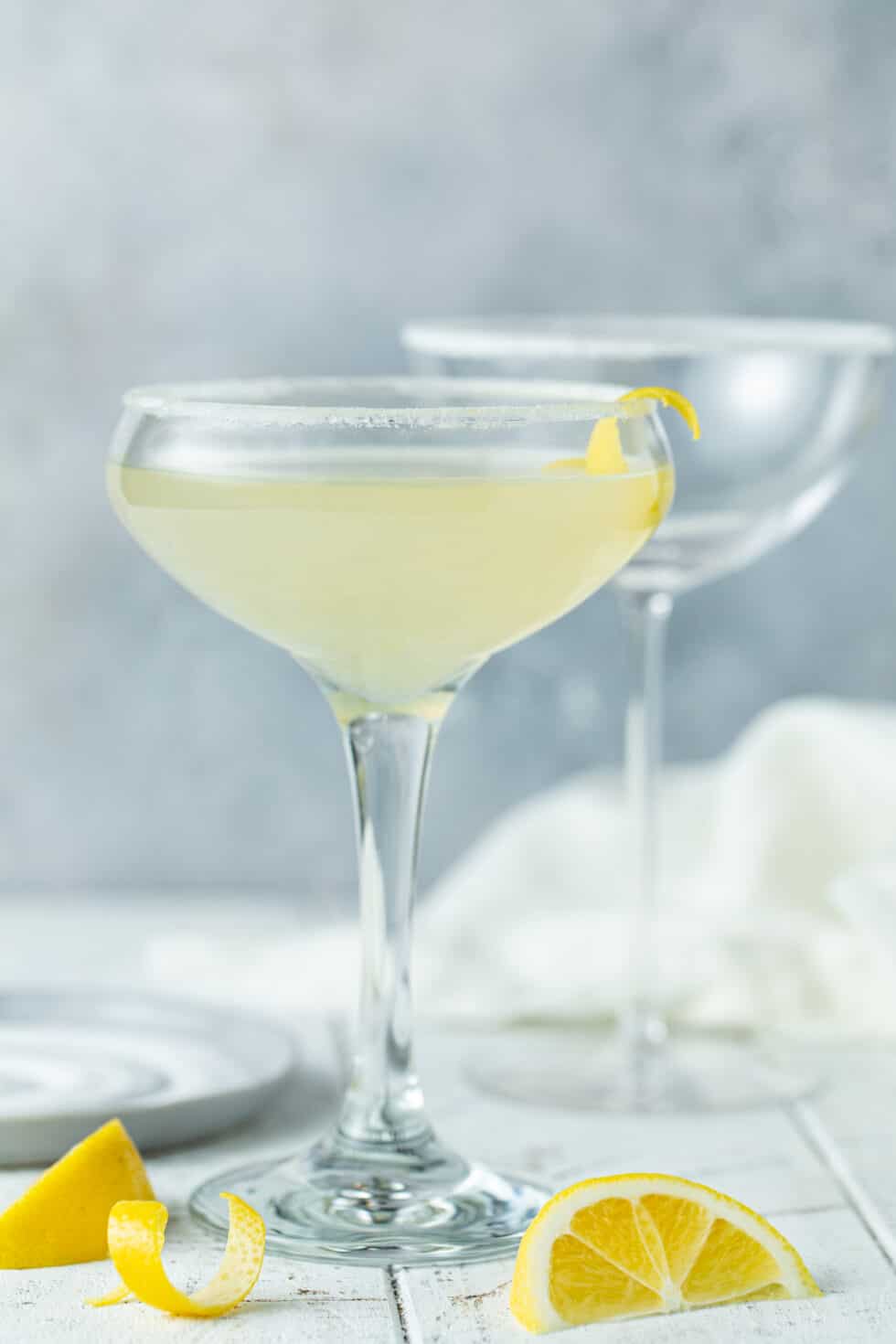 Want to have an elderflower drink any night of the week? It's easy when you make a lemon sour mix ahead of time. This mix keeps in the refrigerator for up to 3 days or you can freeze it into ice cubes to have lemon sour mix always on hand.
Fresh Lemon Sour Mix Recipe
12 ounces fresh lemon juice
6 ounces simple syrup
Place lemon juice and simple syrup in a mason jar.
Shake well to combine.
Store in the refrigerator for up to 3 days or freeze into ice cubes.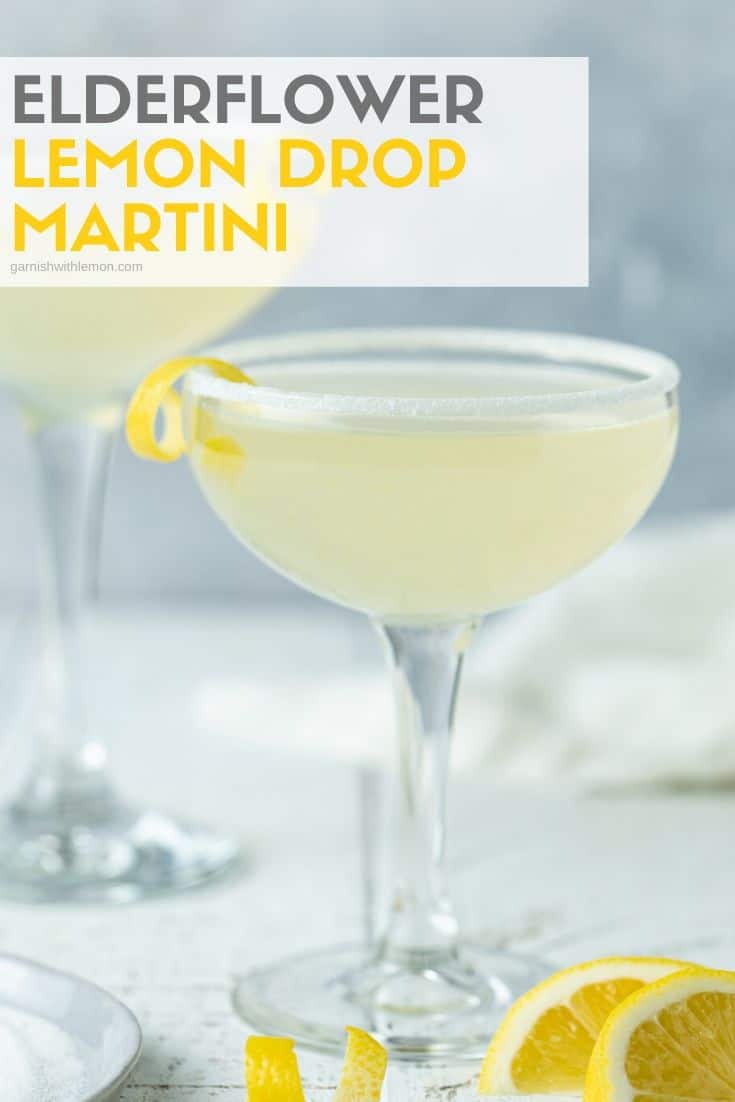 Most Popular Cocktail Recipes
Cocktails are our jam! Check out all of our cocktail recipes!
Favorite Elderflower Drinks
Recipe
Yield: Makes 1 Cocktail
Easy Elderflower Lemon Drop Martini Recipe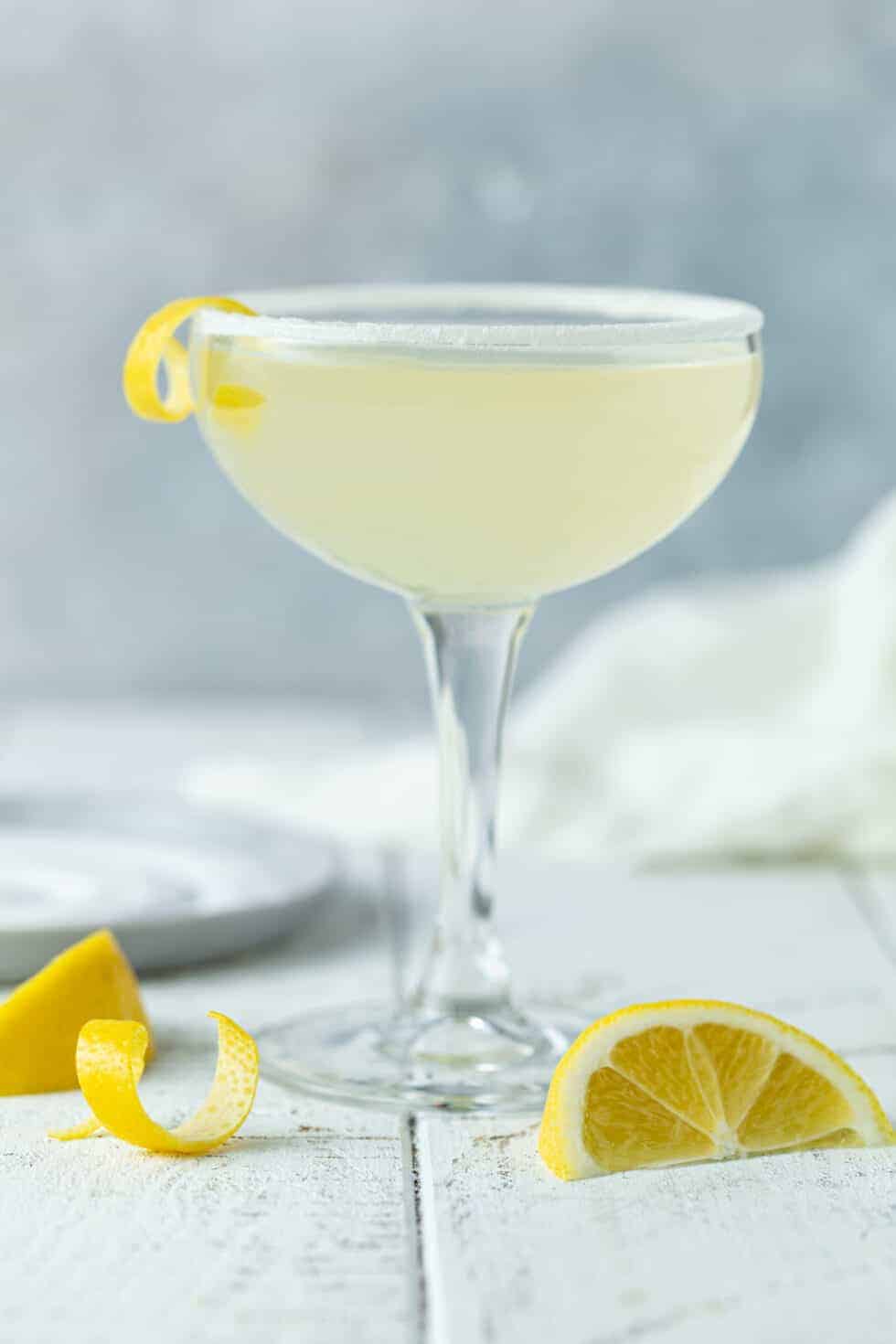 Add a splash of elderflower liqueur to your classic lemon drop martini for a refreshing twist on an old favorite.
Ingredients
2 ounces citrus vodka
1 ounce elderflower liqueur
1 ounce triple sec
1 ounce simple syrup
2 ounces fresh lemon juice
Superfine sugar and lemon wedge for rim
Instructions
Place superfine sugar on a small plate.
Run a lemon wedge around the edge of the martini glasses and invert glasses in the superfine sugar to coat the rims.
Fill a shaker with ice and add Vodka, Elderflower Liqueur Triple Sec, simple syrup and lemon juice. Shake well.
Strain into glasses and serve immediately.
Notes
Hosting a crowd?
Use these measurements to make 8 Elderflower Lemon Drop Martinis:
16 ounces citrus vodka
8 ounces elderflower liqueur
8 ounces triple sec
8 ounces simple syrup
16 ounces fresh lemon juice
Recommended Products
As an Amazon Associate and member of other affiliate programs, I earn from qualifying purchases.
Nutrition Information:
Yield:
1
Serving Size:
1
Amount Per Serving:
Calories:

388
Total Fat:

0g
Saturated Fat:

0g
Trans Fat:

0g
Unsaturated Fat:

0g
Cholesterol:

0mg
Sodium:

4mg
Carbohydrates:

43g
Fiber:

3g
Sugar:

35g
Protein:

1g
Love a classic Lemon Drop Martini? A splash of elderflower liqueur gives a smooth, refreshing twist to an old favorite. One sip and you might start to make this Elderflower Lemon Drop Martini your new go-to cocktail for happy hour!