This Feta Chicken recipe was one of our first blog posts on Garnish with Lemon - and it's still one of the most popular to date. Come see why so many people love this quick and easy weeknight dinner!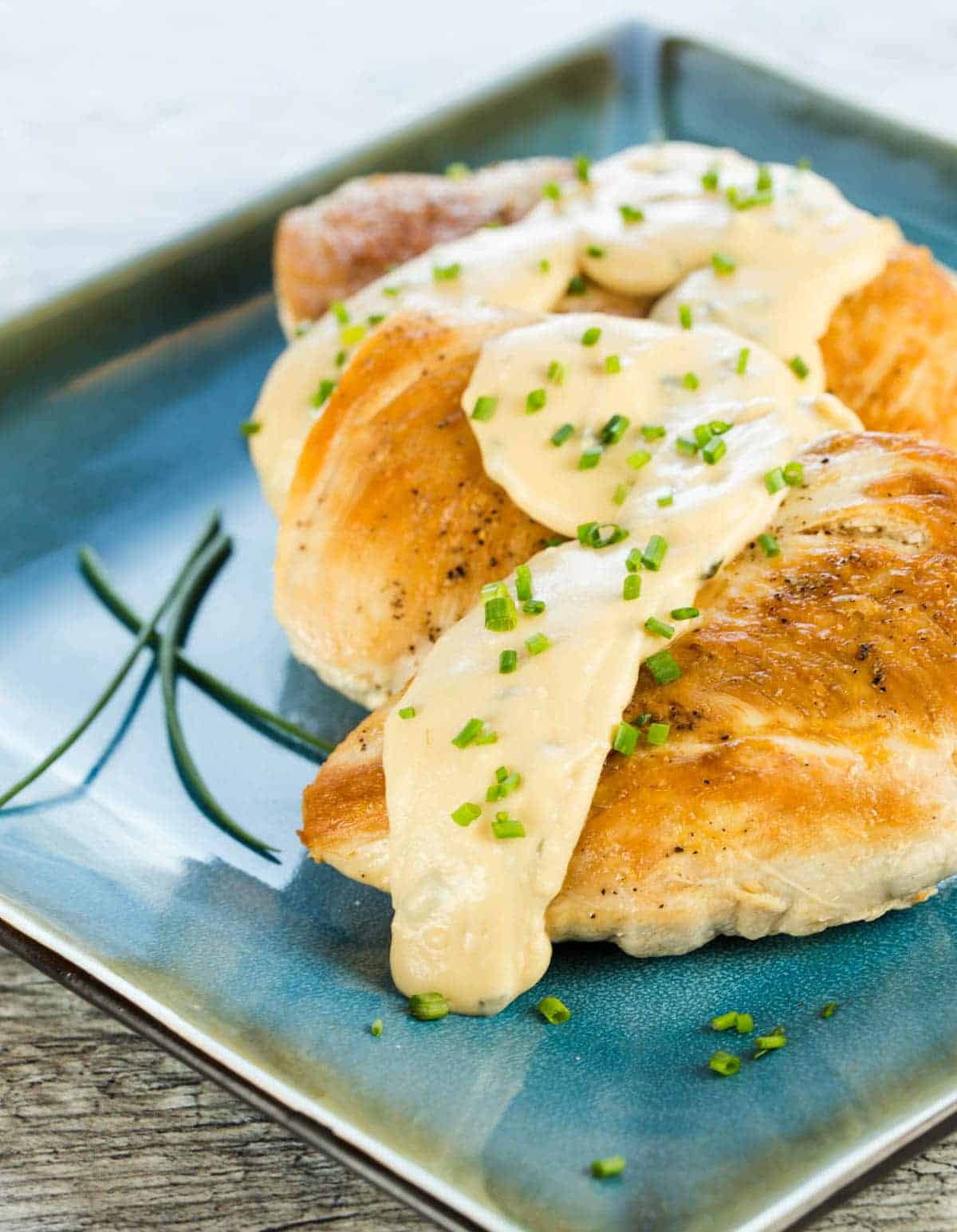 Chicken served with a creamy feta cheese sauce has long been a crowd-pleaser at my house. It's not super fancy food, and it's not complicated to make, but it's always a hit.
There are only so many ways you can excite people about chicken, but this Feta Chicken recipe is one of them! That flavorful, tangy feta cheese sauce steals the show here - with good reason.
Have some dinner guests you want to impress, but don't have the time to spend hours prepping a complicated dinner menu? No worries, I have you covered with this easy recipe everyone will love, and the best part is, no one will know it actually took no time at all.
This easy chicken recipe will give you weekend date night quality flavors, and only require weeknight busy schedule time and effort. It's really a win-win situation all around!
Jump to: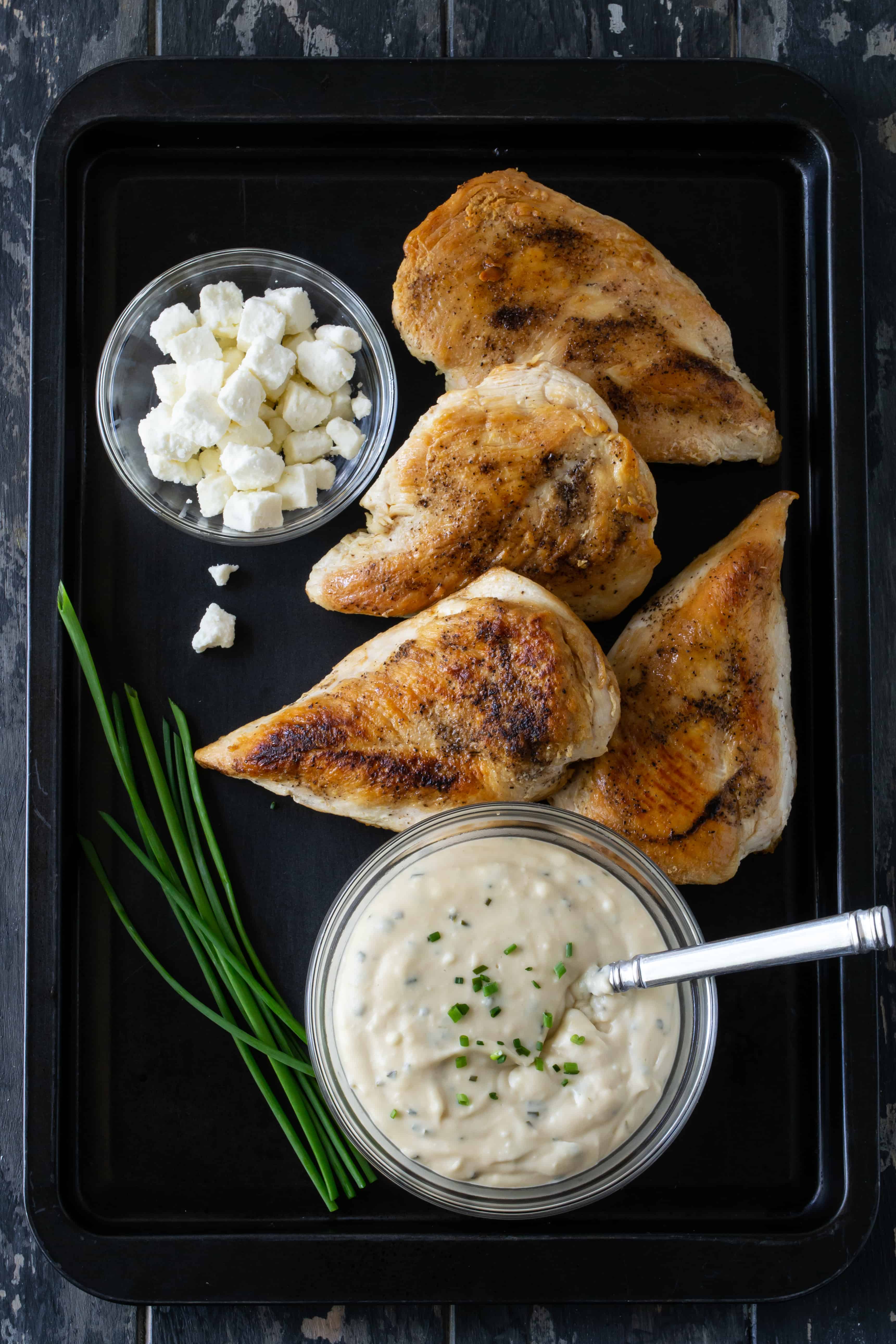 Instructions
I love a good homemade cheese sauce, especially when it's a recipe that takes less than 10 minutes to make. You can have the whole recipe, chicken and all completed and on the table in under 30 minutes, and here's how!
The chicken in this recipe can be grilled or cooked on the stove. Since we eat this Chicken Feta recipe all year round, we usually grill the chicken in the summer months and cook it on the stovetop in the winter.
The instructions for cooking the chicken remain the same regardless of how you cook it:
Heat skillet or grill over medium-high heat.
Lightly coat chicken breasts with olive oil. Sprinkle with salt and pepper.
Add chicken to the pan or grill when hot. Cook on each side until cooked through.
Remove from heat and keep warm.
Tips
Never made a feta cheese sauce before? Here are a couple of tips to get your sauce to look as thick and smooth as this one:
If using a block of feta cheese, grate it as finely as possible. If using pre-crumbled feta cheese, try to break up the cheese into as small of pieces as possible. (There are always huge chunks in my feta whenever I buy it pre-crumbled). The finer the grate of the cheese, the easier your feta cheese will "melt".

Stir in your cheese a few handfuls at a time to ensure a smoother and more even incorporation into the sauce.

I like to use a "gravy" whisk when making any sort of sauce. Not familiar? It's basically a flat whisk that allows me to get into the edges of the pan better than a traditional balloon whisk.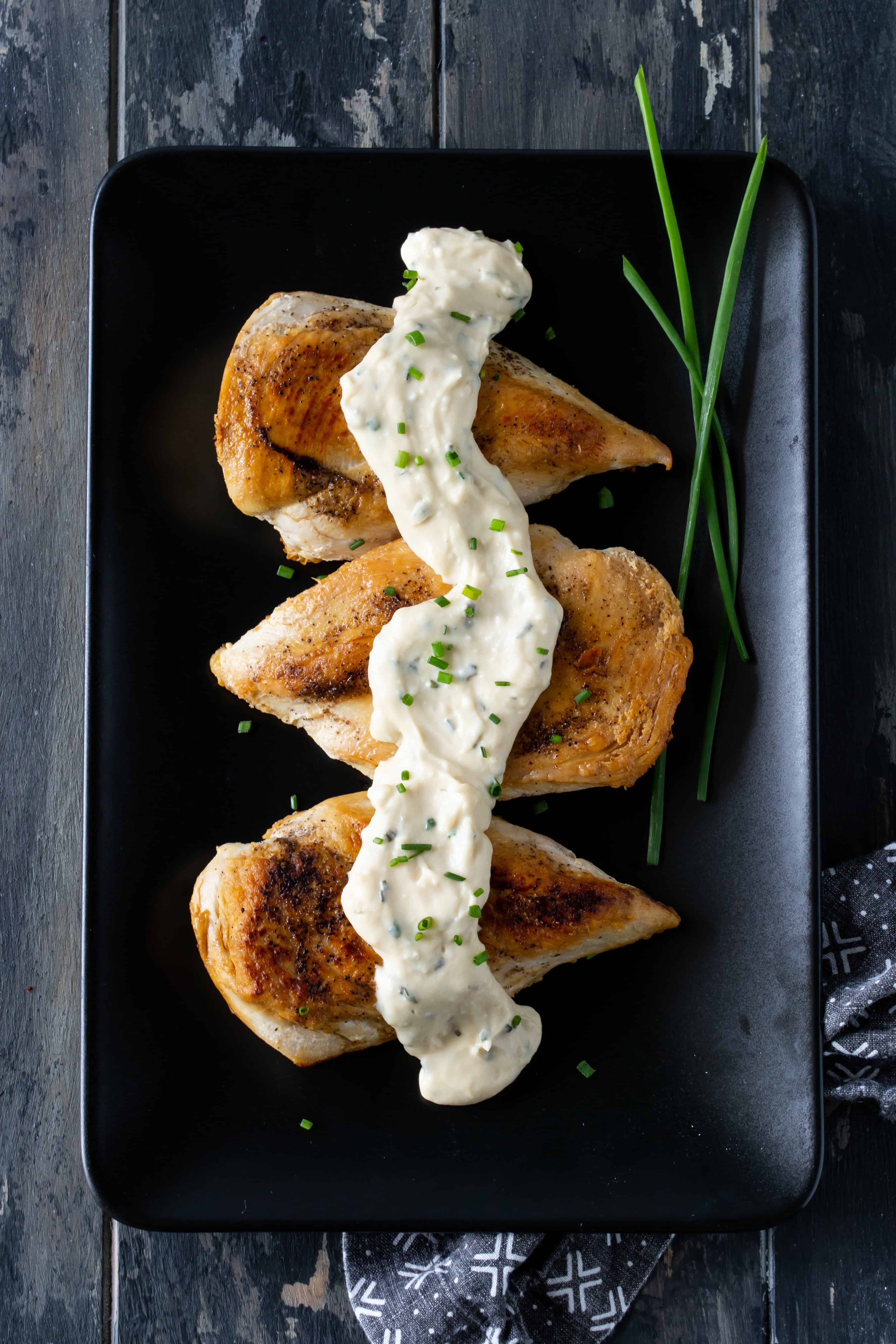 FAQs
Will Feta Cheese Melt?
Not exactly. Feta cheese will not fully melt like a mozzarella or other softer cheese. This has to do with the varying moisture content in the different cheeses but I'm not going to get all scientific on you.
Know there will be a few bits visible in your sauce and that's totally fine and doesn't impact the flavor at all.
Can you make this feta cheese sauce ahead of time?
Yes, you can make the sauce ahead of time if you're in a time crunch. Simply reheat when ready to serve. It also never fails to add new life to any assortment of leftovers, so feel free to use it on other things, too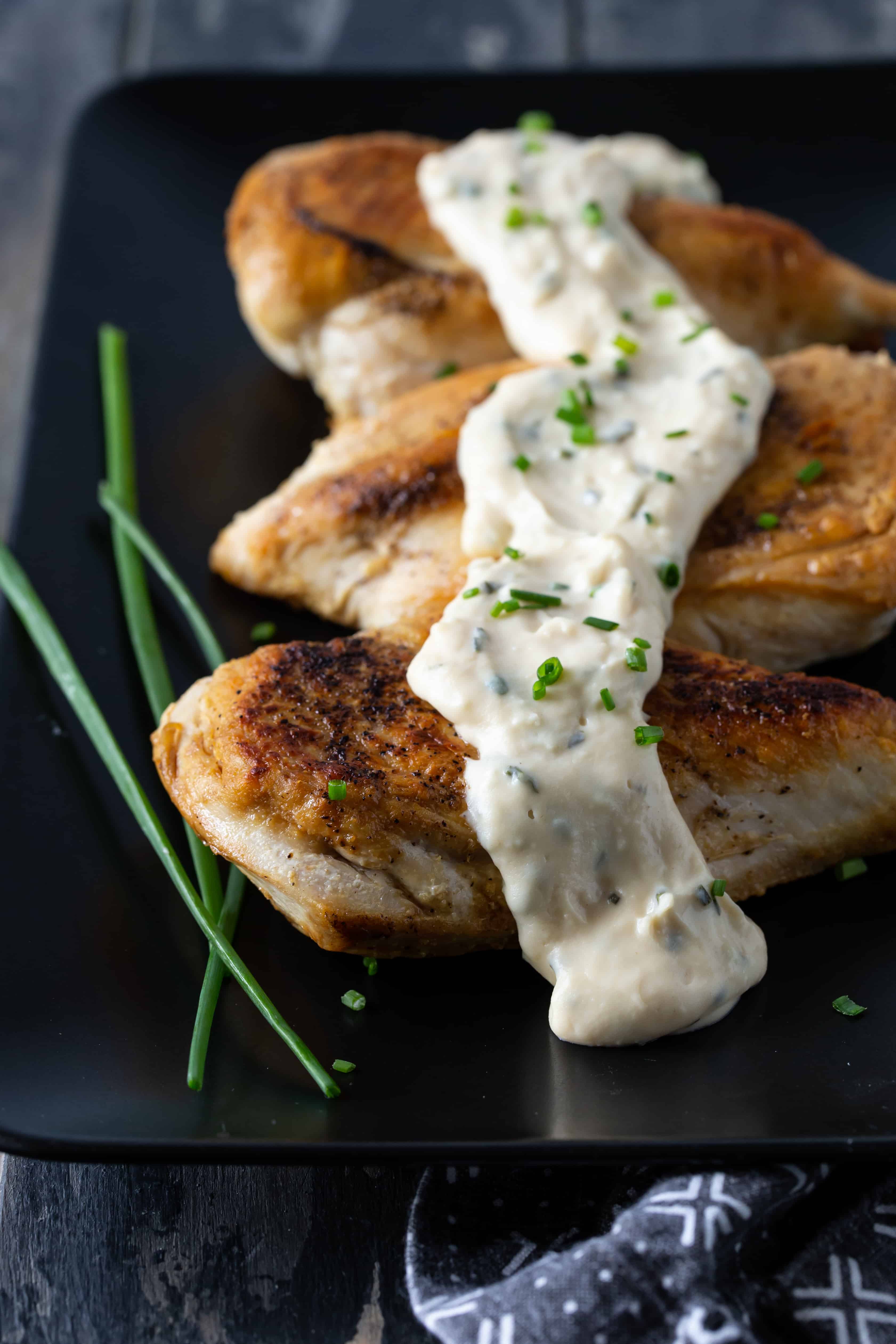 Serving Suggestions
The recipe world is your oyster when it comes to what to serve with this chicken with feta cheese sauce recipe. I honestly can't think of anything that would be wrong to pair with this combo. Serve it with potatoes, vegetables, salad, pasta, or anything else you can think of.
What's fun about this one is that with the right sides this can turn into a meal fit for a sophisticated dinner party, or a casual weeknight meal the whole family will enjoy.
My family's favorite way to eat this dish is with couscous or rice to soak up the savory sauce. Add a veggie of choice, like Oven Roasted Asparagus With Brown Butter, and voila, dinner is served!
Another great serving option is to make enough for the whole week and use it for lunch meal prep. Just grab a few airtight containers and fill with the chicken and feta sauce, veggie of your choice, and white or brown rice and you have a perfectly portioned and ready-to-go lunch for the rest of the week.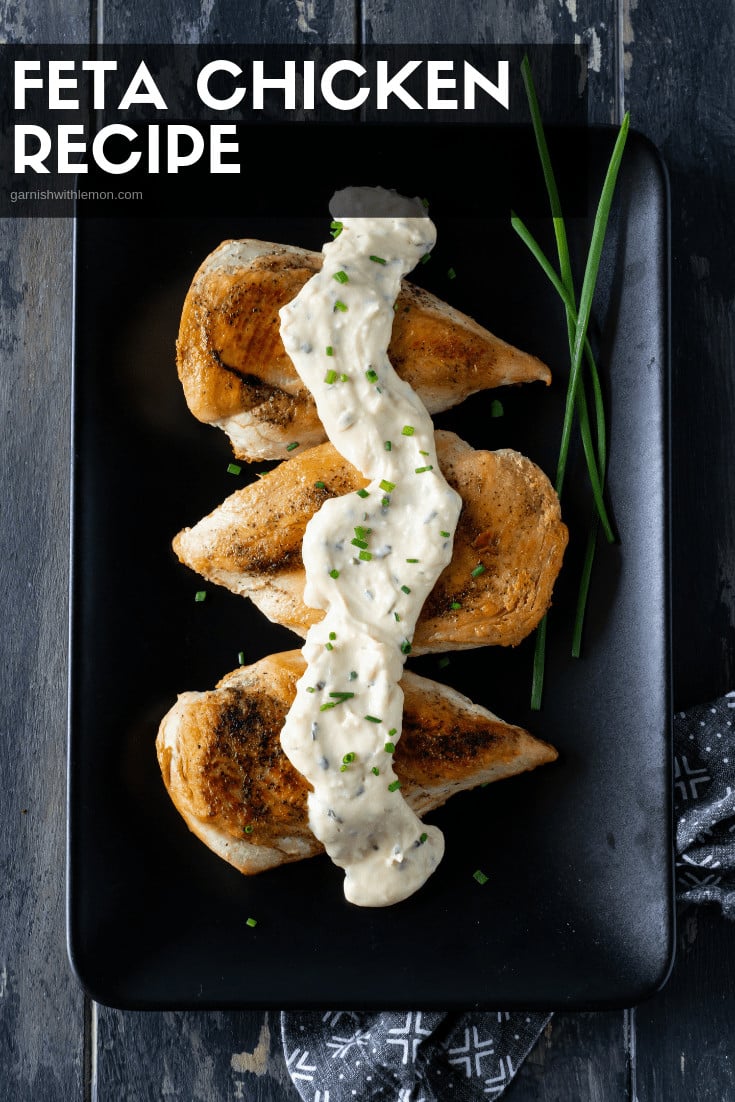 More Chicken Recipes
Tequila Lime Chicken Fajitas - Garnish with Lemon
Oven Baked Crispy Chicken - Barefeet in the Kitchen
Easy Pizza Chicken - All Day I Dream About Food
See all of our main dish recipes here!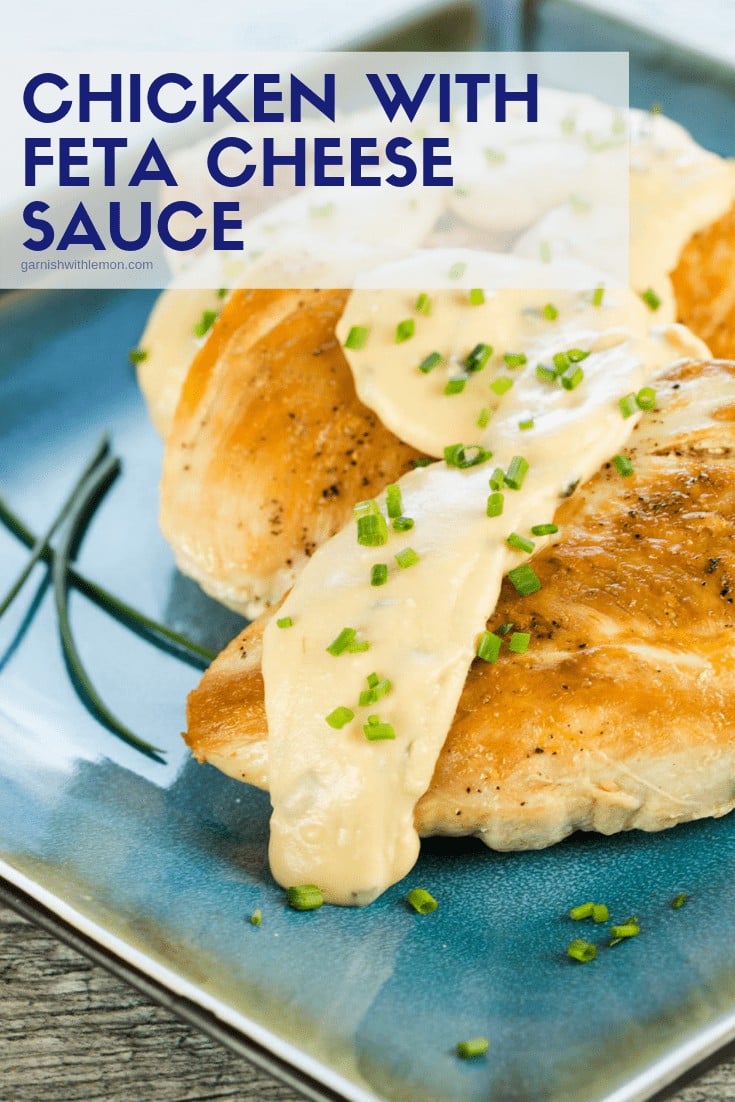 Recipe
Feta Chicken Recipe
Need some chicken recipe inspiration? This Chicken with Feta Cheese Sauce is one of our family's favorite weeknight meals. The rich feta cheese sauce takes boring chicken to a tasty new level.
Ingredients
4

boneless

skinless chicken breasts

Olive oil

Salt

Pepper

1

tablespoon

butter

4

teaspoons

all-purpose flour

1

12-ounce can evaporated milk

2-3

tablespoons

fresh chives

chopped

1

cup

feta cheese
Instructions
Heat skillet over medium-high heat. Lightly coat chicken breasts with olive oil. Sprinkle with salt and pepper. Add chicken to pan when hot. Cook 4-5 minutes per side or until cooked through. Remove from heat and keep warm.

Meanwhile, melt butter in a saucepan over medium heat. Add flour and whisk constantly for one minute. Gradually add milk, whisking constantly. Stir in chives and reduce heat to medium-low. Simmer 5-7 minutes or until thick, stirring occasionally. Add cheese by the handful and stir until cheese is melted.

Spoon sauce over chicken and garnish with additional fresh chives, if desired.

Notes
You may have extra sauce, depending on how saucy you like your chicken.
Recipe adapted from Cooking Light Magazine.
Nutrition
Serving:
1
chicken breast
Calories:
374
kcal
Carbohydrates:
5
g
Protein:
44
g
Fat:
19
g
Saturated Fat:
9
g
Polyunsaturated Fat:
8
g
Cholesterol:
145
mg
Sodium:
610
mg
Sugar:
2
g
Nutrition info not guaranteed to be accurate.
Just say no to boring chicken! Make a meal your family will crave with this delicious Feta Chicken recipe with fresh chives. Seasoned, seared chicken breasts are drizzled with a flavorful, tangy feta cheese sauce. Easy enough for a weeknight meal and fancy enough when having people over for dinner.