Chicken with Feta Cheese Sauce is one of our first recipes on Garnish with Lemon – and it's still one of the most popular to date. Come see why so many people love this quick and easy dinner!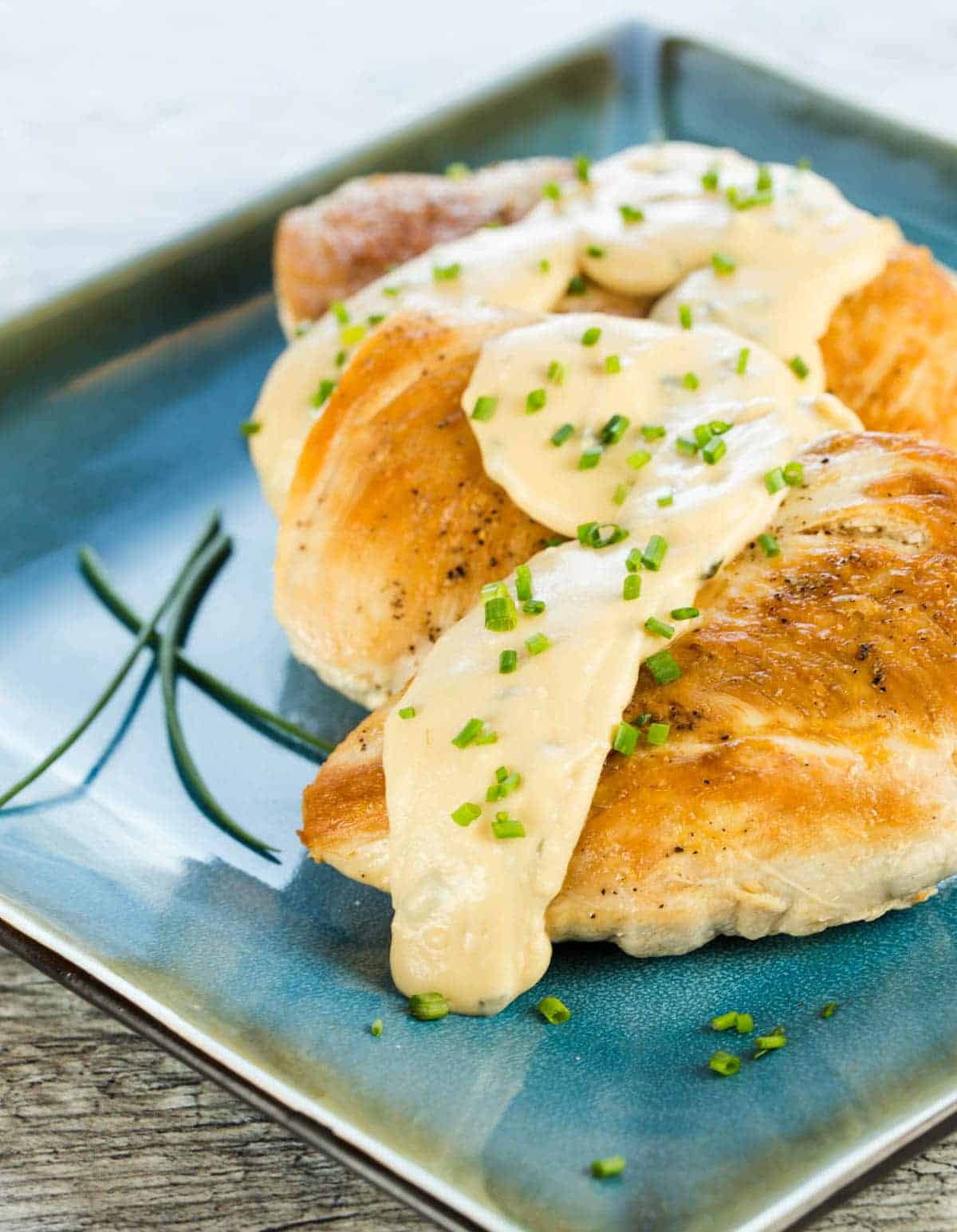 Chicken with Feta Cheese Sauce has long been a crowd-pleaser at my house. It's not super fancy food, and it's not complicated to make, but it's always a hit. 
There are only so many ways you can excite people about chicken, but this Chicken with Feta Cheese Sauce recipe is one of them! That savory, luscious feta cheese sauce steals the show here – with good reason.
How to make Feta Cheese Sauce:
Never made a feta cheese sauce before? Here are a couple tips to get your sauce to look as thick and smooth as this one:
If using a block of feta cheese, grate it as finely as possible. If using pre-crumbled feta cheese, try to break up the cheese into as small of pieces as possible. (There are always huge chunks in my feta whenever I buy it pre-crumbled). The finer the grate of the cheese, the easier your feta cheese will "melt".

Stir in your cheese a few handfuls at a time to ensure a smoother and more even incorporation into the sauce.
Now I've been known to make extra of this feta cheese sauce just to eat it by itself or toss it with an assortment of leftovers, but it definitely shines when poured over the chicken breasts. You can make the sauce ahead of time if you're in a time crunch. Simply reheat when ready to serve.
Tip: Fresh chives are a MUST in this recipe. They add such a delicious pop of flavor to the sauce. I've also used the refrigerated freeze-dried chives found in the produce section in a pinch, but fresh chives are always my first choice.
I love the fact that this recipe is flexible: throw the chicken on the grill, sear it on the stovetop, or bake it in the oven. (I've prepared this Chicken with Feta Cheese recipe all three ways.)
But my family's favorite way to eat this dish is with couscous or rice to soak up the savory sauce.  Add a veggie of choice and, voila, dinner is served!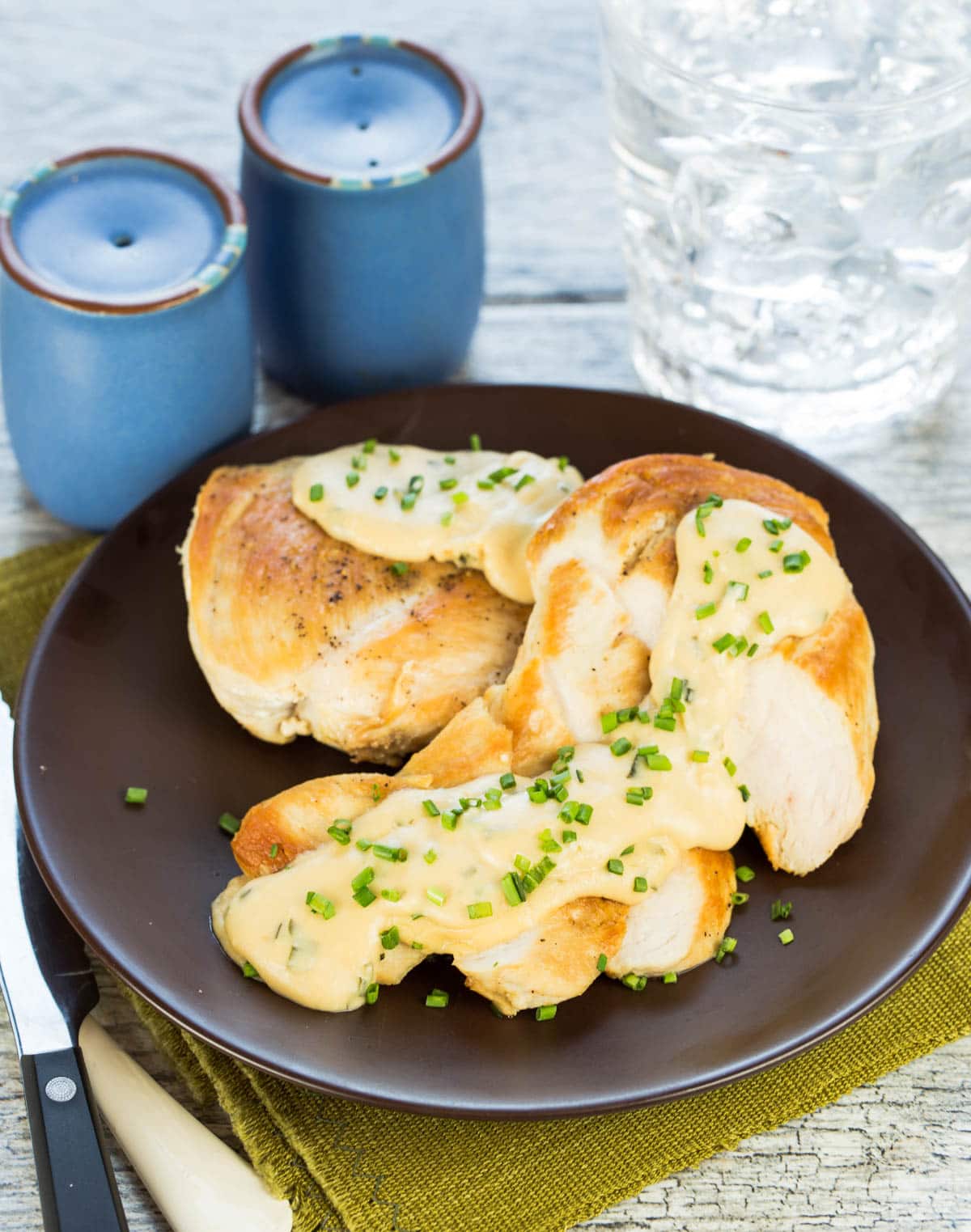 Yes, you guys love Chicken with Feta Cheese Sauce, but we've noticed that you also have a few other favorites. Don't miss three more of our most popular posts on Garnish with Lemon!
Apple Sandwiches with Almond Butter and Granola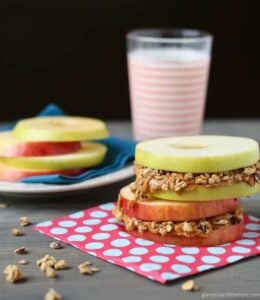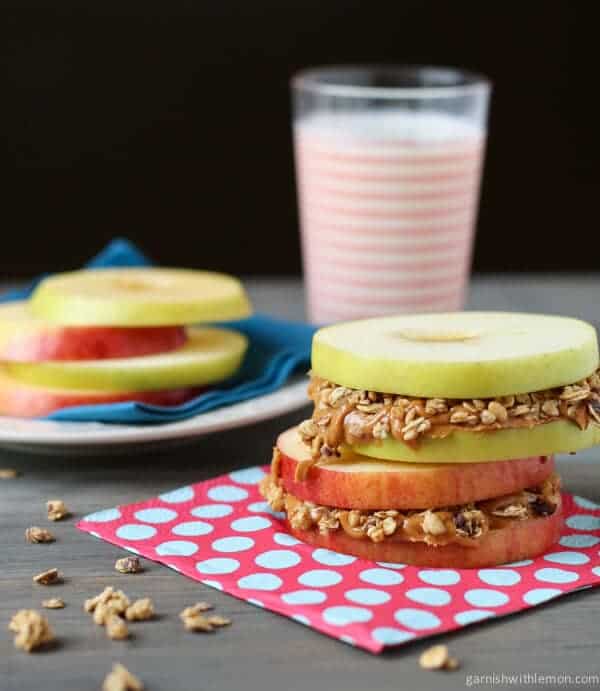 Thai Curried Butternut Squash Soup
Crock Pot Ribs
There are so many scrumptious chicken recipes out there! Check out some of our favorites!
Tequila Lime Chicken Fajitas– Garnish with Lemon
Oven Baked Crispy Chicken– Barefeet in the Kitchen
Easy Pizza Chicken – All Day I Dream About Food
Grilled Chicken Caesar Pasta Salad– Garnish with Lemon
Recommended Equipment
Yield: 4 servings
Chicken with Feta Cheese Sauce
Ingredients
4 boneless, skinless chicken breasts
Olive oil
Salt
Pepper
1 tablespoon butter
4 teaspoons all-purpose flour
1 (12-ounce) can evaporated milk
2-3 tablespoons fresh chives, chopped
1 cup feta cheese
Instructions
Heat skillet over medium-high heat. Lightly coat chicken breasts with olive oil. Sprinkle with salt and pepper. Add chicken to pan when hot. Cook 4-5 minutes per side or until cooked through. Remove from heat and keep warm.
Meanwhile, melt butter in a saucepan over medium heat. Add flour and whisk constantly for one minute. Gradually add milk, whisking constantly. Stir in chives and reduce heat to medium-low. Simmer 5-7 minutes or until thick, stirring occasionally. Add cheese by the handful and stir until cheese is melted.
Spoon sauce over chicken.


Notes
You may have extra sauce, depending on how saucy you like your chicken.
Nutrition Information:
Amount Per Serving:
Calories:

980.51
Total Fat:

51.49g
Carbohydrates:

6.52g
Protein:

125.67g