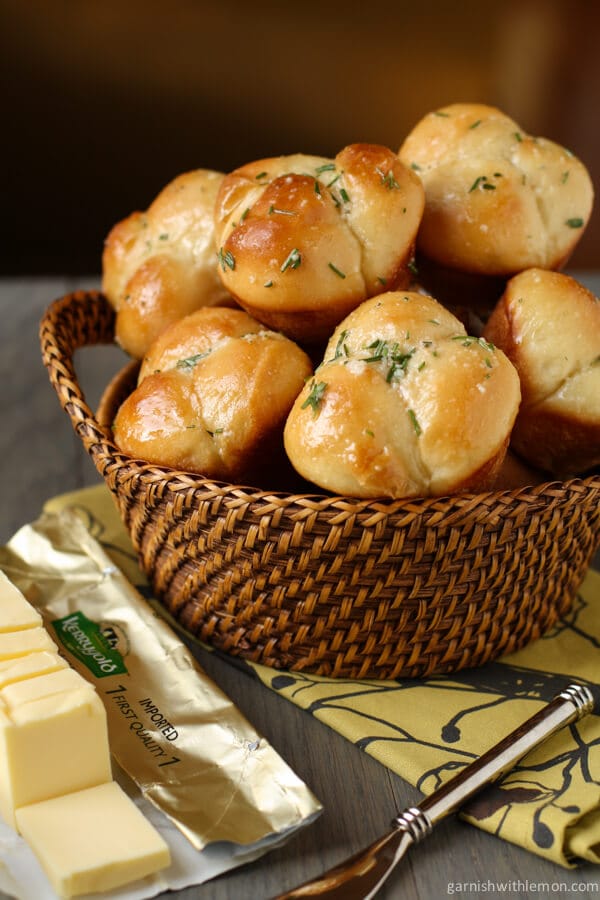 Everyone has a favorite piece of the Thanksgiving meal. Maybe you're a die-hard turkey lover. Or maybe mashed potatoes and gravy make you swoon. Me? I am a carb-lover at heart, and my turkey day feast is not complete without freshly baked bread on the table. Does it sound crazy to single out bread as my most important piece of my meal? Not at all. These Rosemary Garlic Cloverleaf Rolls are not only melt-in-your-mouth delicious, they are also real workhorses. These warm, savory buns will mop up every last bite of goodness on your plate. Try asking your cranberry sauce to do the same. 
This isn't a super fussy, proof-the-yeast type of recipe, either. (We all have enough to do on Thanksgiving than worry about the proper temperature for yeast to activate!) You can easily prep these rolls ahead of time, keep them frozen until the night before Thanksgiving and then defrost in the fridge. Just 20 minutes in the oven, and you have the aroma of freshly made bread wafting through the house while your turkey rests. There's nothing quite like the smell of bread baking to draw everyone to the table. 
I brushed these rolls with a rosemary- and garlic-laced butter immediately after they came out of the oven, which gives them that gorgeous sheen. Watch the eyes light up as you pass them around the table at Thanksgiving. But make sure you serve yourself first…the basket may be empty by the time it reaches you.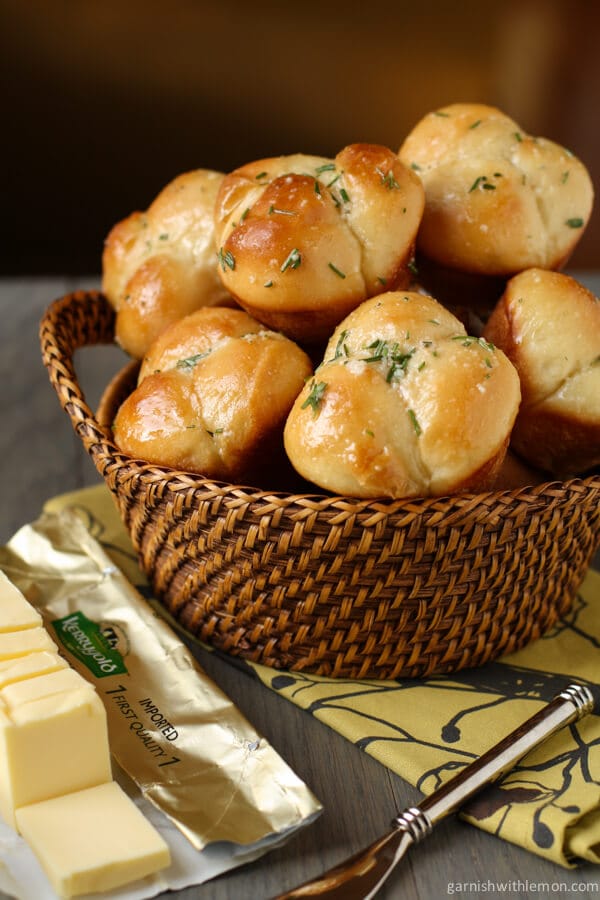 Ingredients
3 1/2 cups all-purpose flour
2 teaspoons instant yeast
2 tablespoons potato flour, potato starch or 1/4 cup instant potato flakes (I used potato starch because that's what I had on hand)
3 tablespoons nonfat dry milk
2 tablespoons sugar
1 1/2 teaspoons salt
4 tablespoons butter, softened
2/3 cup lukewarm water
1/2 cup lukewarm milk
2 tablespoons melted butter
1 garlic clove, finely minced
2 teaspoons chopped fresh rosemary
Instructions
Add flour and next 8 ingredients (through milk) in the bowl of a stand mixer. Mix on low to combine and then knead on medium low speed for 6 minutes or until dough is smooth but still a bit sticky. Place dough ball in a large greased bowl, cover and let rise until doubled in size, anywhere from 60-90 minutes.
After dough has risen, gently punch down dough and divide into twelve pieces. Divide each of those twelve pieces into three more pieces (36 small dough balls total). Roll all dough pieces into small balls.
Lightly grease a standard muffin pan and fill each well with three dough balls. Cover and let rise for another 60 - 90 minutes.
Preheat oven to 350 degrees. Uncover buns and bake for 20-22 minutes or until golden brown and cooked through.
Meanwhile, combine melted butter, garlic and rosemary in a small bowl. Immediately after removing baked rolls from oven, brush them with the rosemary garlic butter while still in the pan. Allow rolls to set for 10 minutes and then remove to cooling rack or serve immediately.
Notes
To make the buns a few days ahead of time, follow all instructions through step 3 but don't allow rolls to rise completely. They should be peeking up over the edges of the muffin wells but not busting out of them. (For me, this took about 65-70 minutes.) Gently tent the rolls with plastic wrap and freeze. Once frozen, wrap more tightly. The night before your meal, place wrapped rolls in the fridge to slowly defrost. Allow rolls to come to room temperature before baking as directed.
7.6.2
638
https://www.garnishwithlemon.com/rosemary-garlic-cloverleaf-rolls/