Brighten up your dessert table with the tangy flavors in this Easy Key Lime Pie Recipe! One bite of this mouthwatering dessert will have everyone begging for the recipe.
The best desserts are sometimes the simplest and this Easy Key Lime Pie recipe definitely fits in that category. It's bright, tangy flavor is a perfect ending to any meal and tastes great any time of year!
One bite of this and you will see why this pie is my go-to dessert.
The fact that it's made with pantry staples, is free of most allergens and comes together quickly just seals the deal.
Now if that hasn't convinced you to make it, I don't know what will.
Jump to: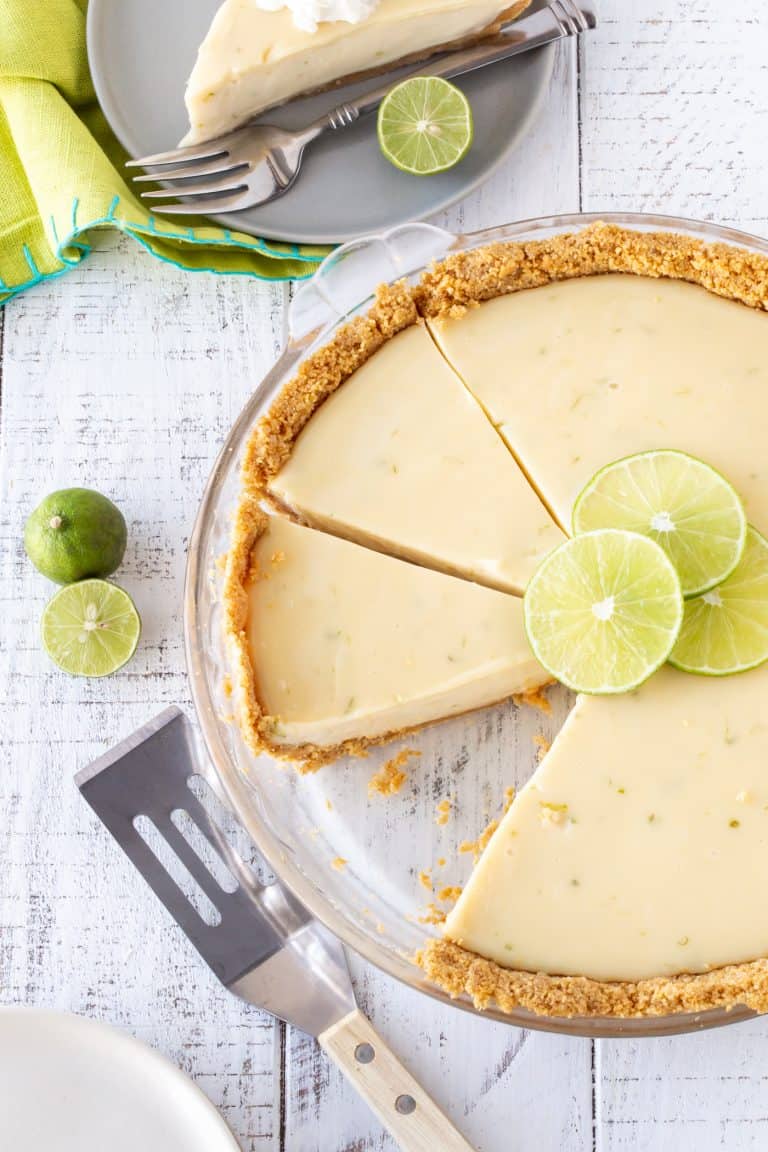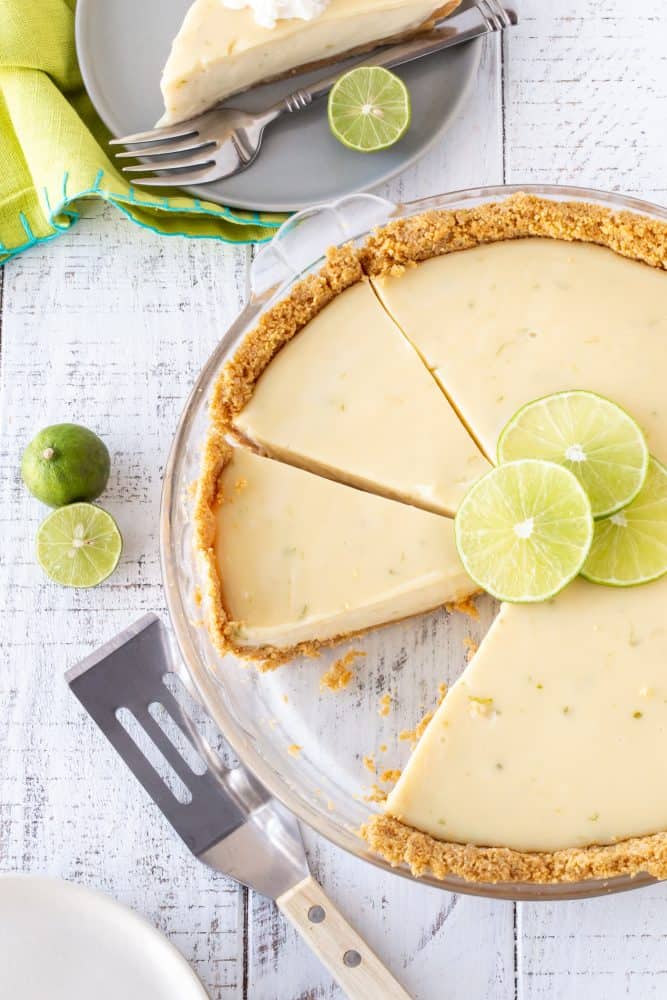 Ingredients
Don't let the fact that this is a pie scare you away! The beauty of this easy recipe is the short ingredient list.
graham cracker crust
key lime juice
limes
sweetened condensed milk
sour cream
BOOM. That's it!
Some of my favorite recipes only use a handful of ingredients and this pie has long been one of my go-to sweet treats.
Instructions
You won't believe how quickly this recipe comes together. It is out of the oven by the time the dishes are done!
Step 1: Preheat oven to 350. Get your graham cracker crust (either purchased or make your own) and set aside
Step 2: Place sweetened condensed milk and sour cream in a large bowl, whisk until combined.
Step 3: Add key lime juice and whisk until fully incorporated.
Step 4: Zest lime and add to filling. Stir to combine.
Step 5: Pour filling into prepared crust.
Step 6: Bake for 5 minutes or until little pinholes show on top.
Step 7: Remove from oven and cool.
Step 8: Refrigerate for at least 2 hours before serving.
FAQs
Time Saving Tips
Those tiny key limes are adorable, but who wants to spend the time squeezing 50 of them to get enough key lime juice? I pick up a bottle of key lime juice at the store and save myself some time!
Nellie and Joe's Key Lime Juice is always one of my go-to products and can easily be found in most grocery stores.
Plus having the juice on hand makes for an easy last-minute dessert.
We usually have graham crackers on hand and make our own graham cracker crust, but if you don't, buy a pre-made graham cracker crust when you're grabbing that bottled key lime juice.
Winter, spring summer or fall you can never go wrong with this Easy Key Lime Pie recipe
Want to save this recipe for later? PIN IT here!
More Dessert Recipes
Check out all of our dessert recipes!