We took some of our favorite things about summer and combined them into one easy and mouthwatering Caprese Pasta Salad. Easy to make and versatile, it's your new summer BBQ side dish go-to.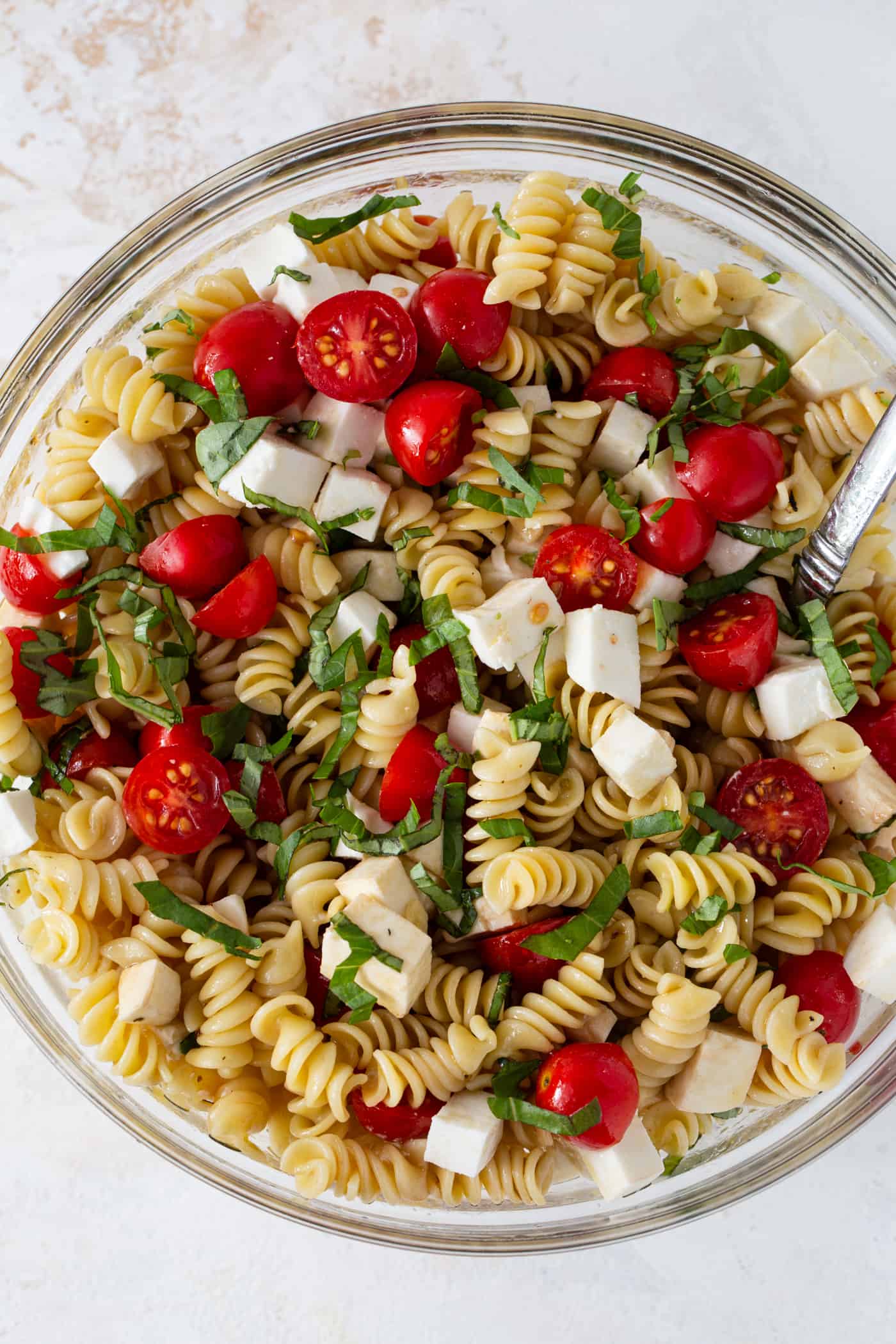 Summer is here and that means it is Caprese season AND pasta salad season. I'm always a sucker for a good Caprese salad.
What better side dish could there be than combining the best of summer in one tasty Caprese Pasta Salad recipe! This mouthwatering salad filled with tomatoes from the garden, creamy mozzarella and fresh basil will be a hit every single time.
Ingredients for Caprese Pasta
Pasta - pick your favorite shape, just make sure it has curves or ridges to grab the dressing.
Tomatoes – a summer essential. There's nothing better than a garden fresh tomato!
Fresh basil - fragrant and full of flavor, don't skimp on this essential ingredient.
Fresh mozzarella - use the "pearls" that are readily available or buy a ball and dice it.
Vinaigrette - homemade dressing is a snap to make, but feel free to swap in your favorite store bought dressing for a quick time saver.
Caprese Pasta Salad Dressing
The key to a fabulous pasta salad? The dressing!
Caprese and balsamic vinegar are a match made in heaven. This easy vinaigrette made with pantry ingredients will quickly become a staple in your kitchen. This dressing can be made ahead of time and refrigerated until ready to assemble.
Balsamic vinegar
Dijon mustard
Extra virgin olive oil
Dried oregano
Dried basil
Kosher Salt
Black Pepper
Pro tips for making the best pasta salads
Follow these tips to get perfect pasta salad every time
Pasta: All good pasta salads start with pasta that is cooked and seasoned correctly. I've got tips for how to cook pasta for salads below.
Shapes: Pick a good pasta shape that has ribs on it so the dressing has something to cling to.
Visual variety: In this salad, I slice tomatoes in half, cube the cheese and julienne the basil.
Color: People eat with their eyes first so consider having different colors in your salad.
Seasoning: The best pasta salads are seasoned early and often. This starts with the cooking process and ends with the final toss before serving.
Mixing: Use a large bowl to evenly coat all of the pasta salad ingredients with the dressing. This ensures every component of the salad is dressed properly.
Gluten Free Tip: Simply swap in your favorite gluten free pasta shape and make the recipe as directed.
Best pasta shape for salad
I used rotini pasta in this recipe because the short spiral is a nice contrast to the cherry tomato halves and the cubes of fresh mozzarella but feel free to use your favorite or whatever you have on hand.
Variations of Caprese Pasta Salad
Versatility is what makes many pasta salads so great. You can serve this Caprese Pasta Salad at room temperature or make it ahead of time and serve it chilled. There is no wrong answer.
Add a grilled chicken breast on top for protein and you have a one dish meal!
Make ahead Tip: Add tomatoes and fresh basil right before serving to keep the integrity of the tomato and the basil bright green.
How to Cook Pasta
Fill a large pot with water. Make sure that you have enough to cover the pasta. This recipe calls for a half pound of pasta so I use 2 quarts of water.
Cover the pot and bring the large pot of water to a rolling boil.
Stir in kosher salt.
Add pasta and cook to al dente stage. Follow the directions on the package.
How to Season Pasta
Do you ever wonder why pasta that you eat in a restaurant always tastes better? The answer is simple: it has been seasoned properly. Don't skimp on the salt in the water because the only time you can season the pasta itself is while it is cooking.
Pro tip: 2 teaspoons of kosher salt may seem like a lot, but the pasta only absorbs a fraction of it. So please don't skip this step. No one likes bland pasta.
Al Dente Pasta
Al dente literally means "to the tooth" in Italian. When pasta is cooked al dente, it is easy to bite into but is still firm. Follow these simple steps to get perfect pasta every time.
Start your timer and cook pasta according to the package al dente directions.
Check doneness by biting into to it. If it is still firm but not crunchy it is done!
If not done, check again after 30 seconds.
Remove from heat and drain water. Rinse.
Overcooked pasta is gummy and soft and will ruin your pasta salad recipe.
Importance of Rinsing Pasta
Rinsing pasta is one of the most crucial steps to making great pasta (after seasoning your water). There are two main reasons to rinse your pasta:
Rinse with COLD water to stop the cooking process. You will end up with overcooked pasta if you don't rinse. No one likes a mushy pasta salad.
Rinse to get rid of the starchy film. This will keep the pasta loose and prevent it from sticking together.
What to serve with caprese pasta salad
This pasta salad can be served with pretty much any protein. We avoid turning our oven on at all costs and fire up the grill. Here are some of our favorite summer go-tos:
Caprese Pasta Salad and summer are a match made in heaven. Check out our other favorite pasta salads
Side dishes a great way to add variety to your summer menus! Add these easy sides to round out your meal
Fun Summer Cocktails
No summer BBQ is complete without fun cocktails!
Yield: 8 servings
Caprese Pasta Salad
This easy pasta salad recipe filled with fresh mozzarella, garden fresh tomatoes, basil and pasta goes great with most anything from the grill!
Ingredients
8 ounces Rotini Pasta
2 teaspoons kosher salt (for pasta water)
1 pint cherry tomatoes, cut in half
8 ounces fresh mozzarella, diced
1/2 cup Fresh Basil, julienned
Kosher salt and pepper to taste
Balsamic Dressing
Dressing
1 tablespoon Dijon mustard
3 tablespoons balsamic vinegar
6 tablespoons extra virgin olive oil
1 teaspoon dried oregano
1/4 teaspoon salt
1/4 teaspoon pepper
Instructions
Fill a large pot with 2 quarts of water and add 2 teaspoons of kosher salt.
Bring to a boil, add pasta and cook al dente according to package directions.
While pasta is cooking combine all ingredients for dressing in a mason jar and shake vigorously to combine.
Drain and rinse pasta with cold water.
In a large mixing bowl add pasta, tomatoes, mozzarella and Balsamic dressing and stir until well coated with dressing.
Season to taste with salt and pepper.
Add fresh basil, stir and serve.
Notes
Dressing can be made ahead of time and stored in refrigerator until ready to use.
Recommended Products
As an Amazon Associate and member of other affiliate programs, I earn from qualifying purchases.
Nutrition Information:
Yield:
8 servings
Serving Size:
1 cup
Amount Per Serving:
Calories:

226
Total Fat:

16g
Saturated Fat:

5g
Trans Fat:

0g
Unsaturated Fat:

11g
Cholesterol:

18mg
Sodium:

867mg
Carbohydrates:

13g
Fiber:

1g
Sugar:

3g
Protein:

7g
This Caprese Pasta Salad, filled with garden fresh tomatoes, fresh mozzarella and fragrant basil all tossed together in a homemade balsamic vinaigrette, makes a perfect summer side dish.