Let the fresh fruits of summer make your desserts shine with this easy Peach Berry Crumble.
Summer has officially arrived! The kids just finished school and summer vacation begins today. I adore having Greta and Charlie home and purposefully have not scheduled much for the kids this summer. But let's be realistic; it is always an adjustment for everyone. Gone is the structure of the day and enter the laziness of summer, which is good and bad all wrapped up into one. And that's where simple desserts like this Peach Berry Crumble make my life a whole lot easier.
Now I admit that my family is a little spoiled. We eat dessert every night. Granted, some nights it is a scoop of ice cream or a few cookies, but the "something sweet" is always expected and is always there. When I stumbled upon this unique Peach Berry Crumble recipe in a Southern Living Magazine, I knew it would be making an appearance sometime soon. The crumble topping is mixed together with a fork in a single bowl, including the egg (no that isn't a typo), is spread on top of the fresh peaches and berries and then baked to crunchy perfection. I used ramekins to make serving sizes easy peasy, but you can also bake it in an 8 x 8 baking dish if you want. Don't have all the berries on hand I used? No worries, just sub in the same amounts of whatever is in your fridge. (Bonus points if you just picked them this morning!)
Peach Berry Crumble showcases the abundance of fresh fruit available but doesn't take a ton of time – a real summer lifesaver. Who wants to be spending hours in the kitchen when the sun is shining and the kids are home? I know I don't. I love simple dishes that make me look like I have my act together a whole lot more than I do some days. Doesn't everyone need a go-to summer dessert like that?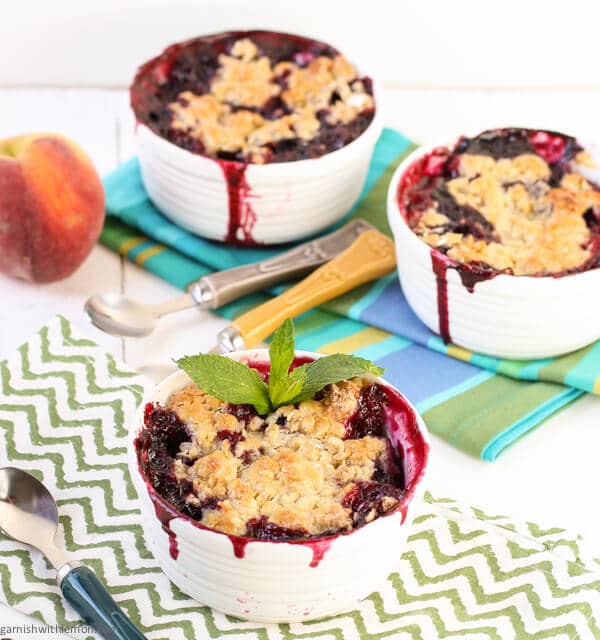 6
adjust servings
Ingredients
1

pint fresh blueberries

1

pint fresh blackberries

4

peaches, peeled and cubed

2

tablespoons corn starch

1/3

cup sugar
Crumble Topping
1

large egg

1

large egg yolk

1/2

cup old fashioned oats

3/4

cup flour

1

cup sugar

8

tablespoons butter, melted
Instructions
Preheat oven to 375 degrees and set aside 6 large ramekins.
Place fruits in a medium bowl and sprinkle with corn starch and sugar. Stir gently to combine and let sit until topping is made.
To make topping:
In a small mixing bowl, place egg, egg yolk, oats, flour and sugar. Using a fork, combine until the mixture is the texture of coarse meal.
Divide fruit evenly among ramekins. Divide crumble topping evenly over the top of the fruit mixture.
Drizzle 1 1/2 tablespoons melted butter over the top of the crumble topping on each ramekin.
Bake for 30 minutes or until browned and bubbling. Let sit for at least 15 minutes before eating.
Serve with ice cream if desired.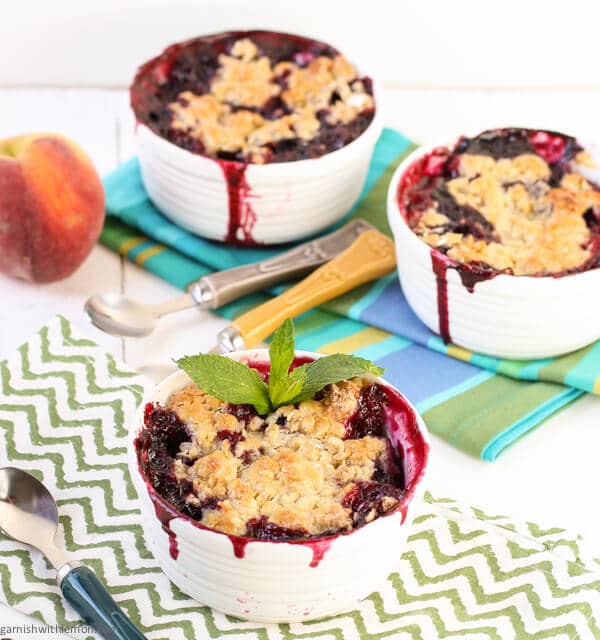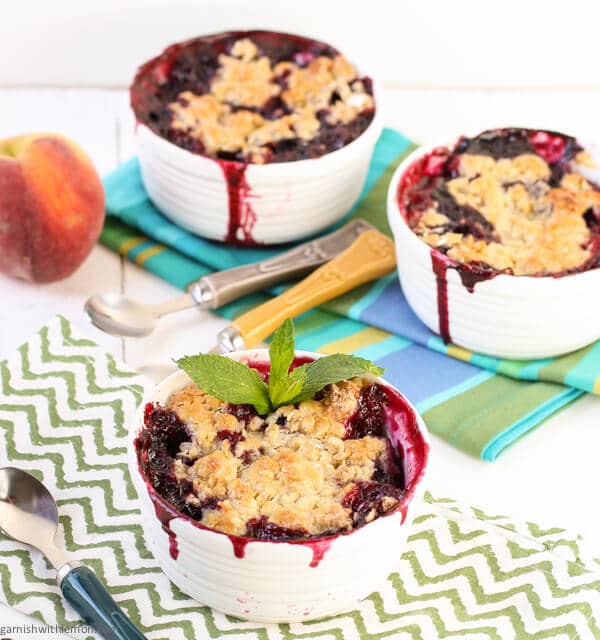 Did you make this recipe? We'd love to see it! Snap a pic of your creation and tag it #GarnishWithLemon. We might even feature your photo on social media!