Celebrate the arrival of spring with this Lemon Thyme Breakfast Cake recipe! A drizzle of herb-infused simple syrup keeps this citrusy cake extra moist and flavorful.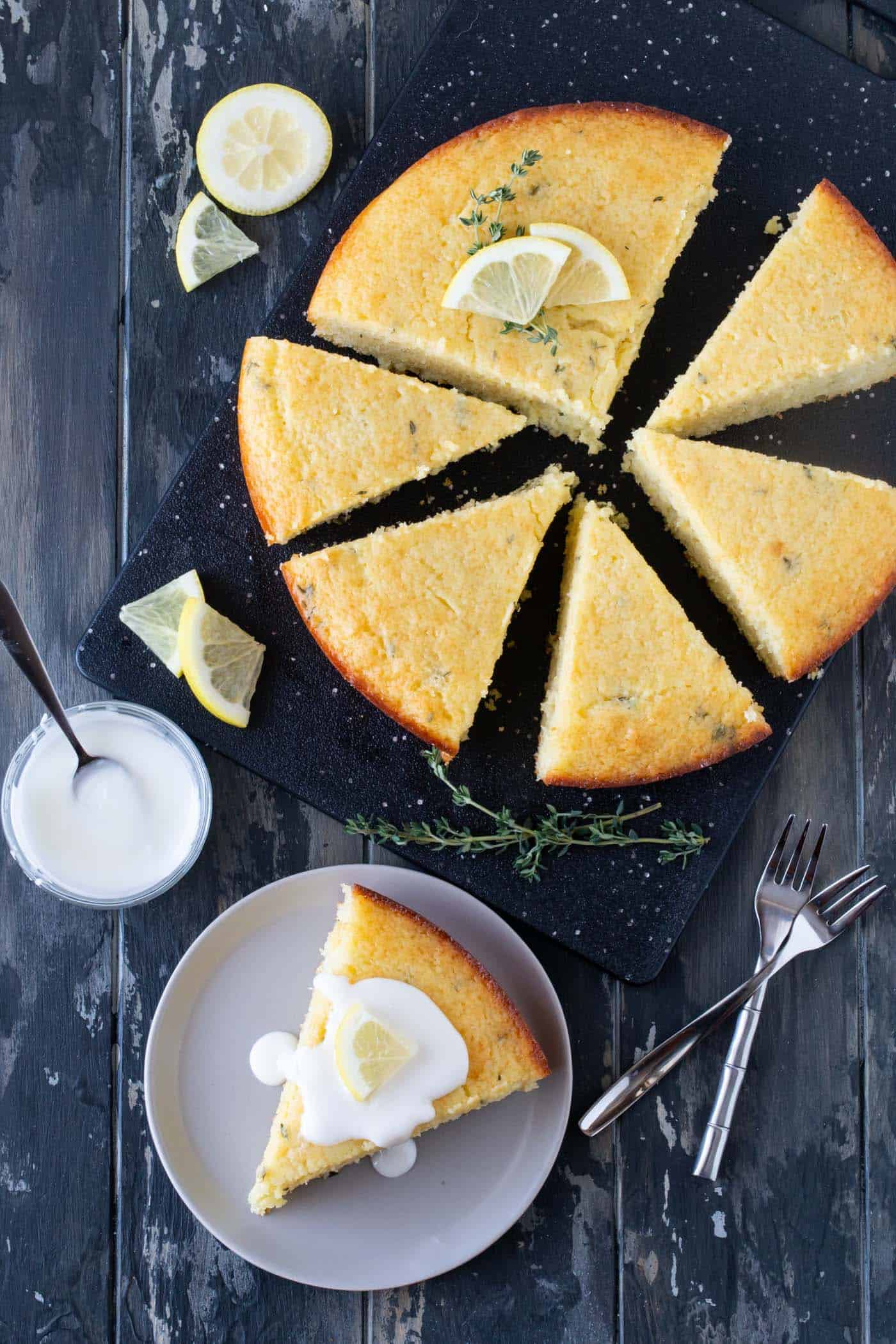 Cake for breakfast? Yes, it's a thing, and you'll definitely want to get your hands on a piece of this Lemon Thyme Breakfast Cake with your morning coffee.
Warmer weather means lighter, brighter baked goods, and this Lemon Thyme Breakfast Cake fits the bill perfectly.
Lemon and thyme pair so well together that I include both in this cake, not only as fresh thyme but also as a thyme-infused lemon simple syrup. The herbal tang from the thyme mellows the tart lemon while Greek yogurt and olive oil add a little extra protein and "good" fats to this recipe.
It may be called a breakfast cake, but this Lemon Thyme Breakfast Cake doesn't need to be limited to morning munchies. I can see it being at home at any springtime gathering from wedding & baby showers to Mother's Day brunch.
There is just something about lemon that squeals spring….or maybe that's just me stuffing my mouth with all of the lemon things I can find.
Variations of Lemon Thyme Breakfast Cake
I baked my cake in a regular 9-inch cake pan but you can easily make these in muffin tins or in loaf form if you prefer. I just love the simplicity of the cake pan. Plus the baking time is shorter. #Winning!
Drizzle your Breakfast Cake with simple syrup to keep it moist
The trick to keeping your breakfast cake moist?
Drizzle it with the thyme-infused simple syrup while it is still hot. The warm cake absorbs the sugar syrup and carries the flavor throughout the cake. Try it and see what a difference it makes!
How to make herb-infused simple syrup
Making an herb-infused simple syrup literally takes minutes, so don't be put off by this extra step in the recipe. The flavor it
adds to the cake is amazing!
Simply combine the lemon juice, sugar and fresh thyme sprigs in a small saucepan and heat until the sugar is dissolved. Allow the syrup to cool slightly, discard the thyme sprigs and pour over the cake.
What you need to make this Lemon Thyme Breakfast Cake:
I pretty much adore any pan made by USA Pans, and their cake pan is no exception.
This citrus press squeezes every last bit of juice out of your lemons (and limes) in one easy step.
Cake for breakfast is always a good choice. Enjoy a slice (or two) of any one of these tasty cakes with your morning cuppa!
Yield: 8-10
Lemon Thyme Breakfast Cake
This light and airy breakfast cake is a fabulous addition to your brunch menu!
Ingredients
For the cake:
1 1/2 cups all-purpose flour
2 teaspoons baking powder
1/2 teaspoon kosher salt
1 cup plain whole milk Greek yogurt
3/4 cup sugar
3 large eggs
Zest from two lemons (2-3 teaspoons)
2 1/2 teaspoons fresh thyme leaves
1/2 teaspoon pure vanilla extract
3 ounces olive oil
For the lemon-thyme syrup:
1/4 cup fresh lemon juice
1/4 cup sugar
3 small fresh thyme sprigs
For the glaze:
1 cup powdered sugar
2 tablespoons fresh lemon juice
Instructions
To make the cake:
Preheat the oven to 350 degrees. Grease and flour a 9-inch cake pan. Set aside.
Sift together the flour, baking powder and salt in a small bowl. Place yogurt, 3/4 cup sugar, eggs, lemon zest, thyme, vanilla and oil in a medium bowl and whisk together. Gently fold in the flour mixture into the wet ingredients until it is just incorporated.
Pour batter into the cake pan and bake for 25 minutes or until a toothpick comes out clean when inserted in the center of the cake. Allow to cool for 5 minutes. Remove from pan and allow to cool on a baking rack placed on top of a baking sheet.
To make the lemon-thyme syrup:
While the cake is baking, combine the 1/4 cup lemon juice, 1/4 cup sugar and thyme sprigs in a small saucepan. Heat over medium heat until sugar is dissolved. Remove from heat.
Gently spoon the syrup over the warm cake once it is placed on the cooling rack. Allow the syrup to soak in. Cool cake completely.
To make the glaze:
Stir together the powdered sugar and 2 tablespoons lemon juice in a small bowl until smooth. Drizzle over cooled cake and serve.
Nutrition Information:
Yield:
10
Serving Size:
1
Amount Per Serving:
Calories:

316
Total Fat:

11g
Saturated Fat:

2g
Trans Fat:

0g
Unsaturated Fat:

9g
Cholesterol:

59mg
Sodium:

234mg
Carbohydrates:

49g
Fiber:

1g
Sugar:

32g
Protein:

6g