Celebrate the arrival of spring with this Lemon Thyme Breakfast Cake!
Cake for breakfast? Yes, please!
Bridget has never taken a huge interest in cooking with me. I always try to seduce her with sweet treats like cakes and cookies, which definitely helps get her IN the kitchen, but her interest usually wanes after a while (especially if there are no chocolate chips to munch on!). And trust me; she is long gone when it's time for dishes and clean up! So when she came home from a sleepover last year bearing a plate of lemon muffins that she and a friend made by themselves, my jaw nearly hit the floor. Since then they have become "her" muffins and she enjoys making them by herself from start to finish. This Lemon Thyme Breakfast Cake is a tasty riff on one of Bridget's favorite baked treats and is ideal for spring.
Warmer weather means lighter, brighter desserts, and this cake fits the bill perfectly. Lemon and thyme pair so well together that I include both in this cake, not only as fresh thyme but also as a thyme-infused lemon simple syrup. The herbal tang from the thyme mellows the tart lemon while Greek yogurt and olive oil keep the cake moist and tender.
No need for fancy frosting or decorations, either. I used a cake pan but you could easily make these in muffin tins or in loaf form as the original recipe suggests. I just love the simplicity of the cake pan. Plus the baking time is shorter – #winning.
This Lemon Thyme Breakfast Cake doesn't need to be limited to morning munchies, either. I can see it being at home at any springtime gathering, from wedding & baby showers to Easter celebrations to Mother's Day brunch. There is just something about lemon that squeals spring….or maybe that's just me stuffing my mouth with all of the lemon things I can find.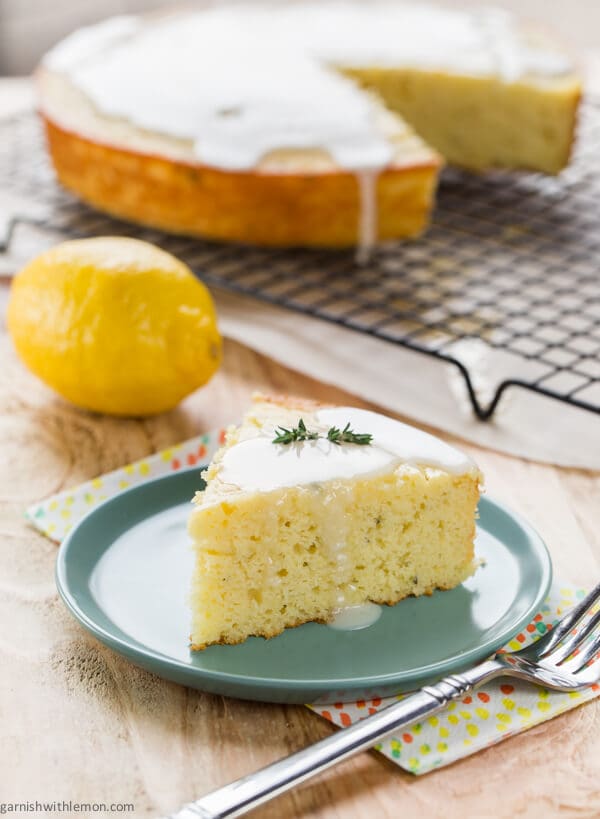 Lemon Thyme Breakfast Cake
8-10
adjust servings
Ingredients
For the cake
1 1/2

cups all-purpose flour

2

teaspoons baking powder

1/2

teaspoon kosher salt

1

cup plain whole milk Greek yogurt

3/4

cup sugar

3

large eggs

Zest from two lemons (2-3 teaspoons)

2 1/2

teaspoons fresh thyme leaves

1/2

teaspoon pure vanilla extract

3

ounces olive oil
For the lemon-thyme syrup
1/4

cup fresh lemon juice

1/4

cup sugar

3

small fresh thyme sprigs
For the glaze
1

cup powdered sugar

2

tablespoons fresh lemon juice
Instructions
To make the cake:
Preheat the oven to 350 degrees. Grease and flour a 9-inch cake pan. Set aside.
Sift together the flour, baking powder and salt in a small bowl. Place yogurt, 3/4 cup sugar, eggs, lemon zest, thyme, vanilla and oil in a medium bowl and whisk together. Gently fold in the flour mixture into the wet ingredients until it is just incorporated.
Pour batter into the cake pan and bake for 25 minutes or until a toothpick comes out clean when inserted in the center of the cake. Allow to cool for 5 minutes. Remove from pan and allow to cool on a baking rack placed on top of a baking sheet.
To make the lemon-thyme syrup:
While the cake is baking, combine the 1/4 cup lemon juice, 1/4 cup sugar and thyme sprigs in a small saucepan. Heat over medium heat until sugar is dissolved. Remove from heat.
Gently spoon the syrup over the warm cake once it is placed on the cooling rack. Allow the syrup to soak in. Cool cake completely.
To make the glaze:
Stir together the powdered sugar and 2 tablespoons lemon juice in a small bowl until smooth. Drizzle over cooled cake and serve.
Did you make this recipe? We'd love to see it! Snap a pic of your creation and tag it #GarnishWithLemon. We might even feature your photo on social media!
 Recommended Equipment: