Rich, velvety and filled with coffee and Kahlúa, this Espresso Martini recipe is a smooth sipper that needs to be added to your after-dinner drink repertoire.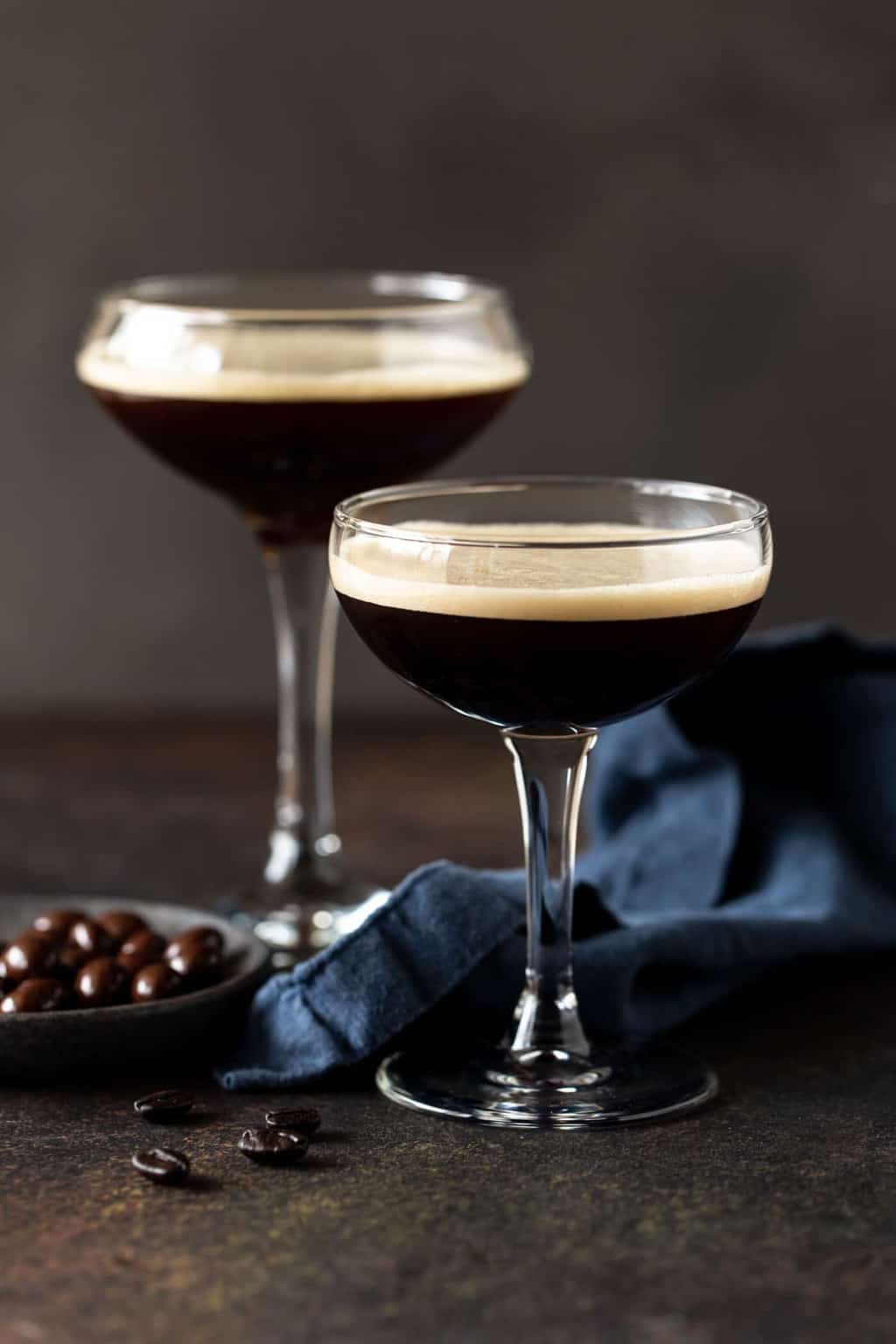 It's party season and that means we are shaking up cocktails!
If you are a long time Garnish with Lemon reader, you know that we love to drink our dessert, so it should come as no surprise that this Espresso Martini is one of our new favorite ways to enjoy our sweets. One sip and you will understand what separates this cocktail recipe from the rest of the coffee martinis you may see.
Jump to:
Ingredients
This dessert-in-a-glass has only 4 , easy to find ingredients:
Kahlúa
Vanilla Vodka
Brewed Coffee or espresso (cooled)
Créme de Cacao
Quality ingredients = best martini
The secret to making an absolutely killer martini cocktail is simple but vital to your success: Use quality ingredients!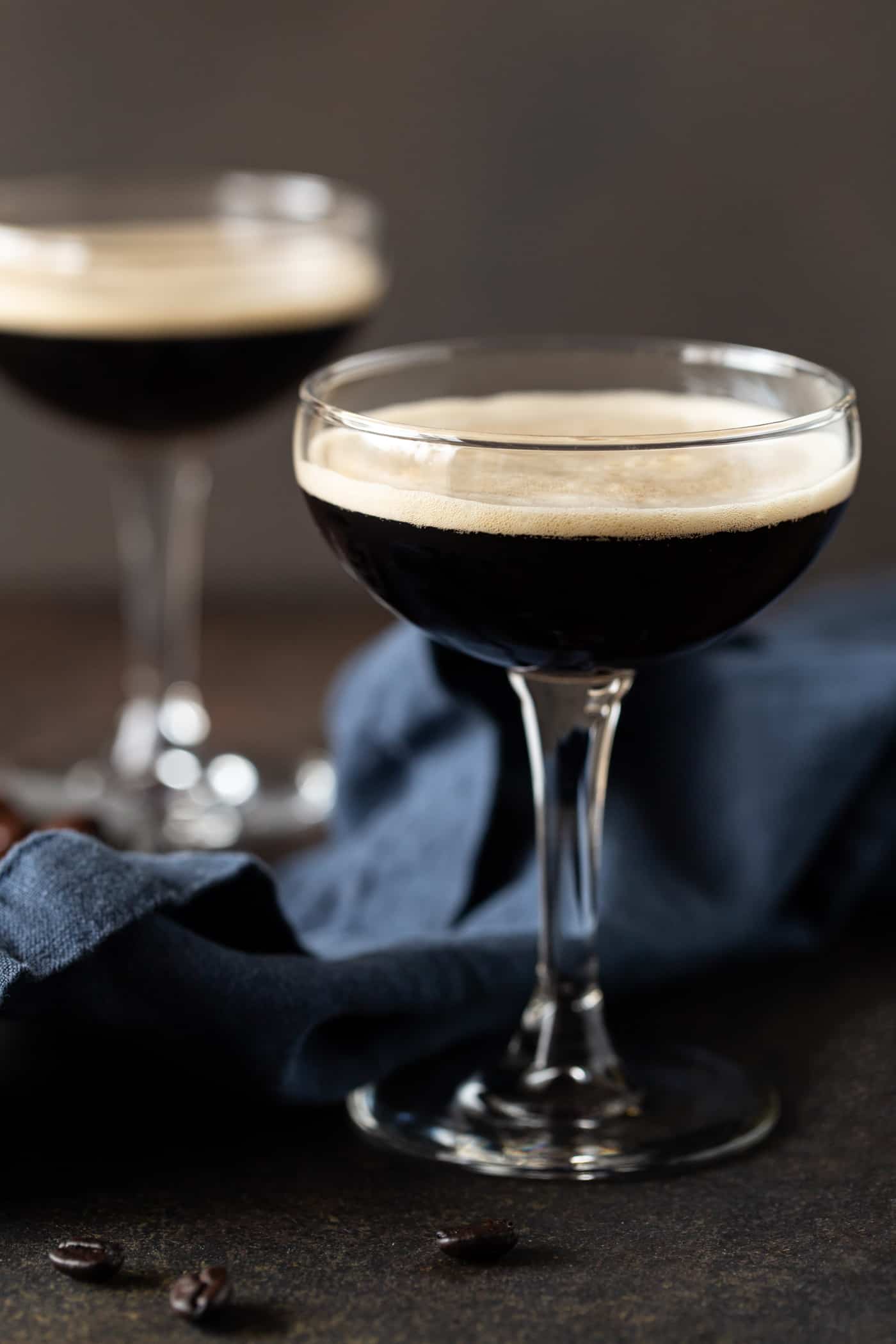 Instructions
Just like there are only 4 ingredients in this cocktail, there are also 4 easy steps to making it:
Step 1: Fill shaker with ice.
Step 2: Add Kahlua, vodka, créme de cacao, and cooled coffee to shaker.
Step 3: Shake vigorously in a back and forth motion, not up and down motion to create the most froth.
Step 4: Pour contents of shaker into glass and serve immediately. The longer the drink sits, the more the foam will dissipate.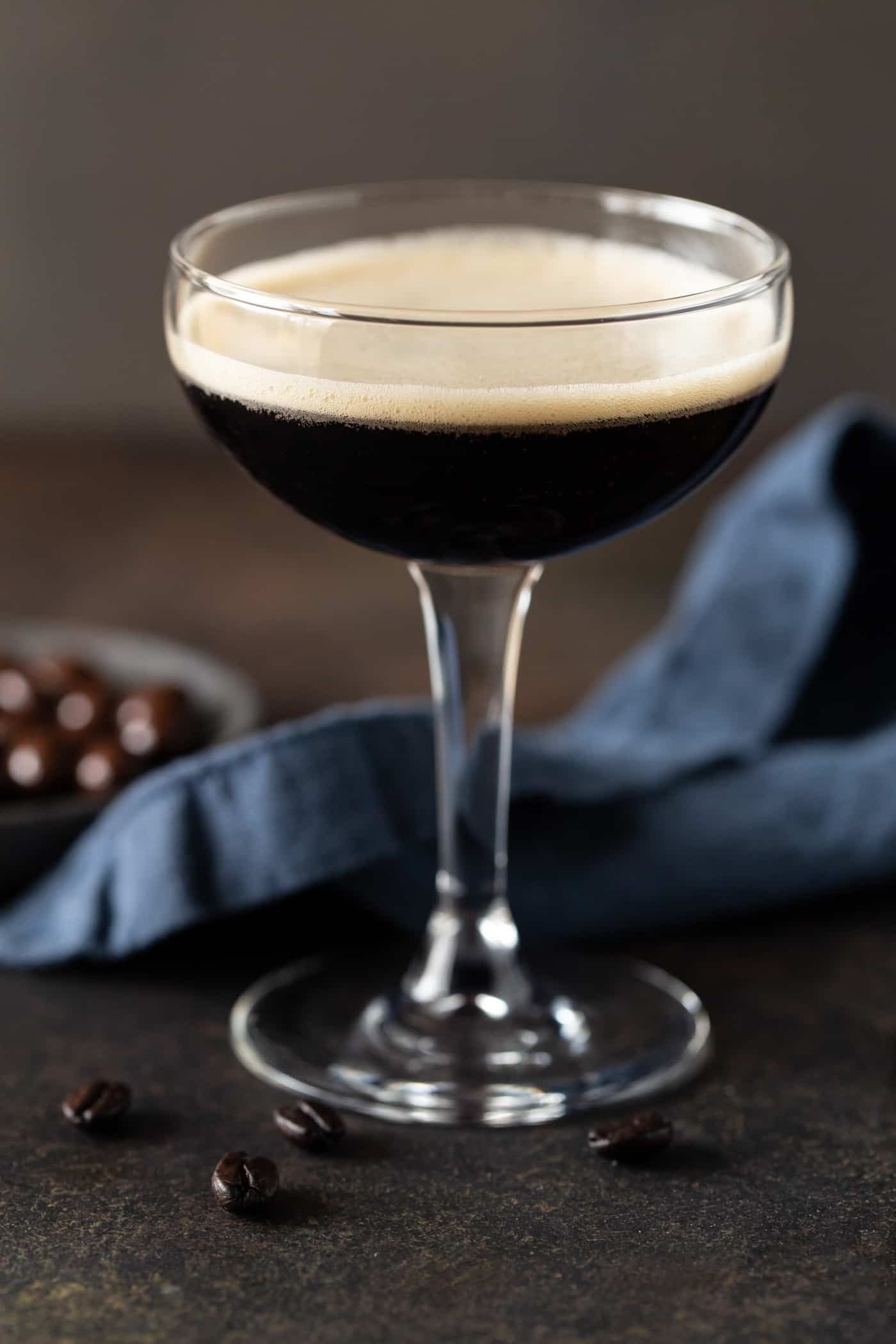 FAQs
What is the difference between espresso and coffee?
The difference between espresso and coffee basically comes down to how they are brewed.
An espresso has to be made in an espresso machine and is made by forcing water through fine, compact coffee grounds thus creating a layer of espresso and a layer of froth. Espresso is stronger and can have a slightly bitter flavor.
Coffee is made by pouring water over coffee grounds. Since the water spends more time with the coffee grounds, the grind of the beans is coarser but the end result is a smoother drink.
I don't have espresso. Can I use regular brewed coffee in this cocktail?
Absolutely! Technically I guess it isn't really an "espresso" martini as much as a coffee martini but you will still get the foamy top with brewed coffee. And it still tastes delicious and that's what counts. 
Can I make this cocktail recipe with decaf coffee?
You sure can! Worried that the caffeine will keep you awake? Don't stress, you can easily make this with decaf coffee as well. Just remember to use a quality brew that is your favorite. The flavor will shine through so you don't want to use something you wouldn't drink alone.
And - AGAIN - don't try and use instant coffee. It just doesn't work.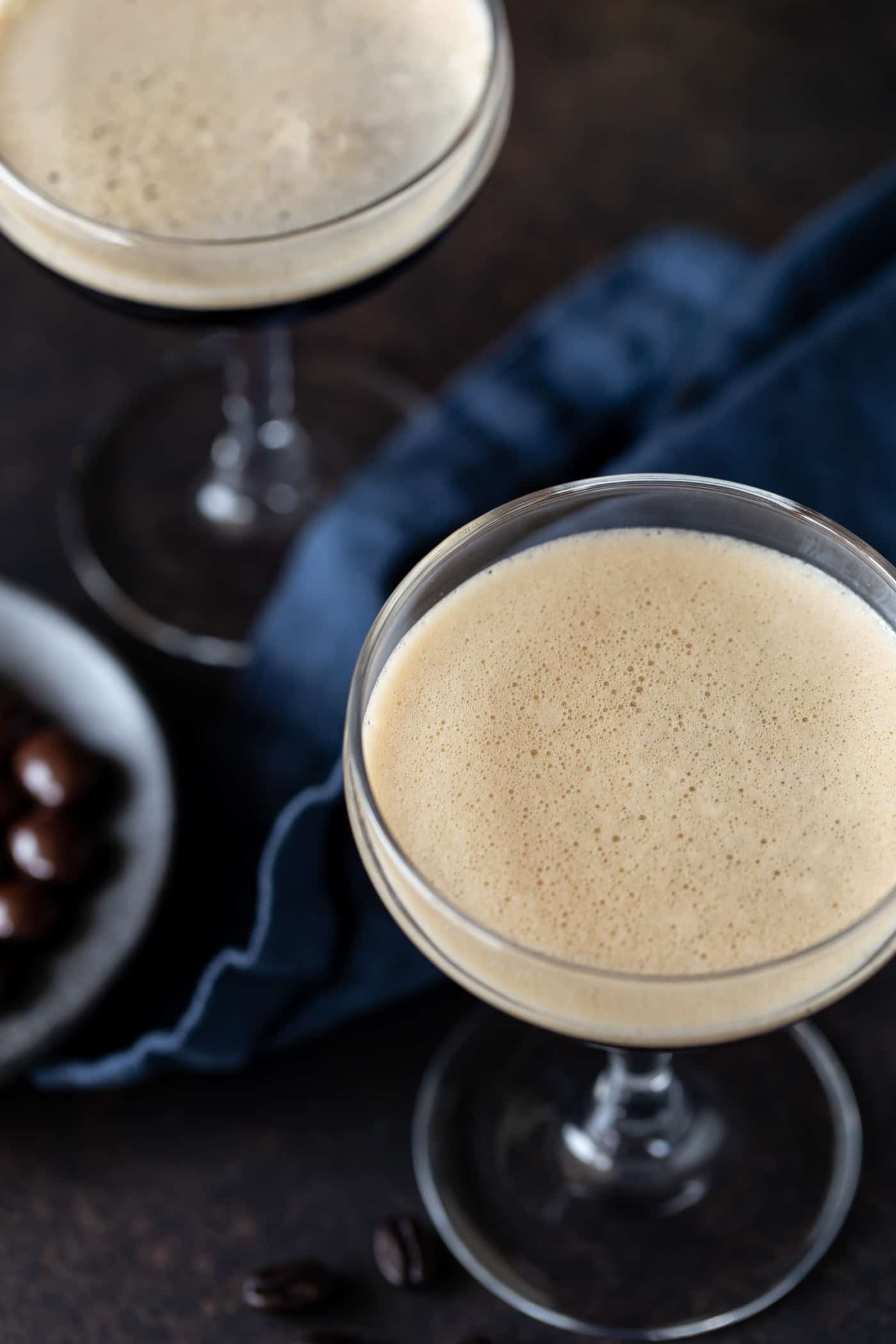 How to Get the Best Froth
The froth is created when you shake the ingredients over ice in a shaker. Here are some tips for the best froth:
Use ice from the freezer, not an ice bucket. The less water there is, the more foam there will be.
Shake cocktail vigorously in a back and forth motion.
Strain shaker contents into glass being sure to strain out all of the froth.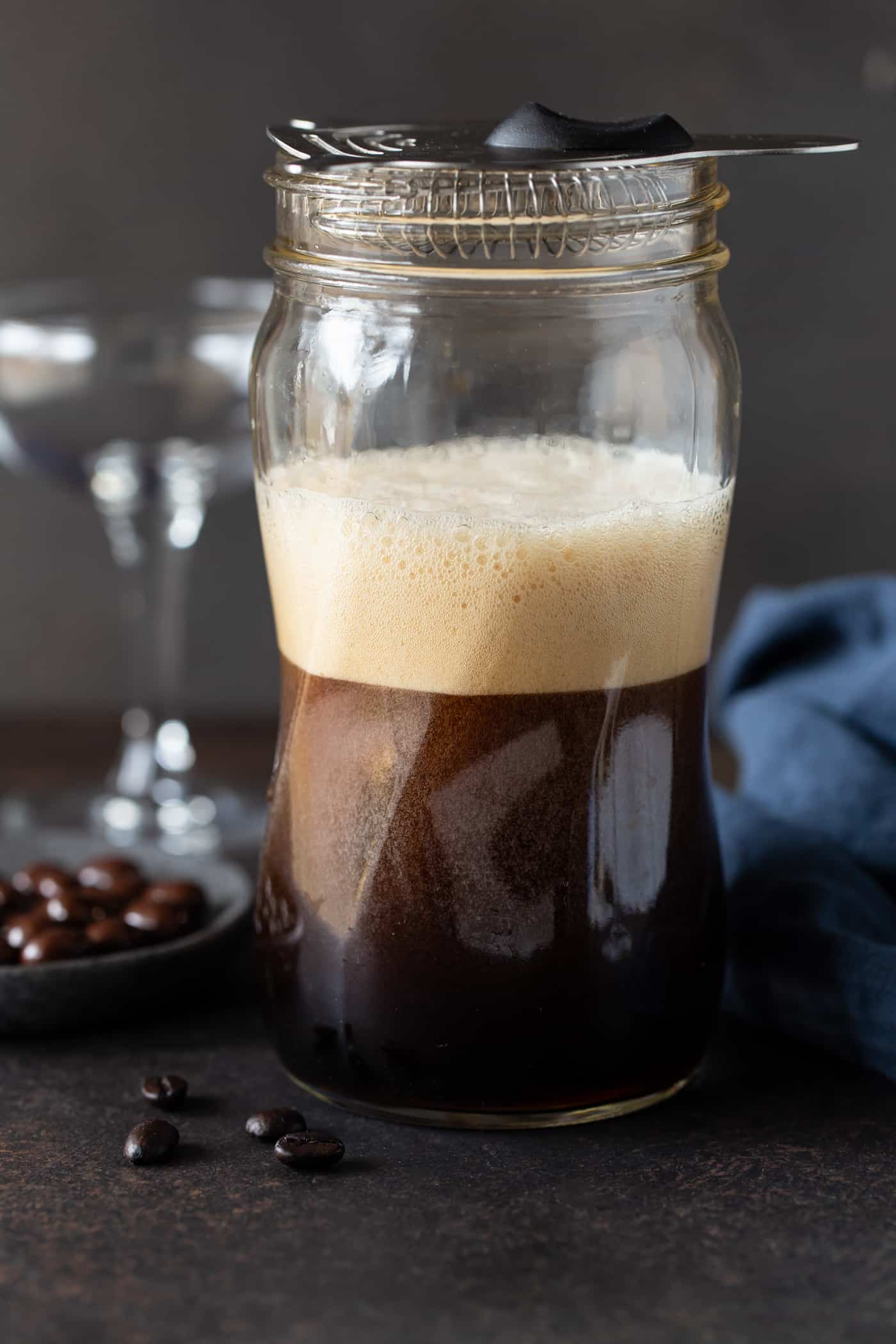 Make Ahead Tips
These drinks get the most froth when they are freshly made.
But you can combine the ingredients together in a mason jar without ice and chill.
When you are ready to serve the cocktails, simply pour the ingredients into a shaker filled with ice, shake and serve.
More Dessert Drinks
We took a great drink and made it even better with this Kahlua Chocolate Martini
One sip of this Chocolate Martini and you will see why it's so popular!
You can never go wrong with a classic White Russian cocktail!
This Chocolate Raspberry Martini has the perfect amount of sweetness to make a divine after dinner drink.
Why buy it when you can make the best Homemade Egg Nog yourself?
Check out all of our Liqueur Drinks!
Recipe
Espresso Martini Recipe
Rich and frothy, this Espresso Martini is a perfect nightcap!
Ingredients
1 ½

ounces

Kahlua

1

ounce

créme de cacao

1

ounce

vanilla vodka

2

ounces

brewed coffee or espresso

cooled
Instructions
Fill a cocktail shaker with ice.

Add all ingredients

Shake vigorously in a back and forth motion to combine.

Strain into stemmed glass and serve immediately.
Nutrition
Serving:
5.5
ounces
Calories:
299
kcal
Carbohydrates:
28
g
Sodium:
10
mg
Sugar:
28
g
Nutrition info not guaranteed to be accurate.
Rich and velvety, this Espresso Martini recipe filled with coffee and chocolate flavors makes a fabulous after-dinner drink.