Rich, velvety and filled with coffee and Kahlúa, this Espresso Martini recipe is a smooth sipper that needs to be added to your after-dinner drink repertoire.
Espresso Martini
It's party season and that means we are shaking up cocktails!
If you are a long time Garnish with Lemon reader, you know that we love to drink our dessert, so it should come as no surprise that this Espresso Martini is one of our new favorite ways to enjoy our sweets. One sip and you will understand what separates this cocktail recipe from the rest of the coffee martinis you may see.
Espresso Martini Ingredients
This dessert-in-a-glass has only 4 , easy to find ingredients:
Kahlúa
Vanilla Vodka
Brewed Coffee or espresso (cooled)
Créme de Cacao
Quality ingredients = best martini
The secret to making an absolutely killer martini cocktail is simple but vital to your success: Use quality ingredients!
When your cocktail only has 4 ingredients, quality plays a huge part in how good it is. Especially the coffee. Save the instant for another time and use a quality brewed coffee or espresso. The same goes for the vodka. Use a quality vodka, not a rail. Believe me. It makes a difference in how smooth and rich this cocktail tastes.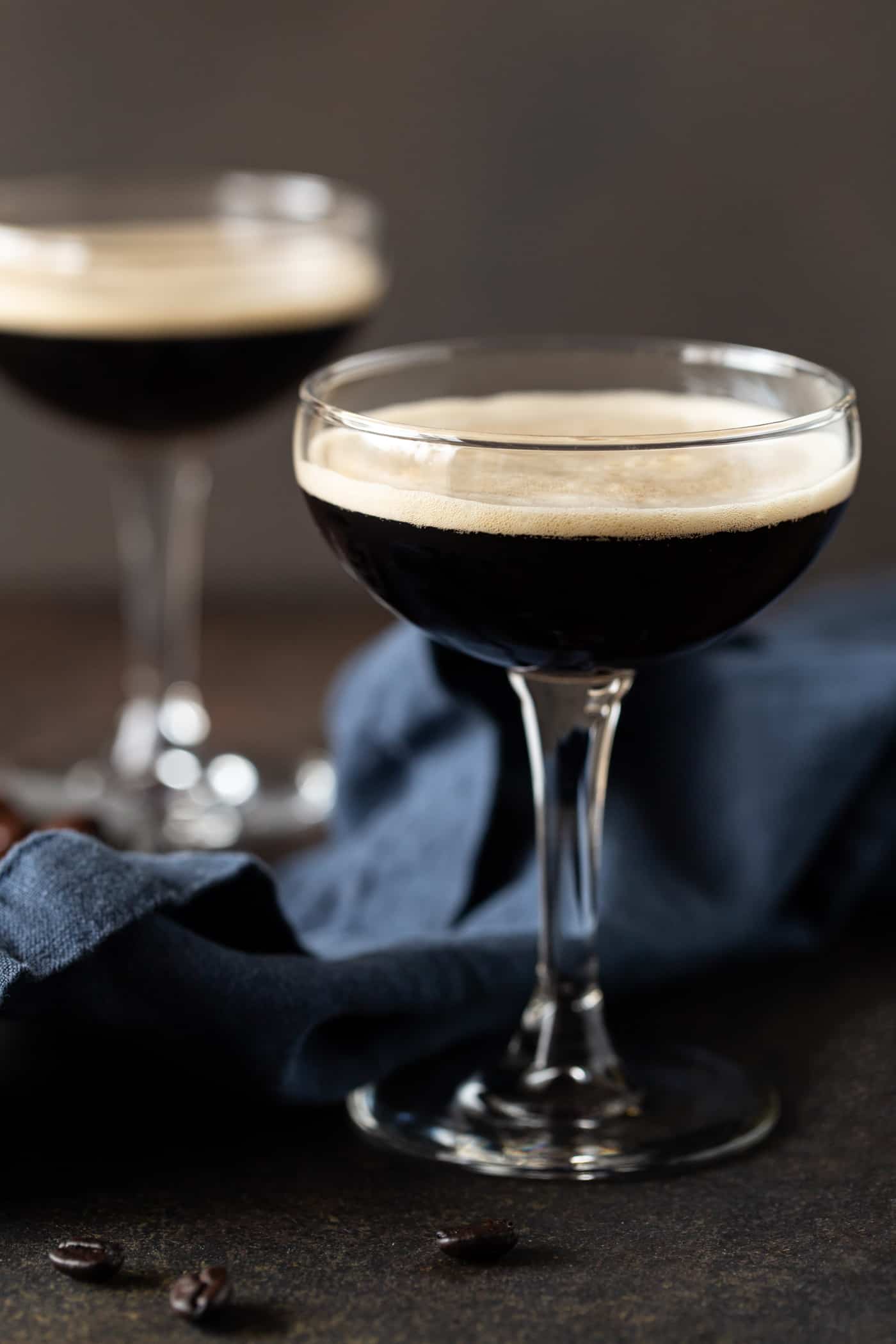 I don't have espresso. Can I use regular brewed coffee in this cocktail?
Absolutely! Technically I guess it isn't really an "espresso" martini as much as a coffee martini but you will still get the foamy top with brewed coffee. And it still tastes delicious and that's what counts.
Can I make this cocktail recipe with decaf coffee?
You sure can! Worried that the caffeine will keep you awake? Don't stress, you can easily make this with decaf coffee as well. Just remember to use a quality brew that is your favorite. The flavor will shine through so you don't want to use something you wouldn't drink alone.
And – AGAIN – don't try and use instant coffee. It just doesn't work.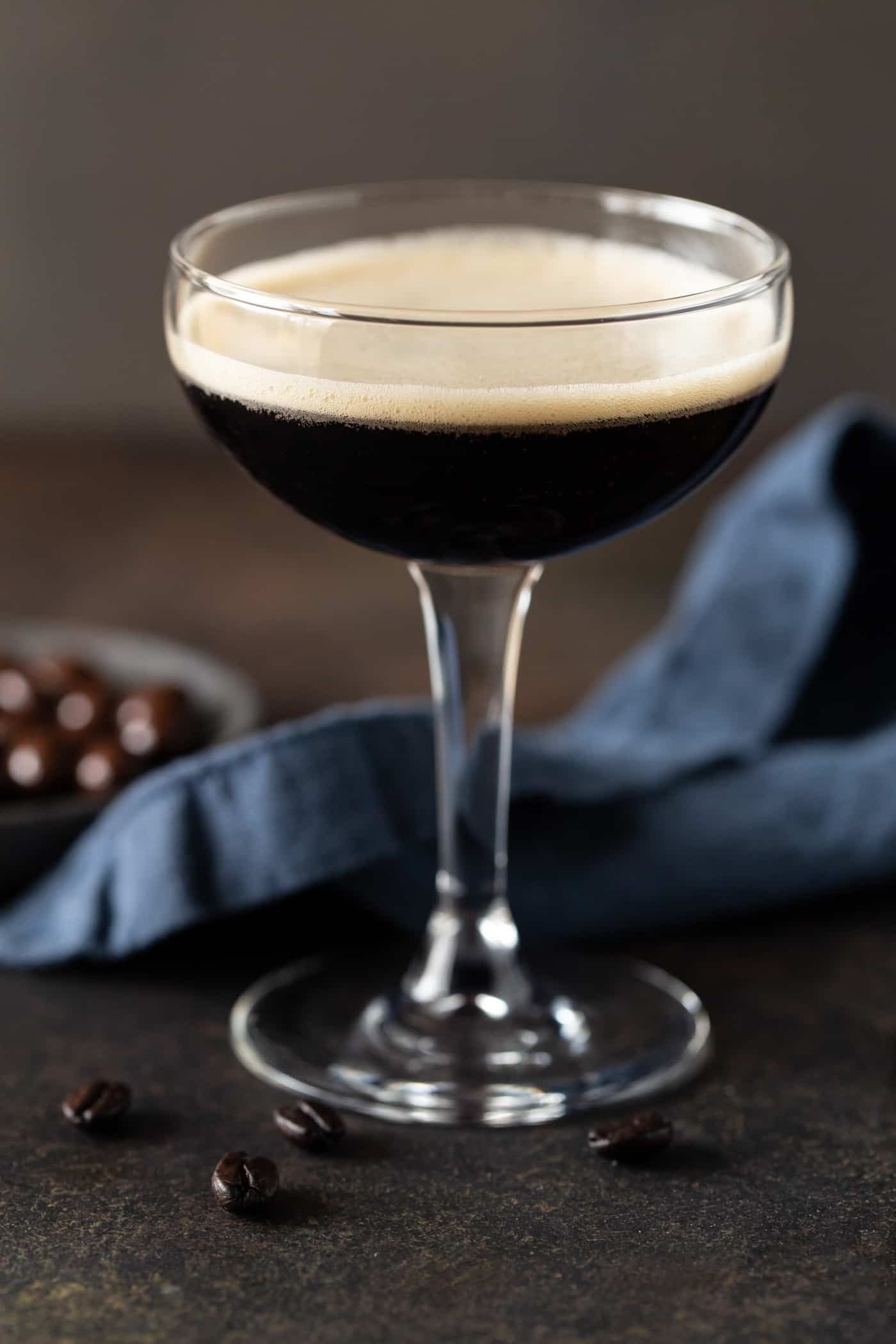 What is the difference between espresso and coffee?
The difference between espresso and coffee basically comes down to how they are brewed.
An espresso has to be made in an espresso machine and is made by forcing water through fine, compact coffee grounds thus creating a layer of espresso and a layer of froth. Espresso is stronger and can have a slightly bitter flavor.
Coffee is made by pouring water over coffee grounds. Since the water spends more time with the coffee grounds, the grind of the beans is coarser but the end result is a smoother drink.
Dark vs. light créme de cacao
With this cocktail, you can use either one!
The main difference between light and dark créme de cacao is the color.
Créme de cacao (pronounced cream da ka-kow) is a type of sweet chocolate liqueur that is heavily accented with vanilla. You might see different colored bottles of créme de cacao at the liquor store – one clear and one dark. The dark version has had the cacao bean percolated in it, which gives it a darker color. The process to make light créme de cacao omits the bean percolation and results in a clear color.
Use light créme de cacao in drinks where you want the hint of chocolate flavor without altering the color of the drink.
Use dark when you want a darker drink.
In this recipe, since the coffee is so dark it doesn't matter what color of créme de cacao you use. Use whatever you have on hand in the liquor cabinet. If you are going to purchase it now, pick whichever kind you think you will use more.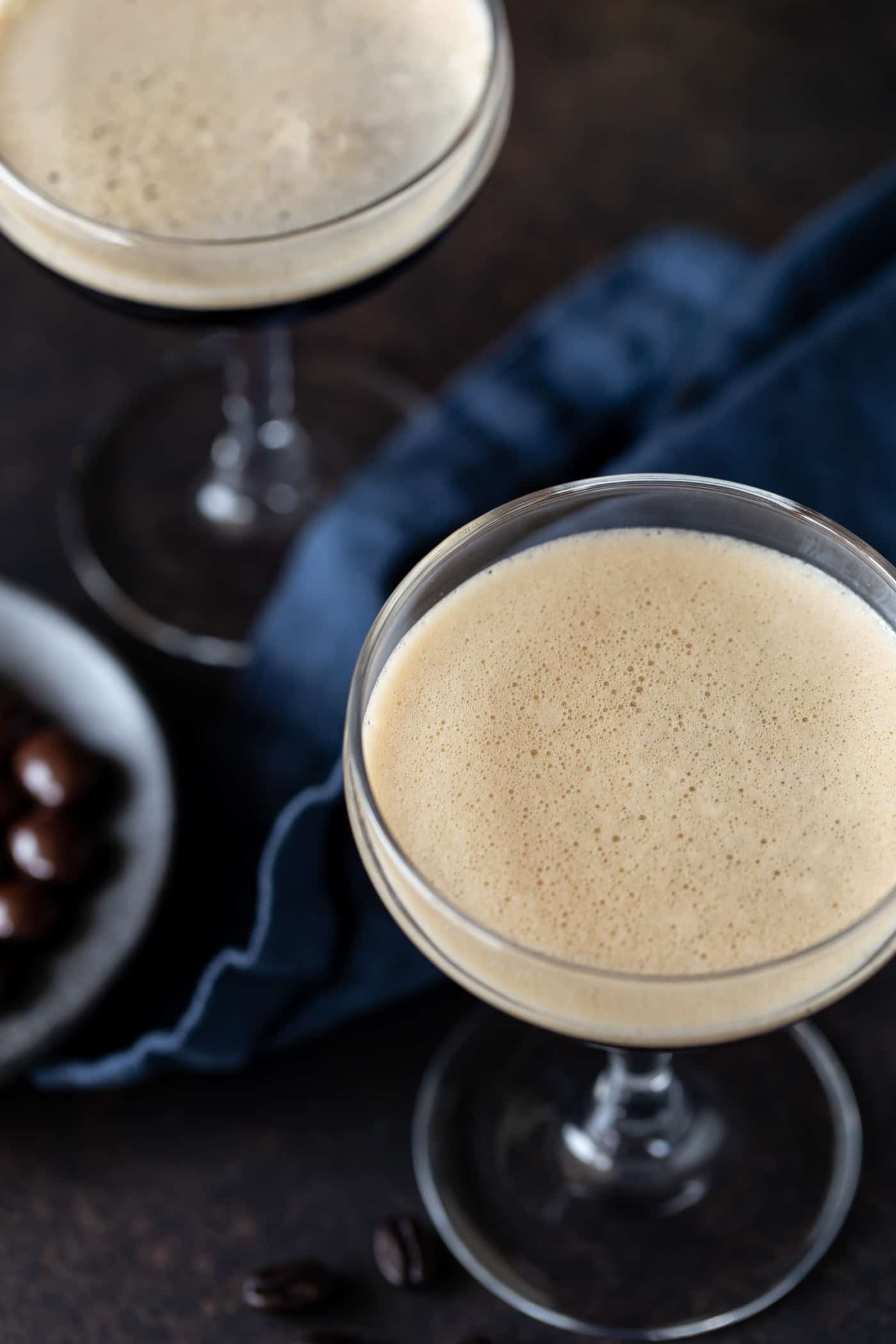 How do I make an espresso martini?
Just like there are only 4 ingredients in this cocktail, there are also 4 easy steps to making it:
Step 1: Fill shaker with ice.
Step 2: Add Kahlua, vodka, créme de cacao, and cooled coffee to shaker.
Step 3: Shake vigorously in a back and forth motion, not up and down motion to create the most froth.
Step 4: Pour contents of shaker into glass and serve immediately. The longer the drink sits, the more the foam will dissipate.
Speaking of which, how do I get that froth on top of my espresso cocktail?
The froth is created when you shake the ingredients over ice in a shaker. Here are some tips for the best froth:
Use ice from the freezer, not an ice bucket. The less water there is, the more foam there will be.
Shake cocktail vigorously in a back and forth motion.
Strain shaker contents into glass being sure to strain out all of the froth.
What kind of glass is best to serve this dessert martini in?
There really isn't a wrong answer, but one with a stem is best. Holding the drink with the stem will keep the drink colder for a longer period of time versus warming the drink up with your hand as you hold it.
And the colder it is, the longer the frothy top will last.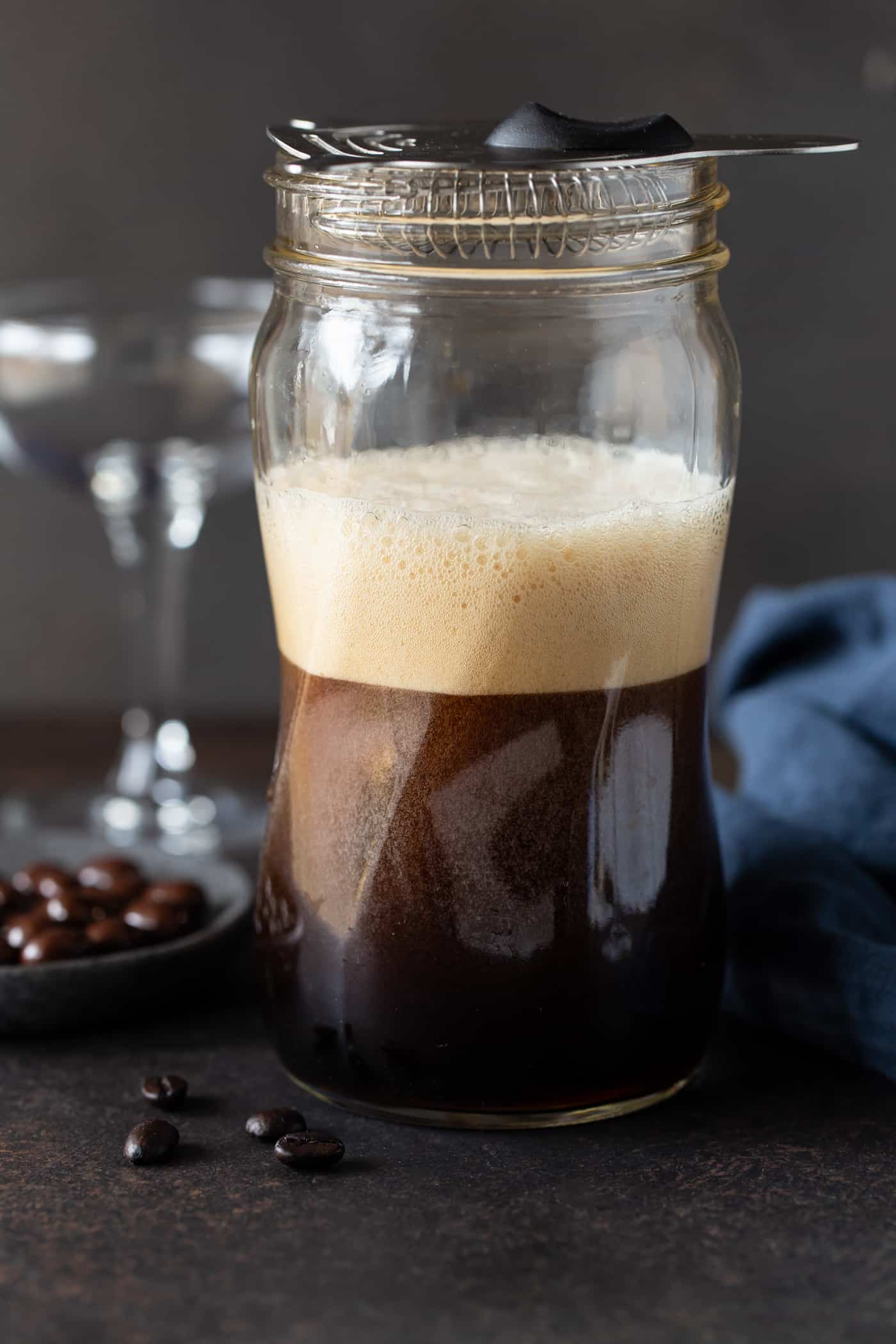 Can I make these coffee drinks ahead of time?
These drinks get the most froth when they are freshly made. You can combine the ingredients together in a mason jar without ice and chill. When you are ready to serve the cocktails, simply pour the ingredients into a shaker filled with ice, shake and serve.
Do these coffee martinis make a good batch cocktail?
This is one drink that doesn't lend itself well to shaking a batch at a time. If the cocktail shaker is too full, there isn't enough air to create the froth. And let's face it, the froth makes this cocktail. So it's best to make a maximum of 2 cocktails at a time.
Love dessert drinks as much as we do? Check out our other favorite sweet sippers:
Yield: Makes 1 cocktail
Espresso Martini Recipe
Rich and frothy, this Espresso Martini is a perfect nightcap!
Ingredients
1 1/2 ounces Kahlua
1 ounce créme de cacao
1 ounce vanilla vodka
2 ounces brewed coffee or espresso, cooled
Instructions
Fill a cocktail shaker with ice.
Add all ingredients
Shake vigorously in a back and forth motion to combine.
Strain into stemmed glass and serve immediately.
Recommended Products
As an Amazon Associate and member of other affiliate programs, I earn from qualifying purchases.
Nutrition Information:
Yield:
1
Serving Size:
1
Amount Per Serving:
Calories:

299
Total Fat:

0g
Saturated Fat:

0g
Trans Fat:

0g
Unsaturated Fat:

0g
Cholesterol:

0mg
Sodium:

10mg
Carbohydrates:

28g
Fiber:

0g
Sugar:

28g
Protein:

0g
Rich and velvety, this Espresso Martini recipe filled with coffee and chocolate flavors makes a fabulous after-dinner drink.