Hosting a party? Dessert cocktails are a fun addition to any cocktail menu and this Cherry Chocolate Martini is guaranteed to be a hit!

Chocolate Cherry Martini
Who else loves dessert martinis?
We took our ever-popular Chocolate Martini and gave it an update. This Cherry Chocolate Martini tastes exactly like a chocolate-covered cherry. Now if that doesn't say dessert, we don't know what does!
What ingredients do I need for a Chocolate Covered Cherry Martini?
Chocolate Liqueur
Cherry Vodka
Créme de Cacao
Milk
Maraschino Cherries

What's the difference between créme de cacao and chocolate liqueur?
Let's start with how they are the same. They both have 15% alcohol and made from the cacao bean. You will often find both créme de cacao and chocolate liqueur listed as ingredients in a variety of dessert cocktails.
But their appearances and flavors are distinct.
Créme de cacao (pronounced cream da ka-kow) is a type of sweet chocolate liqueur that is heavily accented with vanilla. You might see different colored bottles of créme de cacao at the liquor store – one clear and one dark. The dark version has had the cacao bean percolated in it, which gives it the darker color. The process to make light créme de cacao omits the bean percolation and results in the clear color.
Chocolate liqueur, on the other hand, is still made with cacao beans but it often includes real chocolate and cream in it. The result is a richer, creamier texture. There are several different brands of chocolate liqueurs available but our favorite brand is Godiva. It comes in White, Milk and Dark Chocolate varieties.
The chocolate liqueur adds a lot of richness to this Chocolate Cherry Martini and can even be served by itself for a tasty after-dinner drink or mixed in a Kahlua Chocolate Martini, Chocolate Raspberry Martini or an Espresso Martini.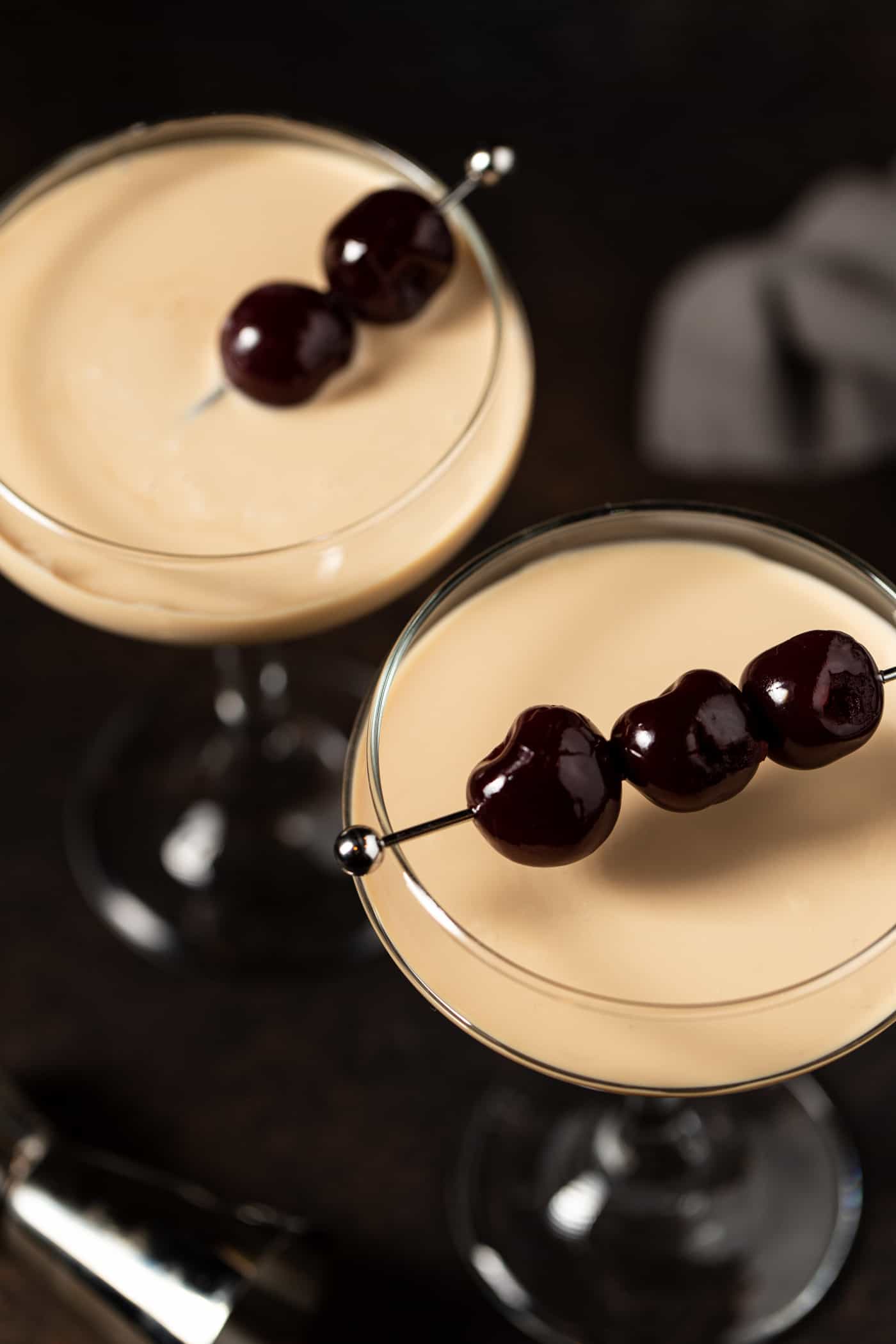 Should I use dark or light créme de cacao?
With this cocktail, you can use either one!
The main difference between light and dark créme de cacao is the color.
Use light créme de cacao in drinks where you want the hint of chocolate flavor without altering the color of the drink.
Use dark when you want a darker drink.
Use whatever variation of créme de cacao you have on hand in the liquor cabinet. If you are going to purchase it now, pick whichever kind you think you will use more.
Does it matter if I use cherry vodka or plain vodka in this chocolate-covered cherry martini?
Yes, it does! A lot! Even though it is a small amount, the cherry vodka gives this drink its cherry flavor and adds a lot of depth to the chocolate flavor.
If you aren't a cherry fan, use raspberry vodka instead. It's easy to swap the flavors!
But we recommend that you save your plain vodka for some of our other martinis, like the Elderflower Martini, and pick up a small bottle of cherry vodka for this one. You won't regret it.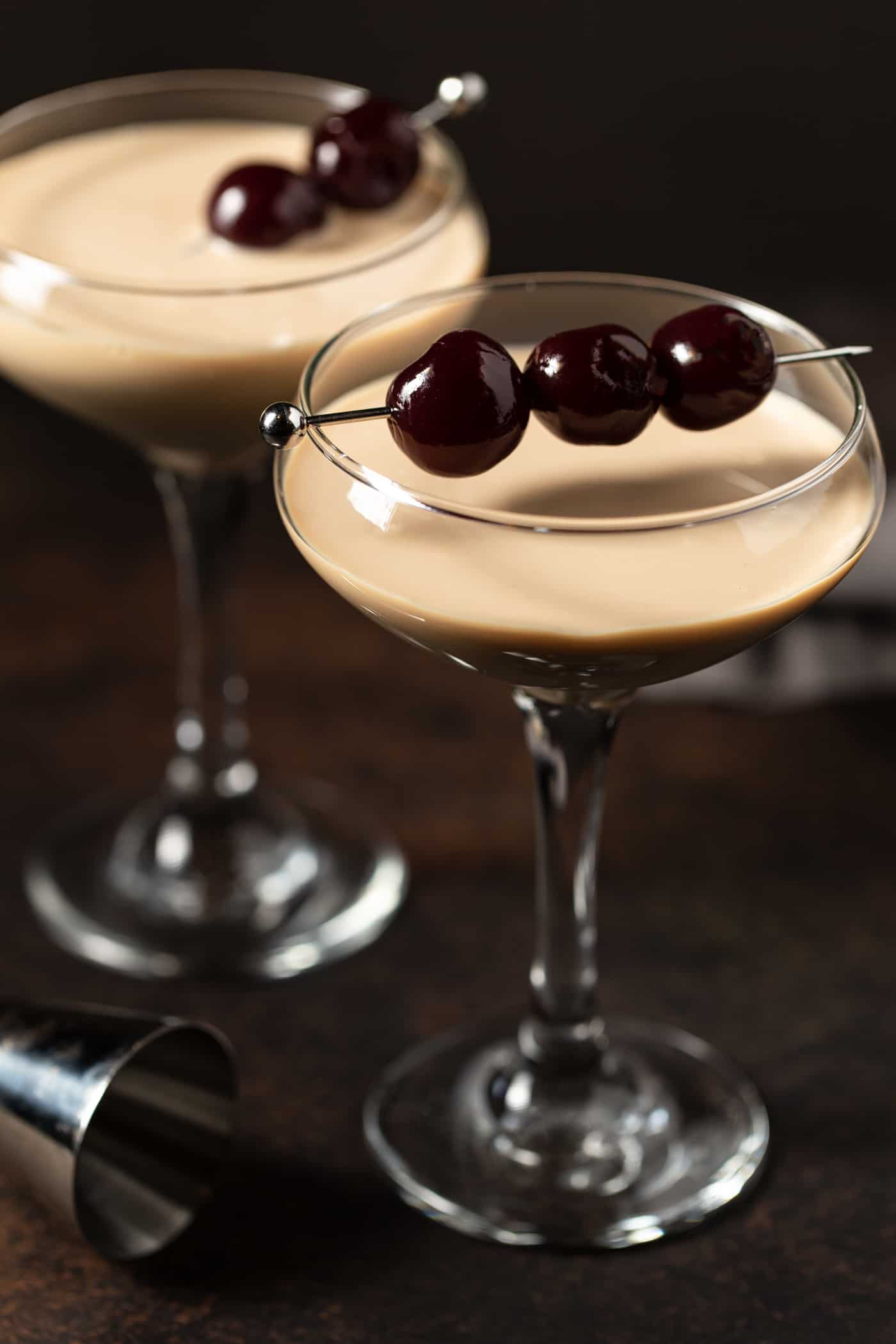 Three ways to garnish a cherry chocolate martini
The sky is the limit on how to finish these tasty chocolate drinks. Here are three different ways to garnish this cocktail:
Thread maraschino cherries on a skewer and place in the glass.
Float a few chocolate curls on top,
Add a chocolate swirl to the glass!
Really, there is no wrong choice here. They all result in getting to sip on a decadent chocolate martini...how can you go wrong?
What's the difference between a luxardo cherry and a bright red maraschino cherry?
Luxardo Cherries are candied cherries that are soaked in a thick Luxardo marasca cherry syrup. The dark red color is natural and they are a stunning addition to any cocktail. If you're looking for a way to instantly elevate a cocktail, the Luxardo Cherry is your answer.
If you don't want to splurge on Luxardos, you can try a brand like Bada Bing. Equally delicious but less expensive.
Bada Bing Cherries are sweet bing cherries bottled in cherry juice instead of the syrup. They are large cherries with the same burgundy color and sweetness, making them a great option for a cocktail garnish.
Now that you have a jar of premium cherries in your home bar, use them in your favorite whiskey cocktails. We love to add them to a Manhattan Cocktail.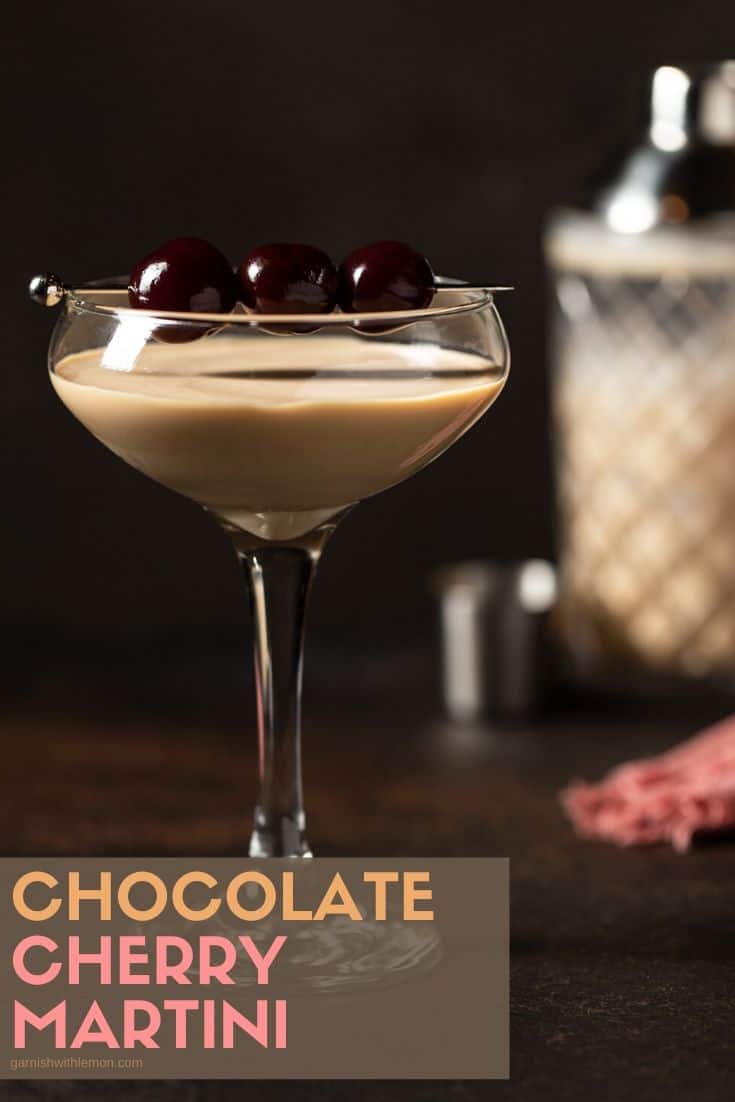 How to swirl the chocolate in a glass
Making a chocolate swirl in a glass can be intimidating, but I have a few tips for making this fancy garnish easier:
If you want to garnish the glasses ahead of time so they are ready when guests arrive, melt chocolate chips and a bit of coconut oil together. (The coconut oil keeps the chocolate smooth). The chocolate will set and stay for hours.
I definitely recommend using these mini-bottles to swirl the chocolate into the glass. The small tip gives you so much more control over the flow of chocolate (and thus the size of the swirl).
You can also pop the melted chocolate in a plastic bag, cut off a corner to use as a tip and swirl it into the glass.
If you run short on time, simply break out the Hershey's chocolate syrup! Swirl it into the glass, fill it with the cocktail and serve immediately. It's not visually as pretty but it's still darn tasty!
Can I make this cherry chocolate martini a batch cocktail?
Yes! After all, who likes to drink a chocolate martini alone? These cocktails pretty much have party written all over them. We have several different shakers that we love but this one is large enough to make martinis for 5 people.
Try some of our other favorite after-dinner drinks:
Yield: 1 cocktail
Cherry Chocolate Martini
Love dessert martinis? This Cherry Chocolate Martini, an updated version of our popular Chocolate Martini tastes just like a chocolate-covered cherry!
Ingredients
1 1/2 ounces Chocolate Liqueur
1 1/2 ounces Créme de Cacao
1/2 ounce Cherry Vodka
2 1/2 ounces milk
Cherries for garnish
Instructions
Fill a martini shaker half full with ice and add the chocolate liqueur, Créme de Caco, Cherry Vodka and Milk.
Shake vigorously to combine
Strain the contents into a martini glass
Garnish with cherries and serve.
Recommended Products
As an Amazon Associate and member of other affiliate programs, I earn from qualifying purchases.
Nutrition Information:
Yield:
1
Serving Size:
6 ounces
Amount Per Serving:
Calories:

366
Total Fat:

2g
Saturated Fat:

1g
Trans Fat:

0g
Unsaturated Fat:

1g
Cholesterol:

6mg
Sodium:

41mg
Carbohydrates:

37g
Fiber:

0g
Sugar:

32g
Protein:

3g
Love dessert martinis? This Cherry Chocolate Martini - an updated version of our popular Chocolate Martini - tastes just like a chocolate-covered cherry!