You can never go wrong with an easy summer dessert like this Strawberry Shortcake recipe! Flaky biscuits filled with fresh berries and homemade whipped cream is a dessert that makes everyone happy.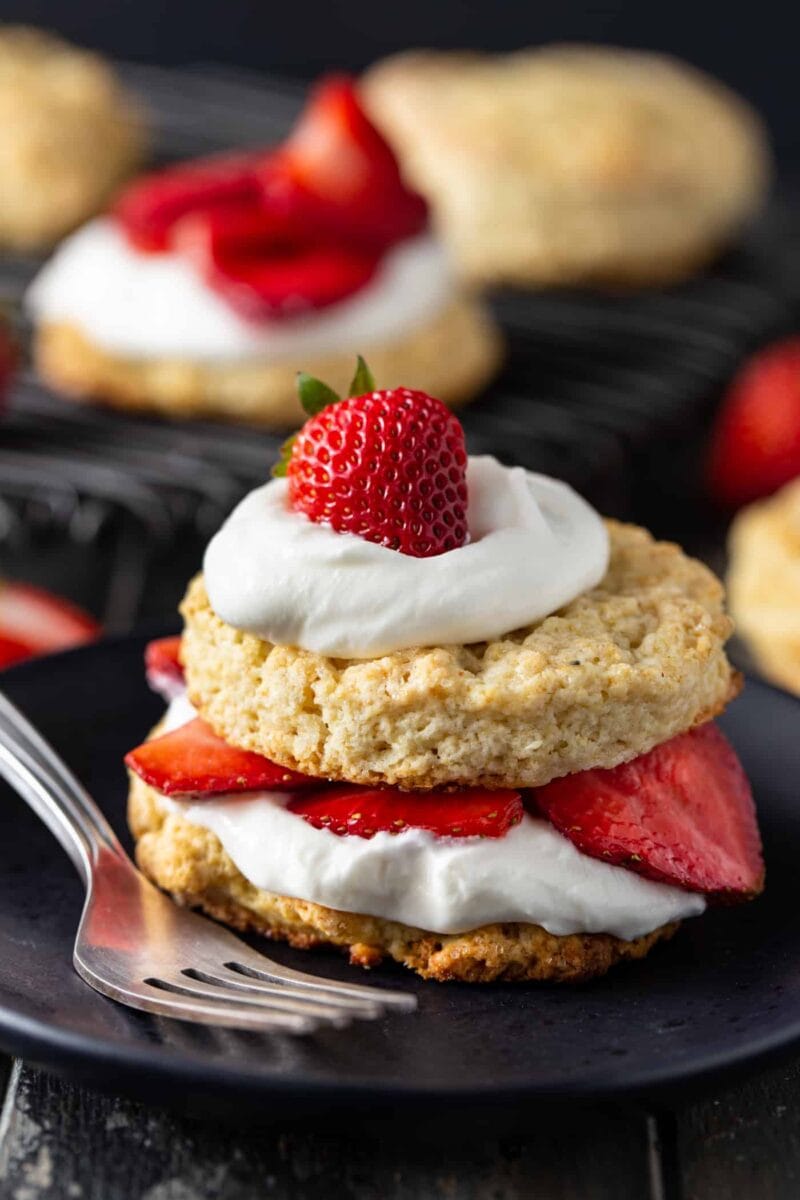 The secret to the best strawberry shortcake all lies in the biscuit. No one likes a biscuit that is tough and crumbly. This flaky, buttery shortcake recipe wins every single time.
The best homemade shortcake recipe
Shortcake is simply a sweetened biscuit and is made with pantry staples. You'll get perfect shortcake every time when you follow these simple steps:
Cut COLD butter into flour, baking powder and sugar
Add whipping cream
Stir until just combined - if you over mix you will get rubbery shortcake and no one wants that
Roll gently and pat flat to an even layer
Cut into shapes with a biscuit cutter
Bake on parchment paper for easy release
Cool on a cooling rack until ready to serve
Pro Tip for making the BEST shortcake: Make sure to press your biscuit cutter straight down. If you twist as you press down, it seals the edges and the end result is a flat biscuit.
Cut butter into flour for flaky biscuits
The key to making flaky biscuits is using really COLD butter and cutting it into the flour leaving little bits of butter and not mixing until smooth.
Cutting in butter can be done in three easy ways:
Food Processor - use the pulse button and pulse 5-6 times until ingredients are just combined.
Pastry cutter - Use a rocking motion to cut the butter into the flour.
Forks - Don't have a pastry cutter or food processor? No worries! You can accomplish the same thing using 2 forks. It takes a little longer but will give you the same flaky result!
Fresh Strawberries for shortcake
Fresh strawberries are the key ingredient to the best shortcake desserts.
Yes, you can just slice and serve fresh berries, but macerating them brings out even more of their sweetness.
You can slice and sweeten the strawberries up to a day ahead of time, simply wrap tightly and store in the refrigerator until ready to serve.
How to macerate strawberries
Macerating is a simple process of soaking a fruit in liquid to bring out its sweetness. The easiest way to macerate strawberries is to sprinkle them with a little sugar and let them sit.
This process sweetens the berries by bringing out the liquid and creating a natural strawberry syrup.
Pro Tip: Use superfine sugar when you are macerating berries for quick results.
Add those sweetened berries to the homemade biscuit and homemade whipping cream, and you have the quintessential summer dessert done in a snap.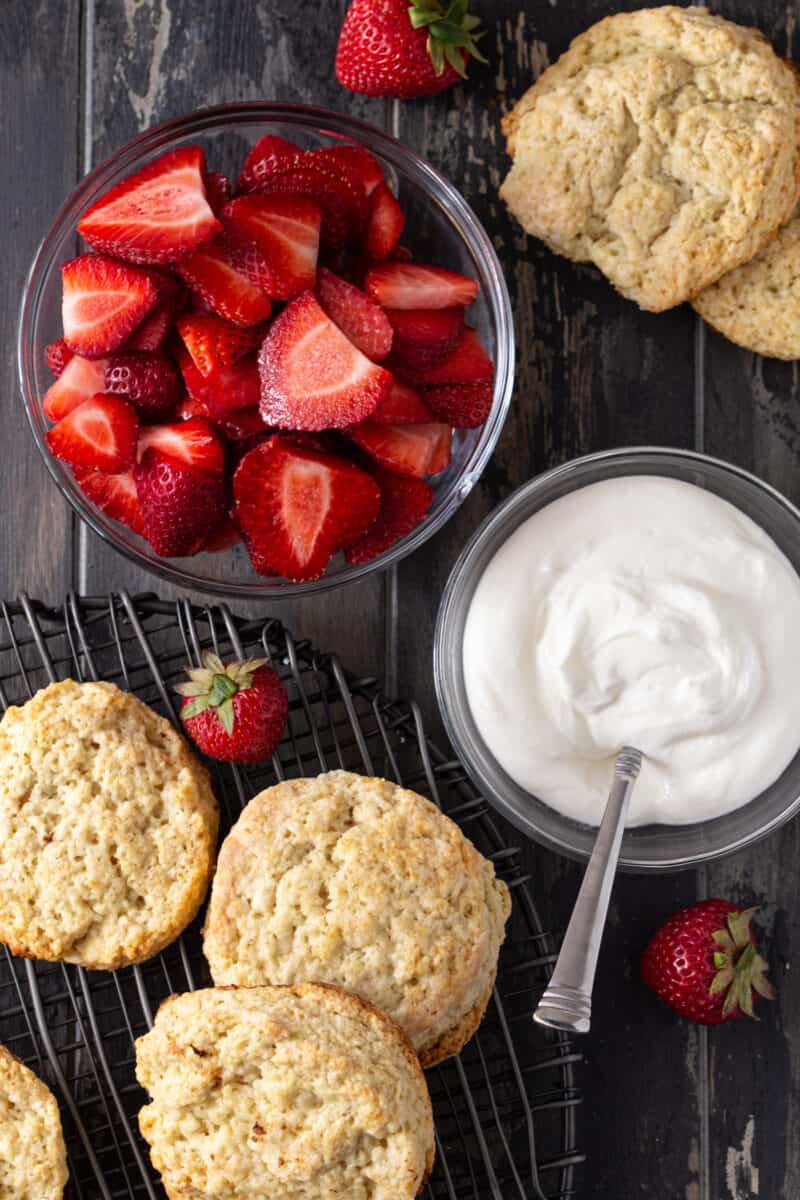 Homemade Whipped Cream (with Greek yogurt!)
Traditional homemade whipped cream is pretty much the easiest thing on earth to make and only uses a few ingredients.
whipping cream
powdered sugar
vanilla
But we took the classic one step further and added some greek yogurt to it. Not only does it give your sweet treat a blast of protein, but it also helps stabilize the whipping cream so you can make it ahead of time without losing the creamy consistency.
Pro Tip for the best homemade whipped cream: Make sure that everything is COLD. I like to chill the bowl and the beater in the freezer for a little bit to make the whipping process even faster.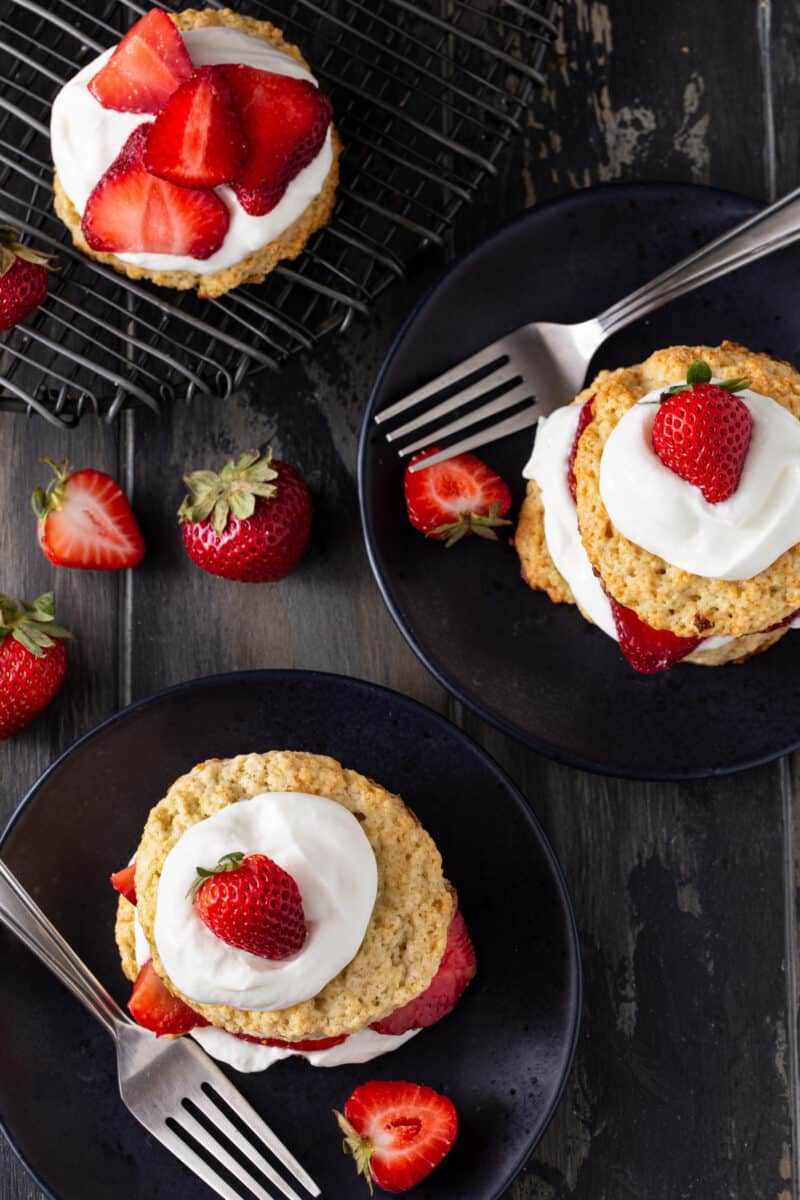 How long will the whipped cream keep?
Fast answer? 2-3 days in the refrigerator. But that is because we added the Greek yogurt.
If you are making homemade whipped cream without it, use it right away or it will become watery.
Not only is this whipping cream packed with an extra punch of  protein from the Greek yogurt, but adding the yogurt helps stabilize the whipping cream.
Storing shortcake
This shortcake recipe is best eaten the same day you make it, but can also be refrigerated or frozen until ready to eat.
Make sure you follow these easy tips to get the best results for storing shortcake:
Cool biscuits completely on a cooling rack
Store in a single layer to prevent cakes from breaking
Once shortcakes are cooled and packed in a single layer they will keep in the refrigerator for up to 5 days and the freezer for a few months.
Shortcake Recipe Variations
There are so many ways you can adapt this shortcake recipe!
Add 2 tablespoons of balsamic vinegar to the strawberries as they macerate in the sugar for a sweet and tangy punch
Use fresh blueberries, raspberries and/or blackberries in place of the strawberries (or use a combination of all the berries)
Swap out the strawberries for some fresh juicy peaches
Fresh strawberries are one of our favorites things about summer. Here are some of our other favorite ways to enjoy them:
Still looking for more options? Check out all of our desserts and sweet treats.
Yield: 8 servings
Easy Strawberry Shortcake Recipe
This homemade strawberry shortcake recipe is topped with juicy strawberries and homemade whipped cream (made with Greek yogurt!) - the perfect summer dessert!
Ingredients
Shortcakes
1 3/4 cups flour
1 tablespoon baking powder
1/2 teaspoon salt
1/4 teaspoon baking soda
1/4 cup sugar
4 tablespoons unsalted butter (very cold and cut into cubes)
1/2 cup buttermilk
Strawberries
3 cups sliced strawberries
2 tablespoons superfine sugar
Whipped Cream
1 cup whipping cream
3 tablespoons powdered sugar
2/3 cup Greek yogurt
1 teaspoon vanilla
Instructions
Shortcakes
Preheat oven to 400°F. Line a baking sheet with parchment paper. Set aside.
Place flour, baking powder, salt, baking soda and sugar into the bowl of a food processor. Pulse to combine. Add butter and pulse a few times until butter is cut into flour mixture. Add buttermilk and pulse until mixture is just combine.
Pat dough out on floured surface to a rectangle that is about 3/4 inch thick.
Use a 2-inch biscuit cutter (or a glass) to cut biscuits out and place on prepared baking sheet. Reshape dough and cut the rest of the biscuits.
Bake in oven for 12 minutes or until lightly browned. Remove from oven and cool on wire racks.
Strawberries
Combine sliced strawberries and sugar in a bowl and set aside until ready to serve.
Whipped Cream
Place the whipping cream in a chilled bowl. Beat whipping cream until medium peaks form.
Add powdered sugar, Greek yogurt and vanilla and beat until stiff peaks form.
To assemble:
Slice each shortcake in half. Spoon a dollop of Greek yogurt whipped cream and strawberries on one half of each shortcake.
Top with other halves of shortcakes and spoon on additional whipped cream.
Recommended Products
As an Amazon Associate and member of other affiliate programs, I earn from qualifying purchases.
Nutrition Information:
Yield:
8 servings
Serving Size:
1
Amount Per Serving:
Calories:

353
Total Fat:

17g
Saturated Fat:

11g
Trans Fat:

0g
Unsaturated Fat:

5g
Cholesterol:

50mg
Sodium:

401mg
Carbohydrates:

44g
Fiber:

2g
Sugar:

18g
Protein:

7g
Homemade strawberry shortcake with flaky biscuits, fresh strawberries and homemade whipped cream is a simple dessert that is easy to make from scratch.