No excuses for skipping breakfast! This healthy, filling Spinach Banana Protein Smoothie takes minutes to make and will keep you full until lunch.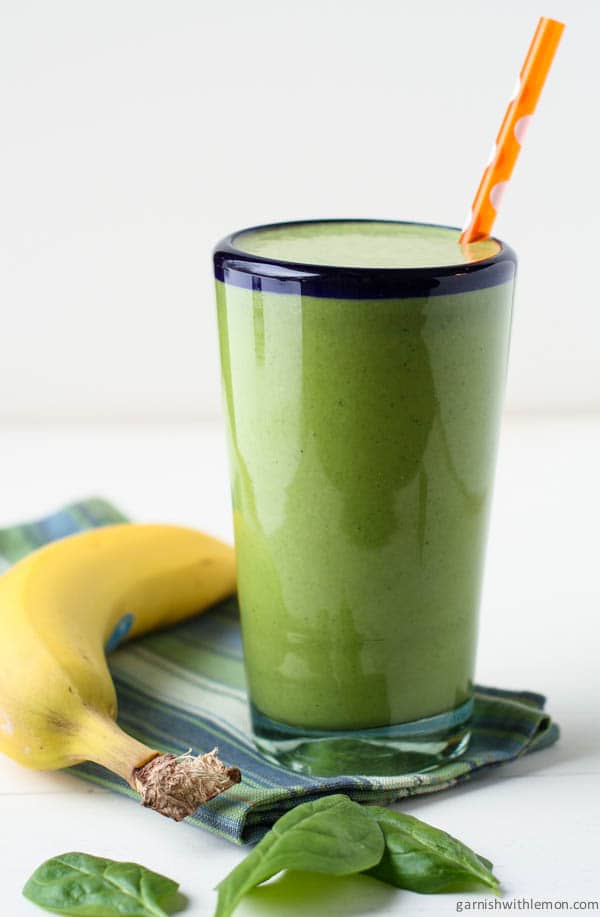 I'm a stickler about making sure my kids have a belly full of healthy food before they head out the door to school. But when it comes to MY breakfast…well, let's just say my track record is not one I'm proud to mention. Breakfast has become a drive-by event for me; grab a handful of something quick as I'm checking email or we're rushing out the door. The trouble with that is I'm hungry again a few hours later, and that's when temptation sets in. I need a solid, healthy, lasting breakfast to set the tone for the day. Something that doesn't take much effort to make but is substantial enough to feel like I've done something good for myself. Behold, the Spinach Banana Protein Smoothie. 
I've tried various iterations of smoothies over the years, but I always return to this one. Why? It's a reliable, well-rounded mix of goodness that just so happens to be delicious. Feel free to play around with the proportions if you like a little more banana or extra spinach, or swap out an ingredient for something entirely different. That's the beauty of smoothies. You can rarely go wrong because there are so many flavor possibilities. And they are completely portable. Pop them in a lidded mug, and you're ready to roll.
My husband usually works out early in the morning. I often make a big batch of these Spinach Banana Protein Smoothies and freeze them in individual containers for him to enjoy post-workout. No more excuses for not enjoying a healthy breakfast! 
P.S. For those of you who are wondering, NO, you cannot taste the raw spinach. It simply gives your protein smoothie this beautiful green color. And we all eat with our eyes first, right?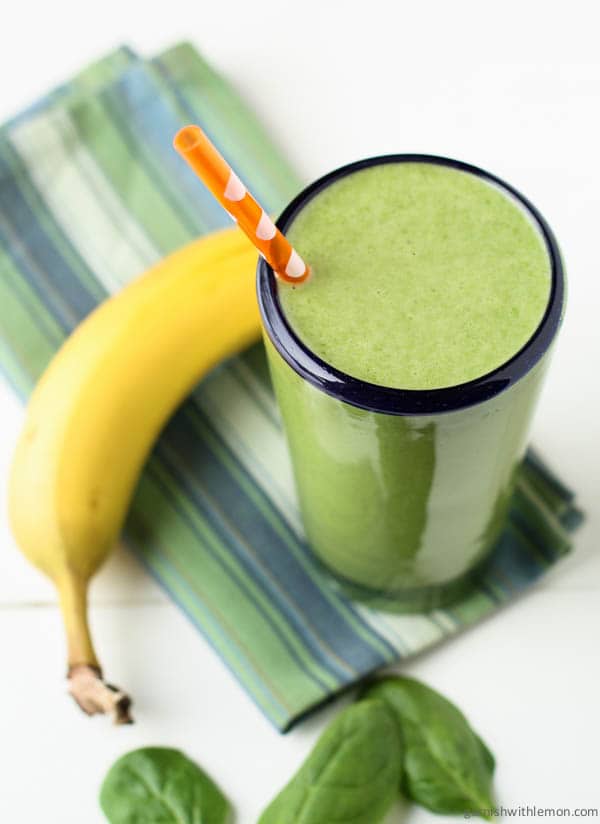 Spinach Banana Protein Smoothie
1
adjust servings
Ingredients
1

tablespoon almond butter

2/3

cup Greek yogurt

1/2

banana

3/4

cup water

1

scoop vanilla protein powder

1

huge handful spinach
Instructions
Add all ingredients to blender and puree to desired consistency.
Did you make this recipe? We'd love to see it! Snap a pic of your creation and tag it #GarnishWithLemon. We might even feature your photo on social media!