Leftover pizza for breakfast has always been a thing, but this scrumptious Ham and Egg Breakfast Pizza makes pizza in the morning totally legit.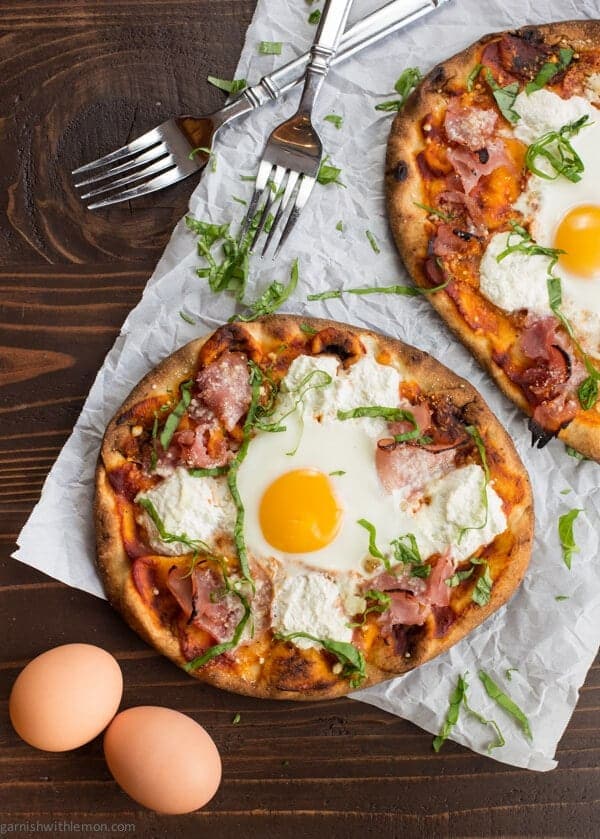 See that egg?
I die.
Seriously, I was so ridiculously excited when I made this. Sometimes I can get all caught up in finding the newest, latest and greatest take on food, only to make meal prep more time consuming and complicated than it needs to be. This Ham and Egg Breakfast Pizza is just another reminder that good food doesn't have to be fussy and simple ingredients can truly make magic together.
Besides, who can argue with pizza for breakfast?
A few tips for making this killer pizza:
1) Place a pizza stone or overturned sheet pan in the oven while it is preheating. This helps ensure the pizza cooks evenly, especially important with that egg on top. Besides, who likes soggy crust?
2) Use the best ricotta you can find. This one was a real eye opener for me. I admit, I'm not well-versed in ricotta cheese, often settling for whatever is in the dairy section. But since the ricotta was one of the few starring ingredients here, I wandered over to the imported cheese section at my grocery store and picked up some Calabro Whole Milk Ricotta. Holy smokes, I could eat this stuff with a spoon! Smooth (not grainy) with a faint sweetness to it. You may not be able to get Calabro where you live, but seek out something similar. Sooo worth the extra few minutes of shopping.
3) Crack your egg on the pizza AFTER you put it in the oven. This is simply to avoid the cleanup that will inevitably occur when you try to transfer a raw cracked egg from one flat surface to another. Unless you have incredibly balanced hands, then by all means crack the egg before you put the pizza in the oven. (And start charging admission for your performance, because that's pretty awesome.)
I know some of you might be squeamish about runny eggs, so I offered a range of cooking times in the recipe below. Choose what works for you.
Now go forth and impress the heck out of your family and friends. Because pizza. For Breakfast.
Enough said.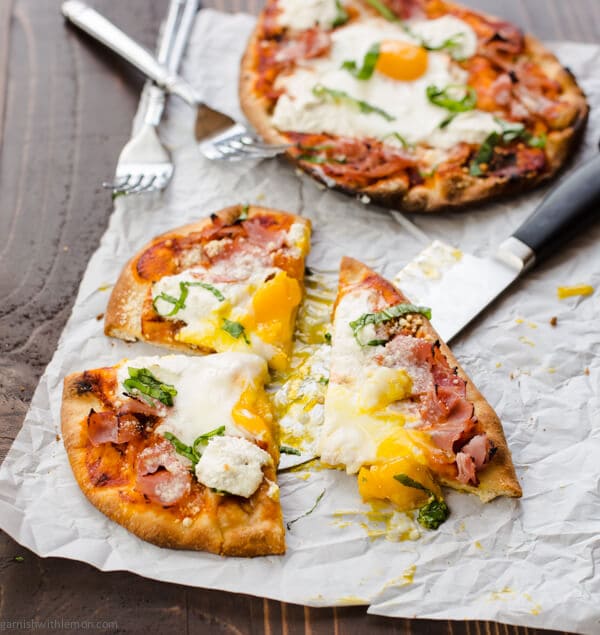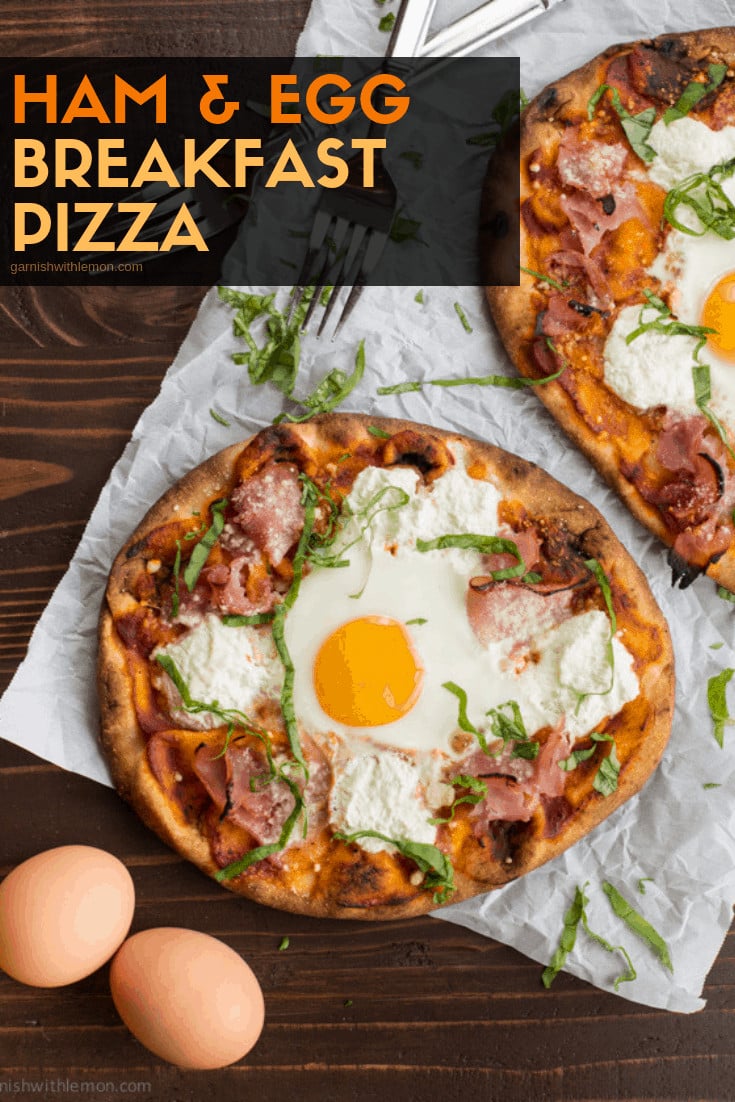 Recipe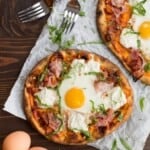 Ham and Egg Breakfast Pizza
Are you more of a savory breakfast person than sweet? Good food doesn't have to be fussy, and this Ham and Egg Breakfast Pizza is the perfect example! Runny eggs are a surefire way to our hearts.
Ingredients
1

piece

of Naan bread

1 ½

tablespoons

pizza sauce

5

teaspoons

ricotta cheese

1

piece

ham

2

heaping teaspoons grated Pecorino Romano cheese

1

egg

cracked in a small bowl

Fresh basil

thinly sliced
Instructions
Place a pizza stone or overturned sheet pan in the oven and preheat to 450.

Evenly spread pizza sauce over Naan. Drop teaspoon-size dollops of ricotta on the Naan. Tear ham into pieces and evenly space on Naan. Sprinkle Pecorino cheese on top.

Place Naan in the oven and gently slide the cracked egg out of the bowl and onto the middle of the Naan. Bake for 8-12 minutes, depending on how soft or hard you like your eggs.

Remove from oven. Garnish with fresh basil. Serve warm.
Nutrition
Serving:
1
pizza
Calories:
596
kcal
Carbohydrates:
51
g
Protein:
52
g
Fat:
20
g
Saturated Fat:
6
g
Polyunsaturated Fat:
11
g
Cholesterol:
290
mg
Sodium:
2062
mg
Fiber:
2
g
Sugar:
6
g
Nutrition info not guaranteed to be accurate.