A classic cocktail gets a smooth new twist in this Tequila Old Fashioned recipe. Made with aged añejo, this is a drink for serious tequila lovers that takes only minutes to make.
Some people may think there is no way to improve on an Old Fashioned cocktail.
Those who drink them regularly have their own "perfect" recipe and never veer from it. But this sippable Tequila Old Fashioned, a south of the border spin on the classic drink, may just change your mind.
Jump to:
What makes this recipe unique
Traditionally, an old fashioned is made with whiskey or bourbon (or even brandy if you're from Wisconsin), but smooth añejo tequila sets this recipe apart from all the rest.
Tequila is distilled from agave plants, so using an agave syrup is the perfect choice to give a touch of sweetness to this drink.
Orange bitters and an orange peel add depth to the drink with a hint of citrus flavor.
Ingredients
This drink has only five ingredients.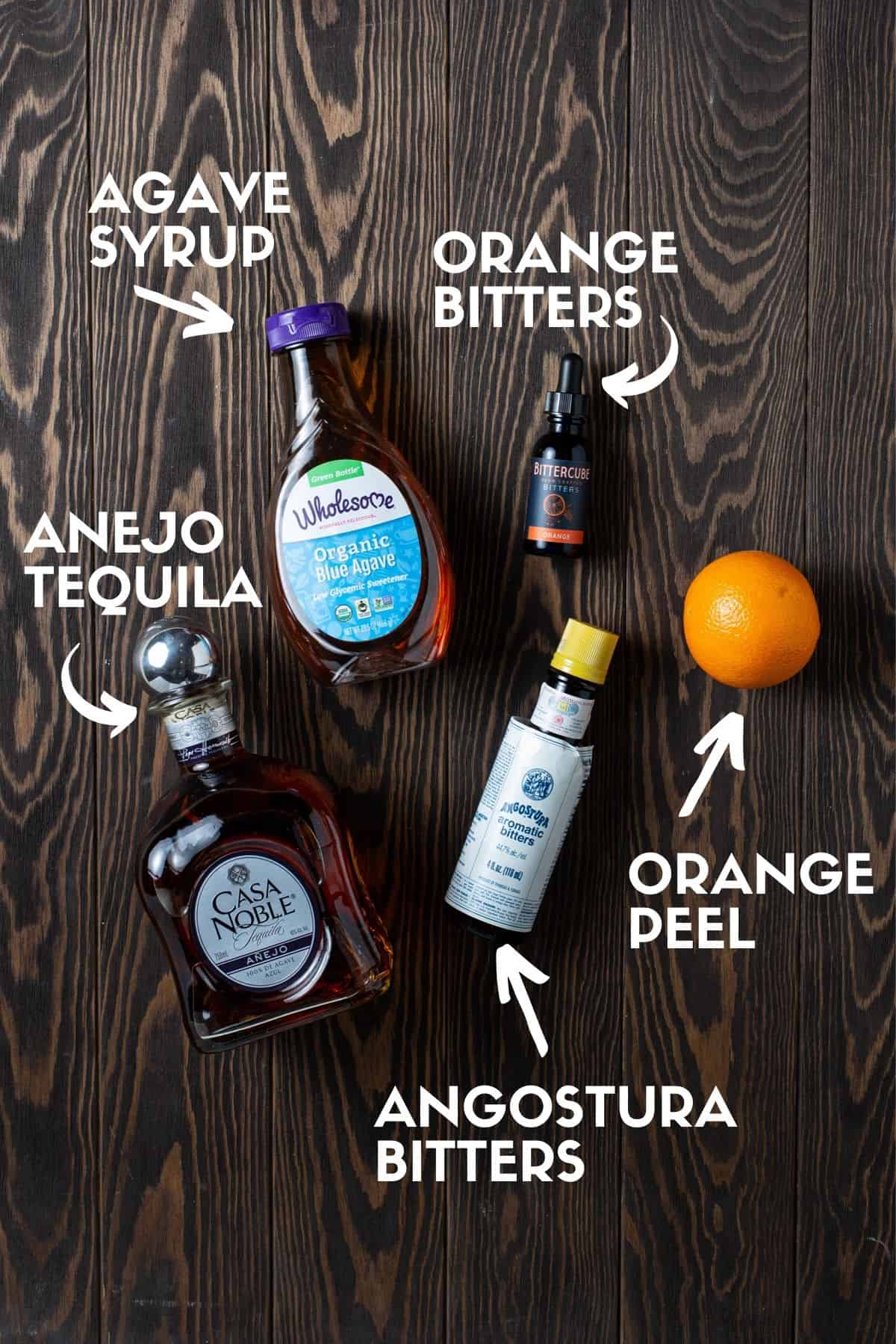 A few ingredient notes:
Tequila: It's tempting to reach for whatever tequila you have hanging out in your liquor cabinet, but don't do that. This drink requires añejo tequila, which is aged for one-to-three years in oak. It's a sipping tequila, with flavor of agave and rich vanilla and with a hint of a floral aroma. It is pricier than most silver or gold tequilas, but you get what you pay for.
Agave nectar: This natural sweetener is used as a substitute for sugar, simple syrup, honey and even molasses. It tastes a bit sweeter than sugar, has a more velvety texture than simple syrup and a more neutral flavor than honey. Find it in the baking aisle at the grocery store.
Instructions
Like any good cocktail, this drink takes a few extra minutes to make. But trust me when I say it's worth it.
FAQs
Can I use simple syrup instead of agave nectar?

I like agave because it complements the aged flavor of the tequila so well. After all, tequila is distilled from agave plants. It works well as a sweetener in many different cocktails, but if you don't have it, you can substitute simple syrup. You may need to increase the amount of simple syrup you use as agave is sweeter than sugar.
Best ice for old fashioned drinks

Large, oversized ice cubes are the best option for sippable drinks like this. A large sphere or cube melts and dilutes the drink slowly. This ensures your cocktail is the perfect temperature and consistency from the first sip to the last. Many liquor stores now carry large cubes or you can buy these sphere ice molds and make your own at home.
What's the purpose of the orange peel?

Twisting the orange peel into the glass expresses the citrus oils into the drink. The cocktail benefits from the subtle flavors of the peel without adding any additional sugar. It's not absolutely necessary but it's definitely one of those steps that takes your drink up a notch both in flavor and presentation.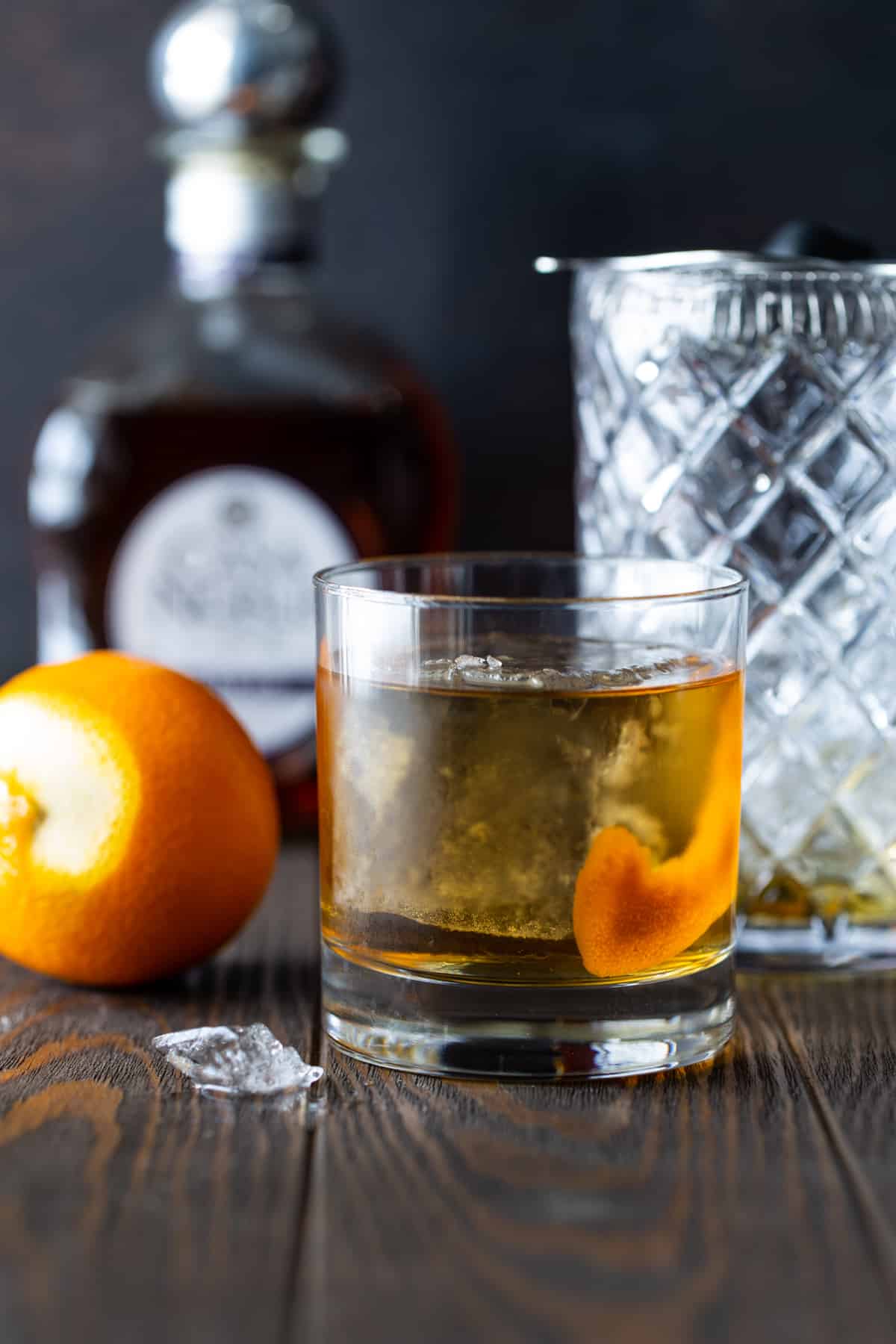 Expert Tips for making a Tequila Old Fashioned
Stir, stir, stir! You'll want to spend the extra 30 seconds stirring this drink rather than just pouring and giving it a quick spin. Agave syrup is thick, so it needs a bit of effort to become evenly distributed in the drink. A tall bar spoon is perfect for this job. If you don't take the time to stir it thoroughly, your drink will taste imbalanced - straight tequila at the beginning and super sweet at the end.
If you don't have a large cocktail mixing glass, feel free to use a large glass measuring cup or mason jar. Although we love our inexpensive cocktail mixing glass and use it frequently, the most important thing is to spend time stirring the drink.
Save yourself a potential knife mishap and use a vegetable peeler to get a clean orange peel shaving. This peeler is our favorite because it comes with replaceable blades!
More tequila drinks
Check out all of our tequila drink recipes in our archives.



Did you make this recipe? We'd love to hear your thoughts! 

Please rate the recipe and leave a comment below. Your feedback helps us and your fellow readers! 



Recipe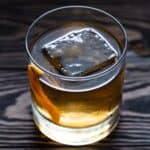 Tequila Old Fashioned
Real tequila lovers swear by this Añejo Tequila Old Fashioned recipe. With only a handful of ingredients, it's easy to enjoy this smooth, bar-worthy cocktail at home!
Ingredients
3

ounces

añejo tequila

½

ounce

agave syrup

3

dashes

Angostura bitters

4

dashes

orange bitters

orange peel

optional
Instructions
Place tequila, agave syrup and bitters in a cocktail mixing glass with ice cubes.

Stir gently for at least 30 seconds.

Strain into another glass filled with a large ice cube and garnish with an orange peel, if desired.
Notes
Tips: 
Añejo tequila is a must in this recipe. It's an aged spirit that was made for sipping rather than mixing with other liqueurs. Yes, it's pricier than your average silver or reposado tequila that you might have on hand for margaritas, but it makes a huge difference in the flavor and smoothness of this drink. 
Don't have agave syrup? You can substitute simple syrup but you may need to increase the amount as agave is sweeter than a traditional 1:1 simple syrup. 
Use a large ice cube for this drink. A large sphere or cube melts and dilutes the drink slowly. This ensures your cocktail is the perfect temperature and consistency from the first sip to the last. You can buy them at the liquor store or make your own at home using a silicone mold. 
Stirring for the full 30 seconds is important. It helps to uniformly distribute the agave syrup evenly as well as evenly chill the drink. Don't just do a quick spin; your drink will taste unbalanced. 
Nutrition
Serving:
3.5
ounces
Calories:
274
kcal
Carbohydrates:
14
g
Protein:
1
g
Fat:
1
g
Sodium:
1
mg
Potassium:
2
mg
Fiber:
1
g
Sugar:
11
g
Calcium:
1
mg
Iron:
1
mg
Nutrition info not guaranteed to be accurate.