Looking to add more fiber to your breakfast? Start the day on the right foot with an easy protein-packed Blueberry Oatmeal Smoothie.
There's nothing like a good smoothie to start the day and this Oatmeal Smoothie with blueberries is packed with fiber, protein and flavor.
Have you ever put oatmeal in your smoothies? I have to admit I was a bit skeptical at first, but once I tried it, it was love at first sip.
It's the perfect nutrient dense breakfast that is super easy to make. And if that isn't a sure fire win, I'm not sure what is.
Jump to: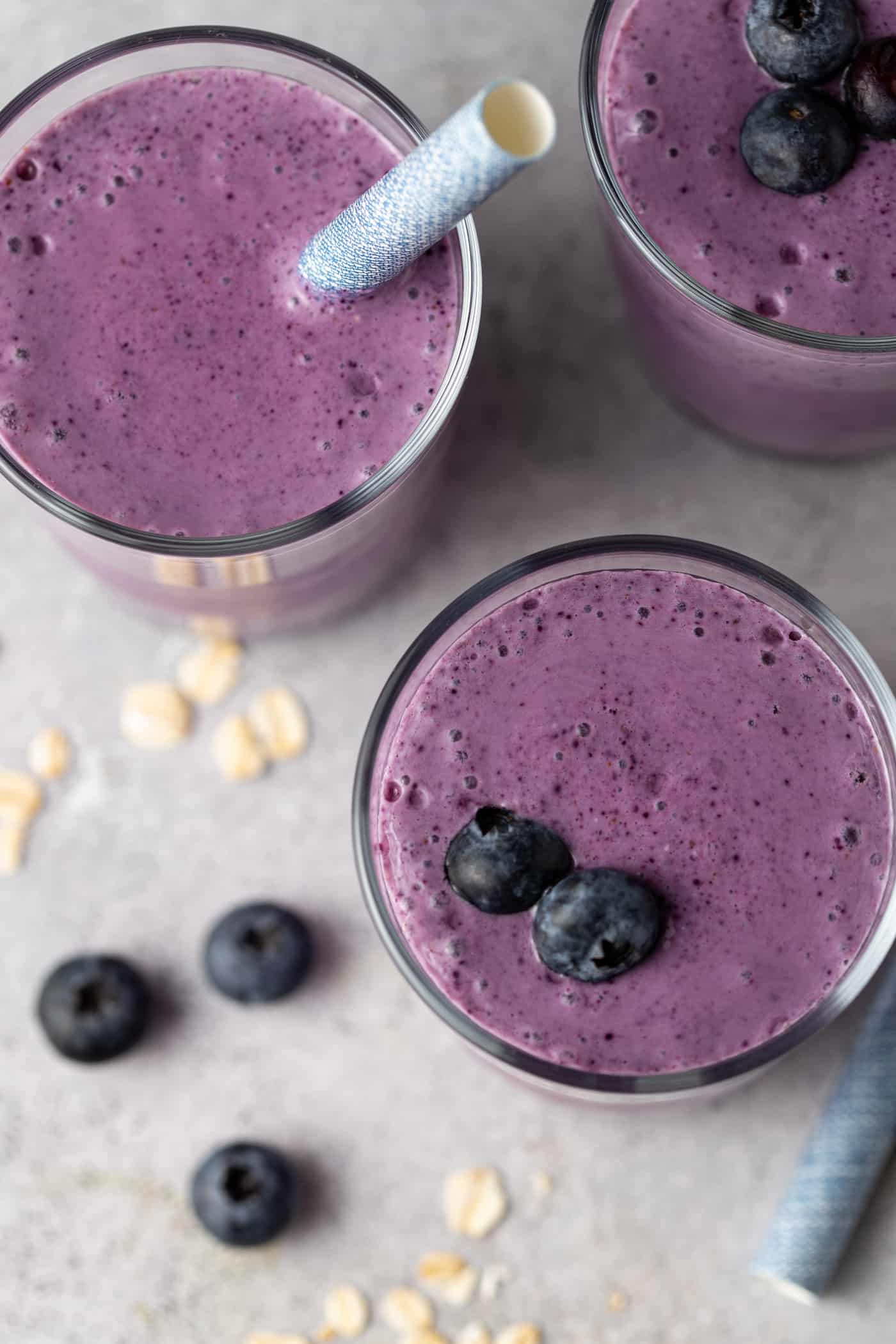 Ingredients
The list is short and are most likely already in your fridge or pantry!
Milk
agave
vanilla Greek yogurt
blueberries (fresh or frozen)
oatmeal (old fashioned is best)
Instructions
It's easy to make the best smoothie when you add ingredients in the right order.
Step 1: Add milk and agave to blender.
Step 2: Add Greek Yogurt
Step 3: Add blueberries.
Step 4: Top with oats.
Step 5: Cover tightly and blend until smooth.
Equipment Needed
Making a smoothie is a snap, especially when you have the right equipment. A powerful blender like a BlendTec or Vitamix truly makes a difference.
I know that they can seem expensive, but they are truly worth every penny. Not only do they make your spinach protein smoothies ultra smooth, they make a fabulous frozen wine slushie.
FAQs
More Smoothie Recipes
Get the best of both worlds when you combine your morning coffee & breakfast into one drink in this easy Coffee Smoothie recipe!
Packed with 2 different kinds of protein, this Blackberry Protein Smoothie delivers a double punch of nutrition.
Escape to the beach any time of year with a Mango Pineapple Smoothie.
Recipe
Looking for a way to change your smoothie routine? This Blueberry Oatmeal Smoothie is a fabulous (and delicious) way to add fiber to your diet!