No excuses for skipping breakfast! This healthy Easy Banana Spinach Protein Smoothie recipe takes minutes to make and will keep you full until lunch. It's a great option to refuel post-workout, too!
Breakfast is my favorite meal of the day, but I'm definitely guilty of grab-and-go convenience when mornings are rushed. Which is why I love this Easy Banana Spinach Protein Smoothie recipe.
Not only is it the best protein shake recipe (in my opinion), it couldn't be easier to make and can even be frozen ahead of time to make healthy eating a snap.
Why put Protein Powder in Smoothies?
Adding protein powder to smoothies is an easy way to increase your protein intake during the day. I always feel fuller longer when I add more protein to my diet.
This Easy Banana Spinach Protein Smoothie recipe includes protein powder PLUS protein-rich Greek yogurt and almond butter for a triple punch of protein goodness.
Can Green Smoothies Taste Good?
Absolutely! Even my kids love this spinach and protein smoothie recipe. Why? Because you can't taste the spinach! Seriously.
Personally I love spinach in any form, but the flavors of banana, yogurt and almond butter are what shine in this simple protein smoothie. So feel free to be generous with your handful of nutrient-rich spinach in this gorgeous green smoothie.
How to make Smoothies in Advance
Don't have an extra time in the morning to whip up this Easy Banana Spinach Protein Smoothie? No worries. I have two options for making this smoothie in advance:
1. Make a quadruple batch of this spinach protein smoothie and freeze it in individual portions. Simply pop one container in the fridge the day before so it defrosts overnight. (Note: If you enjoy large smoothies, you may also need to pop it in the microwave to defrost it a bit.)
2. You can actually freeze individual portions of ingredients for this Easy Banana Spinach Protein Smoothie in zip top bags.
Portion out your Greek yogurt in ice cube trays and freeze. You can do the same with almond butter if you don't keep it on hand normally. Add a couple cubes of frozen yogurt to a zip top bag along with your banana, almond butter (if frozen) and spinach (YES, you can freeze spinach for smoothies!).
When you're ready to make your smoothie, grab a pre-made bag from the freezer and dump it in the blender along with your remaining ingredients and enjoy a freshly made smoothie in no time flat!
To make this Easy Banana Spinach Protein Smoothie recipe, you'll need:
1. A good blender. Now I know not everyone can splurge on a top-tier blender, but I highly suggest you save up your birthday gift cards because they make a huge difference in how quickly you can pull together one of these green smoothie beauties.
I own Blendtec and love it, but many people are also thrilled with their Vitamix blenders. They do a much better job of tackling rock hard items like ice and frozen yogurt cubes and are able to decimate that spinach into microscopic pieces (which is key when you're trying to convince a non-green smoothie person to try a green smoothie).
2. These measuring cups are awesome because they are magnetic and stick together. No more lost measuring cups!
3. This vanilla protein powder is our current favorite. We've tried a number of them but keep coming back to this one. It's organic, too!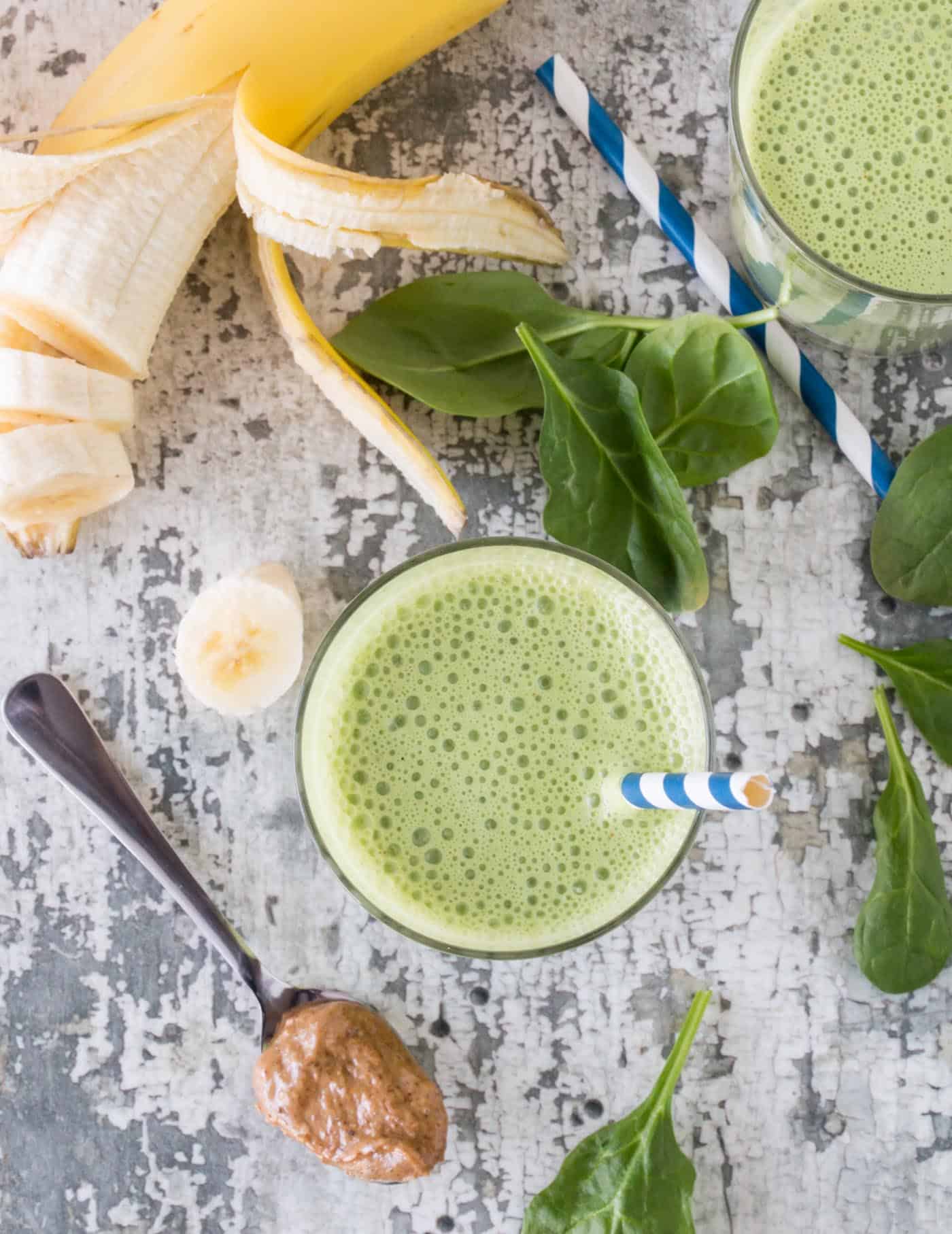 If you like this smoothie recipe, here are more delicious ways to get your smoothie fix:
Hosting a group for brunch? Serve a round of these adorable Cherry Almond Smoothie Shooters.
Add a shot of caffeine to your morning smoothie with this Easy Coffee Smoothie Recipe.
Spring berries are coming! Enjoy them in this Strawberry Mango Protein Smoothie.
Fiber-rich oatmeal is a fantastic add-in to this tasty Blueberry Oatmeal Smoothie.
Dessert for breakfast? Yes you can with this Pumpkin Pie Protein Smoothie recipe!
Yield: 1
Spinach Banana Protein Smoothie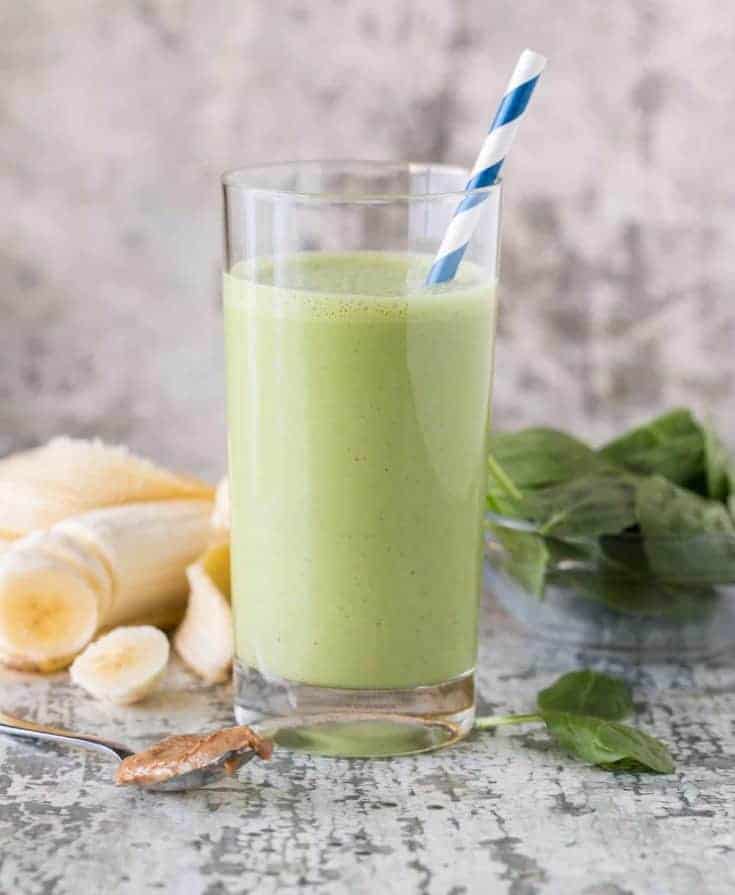 Ingredients
1 tablespoon almond butter
2/3 cup Greek yogurt
1/2 banana
3/4 cup water
1 scoop vanilla protein powder
1 huge handful spinach
Instructions
Add all ingredients to blender and puree to desired consistency.