These crispy Oven Roasted Sweet Potato Cubes have a caramelized exterior while staying light and and fluffy on the inside. They are a delicious, 4-ingredient side dish recipe for nearly any occasion from a weeknight meal to your Thanksgiving table.
If you're like me, you're always on the hunt for easy, versatile side dish recipes.
Salads are great, but sometimes you crave something a little more substantial but not heavy. Oh, and it needs to be quick to pull together.
Enter these oven Roasted Sweet Potatoes and Onions with fresh rosemary. This recipe ticks all the boxes for great side dishes - seasonal, simple and flavorful. Plus cooler autumn evenings are perfect for roasting ALL.THE.VEG.
Jump to:
Why this recipe works
➤ It's simple: With only four ingredients (plus salt and pepper), you'll have a delicious side dish on the table in no time.
➤ It's flavorful: Roasting potatoes at high heat brings out their natural sugars. The result is a crispy exterior and a pillowy soft interior that is absolutely irresistible!
➤ It's seasonal: Cooler fall evenings have us craving more comfort food. Crank up the oven for these baked chicken thighs, add some roasted sweet potatoes and dinner is done.
Ingredients
This list is short and sweet: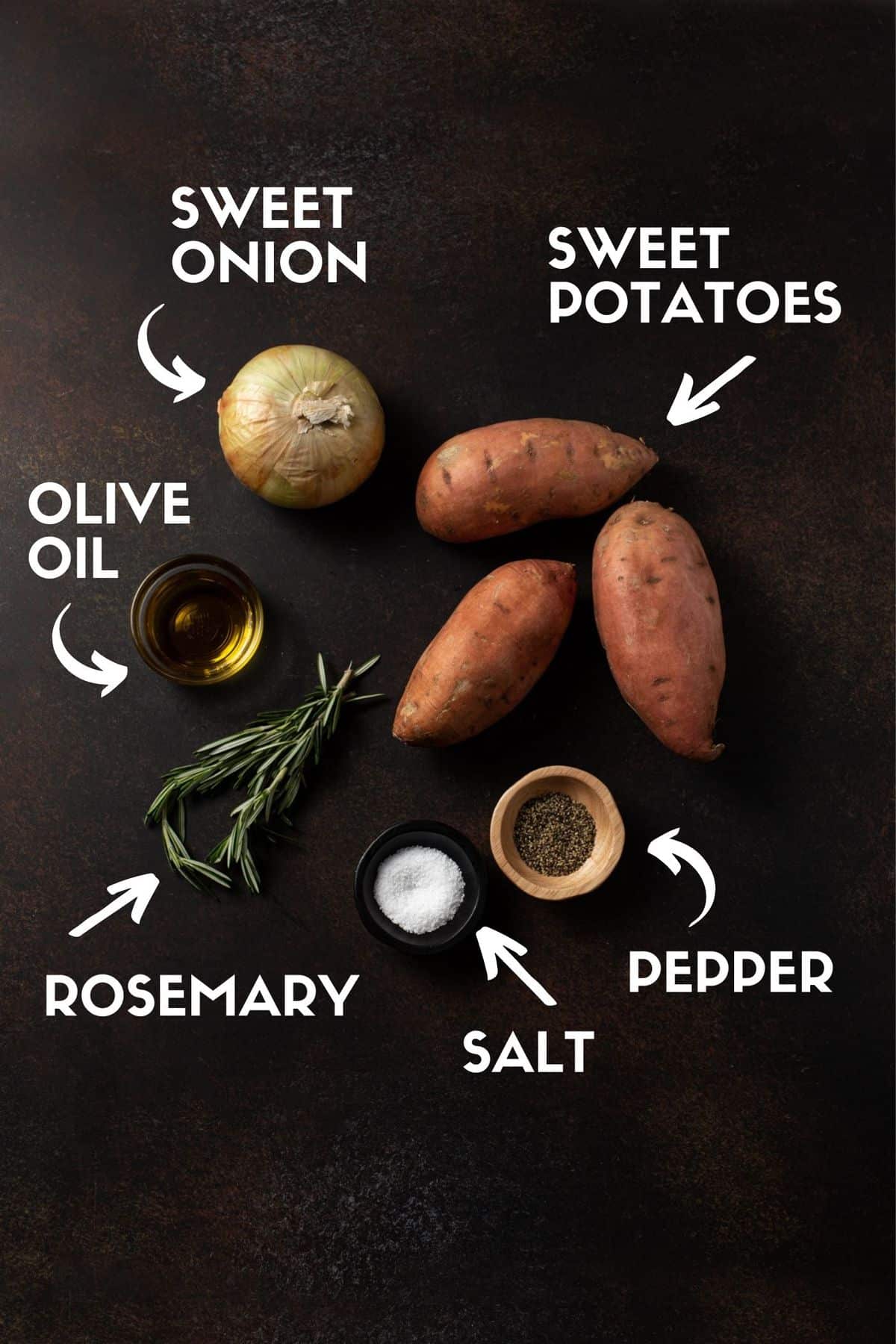 A few ingredient notes:
Sweet potatoes are my go-to, but you can also use yams in this recipe.
Sweet onions have a variety of different names (Vidalia, Walla Walla, Maui). Any will do here. I've also used regular white and yellow onions in a pinch, too.
Instructions
No fancy skills needed for this recipe.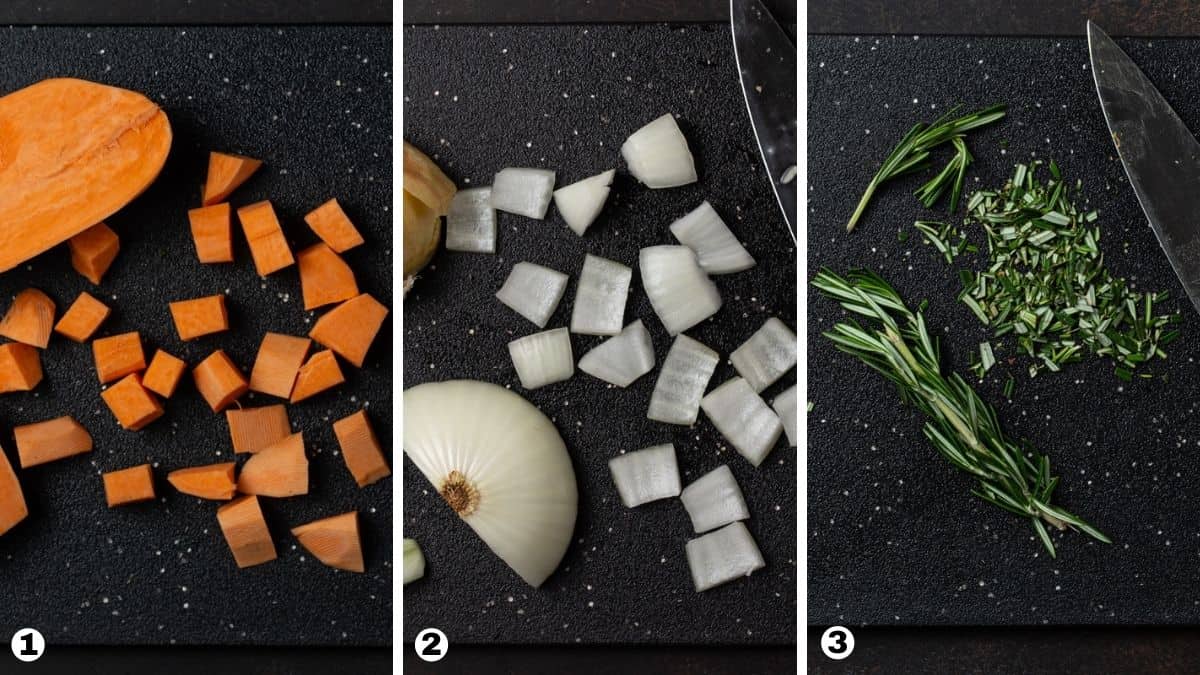 Start by peeling and chopping your sweet potatoes, onions and rosemary.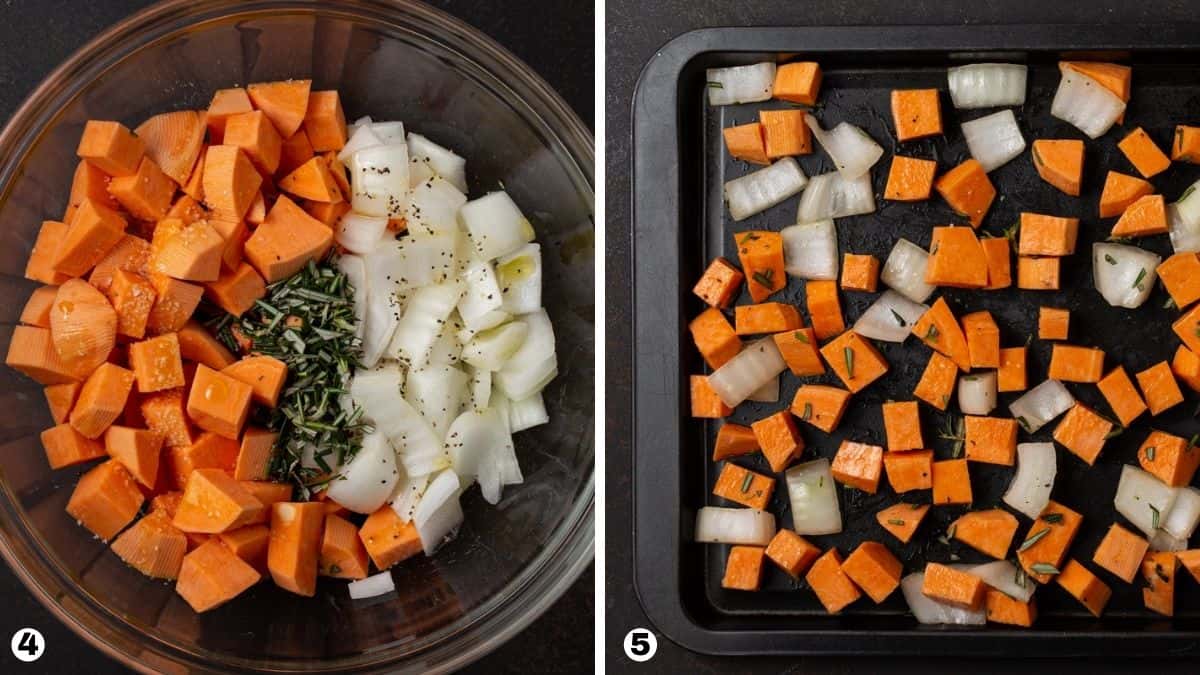 Toss with olive oil, salt and pepper and roast until crispy and caramelized. Serve hot with an extra sprinkle of salt.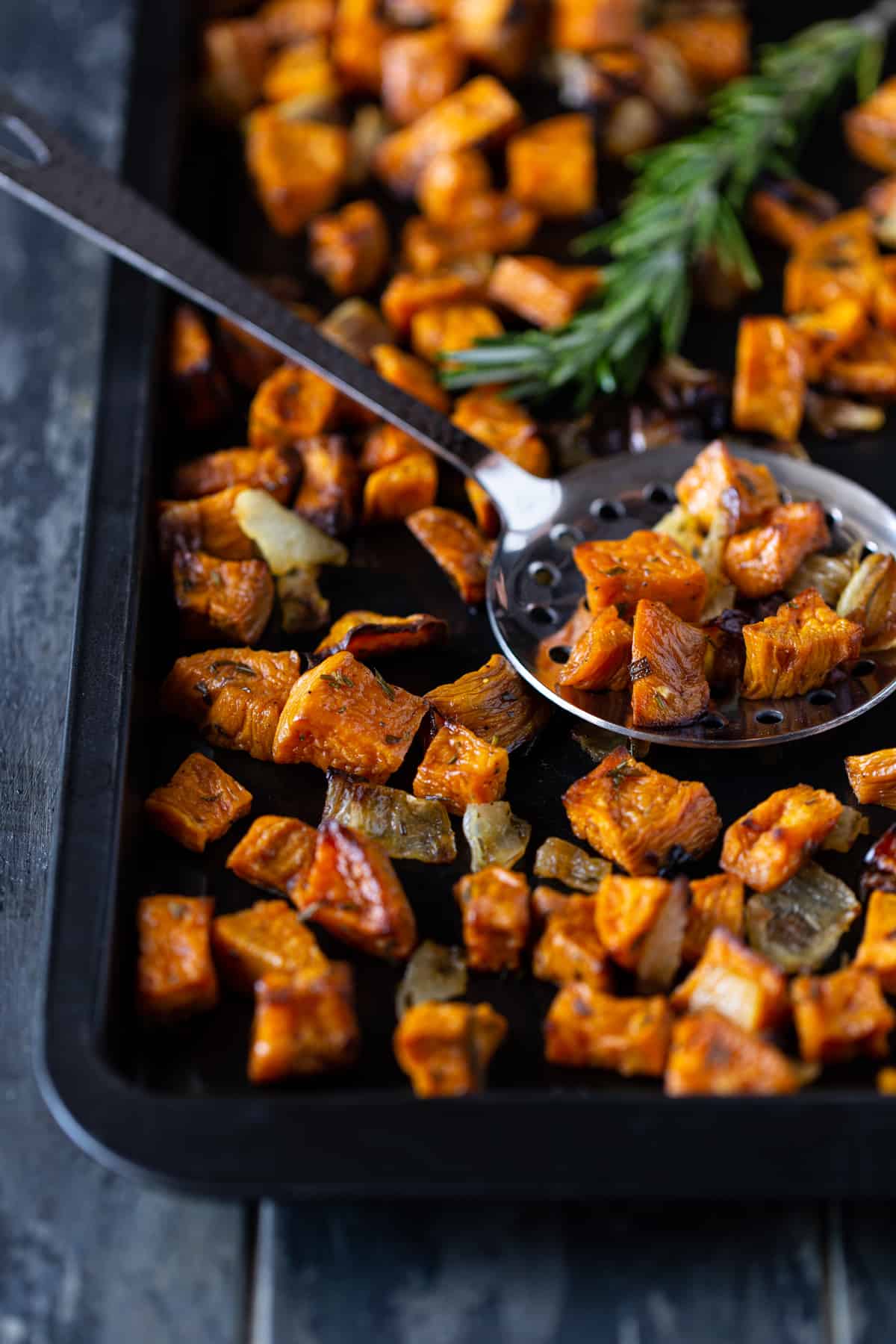 FAQs
Can you eat sweet potato skins?
Absolutely! Skin-on potatoes have more texture, so if that doesn't float your boat, feel free to peel your sweet potatoes before roasting them. 
Should I parboil sweet potatoes before roasting?
No, you don't need to parboil. The sweet potatoes will be perfectly cooked through thanks to the high roasting temperature.
Can you cut sweet potatoes ahead of time? 
Sweet potatoes don't brown immediately after being cut like russets do. If you plan to make them in a few hours, you should be fine with peeling and cubing ahead of time.

If longer than a few hours, submerge them in ice water and refrigerate for up to two days. Dry very thoroughly before roasting or your potatoes won't caramelize or get crispy. 
Can you roast potatoes ahead of time? 
The technical answer is yes, you can, but they lose some of those irresistible crispy edges during reheating. If you have to reheat, pop them in a hot oven until heated through. You may have to tent with foil to keep them from over browning.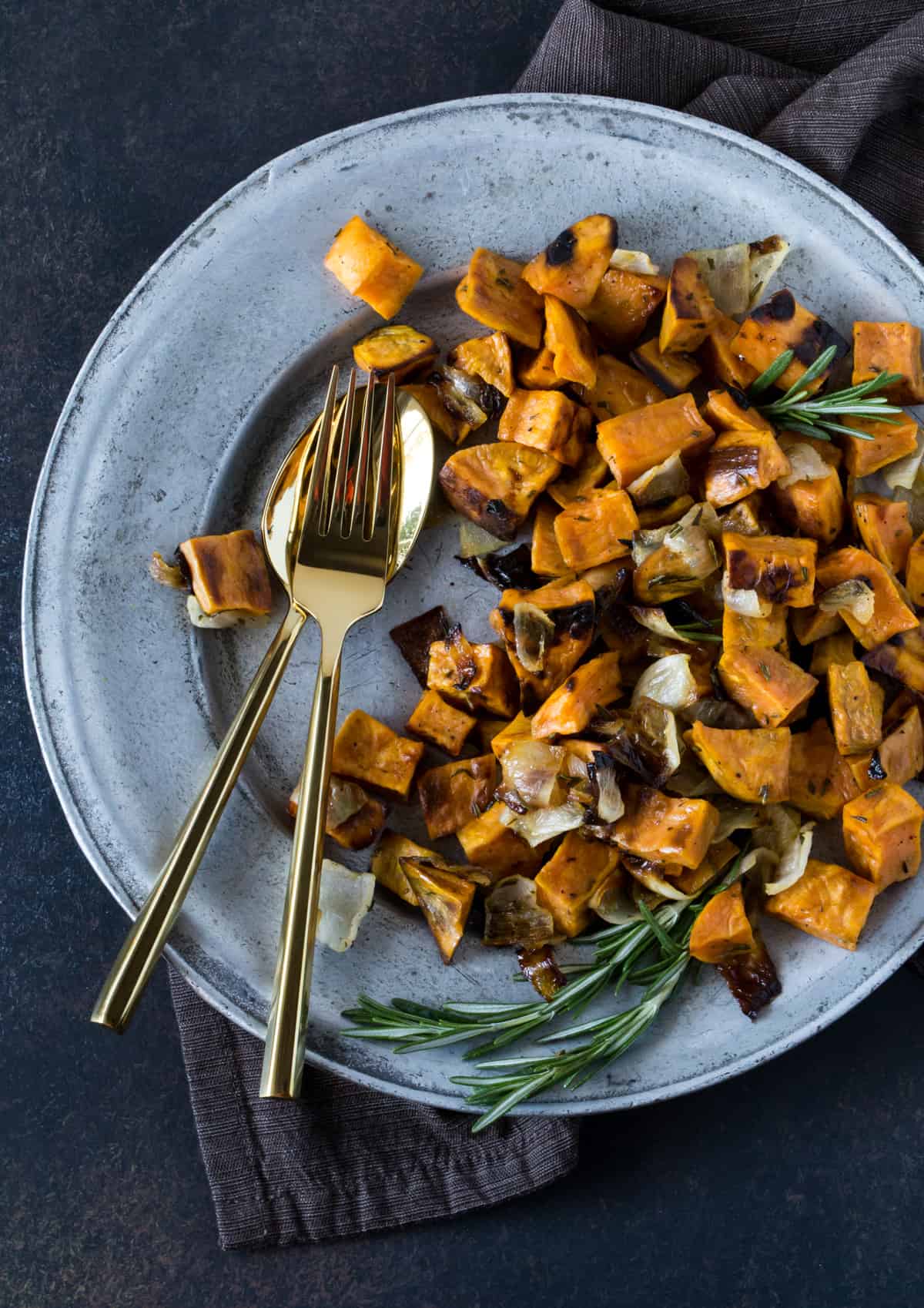 Recipe variations
Not a rosemary fan? Switch up the herbs. Try swapping in thyme or oregano instead. Dried spices like cumin and chili powder pair beautifully with sweet potatoes.
Got leftovers? Toss them in a salad or use them as the base for a breakfast hash with sautéed mushrooms, a fried egg and a shaving of fresh parmesan cheese.
⭐️ Want more roasted vegetable recipes? We have a collection of seven plus foolproof tips to make the BEST oven baked veggies. ?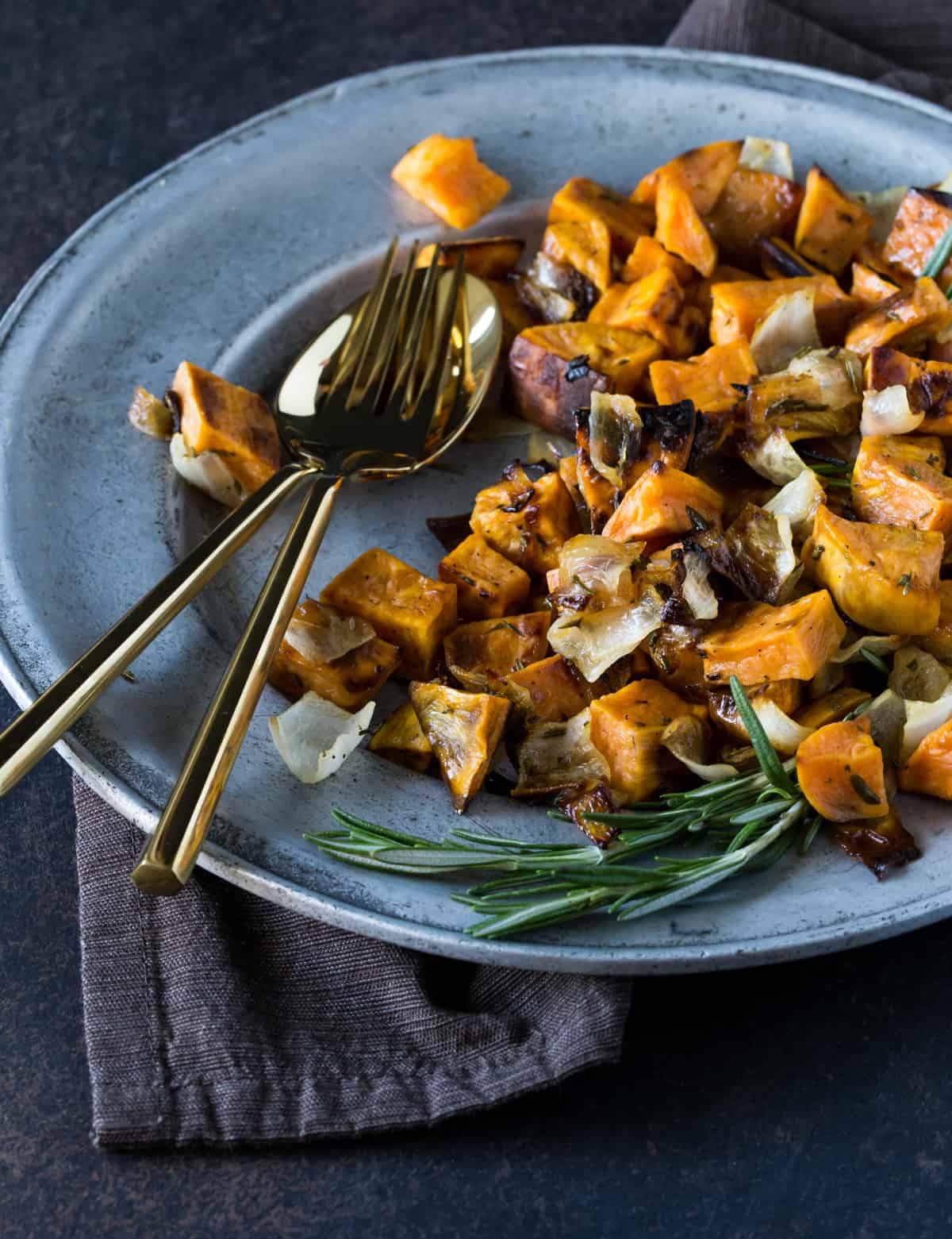 Expert tips for making perfectly roasted sweet potato cubes
Use a hot oven. This recipe calls for 400°F and that's probably the minimum for roasting veggies. The high heat ensures you get a crispy, caramelized exterior and soft, fluffy interior.
Preheat your sheet pans while preheating the oven. Placing your prepared sweet potatoes on an already hot pan jumpstarts the cooking process and helps achieve that lovely sear we all crave.
Cut your potatoes and onions in similar sizes to ensure even roasting. If your potatoes are cubed unevenly, they will be cooked through at different times and some might burn before others are fully cooked.
Don't crowd the pan. It's tempting to try to fit everything on one pan, especially if you're in charge of dishes, but try to refrain. Crowding the pan with veggies will result in more steaming than roasting because the veggies don't have as much air circulating around them. Use two sheet pans instead and rotate them halfway through cooking.
More potato recipes
You can find all of our side dish recipes in our archives.



Did you make this recipe? We'd love to hear your thoughts! 

Please rate the recipe and leave a comment below. Your feedback helps us and your fellow readers! 



Recipe
Oven Roasted Sweet Potato Cubes
Side dishes don't get much easier (or versatile) than these Roasted Sweet Potatoes with onions & fresh rosemary. Each well-seasoned bite has a deliciously caramelized exterior and a soft, creamy interior. Perfect for Thanksgiving or any weeknight meal! 
Ingredients
4

medium-sized sweet potatoes

peeled and cut into bite-sized pieces

1

large sweet onion

chopped into similarly sized pieces as potatoes

2-3

tablespoons

olive oil

or other neutral oil

1

heaping tablespoon

chopped fresh rosemary

Kosher salt

Freshly ground black pepper
Instructions
Preheat oven to 400°F. Place two baking sheets in the oven to preheat.

Combine potatoes and onion in a bowl. Add olive oil and toss to coat evenly. Sprinkle rosemary and a generous amount of salt and pepper on potato mixture and stir to combine.

4 medium-sized sweet potatoes,

1 large sweet onion,

2-3 tablespoons olive oil,

1 heaping tablespoon chopped fresh rosemary,

Kosher salt,

Freshly ground black pepper

Divide potato mixture on preheated baking sheets and roast in the oven for 25-30 minutes, rotating sheets and flipping potatoes and onions halfway through. Depending on the size of your potato and onion pieces, they may cook faster or slower. Keep an eye on them so they don't burn.

Remove from oven and season to taste with additional salt and pepper.
Notes
Not a rosemary fan? Use a different fresh herb or dried spice. Cumin or chili powder taste great with sweet potatoes. 
Got leftovers? Use them to make a fantastic breakfast hash.
Roasting tips: 
Use a hot oven. The high heat ensures you get a crispy, caramelized exterior and soft, fluffy interior. 
Cut your potatoes and onions in similar sizes to ensure they finish roasting at the same time. 
Preheat your sheet pans while preheating the oven. This jumpstarts the cooking process once the veggies hit the pan and helps achieve that lovely sear we all crave. 
Use two pans instead of just one to make sure the veggies roast rather than steam. If you try to stuff them all on one pan, they will steam because they are so close together and won't get that crispy exterior everyone loves. 
Got leftovers? Use them to make a fantastic breakfast hash.
Make-ahead tips:
You can peel and cut the potatoes up to two hours ahead of time. Any longer than that and you need to pop them in a container of ice water and store in the fridge until ready to use. Dry VERY thoroughly before roasting.
You can roast the potatoes and onions ahead of time but they will lose a bit of their crispiness. Reheat in a hot oven until warmed through.
Nutrition
Serving:
1
cup
Calories:
283
kcal
Carbohydrates:
52
g
Protein:
4
g
Fat:
7
g
Saturated Fat:
1
g
Polyunsaturated Fat:
1
g
Monounsaturated Fat:
5
g
Sodium:
131
mg
Potassium:
862
mg
Fiber:
8
g
Sugar:
14
g
Vitamin A:
32071
IU
Vitamin C:
9
mg
Calcium:
85
mg
Iron:
2
mg
Nutrition info not guaranteed to be accurate.