Rhubarb lovers unite! Spring is here in full force, and that means my rhubarb is coming in strong. These Easy Rhubarb Bars are the perfect way to let the tangy flavor shine through in all its glory.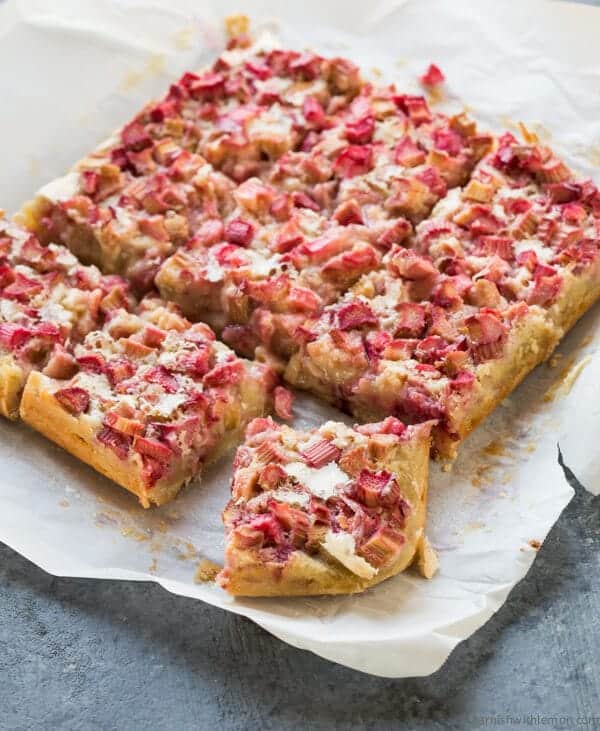 Are you a rhubarb lover?
I find people fall into two camps: you either love it or you hate it.
Me? I'm a lover and a purist at that.  Don't get me wrong; I love rhubarb in any form (like these Strawberry Rhubarb Muffins, Rhubarb Apple Crisp or Rhubarb Barbecue Sauce.) But when I can taste the tangy flavor of straight rhubarb – like in these Rhubarb Bars – I'm in heaven.
My family? Not so much. Which, frankly, I don't really mind. Rhubarb season is short, and since my family isn't on the rhubarb train, that means I don't have to share.
The fact that I have a huge crop growing in my backyard is simply icing on the cake. I call it "rhubarb on demand". It's also the ONE thing in my yard the bunnies won't eat. Which is lucky for them, because if they start touching that, let's just say there will be some changes around here.
For those of you who don't like super sweet desserts, this recipe is for you. I started with a butter filled shortbread crust and topped it with slightly sweet rhubarb filling that finishes with the perfect pucker. Spring dessert perfection.
What camp do you fall in? I'm always looking for new ways to get my rhubarb fix. Let me know what other goodies I need to add to my recipe collection!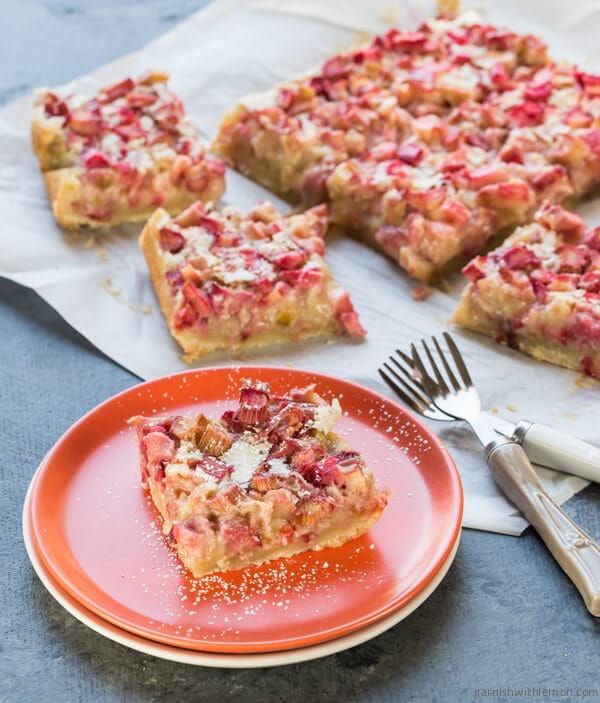 Yield: 9
Rhubarb Bars
Prep Time 10 minutes

Cook Time 50 minutes

Total Time 1 hour
Ingredients
Crust:
1 cup flour
1/3 cup powdered sugar
1- 4 ounce stick very cold butter, diced
Filling:
2 eggs
1 1/4 cup sugar
1/4 cup flour
1/2 tsp salt
3 1/3 cups finely chopped rhubarb
Instructions
To make the crust:
Preheat oven to 350 degrees.
In a food processor, pulse the crust ingredients until they are a crumble consistency. Press into a 8 x 8 pan. Bake for 15 minutes.
To make the filling:
In a medium bowl, lightly beat two eggs. Add flour, salt, and sugar and mix well. Gently stir in rhubarb. Pour mixture over the hot crust. Bake for another 35-40 minutes or until filling is set.
Cool, cut into squares and serve.