Do you hate it when you can't peel your hard boiled eggs? Your search is over! Here's the way to get Perfect Hard Boiled Eggs. Every. Single. Time.
Dying Easter Eggs is always a highlight in our house. The kids love dunking the eggs in the colored water and seeing them come out a vibrant color. Easter is a just around the corner which means it's time to buy your eggs now. Hard boiled eggs are the easiest to peel when they are older. Do not buy your eggs the day you boil them. You will lose most of the white when you try to peel them, and there is nothing more frustrating than that!
Making Perfect Hard Boiled Eggs is easy when you follow these simple steps:
Place eggs in a deep saucepan in one layer. Cover with cold water (enough water so the eggs are fully immersed and water level is an inch above eggs) and bring to a boil.

Turn heat down and simmer for one minute; cover with a lid and remove from heat.

Set timer for 12 minutes and let eggs sit in covered pan of hot water.

When timer goes off, immerse eggs in a cold ice water bath. (I drain and fill the pan I used and add a big bowl of ice cubes to the pan along with cold water.)

Let eggs sit in cold water for 5 minutes and voila - Perfect Hard Boiled Eggs!
Tip: Use
 food coloring gel 
to get the vibrant color when you color Easter Eggs. It's so much easier than the kits that you can buy and your results are always consistent!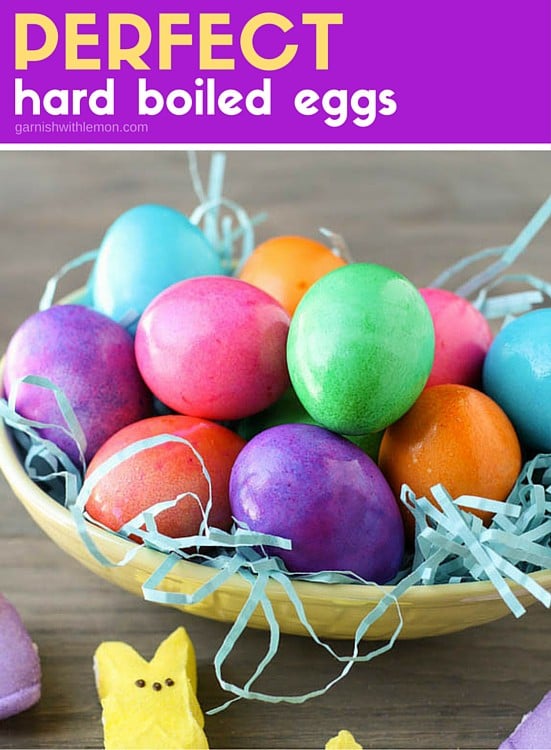 Perfect Hard Boiled Eggs
Youll always get perfect hard boiled eggs when you use this fool proof method!
Ingredients
To Hard Boil Eggs
1

dozen large eggs

preferably purchased 10 days ago for easiest peeling
To Color Eggs
Desired colors of food coloring gel

Vinegar

Canola Oil
Instructions
To Hard Boil Eggs
Place eggs in a single layer in a large pan.

Cover with enough cold water so water level in 1 inch above eggs and bring to a boil.

Cover pot with a lit, turn down heat and simmer for 1 minute.

Remove from heat and set timer for 12 minutes.

Immerse eggs in a cold water bath to stop cooking.

Let eggs sit in cold water for 5 minutes.

Make sure eggs are thoroughly dry before coloring.
To Color Eggs
Mix ½ teaspoon food coloring gel and 2 T. Vinegar in 1 ½ cups warm water.

Stir until thoroughly combined.

Let eggs sit in the mixture until desired color is reached.

Place on drying rack to let color set.

Once eggs are dry, wipe with a little canola oil to make eggs shiny and bright.

Store in airtight container in refrigerator for up to 5 days.
Nutrition
Serving:
1
g
Calories:
82
kcal
Protein:
6
g
Fat:
6
g
Saturated Fat:
2
g
Polyunsaturated Fat:
4
g
Cholesterol:
186
mg
Sodium:
71
mg
Nutrition info not guaranteed to be accurate.
There are so many fun things you can do with Easter Eggs. Here are some great tips I found around the web:
Dinosaur Eggs - Our Best Bites
Tie Dye Easter Eggs - Hello Bee
Vibrant Eggs, Dyed Naturally - theKitchn
26 New Ways to Decorate Those Easter Eggs - hands on: as we grow