It's no secret that we love elderflower liqueur here on Garnish with Lemon, but this Blueberry Martini recipe might be one of my favorite ways to drink it!
Blueberry Martini Recipe
Tired of the same old cocktails? Then this Blueberry Martini is just what you need.
I'm always on the lookout for new, fun cocktails and if I can find one with elderflower liqueur in it, you can safely bet that I'm going to order it.
That is exactly how this Blueberry Vodka Martini came to be and now it makes a regular appearance in our house.
Blueberry Vodka Martini Ingredients
Blueberry vodka
Fresh Lime juice
Elderflower Liqueur
Simple Syrup
Fresh Blueberries for garnish
Note: Not familiar with elderflower liqueur? We have a whole post about it to get you up to speed in no time flat! Click through the link to learn more about what it is, what it tastes like and ideas for other elderflower cocktail recipes.
Elderflower? What is elderflower liqueur?
It's a question I get frequently because when we have people over, you can be guaranteed that one of the drinks we serve will include elderflower liqueur.
And once you try it, I'm convinced you will be in love just like I am.
How do I know?
I can proudly say that all of my good friends now have a bottle of elderflower liqueur in their liquor cabinets.
And this Blueberry Martini recipe might have been what sold them. It might sound foo-foo, but trust me, it's nothing short of liquid gold in a glass.
If you haven't tried elderflower liqueur before, I'm sure you are wondering what the heck it is! Elderflower liqueur is made from the small, white flowers of the elderflower bush. These blossoms are often handpicked and the liqueur is made with no preservatives (which means it really should be used in about 6 months for best flavor).
And with the number of recipes we have that include elderflower, it isn't a problem for us to go through a bottle in 6 months!
If this brief explanation wasn't enough to satisfy your curiosity about elderflower, be sure to take a look at this in-depth rundown of elderflower liqueur and the best recipes to go with it!
What does St. Germain Liqueur taste like?
The liqueur has a delicate floral flavor that is more subtle than you'd expect. Since elderflower liqueur is rather sweet, you can easily use it to replace other sweeteners in your cocktail recipes like simple syrup, agave and maple syrup.
But don't worry, it's not overly sweet and certainly doesn't taste like you are drinking flowers! It's just an easy-drinking liqueur that takes a good drink and makes it even better!
It's no secret that we love Elderflower liqueur here on Garnish with Lemon. Whether you are looking for an easy batch cocktail, a tasty martini or a margarita with a twist, we have you covered.
There is something about the subtle sweetness of elderflower liqueur that I just can't get enough of.
And the crazy thing? I'm not really one for a super sweet cocktail which is why I love elderflower liqueur so much.
It adds just the perfect amount of sweet and smooth to a cocktail without being overpowering.
This Blueberry Martini recipe is the perfect example. This cocktail is so smooth, your glass will be empty before you know it.
You can't go wrong when you have the perfect proportions of blueberry vodka, elderflower liqueur, lime juice, and a little simple syrup. Float a few blueberries in the glass, and it's a stunning cocktail to serve.
How to make simple syrup at home
Simple syrup is basically sugar water. You can certainly buy a bottle of it at the liquor store, but making it at home is super easy (and waaaaaay less expensive).
After making it once and seeing how straightforward it is, you'll wonder why you didn't do it sooner!
Place equal amounts of sugar and water in a saucepan.
Bring the mixture to a low boil over medium heat and cook until sugar is completely dissolved.
Remove the pan from heat and allow syrup to cool before placing in an airtight container in the refrigerator for up to one month.
What equipment do I need to make a vodka martini?
Every good home bar has a well-stocked bar with the following items in it
Martini shaker and strainer

Jiggers

Bar spoon

Muddler

Variety of cocktail glasses.
Looking for more suggestions? Check out our 5 part series of How to Stock your Home bar. It answers all of your questions.
When do I shake or stir a martini?
Here's a quick cheat sheet: Shake Citrus, Stir Alcohol.
Drinks that have citrus juice in them need to be shaken, not stirred. Shaking a cocktail with citrus breaks down the citrus juice and makes the cocktail light and refreshing instead of acrid and acidic.
Citrus juice and alcohol have different densities and won't mix easily unless they are shaken together.
However, if a drink is all liquor, like an old fashioned, manhattan or negroni, stirring is the way to go.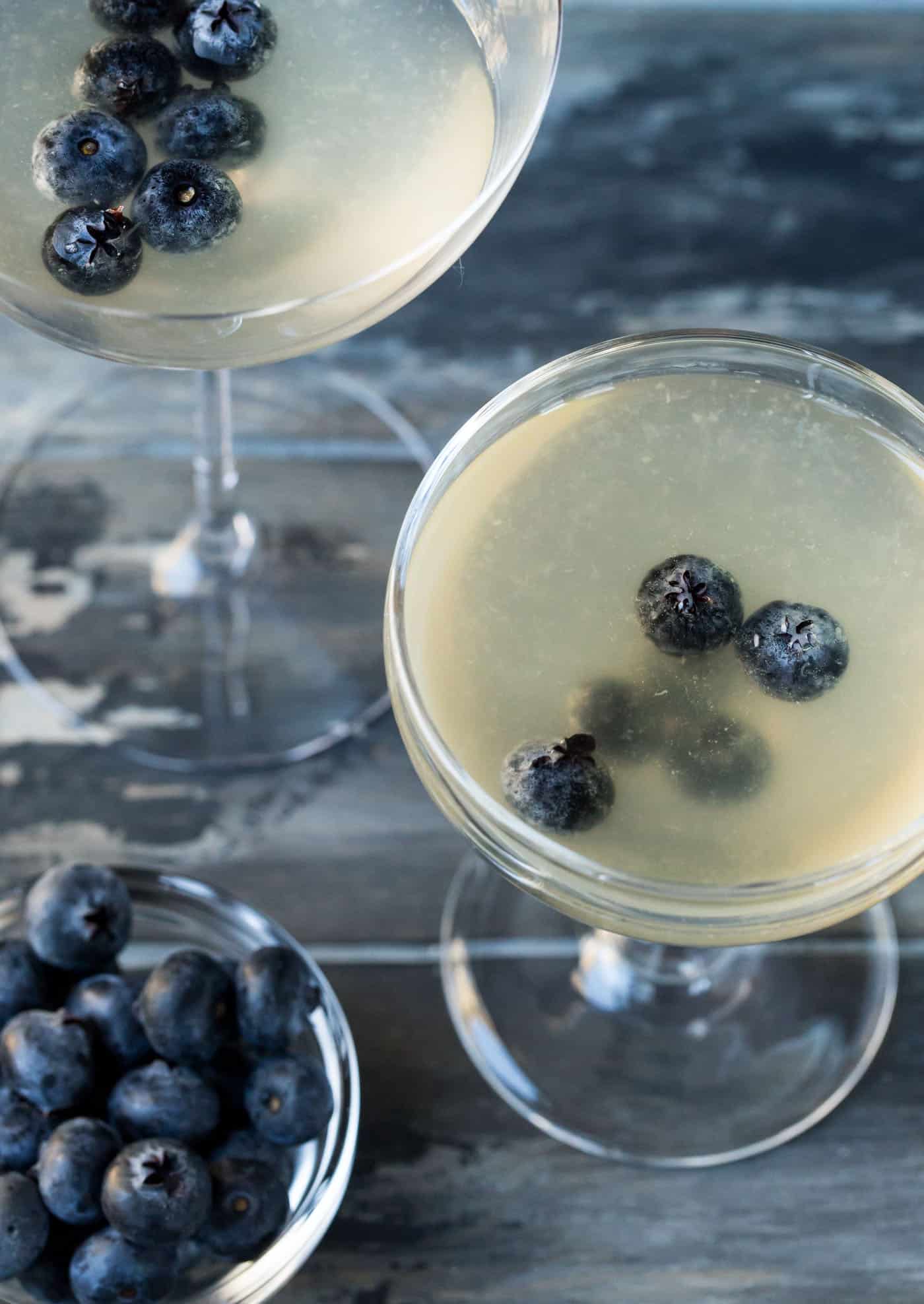 DIY Martini Bar for Easy Entertaining
To make entertaining easier, we set up a self-service martini bar for our guests which has become a signature feature at our holiday party and it's such a fun addition to any gathering.
People always ask to help the hosts, and making their own cocktails is the perfect job to give them.
We set up several different martini stations around a table and include recipe cards with a few signature martinis, all of the alcohol needed for those drinks and a couple of trusty martini shakers. This way we get to enjoy the party and not play bartender all night. Genius, right?
Lucky for us, our friends haven't figured out that we are actually putting them to work. Let's hope it stays that way.
After all, who wants to host a party and not enjoy it?
Tip:
Need more ways to use elderflower? Check out our extensive collection of delicious cocktails that use it here:
Elderflower Cocktails
.
Yield: 1
Blueberry Vodka Martini Recipe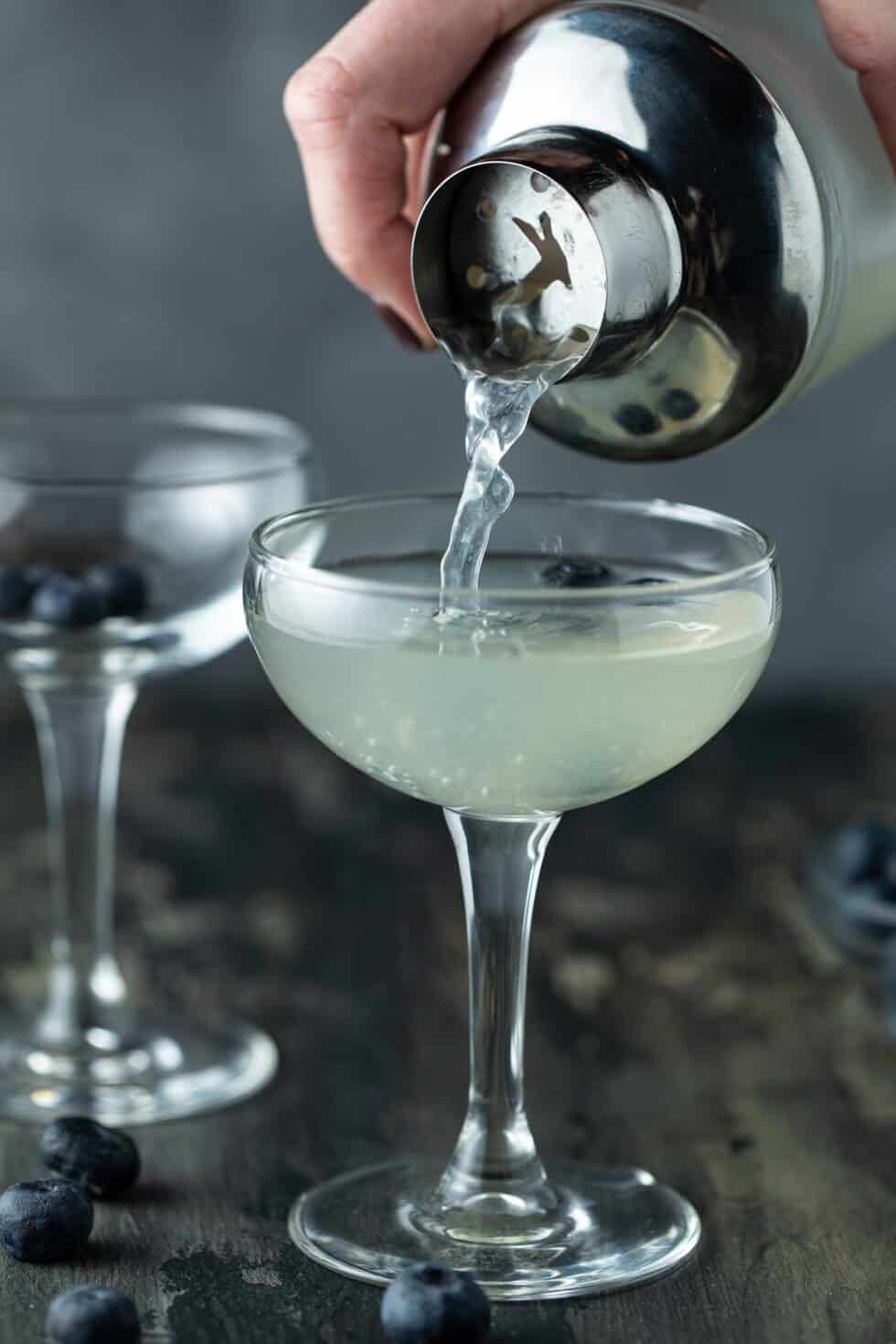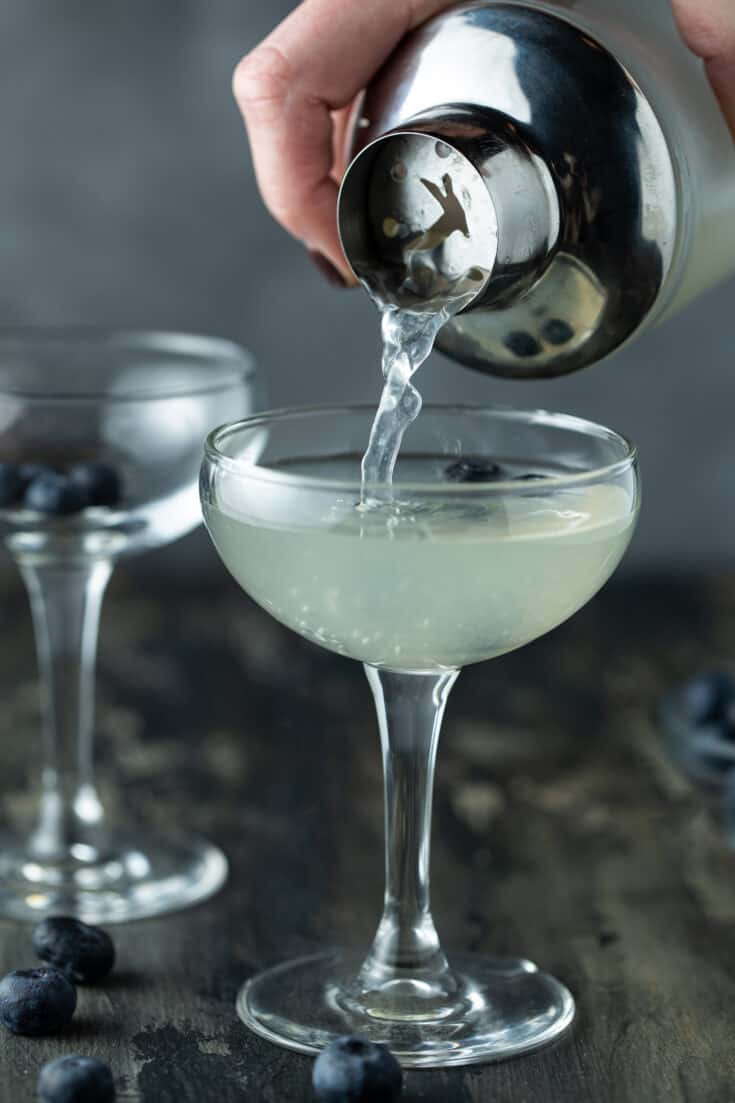 This smooth blueberry martini recipe is perfect for any occasion!
Ingredients
1 1/2 ounces Blueberry Vodka
1 ounce Elderflower Liqueur
1/2 ounce lime juice
1/2 ounce simple syrup
Fresh Blueberries for garnish
Instructions
Place vodka, elderflower, simple syrup and lime juice in a shaker filled with ice.
Shake vigorously to combine.
Place blueberries in the martini glass and strain contents of shaker into glass.
Recommended Products
As an Amazon Associate and member of other affiliate programs, I earn from qualifying purchases.
Nutrition Information:
Yield:
1
Serving Size:
1
Amount Per Serving:
Calories:

238
Total Fat:

0g
Saturated Fat:

0g
Trans Fat:

0g
Unsaturated Fat:

0g
Cholesterol:

0mg
Sodium:

2mg
Carbohydrates:

21g
Fiber:

1g
Sugar:

18g
Protein:

0g
This post was originally published on December 28, 2017.
Tired of the same old cocktails? Try a Blueberry Martini made with blueberry vodka, elderflower liqueur & fresh lime juice. t's liquid gold in a glass.